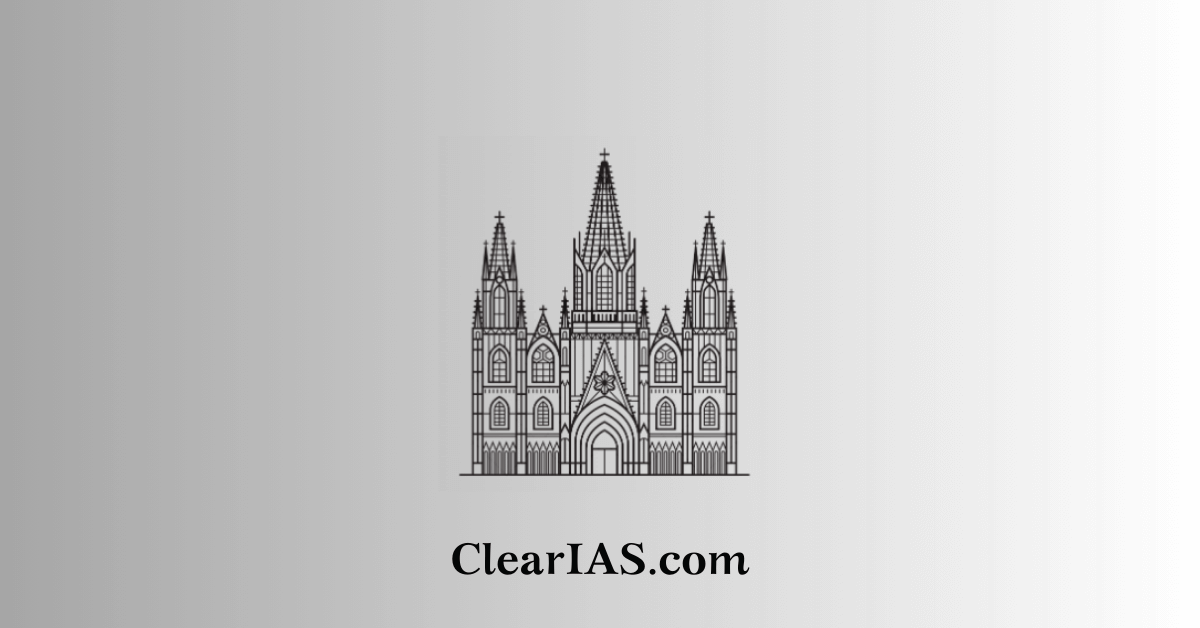 Gothic architecture is a style of architecture that flourished in Europe during the High and Late Middle Ages. It evolved from the Romanesque architectural style and was succeeded by the Renaissance architecture. Read here to learn all about it.
Gothic architecture was named for the Goths, a nomadic Germanic group that fought against Roman rule in the late 300s and early 400s.
Gothic designs were created to bring more sunlight into spaces, mainly churches, and led to the design and construction of some of the world's most iconic buildings.
Gothic architecture reached its peak in the 12th to 16th centuries, with regional variations across Europe. It remains a significant and influential architectural style, particularly in the design of cathedrals and churches.
Gothic Architecture: Features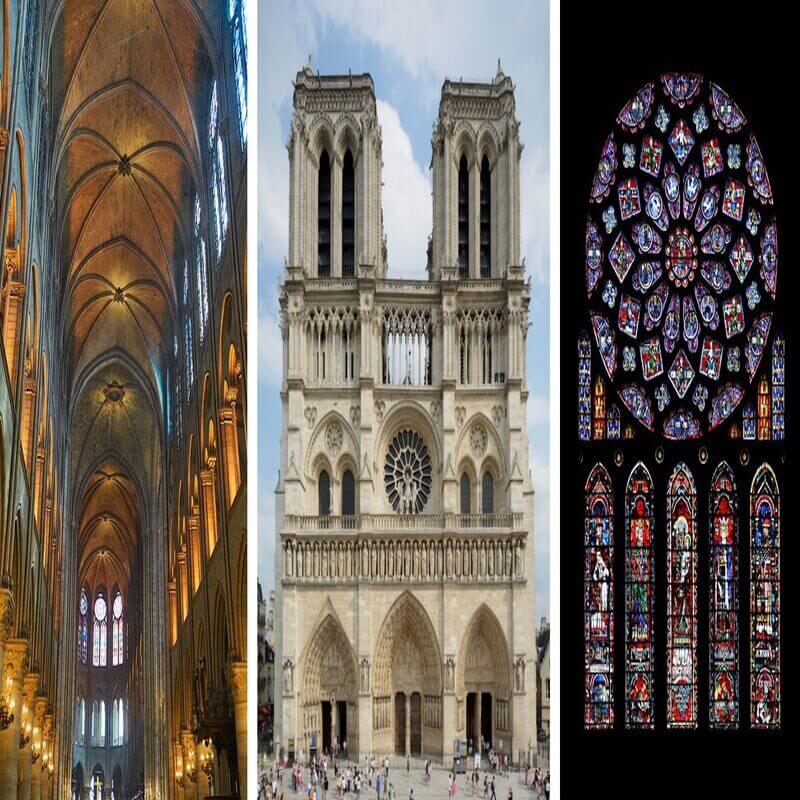 Pointed Arches: One of the defining features of Gothic architecture is the use of pointed arches. Unlike the rounded arches of Romanesque architecture, the pointed arches of Gothic buildings give them a vertical emphasis and contribute to a sense of height.
Ribbed Vaults: Gothic cathedrals often feature ribbed vaults, where the intersection of pointed arches creates a rib-like pattern across the ceiling. This architectural element not only adds structural support but also enhances the visual appeal of the interior.
Flying Buttresses: External buttresses, known as flying buttresses, were a crucial innovation in Gothic architecture. These arched supports extend from the exterior of a building to a pier, counteracting the outward thrust of the vaults and allowing for taller, more open interior spaces.
Gothic Arches: In addition to pointed arches, Gothic architecture is characterized by various arch forms, such as ogee arches and lancet arches. These arches contribute to the verticality and gracefulness of Gothic structures.
Rose Windows: Gothic cathedrals often feature intricate rose windows, which are large circular windows with radiating tracery. These windows are located at the ends of transepts or above entrances and are known for their detailed stained glass.
Gargoyles and Grotesques: Decorative stone carvings of grotesque figures, including gargoyles, are common in Gothic architecture. Gargoyles serve both aesthetic and functional purposes, acting as water spouts to direct rain away from the building.
Tall and Slender Towers: Gothic cathedrals are known for their tall and slender towers that reach towards the heavens. These towers often feature spires, adding to the vertical emphasis of the architecture.
Tracery: Tracery is the ornamental stonework that forms the patterns in the upper part of a Gothic window. It can be simple and geometric or intricate and flowing, depending on the period and regional style.
Vaulting Systems: Gothic architecture employed various types of vaulting systems, including quadripartite and sexpartite vaults. These systems distributed the weight of the roof and allowed for larger, more open interiors.
Emphasis on Light: Gothic cathedrals sought to maximize the use of natural light. The large windows with stained glass not only allowed light to enter the building but also created a visual spectacle, with the play of colored light enhancing the spiritual experience.
Height and Verticality: The vertical emphasis in Gothic architecture is intended to draw the viewer's gaze upward, symbolizing a spiritual ascent. This emphasis on height is achieved through pointed arches, ribbed vaults, and soaring towers.
Neo-gothic style
Neo-Gothic architecture, also known as Gothic Revival, is a style that emerged in the 18th century as a revival of the original Gothic architecture that characterized the medieval period. The Neo-Gothic style gained popularity during the 19th and early 20th centuries and was a reaction against the perceived excesses of the preceding Rococo and Neoclassical styles.
Neo-Gothic architecture experienced a significant revival during the Victorian and Edwardian eras in the 19th and early 20th centuries. This period saw the construction of numerous Gothic Revival structures, including the restoration of medieval cathedrals and the creation of new buildings in the Gothic style.
These structures tended to be bigger than the old Gothic style of buildings.
Famous gothic architecture
Prominent examples of Gothic architecture include:
Chartres Cathedral in France
Westminster Abbey in London
Palace of Westminster – Seat of the British parliament
The Cologne Cathedral, Germany
The Cathedral Church of Milan, the largest church in Italy
Canterbury Cathedral, England
Salisbury Cathedral – The home of the Magna Carta
The Black Church, Romania
Leuven Town Hall, Belgium
Sophia Cathedral, Northern Cyprus, is now a Mosque
Saint Vitus Cathedral – The largest cathedral in Prague
Mir Castle, Belarus
Indo-Gothic Architecture
"Indo-Gothic architecture" typically refers to a style of architecture that emerged in British India during the 19th and early 20th centuries.
This architectural style combined elements of traditional Indian architecture with Gothic Revival features, which were popular in Europe during the same period.
The term is sometimes used to describe buildings that exhibit a fusion of Western and Indian architectural elements, particularly in the context of colonial structures.
Gothic Revival Elements: The Indo-Gothic style incorporates Gothic Revival features, which include pointed arches, ribbed vaults, spires, and tracery. These elements were inspired by medieval Gothic architecture in Europe, especially the cathedrals and churches of the Middle Ages.
Pointed Arches: Similar to traditional Gothic architecture, Indo-Gothic structures often feature pointed arches. These arches may be used in doorways, windows, and arcades, creating a distinctive visual style.
Tracery and Ornamentation: Tracery, which is ornamental stone or woodwork that forms patterns in windows and openings, is a characteristic feature of both Gothic and Indo-Gothic architecture. Elaborate carvings and decorative elements are often present, reflecting a fusion of Western and Indian artistic traditions.
Buttresses and Towers: Some buildings in the Indo-Gothic style include external buttresses and tall towers, reminiscent of Gothic structures. These architectural elements contribute to the verticality and grandeur of the buildings.
Blend with Indian Elements: Indo-Gothic architecture often incorporates traditional Indian architectural elements and motifs, such as domes, chhatris (small ornamental pavilions), jali (latticework), and minarets. This blending of Western and Indian styles reflects the cultural and architectural syncretism of the time.
Use in Colonial Period: The Indo-Gothic style gained prominence during the British colonial period in India, as European architects sought to adapt Western architectural forms to the Indian context. The style was particularly employed for civic and public buildings, including government offices, universities, and churches.
Examples of Indo-Gothic Architecture
Chhatrapati Shivaji Terminus (formerly Victoria Terminus): Located in Mumbai, this UNESCO World Heritage Site is an iconic railway station that exhibits Indo-Gothic features.
Xavier's College, Mumbai: This educational institution is an example of Indo-Gothic architecture, featuring pointed arches and decorative elements.
Paul's Cathedral, Kolkata: A prominent Anglican cathedral, it incorporates Gothic Revival elements and traditional Indian architectural features.
St.Philomena Church, Mysuru: It was built in neo-gothic style in 1840, and gained popularity during the reign of Maharaja Krishnaraja Wodeyar IV of Mysore.
Many Indo-Gothic buildings continue to stand as landmarks in Indian cities, reflecting the historical and architectural legacy of the colonial period. Efforts are made to preserve and restore these structures as part of India's cultural heritage.
Related articles:
-Article by Swathi Satish