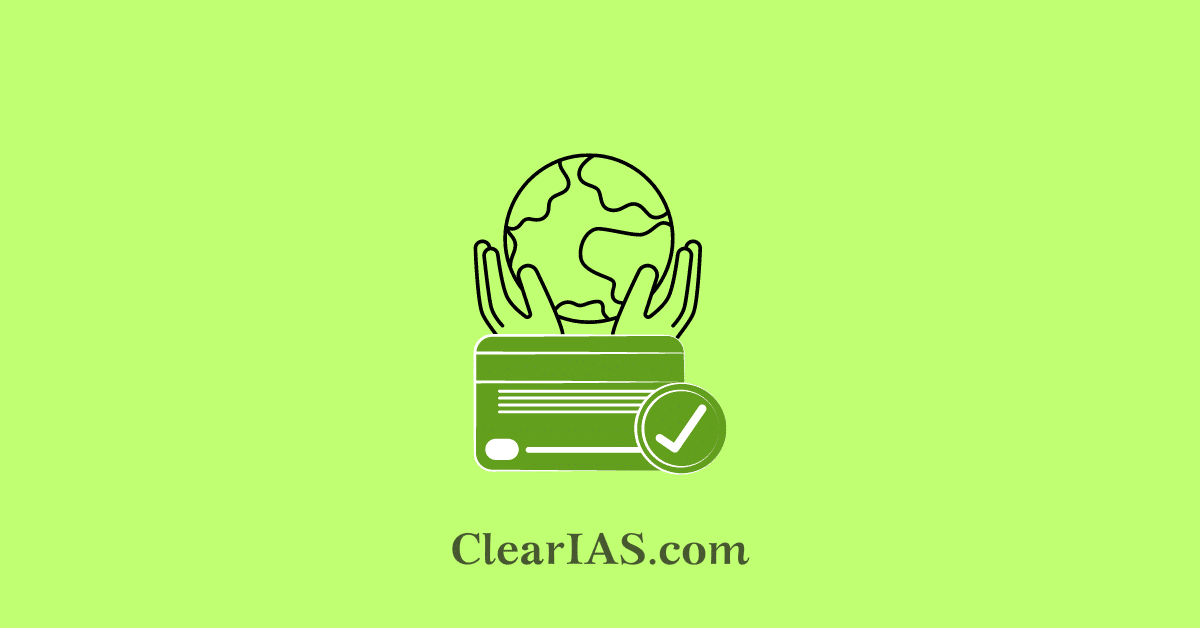 The MoEFCC has proposed the draft Green Credit Programme Implementation Rules 2023. It was initially included in the Union Budget for 2023-24 to leverage a competitive market–based strategy and encourage voluntary environmental measures among diverse stakeholders. Read here to know more.
The Union Ministry of Environment, Forests, and Climate Change has notified draft rules for 'Green Credit', an incentive that individuals, farmer-producer organizations (FPO), industries, and rural and urban local bodies, among other stakeholders, will be able to earn for environment positive actions.
The Indian government is developing Green Credits to mobilize a large-scale movement around environmentally responsible behavior and actualize the vision of "Mission LiFE" through pro-planet individuals and organizations to attain India's net zero objectives of 2070.
Green Credits Programme
It was first announced in the 2023-24 budget to leverage a competitive market-based approach and incentivize voluntary environmental actions of various stakeholders.
The government refers to a single unit of an incentive offered for a specific action that has a good impact on the environment as a "green credit."
The activities include:
Tree plantation-based green credit: To promote activities for increasing the green cover across the country through tree plantation and related activities.
Water-based green credit: To promote water conservation, water harvesting, and water use efficiency/savings, including treatment and reuse of wastewater.
Sustainable agriculture-based green credit: To promote natural and regenerative agricultural practices and land restoration to improve productivity, soil health, and nutritional value of food produced.
Waste management-based green credit: To promote sustainable and improved practices for waste management, including collection, segregation, and treatment.
Air pollution reduction-based green credit: To promote measures for reducing air pollution and other pollution abatement activities.
Mangrove conservation and restoration-based green credit: To promote measures for conservation and restoration of mangroves.
Ecomark-based green credit: To encourage manufacturers to obtain an 'Ecomark' label for their goods and services.
Sustainable building and infrastructure-based green credit: To encourage the construction of buildings and other infrastructure using sustainable technologies and materials.
For each green credit action, the initiative will set criteria and benchmarks.
The environmental result that can be achieved by any Green Credit activity will be based on the equivalence of resource requirements, parity of scale, scope, size, and other relevant parameters, and will be considered for allocation of one unit of Green Credit in respect of each activity, to maintain fungibility across sectors.
Even digital processes, such as self-evaluations of Green Credit-eligible activities, activity registration, the issuing of Green Credits, performance monitoring, and other pertinent processes, will be designed and implemented for the Programme.
The project will be run by the Indian Council of Forestry Research and Education.
The institution will design the program's implementation guidelines, methods, and procedures, as well as methodologies, standards, a registration process, and related measuring, reporting, and verification systems.
The green credits will be exchangeable, and people who earn them will be able to sell them on a hypothetical domestic market platform.
Significance of the Green Credit Programme
The goal of the Green Credits Programme is to encourage people, private businesses, cooperatives, small-scale industries, forestry companies, and farmer-produce groups to take voluntary environmental action.
It's a ground-breaking tool that aims to assess and reward several ecosystem services so that green initiatives may maximize profits beyond carbon.
The programme will provide project proponents extra access to carbon markets.
The standards would be very helpful for organic farms and FPOs and bring together ways to measure and promote ecosystem services.
One of the major highlights of the draft notification is to provide regulatory provisions to account for individual and community actions, besides corporate and businesses, and incentivize them.
Its provisions provide incentives for sustainable agriculture, forestry, water conservation, air pollution reduction, waste management, sustainable building and infrastructure, and eco-labeling activities.
In addition to receiving Carbon Credits from the same environmental activity under the carbon market, the environmental activity generating Green Credits under the Green Credit Programme may also include climatic co-benefits such as a decrease or elimination of carbon emissions.
By taking the innovative and novel legislative step of introducing the Green Credit Programme, which goes well beyond merely carbon and includes all of the key components of environmental and social sustainability, India may significantly boost its position as a worldwide leader in environmental sustainability.
Challenges
There is a concern about greenwashing through such market-based mechanisms.
At a time when there is an urgent need to reduce emissions, market-based methods for carbon reductions have proven to be too incremental.
There is a significant risk of "greenwashing" if this approach is used in other ecosystems and polluted places.
Greenwashing is the appearance of doing a lot of good without actually having a significant positive impact.
Serious doubts are also raised regarding who should be in charge of reducing pollution and conserving biodiversity, as well as how rigorous monitoring would be maintained.
Resources that could have been redirected to more revolutionary pollution control and biodiversity conservation activities, controlled and required by the government, will instead be used to build the capability that will be needed to monitor these systems and avoid fraud.
Way forward
For the market to be stable and viable, it will be essential to make sure that the methodology and standards are sound and that there is adequate demand for green credits.
The Green Credit System has to be carefully evaluated before being put into practice, especially given its emphasis on afforestation and tree planting.
Unresolved issues with forest ownership and governance, problems with biodiversity and the environment, and global criticisms of carbon credit programmes should all be taken into account.
To resolve these issues, internal deliberations and public hearings are crucial.
Also read: Oil and Gas Industry in India
-Article by Swathi Satish