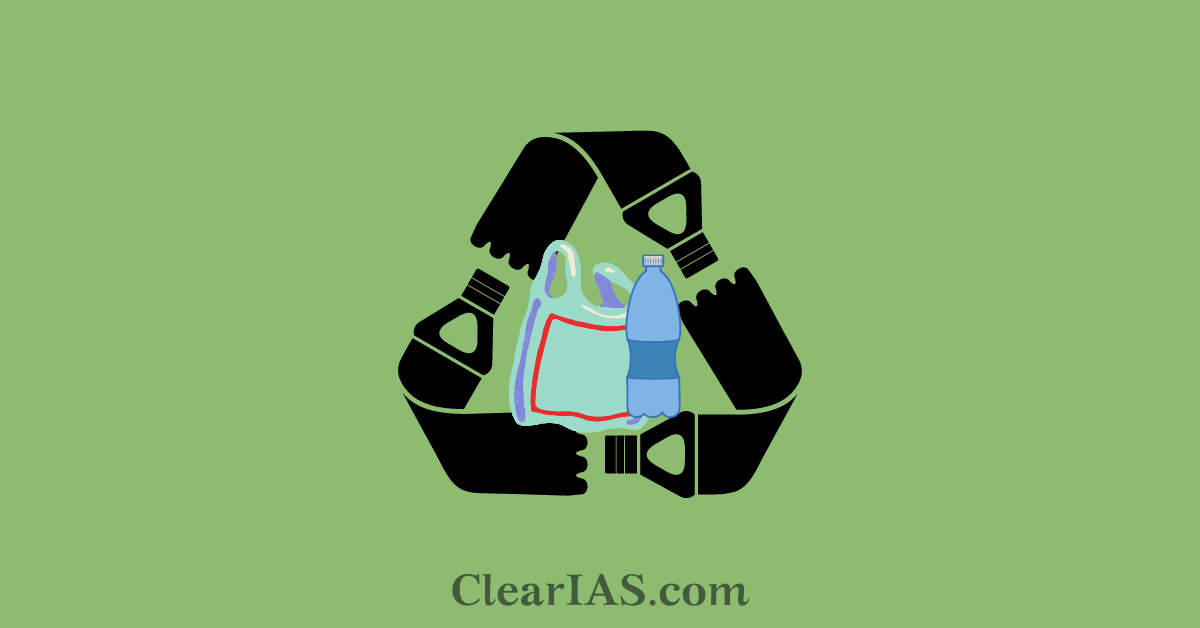 Plastic waste management is a global concern and a grave issue to tackle. Read here to know more about the rules and regulations related to plastic waste management.
The Ministry of Environment, Forest, and Climate Change announced the Plastic Waste Management (Amendment) Rules, 2022, which notified the instructions on Extended Producer Responsibility (EPR) for plastic packaging.
The plastic waste management rules 2016 have been amended to speed up the elimination of single-use plastics and promote alternatives.
Plastic waste management rules 2016:
The Plastic Waste Management Rules, 2016 aimed to:
Increase the minimum thickness of plastic carry bags from 40 to 50 microns and stipulate minimum thickness of 50 microns for  plastic sheets also to facilitate collection and recycle of plastic waste,
Expand the jurisdiction of applicability from the municipal area to rural areas, because plastic has reached rural areas also;
To bring in the responsibilities of producers and generators, both in the plastic waste management system and to introduce collect back system of plastic waste by the producers/brand owners, as per extended producers responsibility;
To introduce a collection of plastic waste management fees through pre-registration of the producers, importers of plastic carry bags/multilayered packaging, and vendors selling the same for establishing the waste management system;
To promote the use of plastic waste for road construction as per Indian Road Congress guidelines or energy recovery, or waste to oil, etc. for gainful utilization of waste and also address the waste disposal issue; to entrust more responsibility on waste generators, namely payment of user charge as prescribed by the local authority, collection and handing over of waste by the institutional generator, event organizers.
In addition, the expected outcome from the new rules include:
Increasing the thickness of plastic carry bags from 40 to 50 microns and stipulation of 50-micron thickness for plastic sheets is likely to increase the cost by about 20 %. Hence, the tendency to provide free carry bags will come down and collection by the waste-pickers also increase to some extent.
The producers, importers, and brand owners who introduce the plastic carry bags, multi-layered plastic sachet, or pouches, or packaging in the market within six months from the date of publication of these rules, need to establish a system for collecting back the plastic waste generated due to their products.
Phasing out of manufacture and use of non-recyclable multilayered plastic.
All institutional generators of plastic waste shall segregate and store the waste generated by them per the Solid Waste Management Rules, and hand over segregated wastes to authorized waste processing or disposal facilities or deposition centres, either on their own or through the authorized waste collection agency.
The local bodies shall be responsible for setting up, operationalizing, and coordinating the waste management system and for performing associated functions.
Retailers or street vendors shall not sell or provide commodities to consumers in carrying bags, plastic sheets, or multilayered packaging, which are not manufactured and labelled or marked, as prescribed under these rules.
The shopkeepers and street vendors willing to provide plastic carry bags for dispensing any commodity shall register with the local body.
The options on reuse of plastic in various applications namely, road construction, waste to oil, energy waste will enhance the recycling of plastic.
The responsibility to provide land for establishing waste management facility has been made to the Department with the business allocation of land allotment in the State Government.  This would eliminate the issue of getting land for the waste management facility.
The Ministry had initially notified the Recycled Plastic Manufacture and Usage Rules in 1999, which was mainly on the manufacturing and usage of plastic carry bags.
It is specified that the minimum thickness of plastic bags should be 20 microns.
The Plastic Waste (Management and Handling) Rules, 2011 laid down certain conditions for manufacturing, stocking, sale, and use of plastic carry bags and sachets, which were required to be monitored and implemented by the State Pollution Control Boards/ Municipal Authorities.
It specified that the minimum thickness of plastic bags should be 40 microns. This was to facilitate its collection and recycling.
However, the implementation of these rules was not so effective because the ambit of these rules was limited to notified municipal areas whereas today, the plastic has reached our rural areas also.
There were no provisions on the responsibility of waste generators and did not address the promotion of conversion of waste to useful resources.
Though it provided for Extended Producers Responsibility for the establishment of the waste management system, pricing of carry-bags, etc. those were not exercised by the local authorities as it was simply left at the discretion of municipal authorities.
Plastic waste management (Amendment) Rules, 2022:
Classification of plastics
Category 1: Rigid plastic packaging will be included under this category.
Category 2: Flexible plastic packaging of a single layer or multilayer (more than one layer with different types of plastic), plastic sheets and covers made of plastic sheet, carry bags, plastic sachet or pouches will be included under this category.
Category 3: Multi-layered plastic packaging (at least one layer of plastic and at least one layer of material other than plastic) will be included under this category.
Category 4: Plastic sheets or like used for packaging as well as carry bags made of composite plastics fall under this category.
The reuse of rigid plastic packaging material has been mandated in the guidelines to reduce the use of fresh plastic material for packaging.
Extended producer responsibility certificates will help set up a market mechanism for plastic waste management.
Centralized online portal by the Central Pollution Control Board (CPCB) for registration and filing of annual returns by producers, importers, and brand owners.
Environmental compensation will be levied based upon the polluter pays principle on non-fulfillment of EPR targets by producers, importers, and brand owners, to protect and improve the quality of the environment and prevent, control, and abate environment pollution.
A committee constituted by the CPCB under the chairmanship of the CPCB chairman will recommend measures to the environment ministry for effective implementation of EPR, including amendments to Extended Producer Responsibility (EPR) guidelines.
State Pollution Control Board (SPCBs)have been tasked to submit an annual report on the EPR portal concerning its fulfillment by producers, importers and brand-owners, and plastic waste processors in the state/Union Territory to the CPCB.
Important terms:
Biodegradable plastics means that plastics, other than compostable plastics, undergo complete degradation by biological processes under ambient environment (terrestrial or in water) conditions, in the specified time periods, without leaving any microplastics, or visible, distinguishable, or toxic residue, which have adverse environmental impacts, adhering to laid down standards of Bureau of Indian Standards and certified by Central Pollution Control Board.
End-of-life disposal means using plastic waste for the generation of energy and includes co-processing (e.g. in cement kilns) or waste to oil or for road construction as per Indian Road Congress guidelines.
Extended Producer Responsibility means the responsibility of a producer for the environmentally sound management of the product until the end of its life.
Significance of the new rules:
To develop new alternatives to plastics and aid the move towards sustainable packaging.
To develop the circular economy of reuse, refurbishing, and recycling.
To reduce plastic pollution in the country the UNDP aims to triple the plastic waste management to 100 cities in India by 2024.
To protect aquatic ecosystems, as plastic waste tends to end up in oceans choking the life there.
To invoke responsible behavior from citizens to change and contribute to waste management.
Way Forward
An eco-friendly product, which is a complete substitute for plastic in all uses, has not been found to date.  In the absence of a suitable alternative, it is impractical and undesirable to impose a blanket ban on the use of plastic all over the country. The real challenge is to improve plastic waste management systems.
Other wastes like e-waste management should also be integrated so that a comprehensive approach can be deduced to tackle the menace.
Related posts