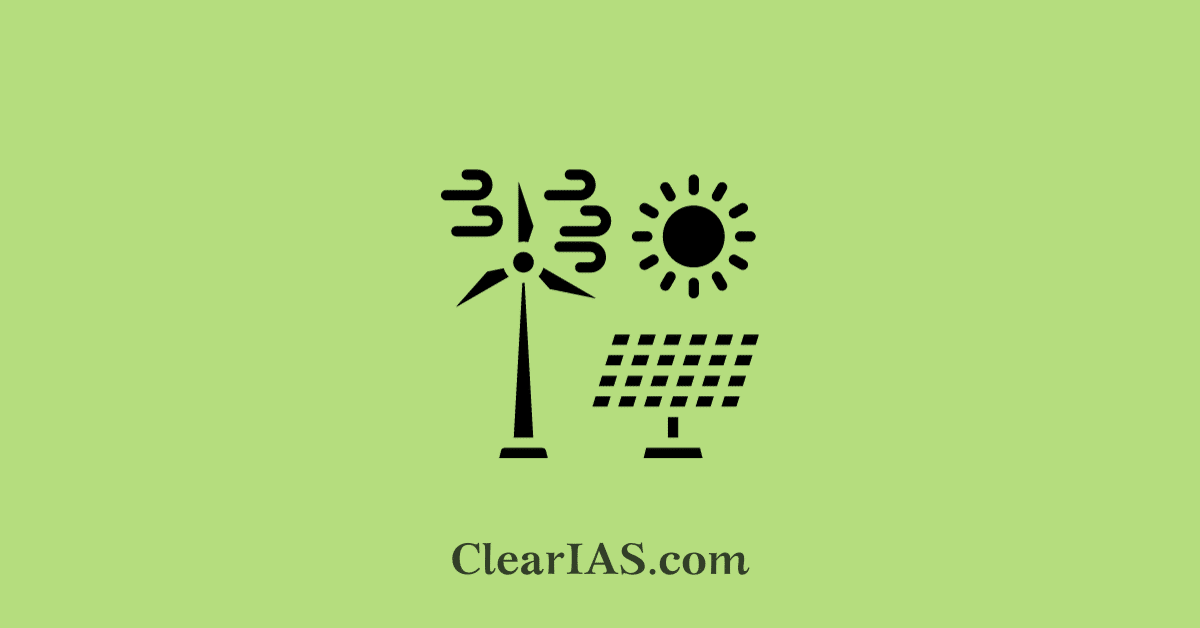 The Green Energy Corridor Project is essential for achieving India's renewable energy goals and reducing carbon emissions. Read here to learn the key features and objectives of the project.
The "Green Energy Corridor" is a concept related to the development and integration of renewable energy sources, particularly wind and solar energy, into the existing electricity grid infrastructure.
It involves the creation of a dedicated transmission and distribution infrastructure to facilitate the smooth and efficient transfer of renewable energy from generation sources to demand centers.
The primary objective of a Green Energy Corridor is to address the challenges associated with the intermittent and decentralized nature of renewable energy generation, such as wind and solar power.
It aims to ensure that the electricity generated from renewable sources can be efficiently transmitted and distributed to areas with high demand.
Green energy corridor project
The Green Energy Corridor Project in India is a significant initiative aimed at strengthening the country's transmission infrastructure to support the integration of renewable energy sources, particularly solar and wind energy.
India has set ambitious targets for renewable energy capacity expansion to address energy security and reduce greenhouse gas emissions. The project addresses the need for a robust transmission system to evacuate power from renewable energy-rich regions to demand centers.
The Green Energy Corridor Project involves the development of new transmission lines, substations, and associated infrastructure specifically designed for renewable energy integration. It covers multiple states across India.
The project aims to create an integrated and reliable grid that can efficiently transmit renewable energy from the states with abundant resources to areas with high electricity demand.
It focuses on improving the infrastructure for power evacuation, which is the process of transporting electricity from power generation sources to the grid. This is crucial for reducing curtailment (wasted energy) and ensuring that renewable power generation is fully utilized.
The project is financed through a combination of sources, including government funding, multilateral institutions, and public-private partnerships.
The project is typically implemented in phases, with various completion dates for different segments. It is part of India's long-term renewable energy development plan.
Phases of Green Energy Corridor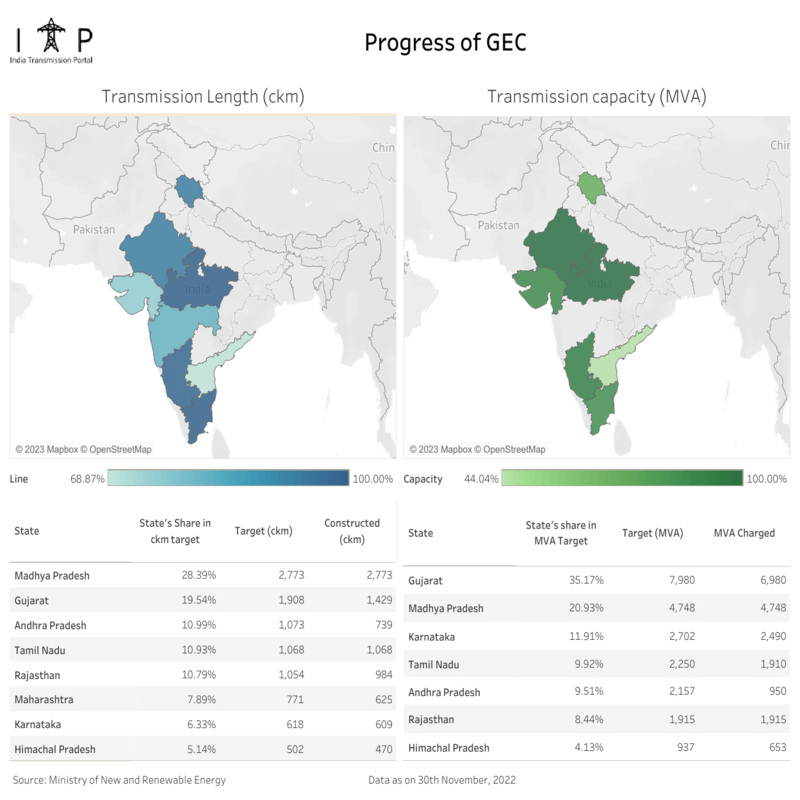 GEC phase 1:
Phase 1 of the Green Energy Corridor is already under implementation in Gujarat, Andhra Pradesh, Karnataka, Himachal Pradesh, Maharashtra, Madhya Pradesh, Tamil Nadu, and Rajasthan.
It is working for the grid integration and power evacuation of about 24GW of Renewable Energy.
GEC phase 2:
It will facilitate grid integration and power evacuation of approximately 20 GW of Renewable Energy (RE) power projects in seven States namely, Gujarat, Himachal Pradesh, Karnataka, Kerala, Rajasthan, Tamil Nadu, and Uttar Pradesh.
The transmission systems will be created over five years from Financial Year 2021-22 to 2025-26.
It is targeted to be set up with a total estimated cost of Rs. 12, 031 crores, and the Central Finance Assistance (CFA) will be 33% of the project cost.
The CFA will help in offsetting the Intra-State transmission charges and thus keep the power costs down.
The Cabinet Committee on Economic Affairs has approved the project on GEC Phase-II – Inter-State Transmission System (ISTS) for the 13 GW Renewable Energy Project in Ladakh.
Sustainable energy
The Green Energy Corridor Project aims at synchronizing electricity produced from renewable sources, such as solar and wind, with conventional power stations in the grid.
For the evacuation of large-scale renewable energy, the Intra State Transmission System (InSTS) project was sanctioned by the Ministry in 2015-16.
It is being implemented by eight renewable-rich states Tamil Nadu, Rajasthan, Karnataka, Andhra Pradesh, Maharashtra, Gujarat, Himachal Pradesh, and Madhya Pradesh.
The project is being implemented in these states by the respective State Transmission Utilities (STUs).
The project incorporates advanced technologies to enhance the grid's capacity to handle intermittent and variable renewable energy sources.
This includes the deployment of high-voltage direct current (HVDC) transmission lines and other smart grid technologies.
Grid management and control systems are upgraded to ensure stable and reliable power transmission.
The project supports real-time monitoring and control of the grid to accommodate fluctuations in renewable energy generation.
The project facilitates interstate connectivity and power trading, allowing surplus renewable energy from one state to be transferred to regions facing shortages.
The Green Energy Corridor Project is particularly supportive of solar and wind power projects, as these technologies are the primary focus of India's renewable energy expansion.
In addition to enhancing renewable energy integration, the project promotes sustainable development and reduced carbon emissions. This aligns with India's commitments to combat climate change.
A well-developed Green Energy Corridor can encourage investment in renewable energy projects by assuring developers that the electricity they generate can be efficiently delivered to consumers.
The development of a Green Energy Corridor is seen as an environmentally friendly approach to energy transmission since it reduces the need for long-distance energy transportation and the associated environmental impacts.
Significance of Green Energy Corridor
By enabling the transmission of clean energy from renewable sources, the project contributes to a reduction in carbon emissions. This aligns with India's commitments to reduce its carbon footprint and combat climate change.
Energy Security: Diversifying the energy mix by including renewable sources improves energy security. It reduces the dependence on fossil fuels and minimizes the impact of fuel price fluctuations.
Improved Grid Stability: The project enhances the stability and reliability of the electricity grid. Renewable energy sources, especially wind and solar, can be intermittent. The development of a strong transmission infrastructure ensures that power generation is balanced and reliable.
Economic Growth: The Green Energy Corridor project stimulates economic growth by fostering investments in renewable energy projects and associated infrastructure. This growth extends to the manufacturing and supply chain related to renewable energy technologies.
Rural Development: Many renewable energy projects, especially wind and solar, are located in rural areas. The Green Energy Corridor creates job opportunities and contributes to the socio-economic development of these regions.
Grid Connectivity for Remote Areas: The project enables grid connectivity to remote areas, allowing them access to electricity. This enhances the quality of life and supports local businesses and industries.
Attracting Investments: Developing a modern and sustainable energy infrastructure attracts both domestic and international investments in the renewable energy sector. Investors are more likely to participate when there is confidence in the grid's capacity to absorb green energy.
Supporting India's Renewable Energy Goals: The Indian government has set ambitious targets for renewable energy capacity addition. The Green Energy Corridor project is a key enabler for achieving these targets.
Global Leadership: By investing in a green energy corridor, India positions itself as a global leader in renewable energy development. This leadership has diplomatic and economic advantages, including opportunities for international collaborations and trade in renewable energy technologies.
Energy Access: Reliable access to clean energy is essential for healthcare, education, and general living conditions. The project facilitates energy access to remote and underserved communities, improving their quality of life.
Sustainable Development: The Green Energy Corridor contributes to India's overall sustainable development goals by promoting clean energy, reducing pollution, and ensuring responsible resource use.
Government initiatives for Green energy
Conclusion
The Green Energy Corridor Project is a critical component of India's strategy to transition to a more sustainable and greener energy future.
By strengthening the transmission infrastructure to support renewable energy sources, India can reduce its dependence on fossil fuels, lower carbon emissions, and achieve its renewable energy targets.
It also creates opportunities for investment and job creation in the renewable energy sector.
It not only supports the country's energy and environmental objectives but also has far-reaching economic and social benefits. By facilitating the efficient transmission of renewable energy, the project contributes to a greener, more resilient, and economically vibrant future for India.
Related article: Indian Power Sector
-Article by Swathi Satish