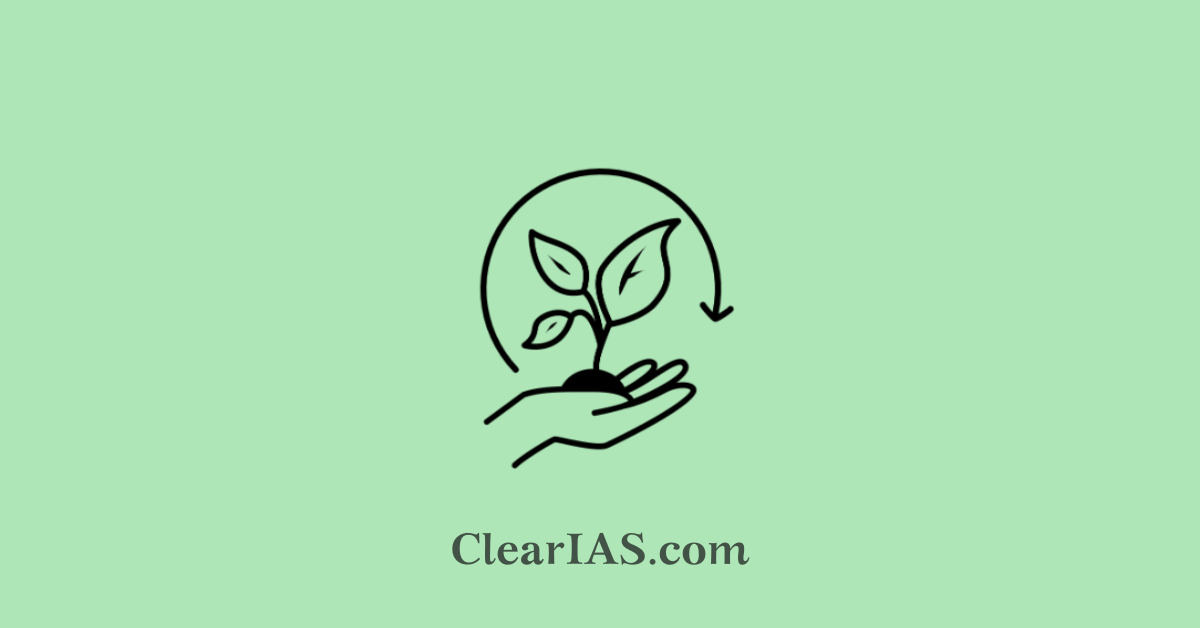 The government of India is promoting green agriculture by way of sustainable and good agriculture practices with environmental concerns in mind. It has implemented several schemes to encourage sustainable agriculture practices. Read here to learn more about the initiatives.
Recently, the Cabinet Committee on Economic Affairs (CCEA), approved the PM-PRANAM scheme, aimed at restoring and nurturing Mother Earth through the use of biofertilizers.
The government announced the "PM Programme for Restoration, Awareness, Nourishment, and Amelioration of Mother Earth" (PM-PRANAM) scheme in Budget 2023-24 to incentivize the States and UTs to promote the usage of alternative fertilizers and balanced use of chemical fertilizers.
Green agriculture
It is increasingly clear that climate change as the dominant global-scale environmental concern will have a profound influence on the agroecological conditions under which farmers and rural populations need to develop their livelihood strategies, manage their natural resources and achieve food security and other ends.
The agriculture sector has made immense progress in contributing to the country's food security.
India is one of the largest exporters of agricultural produce. Over the years, the contribution of agriculture to the GDP has diminished considerably. However, it continues to be the largest source of livelihood in India.
The agriculture sector in the country is critically poised to address issues of its long-term sustainability.
This requires the sector to fully integrate environmental concerns in its policies, plans, and programs, to ensure that the sector's negative environmental impacts are mitigated and positive contributions are enhanced.
Therefore, environmental mainstreaming is of crucial importance, especially in the context of the changing climate.
The GoI and other partners invest significantly in Protected Area management to support and conserve a host of globally significant species.
Thus, these different streams of Government investments are often misaligned and incompatible with each other leading to agricultural and environmental activities acting at cross-purposes, resulting in net economic loss to the country and wasted financing.
Green agriculture aims to catalyze the sustainable transformation of India's agriculture, without compromising the country's food security and farmers' income
Initiatives by the government for green agriculture
The government of India is already promoting green agriculture by way of green/ sustainable agriculture and good agriculture practices with environmental concerns.
National Mission for Sustainable Agriculture (NMSA)
It is implementing the National Mission for Sustainable Agriculture (NMSA) which is one of the National Missions under the National Action Plan on Climate Change (NAPCC).
NMSA aims to evolve and implement strategies to make Indian agriculture more resilient to the changing climate.
The various components being implemented in this regard are-
Rainfed Area Development (RAD)
On Farm Water Management (OFWM)
Soil Health Management (SHM)
Soil Health Card (SHC)
Paramparagat Krishi Vikas Yojana (PKVY)
Mission Organic Value Chain Development in North Eastern Region (MOVCDNER)
Submission on Agroforestry (SMAF)
Per Drop More Crop (PDMC) under Pradhan Mantri Krishi Sinhchayee Yojana (PMKSY).
Rainfed Area Development under NMSA focuses on Integrated Farming System (IFS) for enhancing productivity and minimizing risks associated with climatic variability.
Under this system, the crops/cropping system is integrated with activities like horticulture, livestock, fishery, agro-forestry, apiculture, etc.
National Innovations in Climate Resilient Agriculture (NICRA)
To meet the challenges of sustaining domestic food production in the face of changing climate, the Indian Council of Agricultural Research (ICAR), Ministry of Agriculture, and Farmers Welfare, Government of India has launched a flagship network project called National Innovations in Climate Resilient Agriculture (NICRA).
The project aims to develop and promote climate-resilient technologies in agriculture to address vulnerable areas of the country and to help the districts and regions prone to extreme weather conditions like droughts, floods, frost, heat waves, etc. to cope with such extremes.
Short-term and long-term research programs with a national perspective have been taken up involving adaptation and mitigation covering crops, horticulture, livestock, fisheries, and poultry.
The main thrust areas covered are:
identifying the most vulnerable districts/regions
evolving crop varieties and management practices for adaptation and mitigation
assessing climate change impacts on livestock, fisheries, and poultry and identifying adaptation strategies.
NICRA project has developed several resilient technologies to mitigate climate change.
Climate resilient technologies viz., resilient varieties in different crops tolerant to climatic stresses
resilient intercropping systems
conservation agriculture
crop diversification from paddy to other alternate crops like pulses, oilseeds
agroforestry systems
zero till drill sowing of wheat to escape terminal heat stress
alternate methods of rice cultivation (system of rice intensification, aerobic rice, direct seeded rice)
green manuring
integrated farming systems, integrated nutrient management, integrated pest management, organic farming, site-specific nutrient management
in-situ moisture conservation, protective irrigation from harvested rainwater in farm ponds, micro irrigation methods (drip and sprinkler), etc. have been developed and evaluated in farmers' fields for their adoption.
PM Programme for Restoration, Awareness, Nourishment, and Amelioration of Mother Earth (PM-PRANAM)
PM-PRANAM) scheme's objective is to incentivize the States and UTs to promote the usage of alternative fertilizers and balanced use of chemical fertilizers.
The scheme included a bouquet of various projects which would boost farmers' income, strengthen natural/organic farming, rejuvenate soil productivity, and ensure food security.
Fermented Organic Manures (FOM)/Liquid FOM/Phosphate Rich Organic Manures (PROM) produced as by-products from bio-gas plants/Compressed Biogas (CBG) plants set up under the umbrella Gobardhan initiative will be promoted.
The reduction in urea consumption by a state will be compared to its average consumption of urea over the previous three years. This calculation will determine the eligibility for subsidy savings and grants.
The scheme will be financed by the savings of existing fertilizer subsidies under schemes run by the Department of Fertilizers, Ministry of Chemicals & Fertilizers.
Subsidy Savings and Grants:
The Centre will provide 50% of the subsidy savings to the states as a grant.
Out of the grant, 70% can be used to create assets related to the technological adoption of alternative fertilizers and production units at various levels.
The remaining 30% can be used to reward and encourage farmers, panchayats, and other stakeholders involved in fertilizer reduction and awareness generation.
Need for green agriculture
Major concerns arising out of past agricultural practices are-
Nitrate and pesticide residue pollution arising from agriculture.
Loss of biodiversity due to pollution, agronomic practices such as mono-cropping, destruction of natural habitats, and over-exploitation of natural stocks of fish and forests.
Soil nutrients, organic matter, and natural resource degradation, including
salinification associated with irrigation.
Agricultural carbon footprint due to fossil fuel use in the production of chemical inputs, in farming practice, in food processing, and related agro-industries. Transport of agricultural produce to distant markets.
Agricultural water use footprint is caused by excessive water use in intensive agricultural production and competition with other use, particularly drinking water as well as effects on water quality through pollution.
Agriculture's contribution to climate change, both in terms of its contribution of greenhouse gases CO2 but also methane; and its role in climate change mitigation strategies (biofuel production, but also a range of bio-production systems with benign or beneficial environmental consequences, carbon sequestration)
Way forward
The green agriculture-related initiatives by the government with FAO's key strategic priorities like to make agriculture, forestry, and fisheries more productive and sustainable.
The initiatives also align with SDG 2 (Zero Hunger), SDG 5 (Gender equality), SDG 12 (Sustainable Consumption and Production), SDG 13 (Climate Action), and SDG 15 (Life on Land).
Promoting the usage of organic and biofertilizers will help advance sustainable farming methods. As a result, the soil will be more fertile, environmental pollution will be decreased, and agricultural output will increase over time.
Related Posts
-Article by Swathi Satish