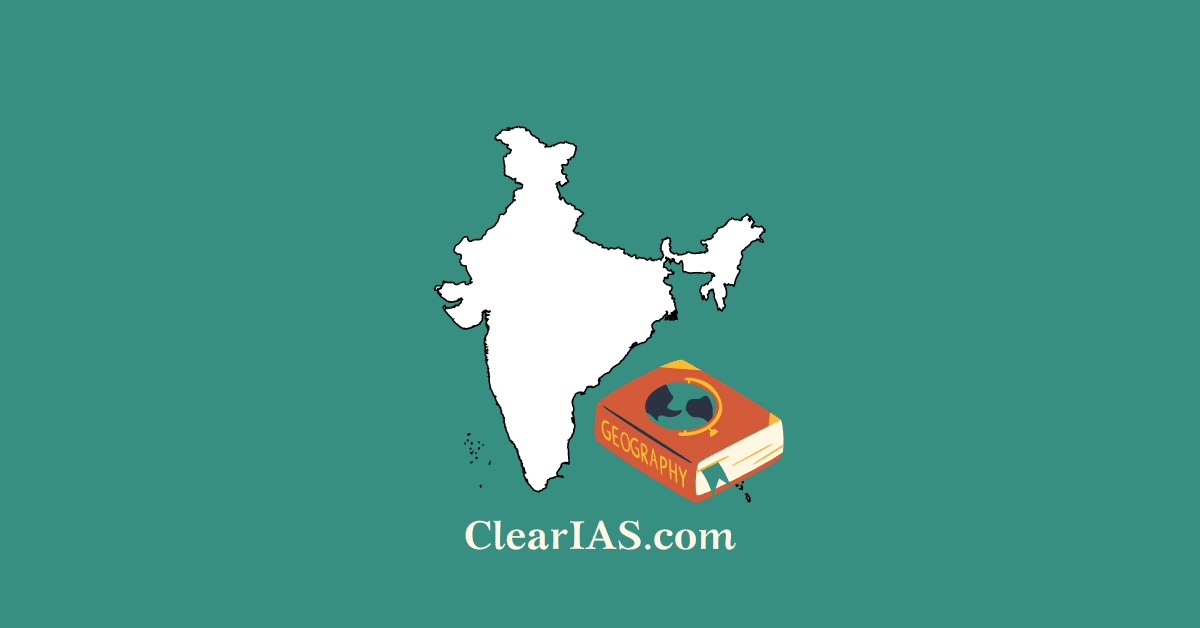 How to Study Geography for the UPSC Civil Services Examination (CSE)? What can be an effective preparation strategy?
Geography is an integral part of the UPSC Civil Services Examination (CSE), and it plays an important role in both the Prelims and Mains (General Studies 1) exams. It is important to have a strong command over this subject in order to succeed in the exam.
For this, aspirants must have an understanding of the various aspects of Indian and world geography, society, etc.
However, geography is a vast subject, and UPSC CSE aspirants often face challenges in managing time and effort efficiently. To solve this problem, here we are providing tips regarding how to study Geography for UPSC CSE.
Also read: Indian and World Geography – Physical, Social, Economic Geography of India and the World
How to Study Geography for UPSC CSE?
Before starting preparation, it is important to be aware of a few things like the syllabus, resources, etc.
Understand the Syllabus
The Geography syllabus has all the important topics related to Physical and Human Geography. However, it is not necessary to go too deep if you do not have chosen Geography as an optional subject. But having a good understanding of all the areas related to this topic is important from an exam perspective.
General Studies-1 Syllabus (Geography Part)
Salient features of the world's physical geography.
Distribution of key natural resources across the world (including South Asia and the Indian subcontinent);
Factors responsible for the location of primary, secondary, and tertiary sector industries in
Various parts of the world (including India)
Important Geophysical phenomena such as earthquakes, tsunamis, volcanic activity, cyclones, etc.
Geographical features and their location- changes in critical geographical features (including water bodies and ice-caps) and in flora and fauna and the effects of such changes.
Find Reliable Study Material and Resources
Before starting to read any particular subject, it is important to first identify reliable sources for creating a strong base and for advanced studies.
After identifying the source, create a study plan, allot a certain time, and make sure to finish reading within the prescribed time. Check the must-read books related details below:
NCERT Books: If your foundation or base related to geography is not strong then start your preparation with NCERT books of Geography from 6th to 12th standard and if you have an understanding of the basics then can go for the NCERT from 9th to 12th.
Standard Reference Books: After NCERTs, refer to standard books like "Certificate Physical and Human Geography" by Goh Cheng Leong, and "Orient Blackswan Atlas" for detailed understanding.
Online resources: Stay updated with current events and issues related to geography, both at the national and international levels. For this, you can follow relevant government websites, magazines, and the ClearIAS Free Geography Notes and Current Affairs.
Maps and Diagrams: Practice all the relevant maps and diagrams as they are an integral part of geography. Familiarize yourself with the geographical features of India and the world.
Divide Topics Systematically
Geography can be divided into two broad categories: Physical Geography and Human Geography. Within these categories, topics can be further categorized into sub-topics.
Physical Geography
The knowledge of the basics of the Physical geography of India is important. It includes topics like India's size and location, India's physical features, landforms, drainage, climate, natural vegetation, wildlife, etc. All such topics will help you provide the outline for further deeper understanding of topics.
Other important topics of physical geography include Forest and Wildlife Resources, Water Resources, Agriculture, Minerals and Energy Resources, etc. You can get an understanding of these topics from the NCERT and can use ClearIAS free geography notes to supplement it.
Human Geography
Another important aspect of geography from an exam point of view is human geography. Aspirants can get a comprehensive understanding from NCERT/ G.C. Leong.
A detailed material on Population, Resources, and Development, Manufacturing Industries, etc, which are parts of human geography can be studied from the NCERT or from the ClearIAS notes.
Practice Previous Year's Papers
Practicing previous year's question papers will help you understand the exam pattern and the type of questions asked in the UPSC exam. It will also help you gauge your preparation level and identify weak areas that need more attention.
Make Notes
Create concise and organized notes while studying. Note down key points, diagrams, and maps for quick revision during the final days before the exam.
Revise Regularly
Consistent revision is important to retain information effectively. Allocate time for regular revision to reinforce your understanding and memory of the concepts.
Also read: 5 Books to Study Geography for IAS Prelims Exam
Tips for Effective Preparation
Here are a few important tips that should be followed during preparation:
Consistency is Key: Consistent and regular study is important for this exam. Create a daily study routine and stick to it.
Understand, not just Memorize: Focus on understanding the concepts rather than memorizing them. This approach will help in retaining the information better.
Revise Regularly: Revise your notes regularly to reinforce your learning.
Stay Positive and Healthy: Maintain a positive attitude and take care of your physical and mental well-being.
Conclusion
Studying Geography for the UPSC CSE exam can be made easier with a structured approach and strategic planning. Divide the topics systematically, focus on core concepts, practice maps, and diagrams, and keep yourself updated with current affairs.
By following this smart study plan, you can build a solid foundation in Geography and increase your chances of success in the UPSC IAS examination. Remember to stay focused, be consistent, and stay confident in your abilities.
Article Written By: Priti Raj