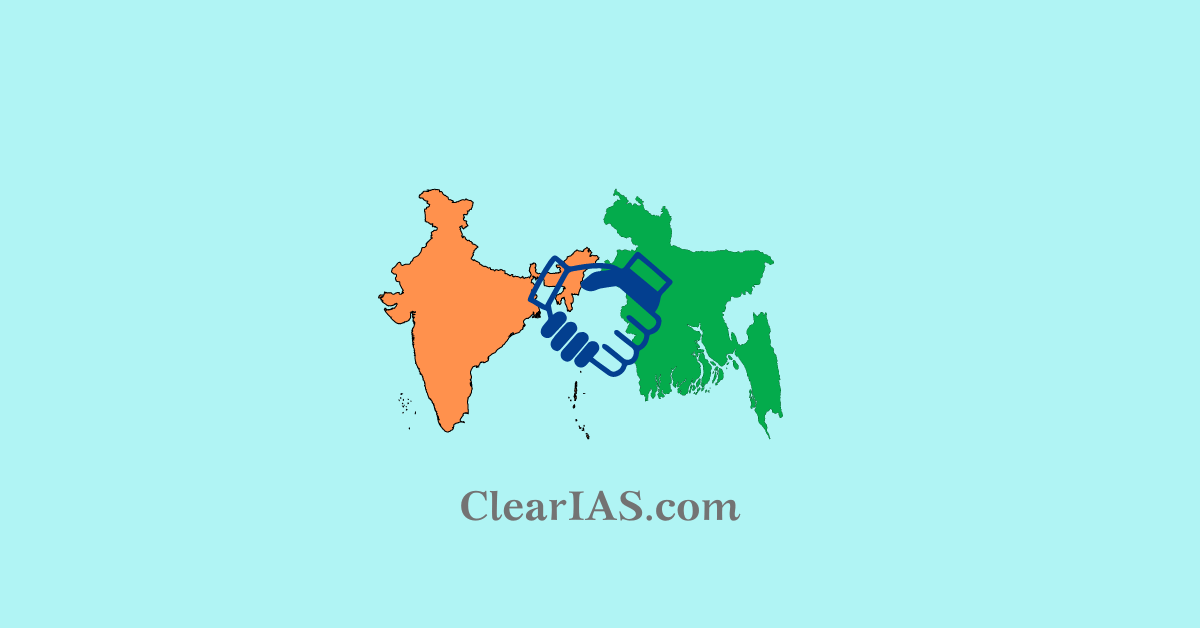 The Prime Minister of Bangladesh has recently visited India. Both the countries worked on various aspects and signed agreements like the Kushiyara River Water Agreement Maitree power plant, etc. 
The prime ministers of India and Bangladesh discussed a wide range of bilateral collaboration, including cooperation on politics and security, defense, border management, commerce and connectivity, water resources, power and energy, development cooperation, and cultural and people-to-people ties.
In addition, they decided to work together in new fields like the environment, climate change, cyber security, ICT, space technology, green energy, and the blue economy.
The Leaders stressed the importance of increased cooperation in a spirit of friendship and partnership for the region's prosperity and growth.
Background
India and Bangladesh share a border of 4096.7 km which runs through Assam, Tripura, Mizoram, Meghalaya, and West Bengal.  Bangladesh gained its independence in December 1971, and India was the first country to recognize it as a separate and sovereign state.
Bangladesh plays a significant role in India's Neighbourhood First policy. Also, the National Anthems of Bangladesh and India were also composed by Rabindranath Tagore.
India's links with Bangladesh are civilizational, cultural, social, and economic. There are many things that bring the two nations together, including their shared history and cultural heritage, and an affinity for music, literature, and the arts.
Both countries share 54 rivers. A deal for the water sharing of the Ganges river already exists between the two countries, and both parties are striving to complete agreements for the water sharing of the other common rivers. Additionally, both countries are working together to conserve the entire Sunderbans ecosystem, which is a valuable source of biodiversity.
India and Bangladesh are also engaged in regional cooperation through multilateral forums such as BIMSTEC (Bay of Bengal Multi-Sectoral Technical and Economic Cooperation), SAARC (South Asian Association for Regional Cooperation), and IORARC (Indian Ocean Rim Association for Regional Cooperation), etc.
Kushiyara River Water Agreement
Kushiyara River Water Agreement is the first water-sharing agreement since the landmark Ganga Waters Treaty, of 1996.
Under this, a memorandum of understanding (MoU) was signed between the countries on sharing of the waters of the Kushiyara river, a distributary of the Barak river which flows through Assam, and then enters Bangladesh.
The region of lower Assam in India and Sylhet in Bangladesh have witnessed deadly floods that highlighted the early need for cooperation.
The agreement will solve flood management-related and irrigation-related issues between the two countries.
As per the agreement, the people will benefit from the water that will flow through a network of canals benefiting the farmers. It will be beneficial for the farmers involved in Boro rice, which is basically the rice cultivated during the dry season of December to February.
Trade Between India and Bangladesh
Bangladesh has become India's leading South Asian trading partner and the world's fourth-largest market for Indian exports in the years 2021–2022.
Exports to Bangladesh increased by more than 66% during FY 2020-21 and FY 2021-22, from $9.69 billion to $16.15 billion.
India is Bangladesh's second-largest trading partner and Asia's top market destination for exports.
Bilateral trade between both countries increased at an unprecedented rate of approximately 44% from $10.78 billion in 2020-21 to $18.13 billion in 2021-22, despite Covid-19-related difficulties.
Raw cotton, non-retail pure cotton yarn, and electricity are India's key exports to Bangladesh, whereas pure vegetable oils, non-knit men's suits, and textile waste are its main imports from Bangladesh.
India and Bangladesh over CEPA
Even though there have been unofficial discussions about CEPA since 2018, the pandemic has heightened urgency. India was initially sparked by Chinese investments in Bangladesh, but after both economies experienced an economic shock, New Delhi and Dhaka want to pick up the pace.
A major goal of the CEPA is to close the trade imbalance between the two countries, with a concentration on trade in goods, services, and investment.
Bangladesh is eager to finalize the CEPA in a year as it prepares to transit into a developing country by 2026, after which it may no longer be eligible for trade privileges that it presently enjoys as a least-developed country.
Area of Conflict Between India and Bangladesh
There are several areas of conflict between both countries.
Teesta River Dispute
Teesta river is a major source of irrigation for the paddy-growing region of India and Bangladesh. A fair distribution of Teesta waters, along the lines of the 1996 Ganga Water Treaty, is what countries were aiming for.
In order to keep the river's water flow to a minimum, an agreement was concluded in 2011 that gave India 42.5% of the water, Bangladesh 37.5%, and the remaining 20% of the river's water flow free rein. Due to some disagreement, this agreement has not been put into effect to this point.
Farakka Barrage Dispute
Although the two countries successfully reached an agreement about the sharing of the Ganga waters in 1996, there is still a long-standing disagreement regarding India's building and operation of the Farakka Barrage, which was built to augment the river Hooghly's water supply.
Bangladesh gripes about not receiving a fair share of water during the dry season and about some of its areas being inundated when India releases extra water during the monsoon season.
Water is a state subject in India, hence the bottleneck is the lack of agreement between the state government of Bengal and India to review the dam's relevance and make certain concessions to Bangladesh.
Insurgency
One of the main points of disagreement between the two countries is insurgency. According to media sources, the United Liberation Front of Assam (ULFA), the National Democratic Front of Bodoland, and the National Liberation Front of Tripura all ran camps in Bangladesh in 2001.
Additionally, there are suspicions that the ULFA has a number of successful income-generating ventures in Bangladesh that it uses to fund its insurgent operations in India.
Illegal Migration
The flow of migrants across the Bangladeshi border as a result of the country's unrest has further strained the relationship between the two countries. The inhabitants of the Indian states bordering Bangladesh, including Tripura, Mizoram, Assam, Meghalaya, and West Bengal, have experienced substantial socio-economic-political challenges as a result of the significant influx of these migrants across the border.
Countering China's Influence
Enhancing India's connection with Bangladesh by assisting Bangladesh with nuclear technology, artificial intelligence, modern farming methods, and the exchange of flood data help in countering China's influence in Bangladesh.
Border Disputes
Tensions along the border between Bangladesh and India are nothing new. A 4,096 km long land border and a 180 km long marine border separate India from Bangladesh. The Comilla–Tripura land border, which stretches for 6.5 kilometers, has not been demarcated, leaving the border dispute unresolved.
Sharing River Water
One of the main issues between the two countries is the disagreement over water. There are 54 rivers that both India and Bangladesh share. In order to maximize the benefits of their shared river systems, the two nations have a bilateral Joint Rivers Commission (JRC), which was set up in June 1972. Its duties include developing flood control measures, formulating proposals for advance flood warnings, flood forecasting, and cyclone warning, as well as researching flood control and irrigation projects.
Article Written By: Priti Raj