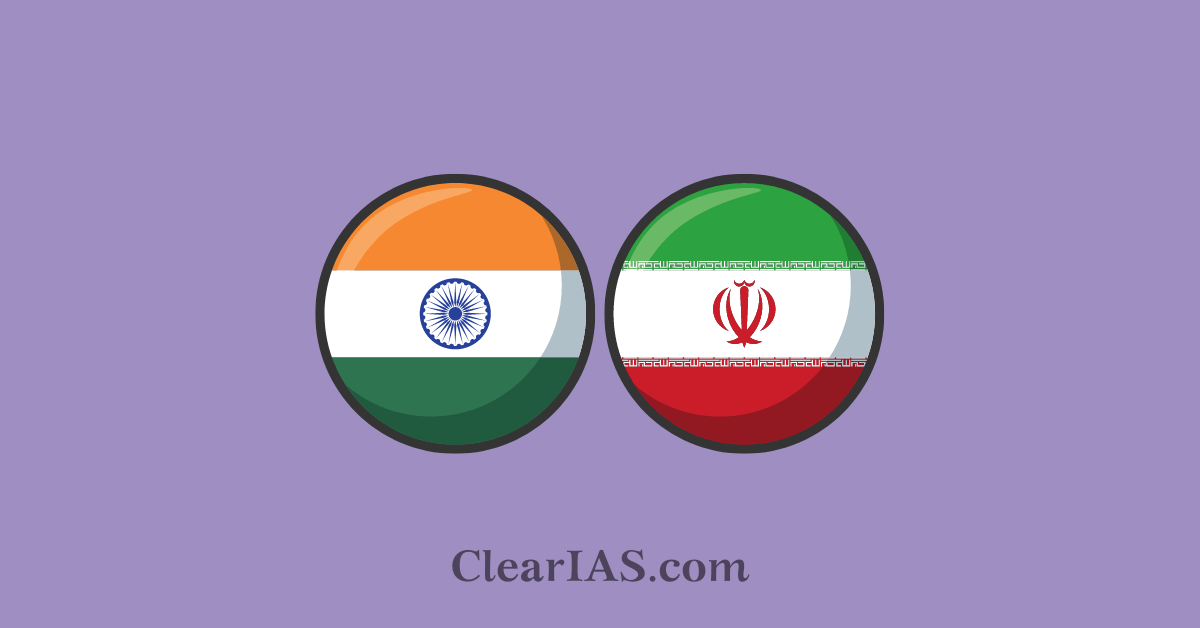 India-Iran has a centuries-old connection to each other's cultures. Read here to know the present bilateral relation.
India-Iran relations span through centuries and are marked by meaningful interactions.
The two countries shared a border till 1947 and share several common features in their language, culture, and traditions. Both South Asia and the Persian Gulf have strong commercial, energy, cultural and people-to-people links.
Independent India and Iran established diplomatic links on 15 March 1950. The Shah visited India in February/March 1956 and Prime Minister Pandit Jawaharlal Nehru visited Iran in September 1959.
The Iranian Revolution in 1979 introduced a new phase of engagement between India and Iran marked by the exchange of high-level visits.
History of India-Iran relations
The relations between India and Iran go back to the ancient civilizations of the Indus valley and Mesopotamia. There was trade between the coast of southern Iran and India through the Persian Gulf and the Arabian Sea. Some Indus seals have been excavated at Kish, Susa, and Ur in Iran.
The Harappan people are believed to have imported silver, copper, turquoise, and lapis lazuli from Persia and Afghanistan. Iran supplied silver, gold, lead, zinc, and turquoise to ancient India. Ivory was imported from India.
Iran is an important nation in India's neighborhood and in fact, the two countries shared a border until India's partition and independence in 1947.
The "Tehran Declaration" signed during former Prime Minister Atal Bihari Vajpayee's visit to Iran affirmed the shared vision of the two countries for an "equitable, pluralistic and co-operative international order".
Bilateral relations
The two countries have in place several bilateral consultative mechanisms at various levels whose meetings take place regularly.
In addition, the Institute of Defence Studies and Analyses (IDSA) (now Manohar Parrikar Institute for Defence Studies and Analyses) of India and the Institute of Political and International Studies (IPIS) of Iran hold the regular round tables to exchange views and ideas on bilateral and multilateral issues.
Iran frequently objected to Pakistan's attempts to draft anti-India resolutions at international organizations such as the OIC (Organisation of Islamic Republic) and the Human Rights Commission. India welcomed Iran's inclusion as an observer state in the SAARC regional organization.
Economic relations
India-Iran economic and commercial ties have traditionally been buoyed by the Indian import of Iranian crude oil.
India's exports to Iran include petroleum products, rice, machinery & instruments, manufacturers of metals, primary and semi-finished iron & steel, drugs/pharmaceuticals & fine chemicals, processed minerals, manmade yarn & fabrics, tea, organic/inorganic/agro chemicals, rubber manufactured products, etc
India and Iran have set up several projects such as:
After engaging in negotiations for several years, the Indian Government finally joined the Turkmenistan, Afghanistan, Pakistan, and India (TAPI) gas pipeline over the Iran–Pakistan–India pipeline (IPI) and the Myanmar–Bangladesh–India pipeline (MBI).
South Pars gas field and LNG project,
Chahbahar container terminal project and Chahbahar-Zaranj railway project, etc.
Both countries have set up joint ventures such as the Madras Fertilizer Company and the Chennai Refinery. Indian companies such as ESSAR, OVL, etc have a presence in Iran.
India is also a member of the International North-South Corridor project.
The two countries have finalized a Bilateral Investment Promotion & Protection Agreement (BIPPA) and a Double Taxation Avoidance Agreement (DTAA).
Strategic relations
For India, the location of Iran is strategic and crucial due to its geographical positioning between the Persian Gulf and the Caspian Sea.
Iran is important to India as it provides an alternate route of connectivity to Afghanistan and Central Asian countries, in the wake of hindrances by Pakistan in using land routes.
Iran has one of the largest deposits of crude oil and natural gas in the world, which India can tap for meeting its energy needs.
On the other hand, for Iran, the strategic location of India is crucial as it aids its "Asia-oriented" foreign policy.
India is the second-largest populous country and a major economy with a huge demographic dividend.
It gives Iran access to the 5th largest economy to invest in and enhance trade relations with.
Issues in India-Iran relations
The U.S. sanctions (CAATSA) led to the stoppage of oil imports from Iran in 2019. This was after the revocation of the Iran nuclear deal. The act hurt India's energy security.
India's close relations with Israel and Iran's ties with China are also bones of contention in the bilateral relations.
The geopolitical stand of Iran in Yemen against Saudi Arabia and UAE, who are close partners of India, also tends to cause discomfort in the relations.
Iran's tough statement on the Indian government's abrogation of Article 370 of the Indian Constitution giving special status to Kashmir is another cause of tension. Iran's previous regime had on a couple of occasions made statements instigating the Muslims of Kashmir against the governance which was reprimanded by India severely.
The termination of Indian participation in the Chhabahar Railway Project and Farzad B gas field was another sour phase.
Restructuring India-Iran relations
Afghanistan is a common ground where the countries can forge a common and effective policy of engagement. Iran never withdrew its consulate from Kabul after the Taliban took the governance and now since India has opened up communication with the regime, the relations of Iran with the Taliban can be helpful for India as well.
India has had good and cordial relations with the gulf countries. But the gulf countries and Iran have a history of sour relations, but the recent diplomatic talks between Iran and a few gulf countries like UAE and Qatar open up the scene for India to have a deeper and wider reach in West Asia.
The International North-South Transport Corridor (INSTC), an ambitious project launched at the start of this century, aims to connect India, Iran, Afghanistan, Russia, Central Asia, and Europe through multi-modal transport, reducing the transit time of goods drastically.
Although some part of it has been operationalized, again, due to sanctions on Iran, its full potential has not been realized. India and Iran could well play a major part in giving INSTC the required boost to reap the benefits of resultant trade.
In news
Recently, the Foreign Minister of Iran visited India for the first time since the new government was formed in 2021.
The visit was in alignment with the "Asia-oriented" foreign policy of the new Iranian government.
Way forward
India and Iran have a lot to achieve in the energy sector and other areas of convergence should be explored to strengthen the bilateral ties.
Previous year question
Q. What is the importance of developing Chabahar Port in India? (2017)
(a) India's trade with African countries will enormously increase.
(b) India's relations with oil-producing Arab countries will be strengthened.
(c) India will not depend on Pakistan for access to Afghanistan and Central Asia.
(d) Pakistan will facilitate and protect the installation of a gas pipeline between Iraq and India.
Ans: (c)