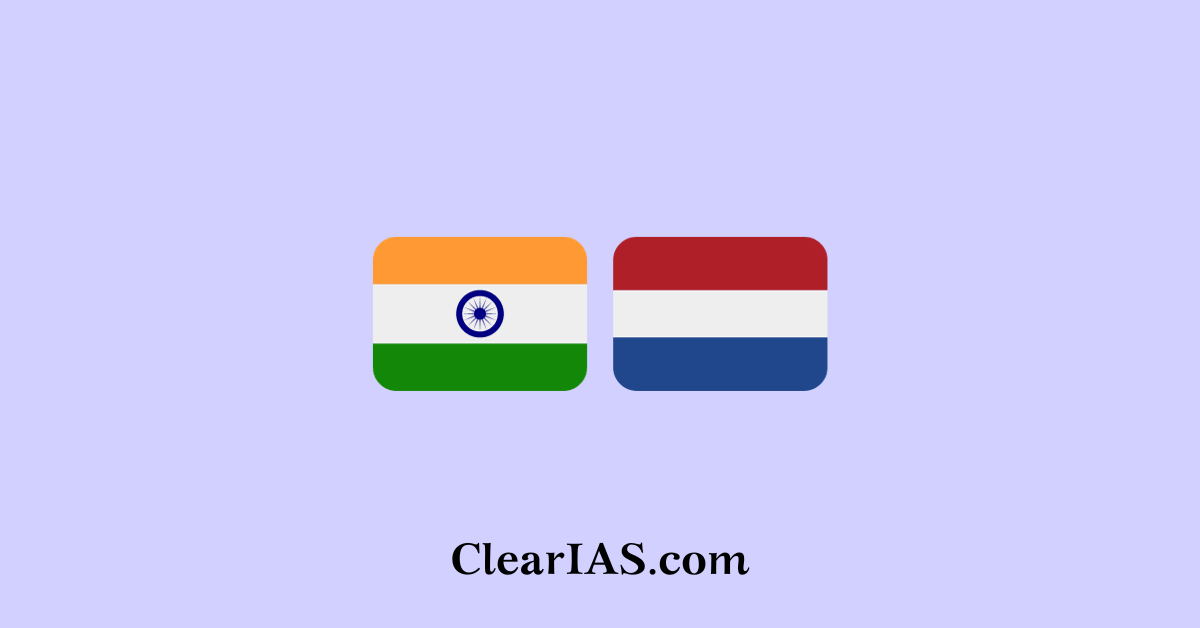 India-Netherlands maintained diplomatic relations marked by cooperation in various fields. These relations are characterized by political dialogue, economic cooperation, and collaboration on issues such as climate change, sustainable development, and technology. Read here to learn more about the bilateral relations.
Since 1947, Indo-Dutch relations have been excellent, marked by strong economic and commercial ties, based on a foundation of shared democratic ideals, pluralism, multiculturalism, and the rule of law.
Indo-Dutch relations have been multi-faceted and encompass close cooperation in various areas including politics, economy, academics, and culture. Since the early 1980s, the Dutch Government has identified India as an important economic partner.
The relations underwent further intensification after India's economic liberalization in the 1990s with growing recognition of India as an attractive trade and investment partner.
History of Indo-Dutch relations
Indo-Dutch relations have a long history that dates back to the 17th century when the Dutch East India Company established trade contacts with various regions in the Indian subcontinent.
The Dutch East India Company (VOC) played a significant role in establishing trade relations with the Indian subcontinent during the 17th century.
They were involved in the spice trade, and their presence extended to areas such as Surat, Coromandel Coast, and Malabar.
Pulicat, Nagapattinam, and Cochin were among the locations where the Dutch had a significant presence.
Apart from textiles, the items traded in Dutch India include precious stones, indigo, and silk across the Indian Peninsula, saltpeter and opium in Dutch Bengal, and pepper in Dutch Malabar.
Indian slaves were exported to the Spice Islands (Indonesia) and the Cape Colony.
The 17th century witnessed competition and conflicts among European powers, including the Dutch, Portuguese, and English, for control over trade routes and territories in India and Southeast Asia.
While the Dutch East India Company had a presence in India, their primary focus shifted to the Indonesian archipelago, where they established a colonial presence that lasted for several centuries.
The Kew Letters relinquished all Dutch colonies to the British, to prevent them from being overrun by the French.
Although Dutch Coromandel and Dutch Bengal were restored to Dutch rule by the Anglo-Dutch Treaty of 1814, they returned to British rule owing to the provisions of the Anglo-Dutch Treaty of 1824.
By the middle of 1825, therefore, the Dutch had lost their last trading posts in India.
India-Netherlands Economic Ties
Economic cooperation is a significant aspect of the bilateral relationship. The Netherlands is an important trading partner for India within the European Union.
Both countries have shown interest in enhancing bilateral trade and investments. Dutch companies have invested in various sectors in India, including technology, renewable energy, and agriculture.
The Netherlands is the 4th largest trading partner with India in Europe (From April 2000 to March 2023).
It is also the 4th largest investor in India.
Major exported items from India to the Netherlands include:
Petroleum products, telecom instruments, aluminum & products of aluminum, organic chemicals, residual chemicals, drug formulations, biologicals, iron, and steel, etc.
Major items imported by India from the Netherlands include;
Petroleum; crude, vegetable oils, iron and steel, plastic raw materials, organic chemicals, industrial machinery for dairy, medical and scientific instruments, electric machinery, etc.
There are over 300 Dutch companies present in India, including Philips, Signify, Akzo Nobel, DSM, Heineken, KLM, and others.
Indian companies are also investing in the Netherlands in a big way and the Netherlands is now the 4th largest destination for Overseas Direct Investment (ODI) by Indian companies.
Areas of Cooperation
Key areas of cooperation between India and the Netherlands are agriculture, health, port and shipping, science and technology, higher education, and urban development.
Both countries are working on strategic partnerships in the water sector as the Netherlands is a pioneer in water management besides science and R&D.
Science and Technology: India and the Netherlands collaborate in the field of science and technology. Joint research initiatives and academic exchanges contribute to technological advancements in areas such as water management, agriculture, and space exploration.
Water Management and Agriculture: The Netherlands is renowned for its expertise in water management and agriculture, and India has engaged in collaborations to benefit from Dutch knowledge in these areas. This includes cooperation on sustainable water solutions and agricultural practices.
The Netherlands is engaged with various States and Municipalities in India to implement water-related projects including the States of UP (Namami Ganga Programme), Tamil Nadu (water as leverage, water management, and conservation), and Kerala (flood management).
Renewable Energy and Sustainability: Both countries share a commitment to sustainable development and renewable energy. Collaborative efforts focus on initiatives related to clean energy, climate change mitigation, and environmental sustainability.
India-Netherlands signed an MoU in the fields of Ports and Maritime Transport and Logistics in 2008, which was extended twice. It had a special focus on research and development, shipbuilding, innovation, and sustainability.
The Netherlands signed the Framework Agreement of the International Solar Alliance (ISA) in May 2018.
India is one of the convening countries of the Global Commission on Adaptation (GCA), headquartered in the Netherlands.
The Netherlands joined the Coalition for Disaster Resilient Infrastructure (CDRI) in 2021.
Smart Cities and Urban Development: There is interest in collaboration on urban development and the creation of smart cities. The exchange of ideas and expertise in this field aims to address the challenges associated with urbanization.
India and the Netherlands signed an MoU in the fields of Spatial Planning, Water Management, and Mobility Management in 2013.
Healthcare cooperation: An MoU for Cooperation in the Field of Healthcare and Public Health was signed in January 2014 to promote global research collaboration in emerging health challenges associated with communicable diseases and antimicrobial resistance.
Diplomatic and Political Engagement
Regular diplomatic dialogues and high-level visits contribute to strengthening political ties. These engagements provide opportunities for discussing bilateral issues, global challenges, and areas of mutual interest.
India and the Netherlands cooperate on various multilateral forums, including the United Nations. Both countries often share similar perspectives on global issues, and their collaboration contributes to international peace and security.
The Netherlands issued its guidelines on the Indo-Pacific in 2020 which identifies India as a key partner. India welcomed the guidelines. Both sides recognize the close convergence between each other's vision for a free, open, and inclusive Indo-Pacific.
Cultural exchanges between India-Netherlands contribute to a better understanding of each other's societies. Cultural events, festivals, and artistic collaborations promote people-to-people ties.
The Indian diaspora in the Netherlands is a link between the two countries. The Indian community plays a role in fostering cultural understanding and enhancing economic and academic linkages.
Conclusion
The early 17th century saw the beginning of the relationship between India-Netherlands. This deeply held historical link between the two nations is founded on their similar ideals, legal system, pluralism, and interpersonal relationships.
There is little doubt that the ongoing collaboration between the India-Netherlands in several domains has facilitated stronger ties.
In the areas of commerce and economics, energy transition, smart cities and urban mobility, research and technology collaboration, agriculture and water management, public health and health care, and culture, they are continuing to work together to tackle global concerns.
-Article by Swathi Satish