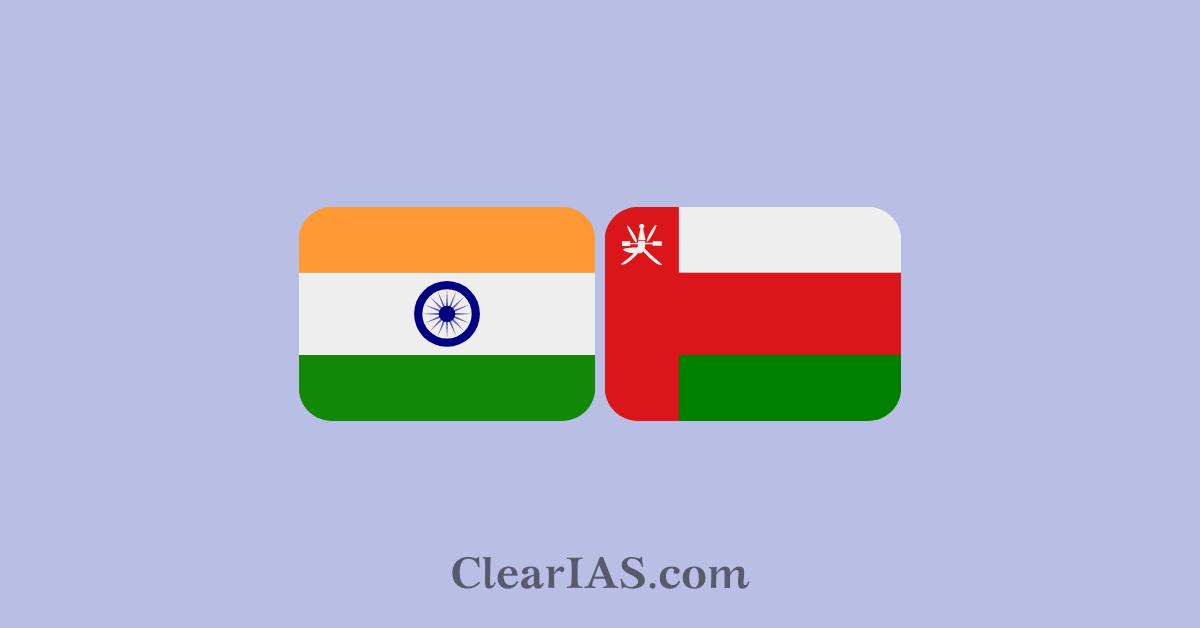 India-Oman has had historic maritime and cultural relations for 5000 years. Read here to know more about the bilateral ties.
India-Oman agrees upon a program of scientific and technological cooperation: India and Oman will work together in certain areas like sustainability scientific harnessing of resources under a Programme of Cooperation (POC) in the fields of Science and Technology were signed between them.
India-Oman Programme of Cooperation
The POC for Cooperation in the fields of Science and Technology for the period 2022 – 2025 was signed in pursuance of the Agreement for Cooperation in Science and Technology concluded on 5 October 1996 between the Government of Oman and the Government of India.
The areas of cooperation identified based on the POC for the period 2022 – 2025 are:
Medicinal Plants and processing
Real-time Air Quality Monitoring
Development of an electronic platform for knowledge sharing in the field of Genetic Resources
Technical expertise for SMEs in the field of sustainability (Eco-Innovate) Accelerator
Plastic Bio-fuel, and Bio-diesel Research (Example: Low-temperature Bio-diesel production
Extraction of high-value products from produced water with oil),
Software development for Graduate Programs – Linking Industry with Academia
Blockchain and FinTech solutions
Training programs – Big-data, coding & testing, STEM teaching, and other areas of S&T cooperation added by mutual consent.
Under the agreement, both countries will support joint scientific projects based on mutual interest, developed jointly by the Indian and Omani institutions.
They will encourage the exchange of scientists, researchers, experts, and specialists for the implementation of selected joint projects aimed at developing applicable technology.
This will lead to the dissemination of research results and establishing contacts with the industry for the follow-up of research and development work.
The countries will also hold at least one workshop each year alternatively in India and Oman during the 2022 – 2025 periods in mutually acceptable areas.
History of India-Oman Bilateral relations
The Sultanate of Oman is a strategic partner of India and an important interlocutor at the Gulf Cooperation Council (GCC), Arab League, and Indian Ocean Rim Association (IORA) fora.
India and Oman are linked by geography, history, and culture and enjoy cordial relations.
While people-to-people contact between India and Oman can be traced back 5000 years, diplomatic relations were established in 1955 and the relationship was upgraded to a Strategic partnership in 2008.
India-Oman has had visits at the highest level and Ministerial level visits have been exchanged frequently.
Defence cooperation:
India-Oman Defence cooperation has emerged as a key pillar of the strategic partnership between the two countries. There has been a regular exchange of visits by Defence Ministers of both sides.
The Ministries of Defence of both countries review their relations annually under the aegis of Joint Military Cooperation Committee meetings. Both Air Force and Navy undertake staff talks regularly which has been the catalyst for new areas of cooperation.
A large number of Omani Military personnel regularly subscribe to numerous courses offered under the Indian Technical & Economic Cooperation (ITEC) Programme.
In addition, other than the Defence Subject Matter Expert Exchange that regularly takes place Indian Navy has been deploying mobile training teams in Oman on an annual basis for training of RNO personnel.
India and Oman conduct regular biennial bilateral exercises between all three services.
Army exercise: Al Najah
Air Force exercise: Eastern Bridge
Naval Exercise: Naseem Al Bahr
Since 2008, Oman has been extending its support to the Indian Navy's anti-piracy missions and Indian Naval Ships are regularly welcomed by Oman for Over Seas Deployments.
Indian Air Force and Indian Navy aircraft regularly utilize Omani Airports for refueling and operational turnaround. Constant and continued senior leadership engagements have facilitated greater bonds of friendship.
Key Bilateral agreements:
Key bilateral agreements/MoUs between India and Oman cover cooperation in:
Agriculture;
Civil Aviation;
Avoidance of Double Taxation;
Extradition;
Manpower
Maritime issues,
Joint Investment Fund and Cultural Cooperation
MoU of cooperation between the State Audit Institution of Oman and the Office of the Comptroller and Auditor General of India.
MoUs on Legal and Judicial Cooperation in Criminal Matters and on Standards and Measures were also signed in October 2014 between India and the Sultanate of Oman.
Joint Working Group mechanisms for bilateral cooperation in the field of Agriculture, Higher Education, and Manpower (or Labour).
India-Oman Economic and Commercial relations
India accords a high priority to expanding its economic and commercial ties with Oman. Institutional mechanisms like Joint Commission Meeting (JCM) and Joint Business Council (JBC) oversee economic cooperation between India and Oman.
The bilateral trade and investment between India and Oman remain robust and buoyant.
Major items of India's exports to Oman include mineral fuels, mineral oils and products of their distillation; boilers, machinery, and mechanical appliances; articles of iron or steel; electrical machinery and equipment, textiles and garments, chemicals, tea, coffee, spices, cereals, and meat products and seafood.
Main items of India's imports from Oman have included fertilizers; mineral fuels, mineral oils, and products of their distillation; bituminous substances; mineral waxes; aluminum and articles thereof; organic chemicals; salt; sulfur; earth and stone; plastering materials, lime, and cement.
India-Oman Cultural relations
Oman hosts a huge population of Indian expatriate communities, which keeps the cultural relations strong between the countries.
There are about 624,000 Indians in Oman (February 2021), of which about 4,83,901 are workers and professionals (May 2021).
Indian families are living in Oman for more than 150-200 years. Total 2911 Indian origin people have Omani citizenship (408 males / 2503 females) as of July 2020.
21 Indian schools are offering a CBSE curriculum, catering to the educational needs of approximately 42,000 Indian students.
Outstanding contributions of Indians and People of Indian Origin in Oman to the strengthening of our bilateral relations have been recognized by the Government of India through Pravasi Bharatiya Samman Awards.
An MoU for cultural cooperation was signed between the two countries in 2010.
National Archives of India and the National Records and Archive Authority of Oman (NRAA) actively cooperate under the MoU.
First-ever Festival of India in Oman was organized by the Embassy of India, with the support of the Ministry of Culture, India, during November 2016-March 2017.
Cooperation during COVID19: 
During the COVID19 period, both countries worked in close coordination to facilitate the repatriation of respective nationals.
Omani government extended cooperation in repatriation of Indian nationals under Vande Bharat Mission and Charter flights.
Approximately 100,000 Indian nationals traveled to India from May to September 2020.
Air bubble agreement was signed and became operational between both the countries w.e.f. 01 October 2020.
India released a supply of 1 million HCQ tablets in April 2020. India gifted 100,000 doses of made-in-India COVID19 vaccines to Oman in January 2021.
India also facilitated the return of Indian medical professionals to Oman and emerged as a reliable supplier of food and other commodities to Oman during the COVID19 period.
Significance of India-Oman Relations
Oman lies at the Strait of Hormuz which is strategic for India as it imports 1/5th of its oil imports through it.
The access Oman has to the gulf region is crucial for defence cooperation between India-Oman. The framework MoU for defence exchanges between the two countries was renewed in 2021.
India conducts military exercises of all three services with Oman- which is the only such relation in the gulf region.
India has been given access to Port Duqm in Oman for military and logistic use which is a strategic success for India's maritime security.
The Port of Duqm is situated on the southeastern seaboard of Oman, overlooking the Arabian Sea and the Indian Ocean.
It is strategically located, close to the Chabahar port in Iran.
With the Assumption Island being developed in Seychelles and Agalega in Mauritius, Duqm fits into India's maritime security roadmap.
Way Forward
India-Oman relations have been important and have lots of potential for future endeavors as well.
Relations with Oman are crucial for India on fronts like maritime security and energy security.
The Duqm port is a huge opportunity for India to strengthen its maritime security against Chinese incursions in the Indian Ocean region.
India can also enhance the energy partnership with Oman in the wake of rising energy demands in the country. Oman is one of the front runners in clean energy initiatives in GCC countries, which can be utilized by India to boost its National Hydrogen Mission as well.