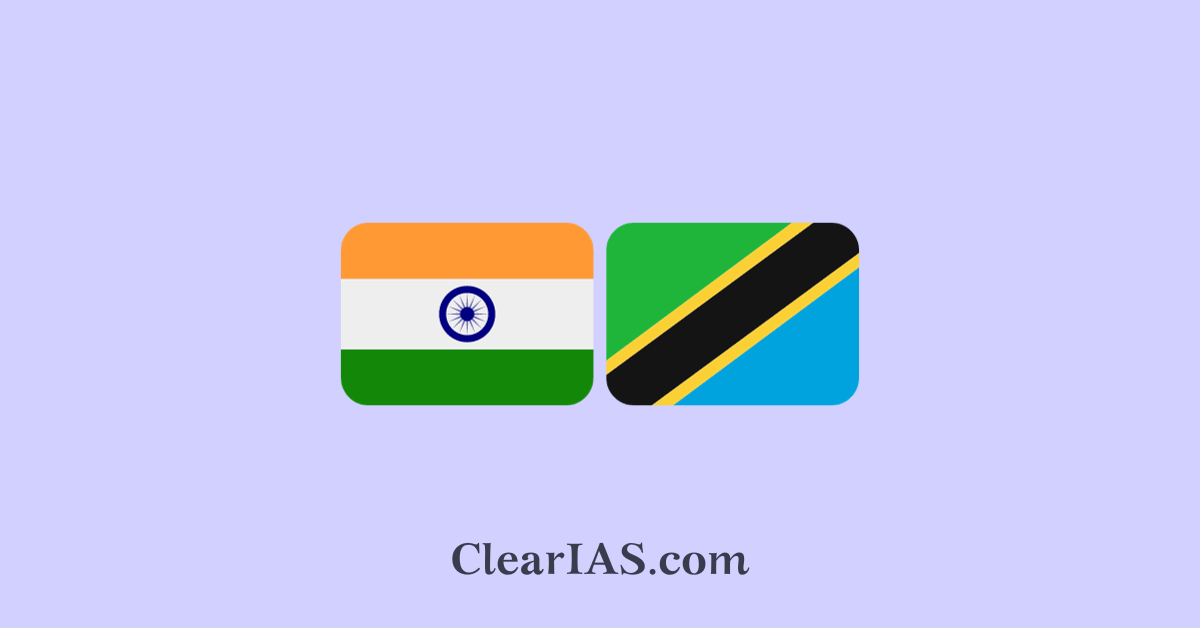 India-Tanzania have traditionally enjoyed close, friendly, and cooperative relations. With the visit of the Tanzanian President to India in 2023, the relationship has been elevated to a strategic partnership. Read here to know more about the bilateral relations.
From the 1960s to the 1980s the political relationship between India and Tanzania was driven largely by shared ideological commitments to anti-colonialism, anti-racism, socialism in various forms as well as desire for South-South Cooperation.
Intending to further strengthen bilateral relations and expand cooperation across various sectors, the two countries announced the elevation of the India-Tanzania relationship to the level of 'Strategic Partnership'.
Both sides noted that the strategic partnership will help the two countries to jointly work on issues like Maritime Security, Defence Cooperation, Development Partnership, Trade, and Investment among others.
About Tanzania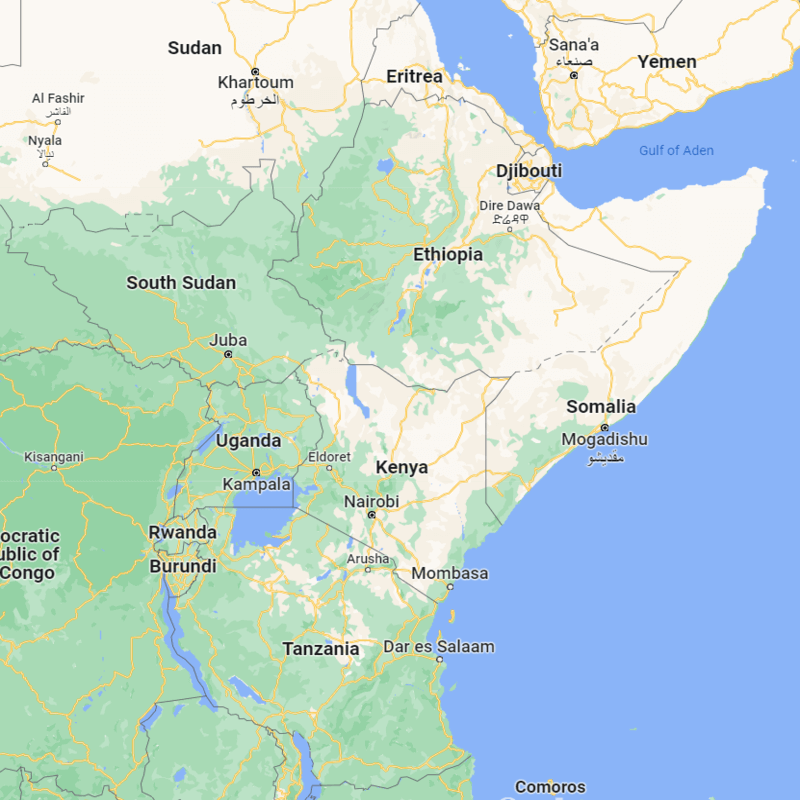 The United Republic of Tanzania is a country in East Africa bordered by Kenya and Uganda to the north, Rwanda, Burundi, and the Democratic Republic of the Congo to the west, and Zambia, Malawi, and Mozambique to the south. To the east, it borders the Indian Ocean.
Tanzania is a result of the unification of Tanganyika (the mainland) and the Zanzibar islands. Tanganyika and Zanzibar united on 26 April 1964, forming the United Republic of Tanzania.
Tanganyika became independent from the British in December 1961 and Zanzibar became free through a revolution on 12th January 1964.
Some of the oldest human settlements have been unearthed in Tanzania. The oldest human fossils were found in and around Olduvai Gorge (Oldupai) in northern Tanzania, an area referred to as "The Cradle of Mankind".
India-Tanzania relations
India and Tanzania have historically enjoyed friendly and cooperative relations. These relations have been marked by mutual respect and cooperation on various fronts, including political, economic, and developmental areas.
The historical connections between India and Tanzania date back centuries due to trade and cultural interactions.
The Indian diaspora in Tanzania is substantial and has played a significant role in the country's development.
The traditional ties between India and Tanzania have their historical roots in the migration of Indian traders to East Africa.
The colonial dimension played a significant role in migratory patterns. It should be noted that Indian traders, mostly settled in the other British colonies of Kenya and Uganda and the British protectorate of Zanzibar.
Tanzania or Tanganyika, which was then a German colony, did not become a prime destination, till the beginning of the 20th century.
Migration to Tanzania gained momentum after the end of the First World War when Tanzania was granted to Britain as a mandated territory.
Increasing commercial linkages between India and East Africa formed the base of India and Tanzania relations during this period of colonization.
India and Tanzania have worked closely together in international fora.
In the post-Cold War readjustment of policies, India and Tanzania both initiated economic reform programs around the same time with external relations aimed at broader international political and economic engagement, cultivation of international business relationships, and promotion of foreign investment.
Tanzania and India have been consistently reinforced through various international co-operations such as the Non-Aligned Movement (NAM) and later through the various initiatives of South-South Cooperation.
India has been a significant development partner for Tanzania. It has provided financial and technical assistance for various development projects in Tanzania, particularly in sectors like agriculture, healthcare, education, and infrastructure.
India-Tanzania Economic Relations
Trade and economic cooperation between India and Tanzania have been growing steadily. India imports raw materials and minerals, including gold and agricultural products, from Tanzania.
Tanzania's major imports from India include petroleum products, medicines and pharmaceuticals items, motor vehicles, two and three-wheelers, wires and cables, sugar, electrical machinery/ equipment, yarn, apparel & clothing, articles of iron & steel, plastic products including synthetic polymers, inorganic/organic/agro-chemicals, rubber items including tyres, cotton fabrics, etc.
Tanzania's major exports to India include gold, cashew nuts, pulses, timber, spices (mainly cloves), ores and metal scrap, gemstones, tanning/dyeing and coloring materials, non-ferrous metals, essential oils, leather, silver, etc.
Indian businesses have also invested in various sectors in Tanzania, such as telecommunications, energy, and manufacturing.
India-Tanzania Defence and Security Cooperation
India and Tanzania have cooperated in the field of defense and security. This cooperation includes training and capacity-building for Tanzanian defense forces.
The successful 2nd Joint Defence Cooperation Committee meeting held in Arusha on 28th and 29th June 2023 resulted in a five-year Roadmap for Defence Cooperation between the two countries.
Maritime Security and Cooperation
Given Tanzania's Indian Ocean coastline and India's strategic interests in the Indian Ocean region, both countries have cooperated on maritime security and safety.
Acknowledging that India and Tanzania are maritime neighbors who face common maritime security challenges, the two sides have agreed to enhance cooperation in maritime security in the Indian Ocean region.
The first ever India-Tanzania Joint Exclusive Economic Zone (EEZ) surveillance exercise was conducted in July 2023 when the Indian Naval Ship Trishul visited Zanzibar and Dar es Salaam.
A maiden trilateral maritime exercise involving India, Tanzania, and Mozambique in the Mozambique Channel took place during the visit of the Indian Naval Ship Tarkash in October 2022.
Other areas of cooperation
Agriculture: India has assisted Tanzania in improving its agricultural productivity through training and technology transfer. Indian agricultural experts have worked on various projects in Tanzania.
Education and Capacity Building: India has offered scholarships to Tanzanian students for higher education in India. Additionally, India has provided training programs and workshops for Tanzanian professionals and government officials.
Cultural and People-to-People Ties: Cultural exchanges, including music and dance performances and art exhibitions, have contributed to stronger cultural ties between the two countries. The Indian diaspora in Tanzania continues to play an active role in maintaining these cultural connections.
Blue economy: The Tanzanian side expressed interest in cooperating with the Government of India in the field of blue economy including tourism, maritime trade, services and infrastructure, marine scientific research, capacity in seabed mining, ocean conservation, and maritime safety and security.
Tanzania has also decided to join the International Big Cat Alliance (IBCA) and the Global Biofuel Alliance (GBA).
Way forward
While India-Tanzania relations have been generally positive, there is room for further growth and diversification in their ties, particularly in trade and investment.
Both countries are working to expand their economic and commercial links and explore opportunities for mutually beneficial cooperation in various sectors.
In recent years, India's engagement with African nations, including Tanzania, has been a significant aspect of its foreign policy, reflecting the growing importance of Africa in the global arena.
India-Tanzania has agreed to cooperate under the framework of the Indian Ocean Rim Association (IORA) to ensure a peaceful, prosperous, and sustainable Indian Ocean Region.
­-Article by Swathi Satish