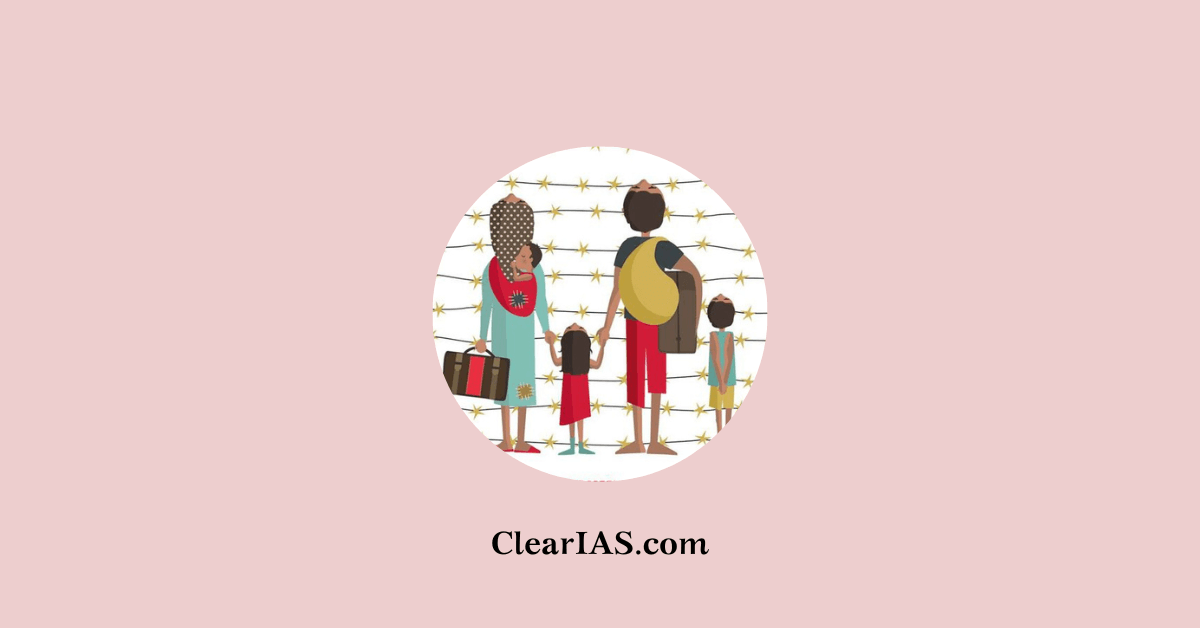 In the past, India's attitude toward refugees had remained accommodating. But now the refugee crisis in India is an issue of concern. What is the refugee situation in India? What are the causes of India's refugee crisis? What are the ideas for addressing the refugee issues? Read further to know more about the refugee crisis in India.
By the beginning of 2010, the nation had taken in close to 450,000 refugees from both within and beyond the area. The refugee flood started with the partition of India in 1947. In accordance with national interest and resource availability, it has welcomed them from a variety of nations.
India did not ratify either the 1967 Protocol on the Reputation of Refugees or the 1951 Refugee Conference. India has no laws governing refugees, therefore there is no standard way to treat refugees there. However, the greater issue of human rights and humanitarian law, as well as other areas of international law, like State responsibility and peacekeeping, have grown to be inextricably interwoven with refugee law.
Today, India hosts refugees from Tibet, Sri Lanka, Myanmar, Afghanistan, and in much smaller numbers from Somalia and Palestine. The refugee crisis may be solved using a humanitarian mindset, national security, and the legal system.
Also read: Remote voting for migrants
Refugees' situation in India
Since gaining its independence, India has taken in many different refugee groups from its neighbours, including
Pakistani Partition refugees in 1947.
Tibetan migrants who came in 1959.
In the early 1960s, Chakma and Hajong were from modern-day Bangladesh.
In 1965 and 1971, further Bangladeshi refugees.
Tamils from Sri Lanka fled during the 1980s.
The most recent refugees from Myanmar were Rohingya in 2022.
Causes of India's refugee crisis
There are many causes for India's refugee crisis which are discussed below.
Refugees frequently flee from severe persecution in their own countries in search of safety in places like India. Accommodating strategy India has taken in refugees since 1947 despite not being a signatory to the 1951 Refugee Convention. This includes Afghans, Bangladeshis, Tibetans, and so on.
India's multi-religious, multicultural, and multi-ethnic nature fosters strong social ties with many foreigners. For instance, during the civil war, the Tamilian Bond led Sri Lankan Tamils to consider emigrating to India. Similarly, the affinity between Manipur and Myanmar is drawing migrants from Myanmar to India.
Although not have a direct impact, they make it easier to go to India. The open border allowed a large number of people from Myanmar to enter India.
The government's instruction to stop the flow of refugees from Myanmar was not carried out successfully. With only three battalions, the Assam Rifles were unable to properly patrol the border.
The vast majority of Myanmar refugees are remaining in the area governed by the Free Movement Regime. According to an agreement between the two countries, there is unfettered access to a territory of 16 km on either side.
Since their founding, India's neighbouring nations have been dealing with a variety of issues.
In Sri Lanka, for instance, human rights violations now occur after the civil war. Similar events include the Bangladesh Liberation War and the military dictatorship that followed.
Arguments for permitting the Refugee Influx
India is implicitly required by the UDHR to defend non-citizens' human rights as well. As a result, refugees who face persecution should be permitted entry into India.
Armed rebel groups have threatened the Myanmar military with reprisal if the atrocities continue. More animosity will be created if India sends the Myanmarese back, maybe starting a civil war.
The nation's aspiration to be a responsible regional and global force necessitates taking a welcoming attitude toward refugees.
It is the duty of the biggest democracy in the world to defend the rights of those who risk their lives to safeguard democracy.
Counter arguments for allowing the Refugee Inflow
The influx of refugees presents various difficulties for India's internal security. This comprises,
Social repercussions of accepting refugees: Indigenous people may experience an identity crisis as a result of the refugees. For instance, the native population of Assam and Arunachal is in danger of being replaced by Bangladeshi refugees.
After a few years, it is challenging to locate them and deport them back to their country. The Rohingya refugees, for instance, entered through the Northeast. Later, though, they expanded to every state.
Increased state financial accountability. In 2014, there were more than 200,000 refugees in India, according to a UNHCR report. India currently lacks the financial resources necessary to meet all of its fundamental demands.
Lowers domestic wage levels and displaces natives Due to their need for food and shelter, illegal immigrants and refugees also work in settlement areas for extremely little pay.
 Since governments have not welcomed them, these refugees are at risk of working for and receiving money from terrorist organisations.
Also read: Brain Drain: The Great Indian Migration
India's Current Legal Framework for Handling Refugees
According to the Foreigners Act of 1946, India treats all foreigners equally, whether they are legal immigrants, refugees, or asylees, or have overstayed their visas:
The Central government is given the authority to find, arrest, and deport unauthorised foreign nationals under Section 3.
Article 258(1) of the Indian Constitution allows for the removal of an unlawful foreigner by force, according to Section 5 of the Passport (Entry into India) Act, 1920.
All foreign nationals (except Indian citizens living abroad) entering India on a long-term visa (more than 180 days) are required by law to register with a registration officer within 14 days of their arrival. This is in accordance with the Registration of Foreigners Act of 1939.
1955's Citizenship Act included citizenship renunciation, termination, and deprivation provisions.
Additionally, the Citizenship Amendment Act, 2019 (CAA) aims to offer citizenship solely to immigrants who were persecuted in Bangladesh, Pakistan, and Afghanistan who are Hindu, Christian, Jain, Parsi, Sikh, or Buddhist.
Ideas for addressing the refugee issue
First and foremost, India should present its persuasive justifications for the Myanmar coup at the impending UNSC conference. Here, it is possible to suggest that Myanmar be subject to international sanctions.
A thorough refugee strategy is also required in order to distinguish between refugees and illegal immigrants with better clarity.
It is possible to appoint a National Immigration Commission to draught India's National Migration Policy and National Refugee Policy.
Thirdly, the government must reinforce the Foreigners Act of 1946 and arrange bilateral deportation agreements with nearby nations.
Fourth, the states need to work with the centre to solve the refugee issue. Because international relations go under the Union list while law and order are listed under the state list.
Fifth, the states must use the Ministry of Home Affairs 2018 standards to find illegal immigrants.
Restrictions on illegal immigrants in certain areas in accordance with the legislation.
Obtaining their biographical and biometric information.
Renewal of fake Indian documents.
Starting legal processes, such as deportation proceedings, in accordance with the law.
Conclusion
People who are requesting shelter are in a difficult position and perceive a sliver of hope in a welcoming and open nation. Given this, there should be a refugee intake, but not at the expense of the local population. Therefore, it is imperative that India establish a defined refugee policy.
Article Written By: Atheena Fathima Riyas