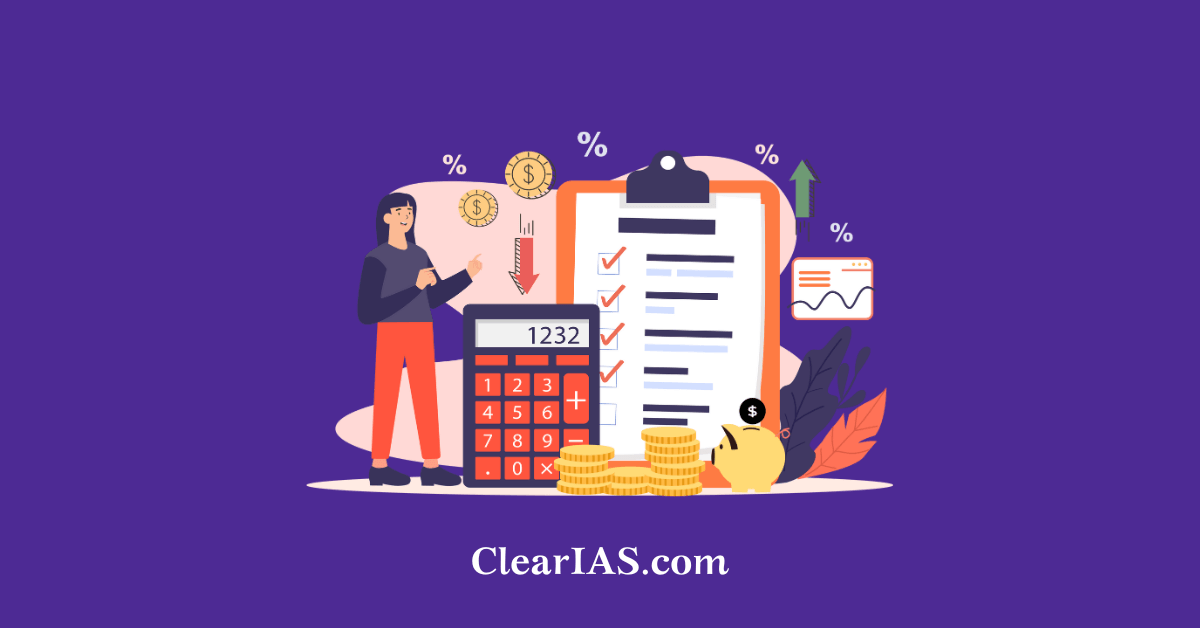 Central Plan is a sub-component of Plan expenditure, the other being Central Assistance to states. Programs under Central Plan are known as Central sector schemes.
Update: To learn the Centrally Sponsored Schemes and Central Sector Schemes as mentioned in the Union Budget 2018, refer this post.
The Central Plan 2016-17 has two components. The major component is provided by Budgetary support while the second part comes from the extra-budget resources of the Public Sector Undertakings. If you need more clarity on this refer our note on Central Plan and Central Assistance, where we have explained the concept in detail.
As of now, let's focus our discussion on the details of Central Plan 2016-17.
Central Plan: 2016-17
Look at Indian Budget 2016-17. You can see the planned expenditure of Rs. 5,50, 010 crores. This figure is total plan outlay. You need to add extra-budgetary resources to this figure and subtract the Central Assistance to States to get the Central Plan of Rs. 7,06,248 crores. As clearly visible from the below figure, the priority sectors of the Central government as per the Central Plan are Transport, Energy and Social Services.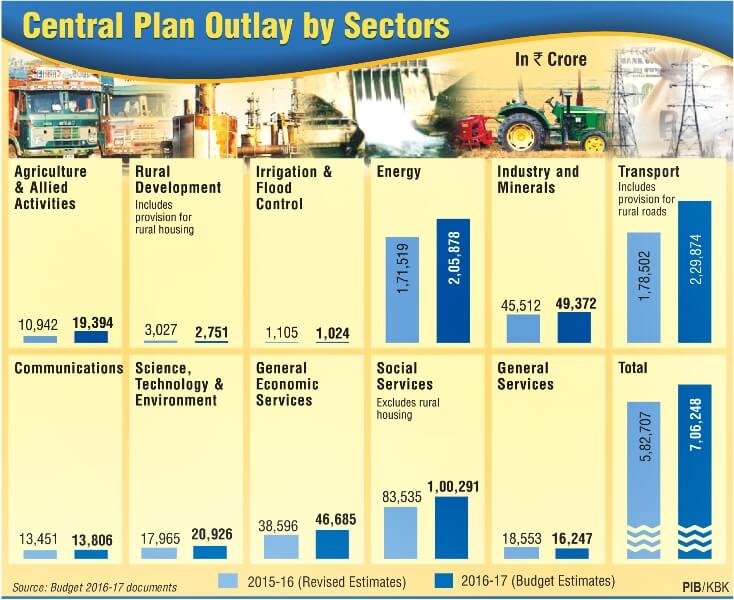 Major Programs Under Central Plan: Budget 2016-17
The important schemes or programs under the central plan as per budget 2016, and the allocation in crores of rupees are listed out below.
Krishyonnati Yojana – 2185
Indian Council of Agricultural Research(ICAR) & other Institutes – 3700
White Revolution – 578
Blue Revolution – 450
Atomic Energy industry – 2778
Atomic Energy Research – 3123
AYUSH Promotion – 400
Equity Infusion in Air India Limited – 1713
Export Promotion Scheme – 725
Interest Equalisation Scheme – 1000
Delhi Mumbai Industrial Corridor (DMIC) – 1400
Make in India – 324
Universal Service Obligation Fund – 2755
Network for Defense Services – 2710
Digital India Programme and Telecommunications and Electronic Industries – 1282
Price Stabilisation Fund – 900
Rashtriya Kala Sanskriti Vikas – 227
Environmental Protection and Monitoring – 234
National Action Plan on Climate Change – 180
Project Tiger – 295
Aid to Bhutan – 4290
Aid to Myanmar – 200
Aid to Afghanistan – 20
Re-capitalisation of Public Sector Banks – 25000
Pradhan Mantri Mudra Yojana – 1500
Mudra Bank – 900
India Aspiration Fund – 600
Aam Admi Bima Yojana – 450
Atal Pension Yojana – 200
National Health Mission – 19000
Pradhan Mantri Swasthya Suraksha Yojana – 2450
Rashtriya Swasthya Suraksha Yojana – 470
Border Infrusturcture and Mangement – 3560
Modernisation of Police & other Forces – 250
Police Infrastructure – 3262
Scheme for Safety of Women – 150
Sarva Shiksha Abhiyan – 2320
University and Higher Education – 2127
Technical Education (including allocation for new IITs/IIMs/NIT) – 5264
Student Financial Aid – 2220
Merit cum Means Scholarship for Professional and Technical Courses of Undergraduate and PG level – Minorities – 330
Pre-matric Scholarship for Minorities – 931
Post-matric Scholarship for Minorities – 550
LPG Connection for BPL Families – 2000
Atal Innovation and SETU – 200
Deendayal Upadhyaya Gram Jyoti Yojna – 3000
Integrated Power Development Scheme – 5500
National Highway Authority of India (investment from CRF and PBFF) – 19653
Pradhan Mantri Gram Sadak Yojna – 1421
Sagar Mala project and Major Ports – 450
Inland Water Transport – 350
Tourism Infrastructure-PRASAD – 900
MRTS and Metro Project – 10000
Atal Mission for Rejuvenation and Urban Transformation (AMRUT) – 4091
National Ganga Plan – Namami Gange – 2250
Gross Budgetary Support to Ministry of Railways – 45000