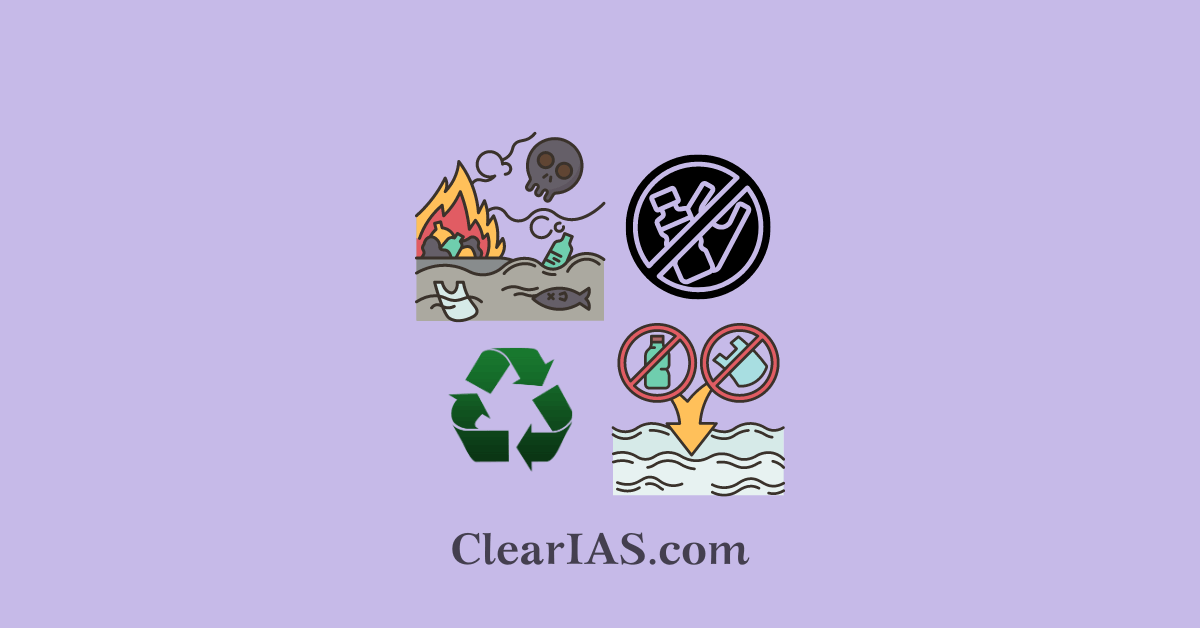 Global negotiators have agreed to craft a draft treaty to end plastic pollution during the UN talks in Paris. It is a preliminary but crucial step toward tackling one of the most lasting sources of human waste. The committee is charged with developing the first international, legally binding treaty on plastic pollution, on land and at sea. Read here to learn more.
Plastic is everywhere in our lives, from single-use water bottles to food packaging and personal care items.
Plastic waste produced globally is set to almost triple by 2060, with about half ending up in landfill and under a fifth recycled, according to the Organization for Economic Cooperation and Development (OECD).
Leaders and politicians throughout the world, including the Government of India, have increased their attention on environmental sustainability in response to the serious environmental danger posed by plastic pollution.
Plastic pollution
As the world's capacity to cope with the fast-rising output of throwaway plastic goods becomes overwhelmed.
In Asia and Africa, where rubbish collection services are either ineffective or non-existent, plastic pollution is most noticeable.
But wealthier countries also struggle with adequately collecting waste plastics, especially those with poor recycling rates.
The United Nations has been trying to create a worldwide convention because plastic waste has grown so pervasive.
Fossil fuel-based plastics have been around for a little over a century.
After World War II, the research and production of tens of thousands of new plastic goods surged to the point that modern life is inconceivable without plastics.
Plastics have transformed medicine with life-saving gadgets, enabled space flight, lightened vehicles and planes, reduced fuel use and pollution, and saved lives with helmets, incubators, and equipment for clean drinking water.
However, the advantages of plastics have given rise to a culture of waste, which exposes the negative aspects of the substance: Single-use plastics now make up about 40% of the annual plastic production.
Many of these items, like plastic bags and food wrappers, are used for only a few minutes or hours yet might endure hundreds of years in the environment.
Plastics often contain additives making them stronger, more flexible, and more durable. But many of these additives can extend the life of products if they become litter, with some estimates ranging to at least 400 years to break down.
How do Plastics move around the World?
Most of the plastic trash in the oceans, Earth's last sink, flows from land.
Trash is also carried to sea by major rivers, which act as conveyor belts, picking up more and more trash as they move downstream.
Once at sea, much of the plastic trash remains in coastal waters. But once caught up in ocean currents, it can be transported around the world.
On Henderson Island, an uninhabited atoll in the Pitcairn Group isolated halfway between Chile and New Zealand, scientists found plastic items from Russia, the United States, Europe, South America, Japan, and China. They were carried to the South Pacific by the South Pacific gyre, a circular ocean current.
Once at sea, sunlight, wind, and wave action break down plastic waste into small particles, often less than half a centimeter across.
These so-called microplastics are spread throughout the water column and have been found in every corner of the globe, from Mount Everest, the highest peak, to the Mariana Trench, the deepest trough.
Microplastics are breaking down further into smaller and smaller pieces.
Plastic microfibers or even smaller nanofibers, meanwhile, have been found in municipal drinking water systems and drifting through the air.
Impact of Plastic Pollution
Plastic pollution has emerged as one of the most urgent environmental challenges.
Impact on wildlife
Wildlife, be it terrestrial, avian, or aquatic are greatly affected by plastics.
Millions of animals are killed by plastics every year, from birds to fish to other marine organisms.
Nearly 700 species, including endangered ones, are known to have been affected by plastics.
Seals, whales, turtles, and other animals are strangled by abandoned fishing gear or discarded six-pack rings.
Microplastics have been found in more than 100 aquatic species, including fish, shrimp, and mussels destined for our dinner plates.
In many cases, these tiny bits pass through the digestive system and are expelled without consequence.
But plastics have also been found to have blocked digestive tracts or pierced organs, causing death.
Plastics have been consumed by land-based animals, including elephants, hyenas, zebras, tigers, camels, cattle, and other large mammals, in some cases causing death.
Impact on human life
Phthalates, bisphenol A (BPA), and polybrominated diphenyl ether (PBDE), among other chemicals used in plastics, have come under intense examination and regulation.
Along with medications, colognes, and cosmetics, they can be found in computers, food packaging, automotive upholstery, flooring materials, and medical gadgets.
All these compounds have been detected in humans and are known to disrupt the endocrine system.
Gendered impact of plastic pollution
The gendered effects of this expanding risk are still not taken into account and are not appropriately addressed.
Women, who are frequently marginalized, are leading the fight against the effects of our addiction to plastic. They are particularly susceptible since they work both as main consumers and in the unregulated trash industry in India.
A substantial portion of disadvantaged populations including women, children, and recent immigrants make up the urban informal waste management economy, which is essential in recycling 30% of India's annual plastic garbage.
The risks linked with landfills and dumpsites disproportionately impact women, who make up 49% of garbage pickers in India.
Women consume more plastic than men do.
Products like sanitary napkins, which are created around 90%, are composed of plastic.
Women are key consumers of single-use plastics for food and home products since they are the domestic decision-makers.
Social norms have mandated women's greater consumption of plastic-packed beauty products.
Way forward
The expense of removing plastics from the environment would be exorbitant given the worldwide scope of plastic pollution. Therefore, the majority of approaches to the issue of plastic pollution concentrate on avoiding improper disposal or even on restricting the initial use of some plastic products.
In recent years, India's government has launched several audacious projects as a decisive reaction to the pressing problem of plastic pollution.
The United Nations Environment Programme or the United Nations Development Programme could work together with NITI Aayog to lead research to fill the evidence vacuum and comprehend the particular difficulties, effects, and needs at the junction of women and the plastics sector.
Waste management regulations must be enhanced to acknowledge and address the gendered effect of plastic pollution, from bettering working conditions and guaranteeing fair salaries to providing protective equipment and access to healthcare.
Greater partnerships and synergy between government programs and efforts, like the Swachh Bharat Mission and the Smart Cities movement, must be added to this.
Related posts
-Article written by Swathi Satish