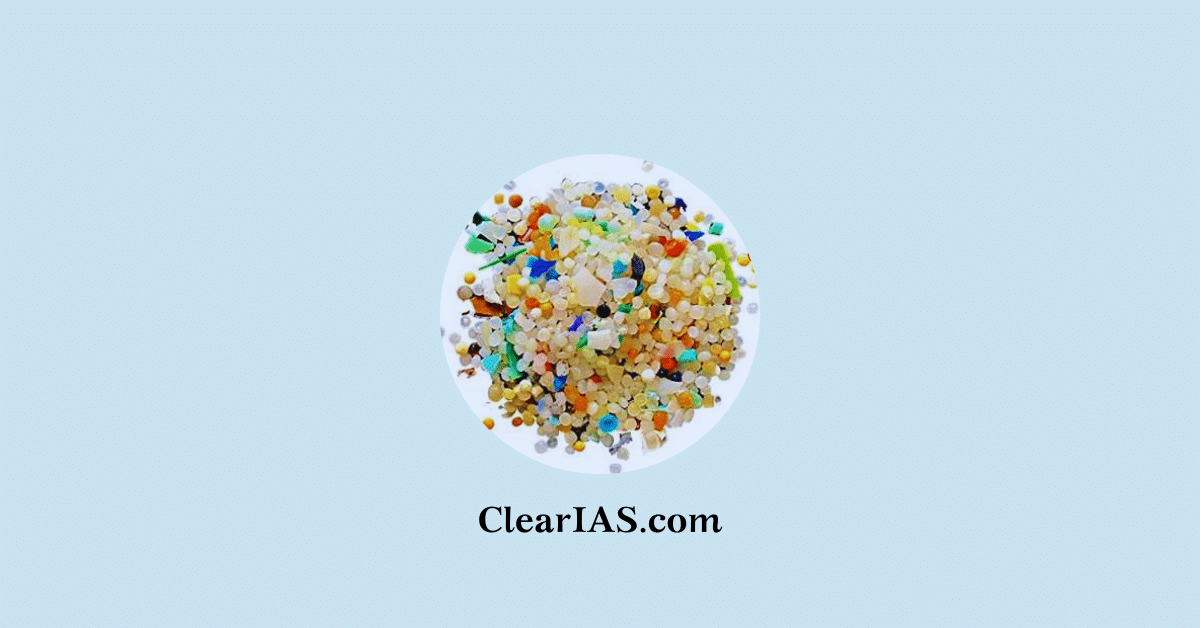 What are microplastics? How are they formed? What are their impacts on the environment? What are the various initiatives taken to reduce their negative impacts? Read further to know more.
Large plastic debris can be broken down into smaller pieces to create microplastics. Microplastic has recently been discovered in the ice of the Arctic area, demonstrating its ability to travel to any location in the world and posing numerous risks.
In a study carried out by a team of experts in the Netherlands, Microplastics—tiny plastic fragments—were discovered for the first time in human blood. The scientists detected and analyzed particles as small as 700 nanometers using currently available methods.
Each day studies are emerging reporting the presence of microplastics in different starts of nature- the most recent being reported in the cloud water!
What are microplastics?
Microplastics
Microplastics, which are tiny fragments of plastic with a length of less than 5 mm (0.2 inches), are produced as a result of plastic pollution and are found in the environment.
Cosmetics, synthetic garments, plastic bottles, and bags, as well as cosmetics, contain microplastics. Several of these products easily travel via garbage and contaminate the environment.
Microplastics can also be intentionally manufactured for use in products like exfoliating scrubs and industrial abrasives.
Classification of  microplastics
Depending on the source, they can be classified into two groups:
Primary microplastics
Particles that are directly released into the environment. They include plastic fibers used in synthetic fabrics, plastic pellets used in industrial manufacturing, and microbeads used in personal care goods (e.g., nylon).
Secondary microplastics
Secondary microplastics are those that result from the degradation of primary plastics. Some examples of the larger fragments that degrade into microplastics are plastic bottles, bags, fishing nets, and food packaging.
Microplastics can come from various sources, including:
Personal Care Products: Microbeads, which are small plastic particles used in exfoliating scrubs, toothpaste, and other cosmetics.
Textiles: Synthetic fabrics like polyester and nylon release microfibers when washed, which can end up in wastewater and subsequently in aquatic environments.
Plastic Waste: Degraded plastic litter in the environment can fragment into microplastics.
Industrial Processes: Some industries use microplastic abrasives, which can enter the environment during manufacturing processes.
Tire Wear: The wear and tear of vehicle tires can release microplastic particles into the environment.
Impact of microplastics
They impact the health of humans and the environment in different ways.
Impact on  human health
Drinking water and airborne dust are the most likely sources of human exposure to microplastics (including treated tap water and bottled water)
Microplastics can enter our stomach and then flow freely in bodily fluids like blood to various organs and tissues of the body or become caught in the stomach and intestinal walls and be eliminated from the body.
A significant amount of plastic is not recycled and ends up in landfills. harm to human health as a result. It negatively impacts the immune system, brain system, and hormones, and has cancer-causing qualities.
Red blood cells' ability to carry oxygen can be hampered by the attachment of microplastics to their outer membranes.
The particles have also been found in the placentas of pregnant women, and pregnant rats. They quickly enter the hearts, brains, and other organs of the developing fetuses through the lungs.
Microplastics have been shown to harm human cells in the lab, and air pollution particles are already known to enter the body and contribute to millions of preventable deaths each year.
Children under the age of five are vulnerable to microplastic pollution.
On the marine ecosystem
When marine species eat microplastics, they become lodged in their gastrointestinal tracts and change how they feed.
Fish are among the other creatures that are killed by microplastics before they reach reproductive age.
Reduced development and reproductive outputs arise from the starvation and mortality caused by the accumulation of harmful polymers in the stomach.
Magnify marine pollution is caused. Due to its water-repellent qualities, it acts as a binding and transportation agent for heavy metals and organic contaminants.
On ecosystem
Due to their small size, microplastics bypass wastewater filtration and treatment procedures and end up in natural areas where they damage the food chain.
This has significant negative effects on species around the world.
In certain creatures, it causes stunted growth and behavioral changes.
The viscera of dead sea birds, and reptiles like turtles, whales, etc. contain microplastics.
Plastics are persistent and slow to disintegrate in the environment, which allows them to infiltrate food systems. Both bioaccumulation and biomagnification are possibilities.
They transport harmful chemical substances that are naturally cancerous.
Also Read: Functions of Ecosystem: Ecological Succession and Homeostasis – ClearIAS
Initiatives Taken
Many initiatives are taken globally and locally to tackle the menace of microplastics.
Global Initiatives
G7 Summit: The Leaders' Statement from the 2015 G7 meeting in Bavaria, Germany, addressed the dangers of microplastics.
The IMO and FAO's GloLitter Partnerships Programme aims to prevent and decrease marine plastic litter from fishing and shipping.
2018 World Environment Day: The world leaders pledged to "Beat Plastic Pollution" and completely phase out its usage at the event, which was hosted in India. This international effort to address marine litter has gained the support of 30 nations, including India.
London Convention, 1972: The 1972 Convention on the Prevention of Marine Pollution by Dumping Wastes and Other Materials was signed to regulate the disposal of garbage into the ocean and to limit all sources of marine pollution.
The Plastics Pacts are business-led initiatives to restructure the value chain for plastic packaging across all formats and goods. To put into practice workable ideas, they bring together everyone from across the plastics value chain.2018 saw the debut of the first Plastics Pact in the United Kingdom.
Global Partnership on Marine Litter (GPML): In response to a demand made in the Manila Declaration, the GMPL was established during the 2012 Earth Summit. By the Manila Declaration, 65 signatories reaffirmed their dedication to creating regulations to cut back on wastewater, marine litter, and fertilizer-related pollution.
Initiatives in India
Elimination of Single-Use Plastic: The Indian Prime Minister announced in 2019 that the entire nation would be free of single-use plastic by 2022, with an immediate ban in urban Delhi.
Important Guidelines: According to the 2016 Plastic Waste Management Regulations, each municipal entity is in charge of putting infrastructure in place for the collection, processing, and disposal of plastic trash.
Plastic Waste Management (Amendment) Rules of 2018 introduced the idea of Extended Producer Responsibility (EPR)
Un-Plastic Collective: The Confederation of Indian Industry, WWF-India, and UNEP-India jointly announced the Un-Plastic Collective (UPC), a voluntary effort. The Collective works to reduce the negative effects plastic pollution has on the ecological and social well-being of our world.
Microplastic Pollution in News
A study revealed microplastic pollution in the Arctic. This was transported via the wind.
The study asserts to be the first to provide information on microplastic contamination of snow.
A typical person ingests at least 50,000 microplastic particles in food annually, according to an estimate.
Plastic contamination in the ocean is created. The International Union for Conservation of Nature (IUCN) estimates that each year, at least 8 million tonnes of plastic enter the oceans.
11.6 to 21.1 million tonnes of small particles were detected in the top 200 meters of the Atlantic, according to measurements.
The average Indian consumes 11 kilograms of plastic products annually in a variety of forms. It is still a problem even though it is far less than what an American or a Chinese does.
A study published recently has tracked the alarming heights plastic appears to have scaled—a group of Japanese scientists found microplastics in clouds for the first time. The report revealed that at least nine varieties of microplastics including polyethylene, polypropylene, and polycarbonate had been found in the cloud water samples.
Measures Taken
Local initiatives are necessary to reduce plastic pollution.
Incentives for not using plastic are required, as well as a prohibition on microplastic in cosmetics.
Governments ought to work together and set quantifiable reduction goals for plastic waste.
The general people should be effectively mobilized against the usage of microplastics by the media.
The role of civil society in preventing the use of microplastics in the industry is crucial.
Successful policies must prioritize punitive measures against offenders with steep fines and jail time.
The risk of microplastics must be reflected in the public consciousness.
The production and distribution of plastics must be prohibited as the best way to combat pollution.
Waste segregation must be required to recover materials and significantly lessen the environmental impact.
Also read: Biomedical Waste Management
Way Forward
A combination of optical and biological degradation mechanisms has been suggested for the efficient and thorough disintegration of microplastics.
A new global treaty modeled after the Montreal Protocol and Paris Agreement is necessary to address the problem of plastic waste on a global scale.
Only if all nations and decision-making bodies decide to monitor microplastics along their beaches and put orders into effect mandating the use of exclusively biodegradable plastics will the world's plastics problem be solved.
Using less plastic can contribute to a reduction in the pollution caused by microplastics.
To dramatically reduce the amount of trash found on beaches and in the waters, the government, businesses, and the community must cooperate.
Every citizen can help minimize microplastic pollution by taking personal measures like zero-waste travel, forgoing disposable utensils in favor of their own, renouncing the usage of bottled water, and giving up plastic packaging.
Tax credits, R&D financing, technology incubation, PPPs, and funding for efforts that recycle single-use items and turn waste into a resource are all examples of financial support for recycling initiatives.
To end the global microplastics crisis, the mantra should be "reduce, reuse, recycle."
To handle household garbage, open landfills, and open-air burning should be outlawed, and completely collected and recycled used plastics utilized in their place.
Promote bioplastics as a substitute for microplastics by making investments in the sector and securing government funding, cutting the cost of production, and making it more appealing to a range of sectors.
It should be a top priority to raise public awareness of microplastic-derived items, their negative effects, and effective strategies to limit their usage, similar to the Swachha Bharat Mission (SBM).
Conclusion
The time has come for a worldwide partnership along the lines of the Paris Agreement to address a global issue like microplastic contamination. The best course of action for guaranteeing a secure and sustainable planet Earth is for the public to work together to halt plastic pollution and protect our ecology.
Related articles
Article Written By: Atheena Fathima Riyas