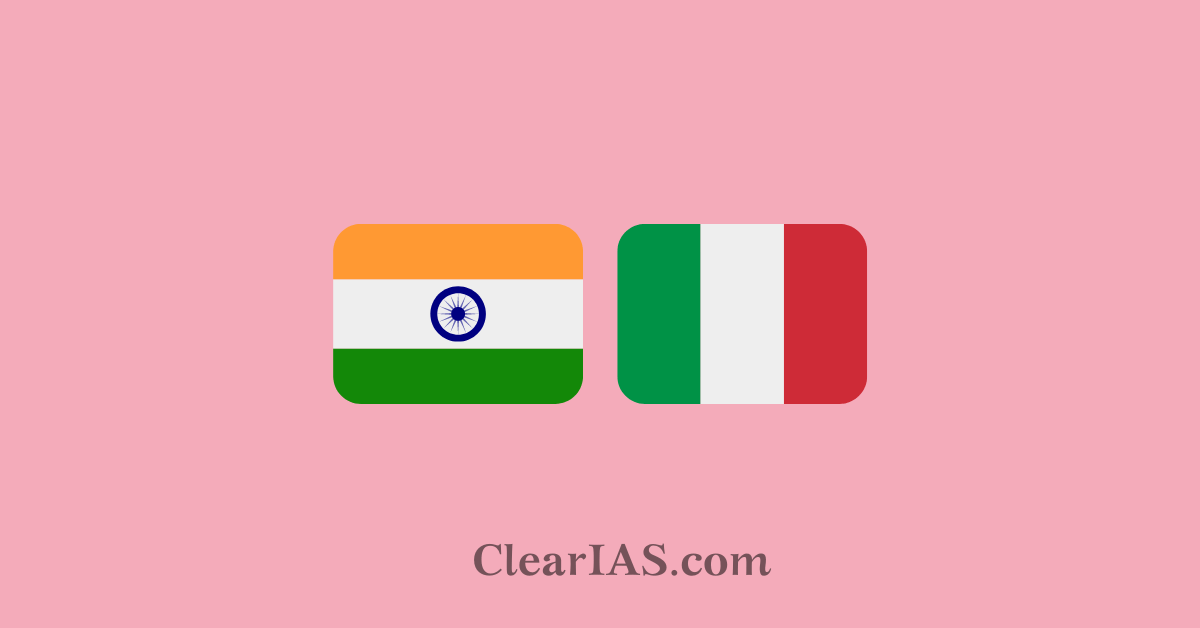 India-Italy relations refer to the international relations that exist between India and Italy. The trade relations between the countries date back to the era of the Roman Empire. Over the years the relationship has remained cordial and developed gradually. Read here to know more about the bilateral ties.
Recently, the Prime Minister of India met with the Prime minister of Italy on the sidelines of the G-20 summit, 2022 in Bali. The two leaders discussed the deepening of bilateral cooperation in various sectors including trade and investment, counter-terrorism, and people-to-people ties. The two leaders also exchanged mutual interest views on regional and global issues.
History of India-Italy relations
India and Italy are ancient civilizations but young states as the unification of Italy took place in 1861.
These two ancient civilizations have known, interacted, and traded with each other for over 2000 years.
The Venetian merchant Marco Polo, during his travels to the east, also traveled to India in the 13th century and wrote about his Experiences.
Niccolò de' Conti left Venice in 1419 to visit the Middle East, Persia, and India.
Modern-day contacts between the two nations were formed through exchanges between intellectuals from both sides.
Noble Laureate Rabindranath Tagore visited Italy in1926, on the invitation of Carlo Formichi, a Professor of Sanskrit at the University of Rome.
Mahatma Gandhi visited Rome in 1931 on his way back to India from the Round Table Conference held in London.
Leaders of the Indian freedom struggle read the works of the Italian revolutionary Mazzini of the early 19th century, who worked for the Democratic Republic of Italy.
Indian troops, serving with the British Indian Army, were active in Italy during World War II.
Political relations between India and Italy were established in 1947.
The two countries enjoy a cordial relationship. There has been a regular exchange of visits at political and official levels between both countries.
Italy has supported India's membership to export control regimes like the Missile Technology Control Regime (MTCR), Wassenaar Arrangement, and the Australia Group.
India-Italy Trade and economic relations
Italy is India's fourth largest trading partner in the EU after Germany, Belgium, and The Netherlands. The balance of trade has been in India's favor since 1988.
The top items of exports from India to Italy are organic basic products, clothing, general purpose machinery, precious metals, and other nonprecious metals, other textile products, fish, crustaceans, mollusks (processed and preserved), pharmaceuticals, dyes and pigments and yarns, pharmaceuticals, motor vehicles & parts, refined petroleum products, footwear, industrial machinery, apparel, electrical machinery, Plastics, Iron & Steel Articles, Oil & Minerals Fuels, Leather goods.
Principal items of India's imports from Italy: machinery for textile, garment, and leather industries (parts and accessories included); general-purpose machinery; special purpose machine basic organic basic products; parts and accessories for vehicles; taps and valves; paper and cardboard; Machine tools for metal shaping; Ornamental and building stone, limestone, gypsum, chalk, and slate; Tubes, pipes,  hollow profiles, and related accessories in steel (excluding cast steel); pumps and compressors; chemical products.
Cultural Exchange
The agreement for cultural cooperation was signed in 1976.  It was replaced by a new Agreement in July 2004.
The Cultural Exchange Programme (CEP) between Italy and India entails the exchange of students in language programs as well as other academic courses.
The Embassy of India launched the year-long Festival of India in Italy 'Srijan' on 18 Jan 2021.
The festival aims to connect with Italians and present them with an opportunity to experience the richness of India's architecture, history, literature, and languages.
India-Italy Scientific Cooperation
An Agreement on Science & Technology cooperation has existed since 1978.
The Agreement foresees three yearly action plans under which a maximum of thirty joint research projects can be undertaken. This agreement was replaced by one signed in Nov 2003.
Some of the prime areas of joint research are Electronics, Biotechnology, Design Engineering Automotive Technologies, Energy, etc.
Defence cooperation
An essential tenet of India-Italy relations has long been defence cooperation. In
With more than 50,000 soldiers, the 4th, 8th, and 10th Indian Divisions contributed significantly to one of the most difficult allied forces' advances for the liberation of Italy during the Second World War.
India-Italy Strategic Partnership in Energy Transition
A Joint Working Group was established by the Memorandum of Understanding on Cooperation in the field of Energy, signed in Delhi in October 2017. The group was tasked with exploring cooperation in areas like:
Smart Cities, mobility; smart-grids, electricity distribution and storage solutions.
Gas transportation and promoting natural gas as a bridge fuel.
Integrated waste management ("waste-to-wealth").
Green energies (green hydrogen, Compressed Natural Gas (CNG) & Liquefied Natural Gas (LNG), bio-methane, bio-refinery, second-generation bio-ethanol, castor oil, bio-oil –waste to fuel).
Green corridor Project was envisaged to synchronize electricity produced from renewable sources, such as solar and wind, with conventional power stations in the grid.
Way forward
Italy has recently joined the International Solar Alliance (ISA) reiterating its commitment to green energy and further development of India-Italy relations.
Italy, which is a member of the EU, may prove to be a valuable partner for India in post-Brexit Europe and a good platform for Indian businesses to operate from.
Promoting ideals like democracy, free commerce, security, and the rule of law, which characterize India and Italy's foreign behavior, would need collaborative action in both sectors, with implications for planning and policies.
-Article written by Swathi Satish