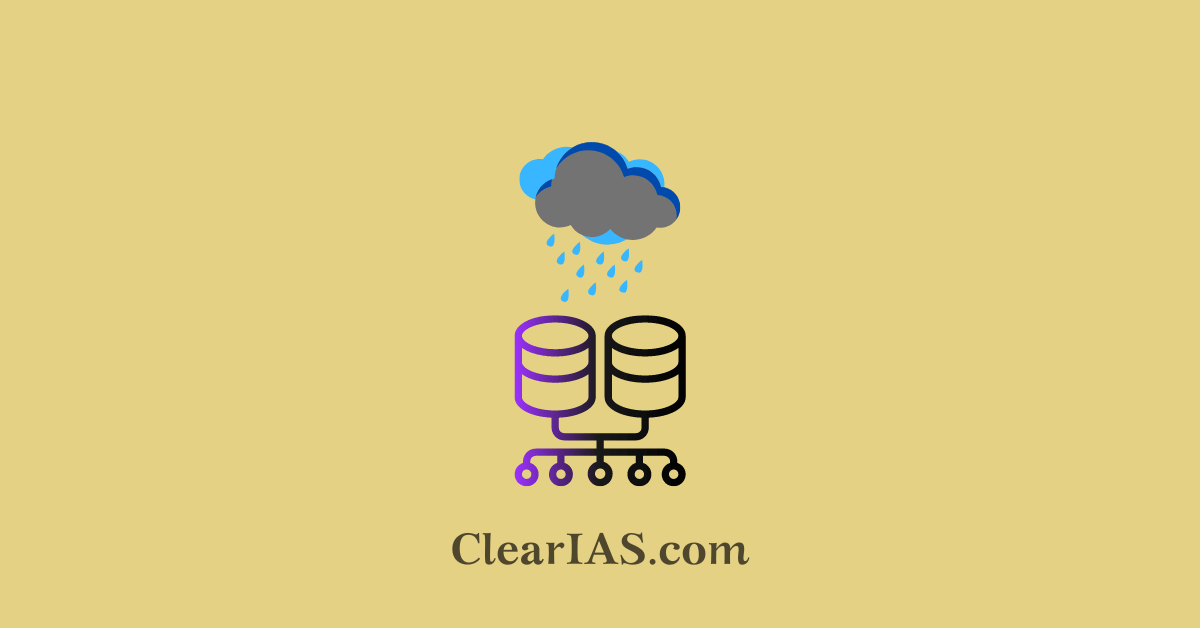 Rainwater harvesting is an important alternative to conserve water for future usage. The NITI Aayog Report 2018 has said that India's water demand will exceed water supply by a factor of two by 2030. Hence, under the rapidly depleting groundwater table, water harvesting is an ideal solution. Read here to learn more about rainwater harvesting.
India possesses 4% of the world's water resources and makes up around 2.45% of its surface area.
Rainfall serves as India's main supply of freshwater. India receives the second-highest quantity of rainfall for a nation its size.
The average annual rainfall in India is 1,170 millimeters (46 in), or over 4,000 cubic kilometers (960 cubic miles) of water. This translates to about 1,720 cubic meters (61,000 cu feet) of freshwater per person.
For most places in India, groundwater is the main source of water supply, and the country's rapidly declining groundwater resources demand immediate attention if water security is to be ensured in the upcoming years.
Also read: Aravalli Green Wall Project
Rainwater harvesting
The act of collecting and storing rainwater as opposed to letting it flow off is known as rainwater harvesting.
Rainwater is gathered from a surface like a roof and directed to a container with percolation, such as a tank, cistern, deep pit (well, shaft, or borehole), aquifer, or reservoir where it seeps down and replenishes the groundwater table.
The rainwater harvesting process includes the collection and storage of collected rainwater with the help of artificially designed systems.
The main components of the system are-
Catchment: Used to collect and store the captured rainwater.
Conveyance system: It is used to transport the harvested water from the catchment to the recharge zone.
Flush: It is used to flush out the first spell of rain.
Filter: Used for filtering the collected rainwater and removing pollutants.
Tanks and recharge structures: Used to store the filtered water which is ready to use.
Rainwater harvesting has significance in solving other related issues in a nation like food security, rapid urbanization, and industrial developmental demands. This method acts as a decentralized source of water for all needs.
Traditional water harvesting systems in India
Water has been harvested in India since antiquity, with our ancestors perfecting the art of water management. The raindrops were harvested directly from rooftops collected water and stored in tanks built in their courtyards.
From open community lands, the rain was collected and stored in artificial wells.
The monsoon runoff was harvested by capturing water from swollen streams during the monsoon season and storing it through various forms of water bodies.
The water was also harvested from flooded rivers.
Paar system: Paar is a common water harvesting practice in the western Rajasthan region.
It is a common place where the rainwater flows from the agar (catchment) and in the process percolates into the sandy soil.
To access the Rajani pani (percolated water) kuis or beris are dug in the agor (storage area).
Talan/bandhis: Talabs are reservoirs.
They may be natural, such as the ponds (pokhariyan) at Tikamgarh in the Bundelkhand region.
They can be human-made, such as the lakes in Udaipur.
A reservoir area of fewer than five bighas is called a talai; a medium-sized lake is called a bandhi or talab; bigger lakes are called sagar or samand.
The pokhariyan serves irrigation and drinking purposes. When the water in these reservoirs dries up just a few days after the monsoon, the pond beds are cultivated with rice.
Saza kuva: An open well with multiple owners (saza means partner), saza kuva is the most important source of irrigation in the Aravalli hills in Mewar, eastern Rajasthan.
The soil dug out to make the well pit is used to construct a huge circular foundation or an elevated platform sloping away from the well.
The first is built to accommodate the rehat, a traditional water lifting device; the sloping platform is for the chada, in which buffaloes are used to lift water.
Johads: Johads are small earthen check dams that capture and conserve rainwater, improving percolation and groundwater recharge.
Starting in 1984, the last sixteen years have seen the revival of some 3000 johads spread across more than 650 villages in the Alwar district, Rajasthan.
This has resulted in a general rise of the groundwater level by almost 6 meters and a 33 percent increase in the forest cover in the area.
Pat: Bhitada village, Jhabua district of Madhya Pradesh developed the unique pat system.
This system was devised according to the particularities of the terrain to divert water from swift-flowing hill streams into irrigation channels called pats.
Jhalaras: Jhalaras are typically rectangular-shaped step-wells that have tiered steps on three or four sides.
These step-wells collect the subterranean seepage of an upstream reservoir or a lake.
Jhalaras were built to ensure an easy and regular supply of water for religious rites, royal ceremonies, and community use.
The city of Jodhpur has eight jhalaras, the oldest being the Mahamandir Jhalara which dates back to 1660 CE.
Bawari: Bawaris are unique step-wells that were once a part of the ancient networks of water storage in the cities of Rajasthan.
The little rain that the region received would be diverted to man-made tanks through canals built on the hilly outskirts of cities.
The water would then percolate into the ground, raising the water table and recharging a deep and intricate network of aquifers.
To minimize water loss through evaporation, a series of layered steps were built around the reservoirs to narrow and deepen the wells.
Taanka: Taanka is a traditional rainwater harvesting technique indigenous to the Thar desert region of Rajasthan.
A Taanka is a cylindrical paved underground pit into which rainwater from rooftops, courtyards or artificially prepared catchments flows.
Ahar Pynes: Ahar Pynes are traditional floodwater harvesting systems native to South Bihar.
Ahars are reservoirs with embankments on three sides that are built at the end of diversion channels like pynes.
Pynes are artificial rivulets led off from rivers to collect water in the ahars for irrigation in the dry months.
Paddy cultivation in this relatively low rainfall area depends mostly on ahar pynes.
Panam keni: The Kuruma tribe (a native tribe of Wayanad) uses a special type of well, called the Panam keni, to store water.
Wooden cylinders are made by soaking the stems of toddy palms in water for a long time so that the core rots away until only the hard outer layer remains.
Khadin: Khadins are ingenious constructions designed to harvest surface runoff water for agriculture.
The main feature of a khadin, also called dhora, is a long earthen embankment that is built across the hill slopes of gravelly uplands.
Sluices and spillways allow the excess water to drain off and the water-saturated land is then used for crop production.
First designed by the Paliwal Brahmins of Jaisalmer in the 15th century, this system is very similar to the irrigation methods of the people of ancient Ur (present Iraq).
Kund: A kund is a saucer-shaped catchment area that gently slopes towards the central circular underground well. Its main purpose is to harvest rainwater for drinking.
Kunds dot the sandier tracts of western Rajasthan and Gujarat. Traditionally, these well-pits were covered in disinfectant lime and ash.
Raja Sur Singh is said to have built the earliest known kunds in the village of Vadi Ka Melan in the year 1607 CE.
Baoli: These were built by the nobility for civic, strategic, or philanthropic reasons, baolis were secular structures from which everyone could draw water.
These beautiful stepwells typically have beautiful arches, carved motifs, and sometimes, rooms on their sides.
Baolis within villages were mainly used for utilitarian purposes and social gatherings.
Baolis on trade routes were often frequented as resting places.
Stepwells used exclusively for agriculture had drainage systems that channeled water into the fields.
Nadi: These are village ponds that store rainwater collected from adjoining natural catchment areas. These are found near Jodhpur in Rajasthan.
Zings: These are found in Ladakh. They are small tanks that collect melting glacier water.
A network of guiding channels brings water from the glacier to the tank. The melting waters of the glacier are article in the mornings and turn into a flowing stream by the afternoon.
The water, collected by evening, is used in the fields on the following day.
A water official called a Chirpun is responsible for the equitable distribution of water in this dry region that relies on melting glacial water to meet its farming needs.
Kuhls: Kuhls are surface water channels found in the mountainous regions of Himachal Pradesh.
The channels carry glacial waters from rivers and streams into the fields.
The Kangra Valley system has an estimated 715 major Kuhls and 2,500 minor kuhls that irrigate more than 30,000 hectares in the valley.
Kulhs are an important cultural tradition and were built either through public donations or by royal rulers.
Zabo: It means 'impounding run-off". This system combines water conservation with forestry, agriculture, and animal care.
Practiced in Nagaland, Zabo is also known as the Ruza system.
Rainwater that falls on forested hilltops is collected by channels that deposit the run-off water in pond-like structures created on the terraced hillsides.
Eri: It is a tank system used in Tamil Nadu which is one of the oldest water management systems in India.
Government policies for Rainwater harvesting
Central Government has formulated National Water Policy 2012 which inter alia contains provisions for rainwater harvesting like:
incentivizing the revival of traditional water harvesting structures by States,
encouraging rainwater harvesting to increase the availability of utilizable water in urban and industrial areas,
preference to urban and rural domestic water supply from surface water in conjunction with groundwater and rainwater, etc.
Water being a State subject, steps for augmentation, conservation, and efficient management of water resources are primarily undertaken by the respective State Governments.
Some of the major steps taken by the Government of India for rainwater harvesting are as follows:
Jal Shakti Abhiyan: This was expanded as "Jal Shakti Abhiyan: Catch the Rain" (JSA: CTR) in 2021 with the theme "Catch the Rain Where it Falls When it Falls" to cover all the blocks of all districts (rural as well as urban areas) across the country.
Atal Bhuj Yojana: It is a Central Sector Scheme with an outlay of Rs. 6,000 crores in identified water-stressed areas of 8,220 Gram Panchayats (GPs) under 229 blocks in 80 districts of 7 States viz. Gujarat, Haryana, Karnataka, Madhya Pradesh, Maharashtra, Rajasthan, and Uttar Pradesh to arrest the decline in groundwater level through community-led sustainable groundwater management.
Watershed Development Component of Pradhan Mantri Krishi Sinchayee Yojana (WDC-PMKSY) has got rainwater harvesting as one of the activities under its Natural Resource Management (NRM) component.
Surface Minor Irrigation (SMI) and Repair, Renovation & Restoration (RRR) of Water Bodies have multiple objectives expanding the cultivable area under assured irrigation by improvement and restoration of water bodies inter alia increasing groundwater recharge and revival of lost irrigation potential.
Master Plan for Artificial Recharge to Groundwater- 2020 has been prepared by Central Ground Water Board in consultation with States/UTs which is a macro-level plan indicating various structures for the different terrain conditions of the country.
Atal Mission for Rejuvenation and Urban Transformation (AMRUT) was launched in 2015 and focuses on the development of basic urban infrastructure especially water supply & access to tap connection to every household in 500 cities.
Mahatma Gandhi National Rural Employment Guarantee Scheme (MGNREGS) includes water conservation and water harvesting structures as one of the activities under its natural resource management (NRM) component.
Mission Amrit Sarovar was launched on National Panchayati Raj Day on 24th April 2022 as a part of the celebration of Azadi ka Amrit Mahotsav to conserve water for the future. The Mission is aimed at developing and rejuvenating 75 water bodies in each district of the country
Way forward
To replenish India's depleting water supplies, it is urgent to encourage rainwater harvesting utilizing a combination of ancient rainfall-saving techniques including percolation tanks, injection wells, and subsurface barriers with modern rainwater-saving methods.
But relying just on conventional techniques is insufficient. The solution to India's ongoing water problems may be found in the effective combination of these techniques.
It is necessary to intensify efforts to lessen reliance on groundwater with a focus on improving water security.
Rejuvenation and replenishment of built-up and natural water bodies.
increased repurposing of cleaned wastewater by neighborhood sewage treatment facilities.
Across both residential and business locations, install properly constructed rainwater collection systems.
Governments at the federal and state levels must work together to enable these initiatives.
For long-term and sustainable solutions, strict policy actions are required.
Local government entities must propose and carry out an integrated water management strategy.
-Article written by Swathi Satish