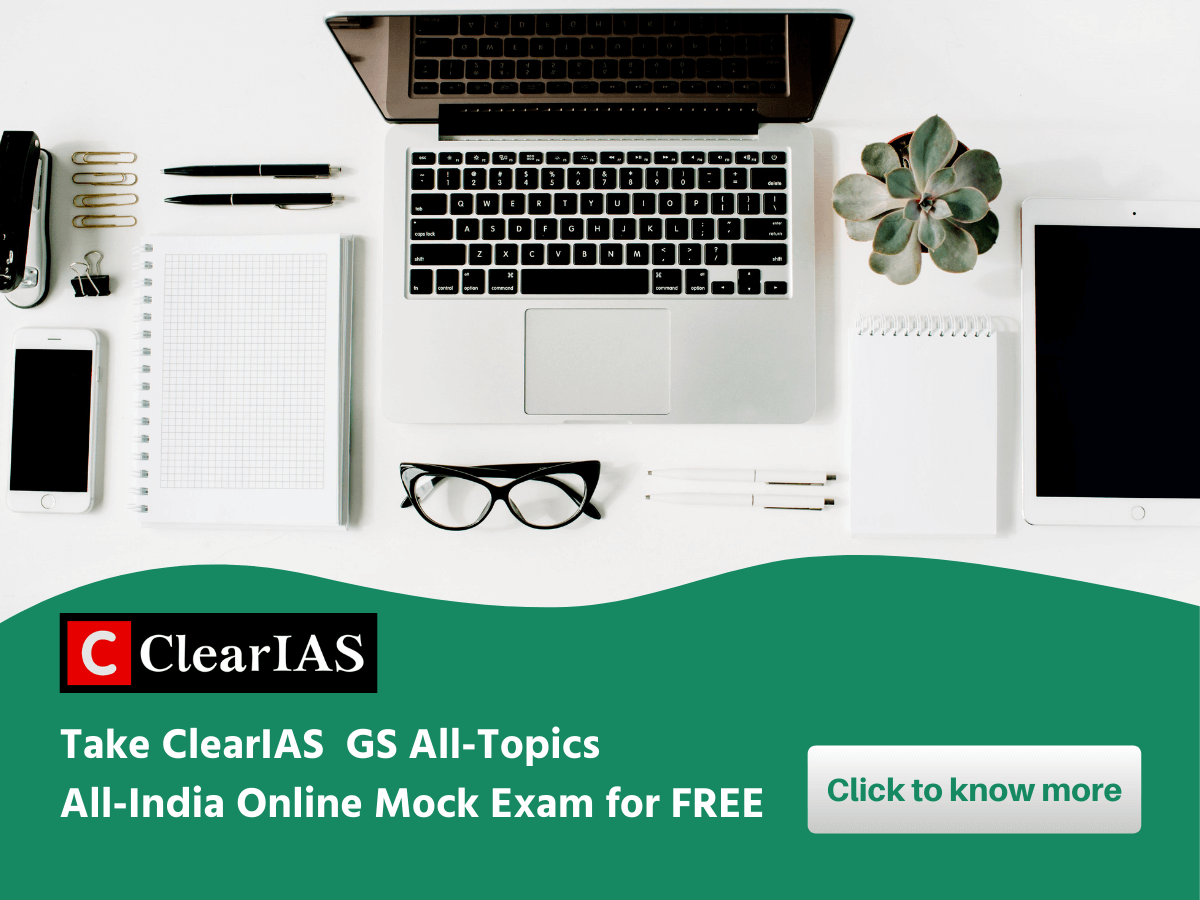 If preparing for IAS exam, there is no strategy as efficient as taking a UPSC Prelims Online Mock Test to maximize your marks. Take GS All-Topics All-Indian Online Mini Mock Exam by ClearIAS for FREE today!
Take ClearIAS Online Mock Exam for FREE
ClearIAS Mock Exam Platform provides both free and premium exams for IAS aspirants to practice and learn concepts. While the free exams are mini exams (10 questions, 12 minutes), the premium exams part of ClearIAS Prelims Test Series are full-length exams (100 questions, 120 minutes).
ClearIAS – The brand aspirants trust for taking online mock exams for UPSC CSE
When it comes to online mock exams for UPSC, ClearIAS is the brand aspirants trust. No wonder, we have more than 2.5 lakh registered users on our ClearIAS Online Mock Exam platform.
ClearIAS is reputed for its accurate selection of probable questions.
Take GS All Topics – UPSC Prelims All India Online Mock Test for FREE today
UPSC Prelims Free Mini Mock Test (001FT-20) is an all-topic free trial test by ClearIAS. This mini-test (10 questions in 12 minutes) will help aspirants get a quick grasp of the quality and features of our test series.
ClearIAS: Experience pan-India competition; Improve your Performance
Detailed answer keys can be accessed from the highlighted link once you finish the exam.
You can also check the rank list here.
For performance charts, refer to this link.
Practice, Practice, and Practice
Most aspirants commit the mistake of over-depending on study-materials.
However, what matters most in the success in competitive exams like UPSC CSE is quality practice.
Follow ClearIAS Test-based Approach
Long realised the importance of practice in success, ClearIAS conceptualised our method of online training on test-based approach rather than a text-based approach.
To improve exam-skills, we have also included many useful techniques like ClearIAS Intelligent Elimination Techniques in our mock exams.
Enroll in ClearIAS Prelims Test Series; Get ClearIAS Most Probable Prelims Questions (PDF) for FREE
ClearIAS Online Mock Exams will help aspirants get all-around practise as our exams cover a wide variety of sources which include NCERTs, standard text-books, newspapers, government websites and so on.
We also provide a lot of ebooks (PDFs) like ClearIAS Most Probable Prelims Questions free of cost – exclusive to ClearIAS Prelims Test Series subscribers (premium users). This helps our users stay updated with current and conventional topics of high priority.
A lot of questions in actual UPSC CSE Prelims could have been answered from ClearIAS Test Series!
Yes, we repeat success year after year. For the fourth consecutive year, ClearIAS maintained the high question selection ratio.