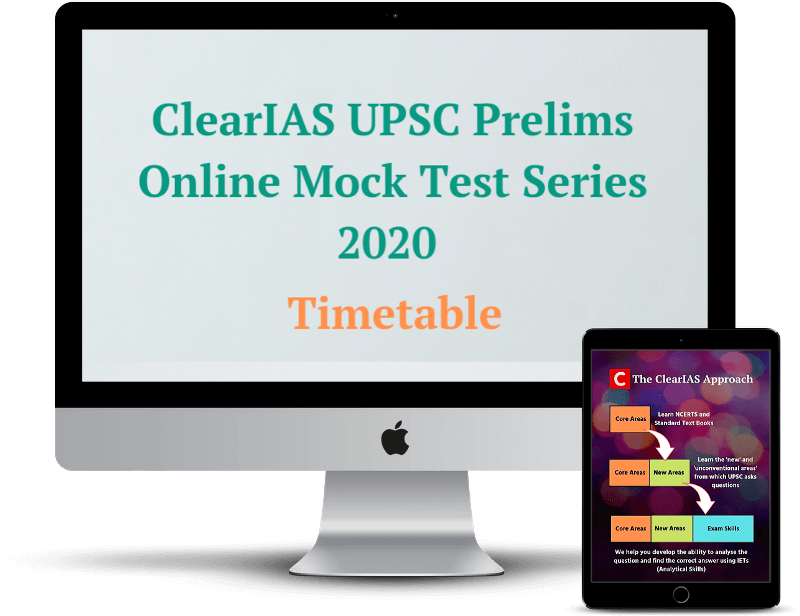 ClearIAS UPSC Prelims Online Mock Test Series 2020 Timetable (Schedule) is now available. You can download the timetable as PDF and plan your preparation accordingly for UPSC Prelims 2020 (scroll down).
Mock Exams as per the ClearIAS Test-based approach to clear UPSC 2020 are briefly divided as below:
Enroll now: 40 Online Mock Exams @ Rs.9000 Rs.4999 (Limited Period Offer)

Separate Prelims Test Series for General Studies Paper 1 and General Studies Paper 2 (CSAT)
ClearIAS offers prelims mock test series for General Studies Paper 1 as well as General Studies Paper 2.
Are you looking for Solved UPSC Previous Year Question Papers (based on official UPSC Key)?
Search no further.
ClearIAS offers Re-Take option of previous year UPSC question papers from 2011-2019 based on official UPSC key. Detailed explanations are provided for each question.
Download ClearIAS UPSC Prelims Test Series 2020 Timetable as a High-Quality PDF (Useful for Ready-reference OR print-outs)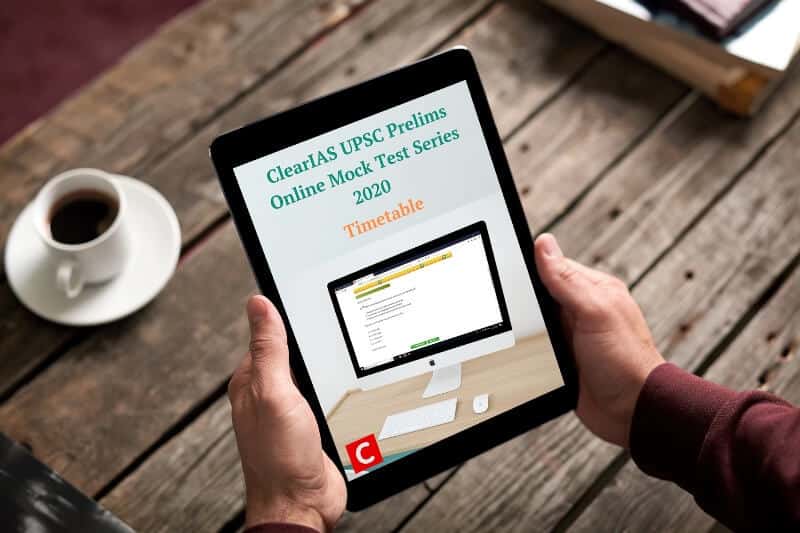 Download Link – You can download the Prelims Test Series 2020 Timetable PDF from this link.
Details of ClearIAS Prelims Test Series 2020, ClearIAS add-on packages, and Study-Plan are included in the PDF attached below. New exams will be uploaded on Sundays, as per the schedule. Aspirants can take mock exams at any time convenient before Prelims 2020.
ClearIAS Prelims Test Series – Trusted by Toppers!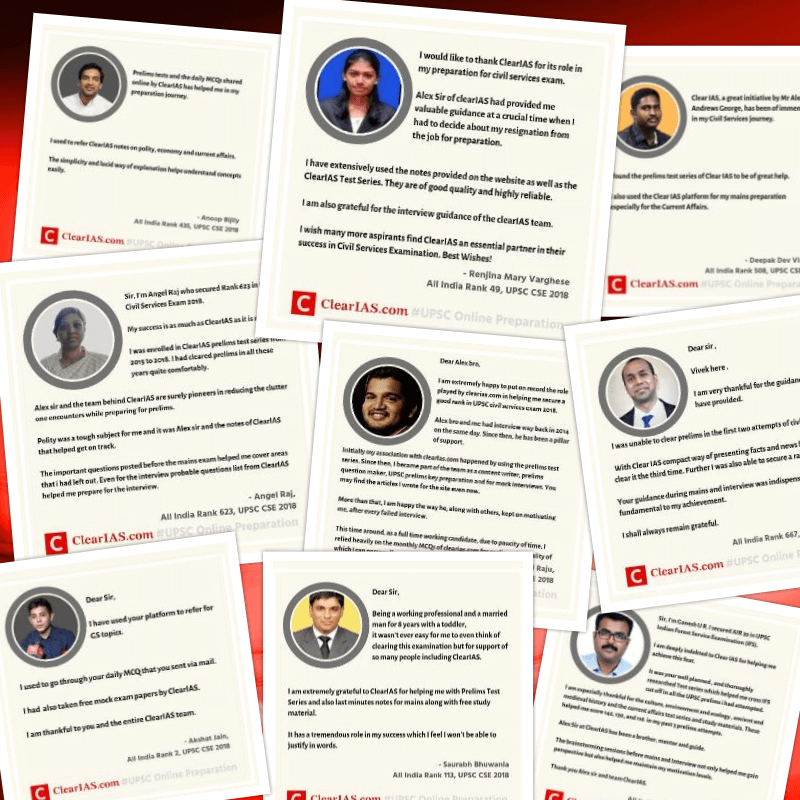 Check the testimonials of toppers – there are thousands of satisfied and happy users of ClearIAS. We believe in providing real value addition to our students, and try our best to make the UPSC journey of aspirants simple and easy.
Most Probable Questions – High Selection Ratio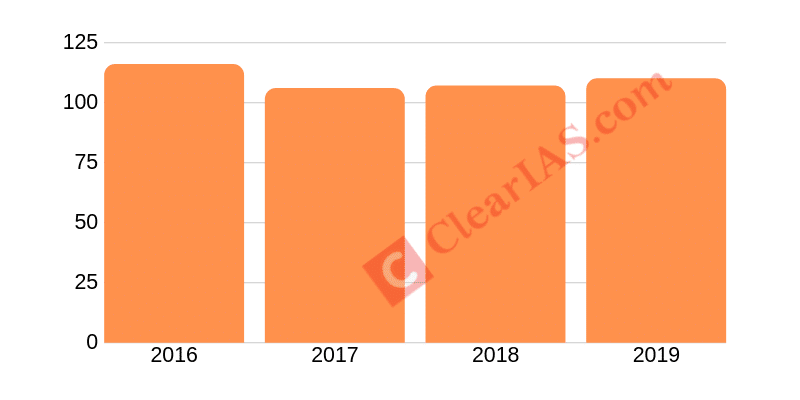 It's not the first time that ClearIAS is producing exceptional results. For the fourth consecutive year, ClearIAS maintained the high question selection ratio.
You need a new strategy for UPSC 2020; Old-School Methods may not work now!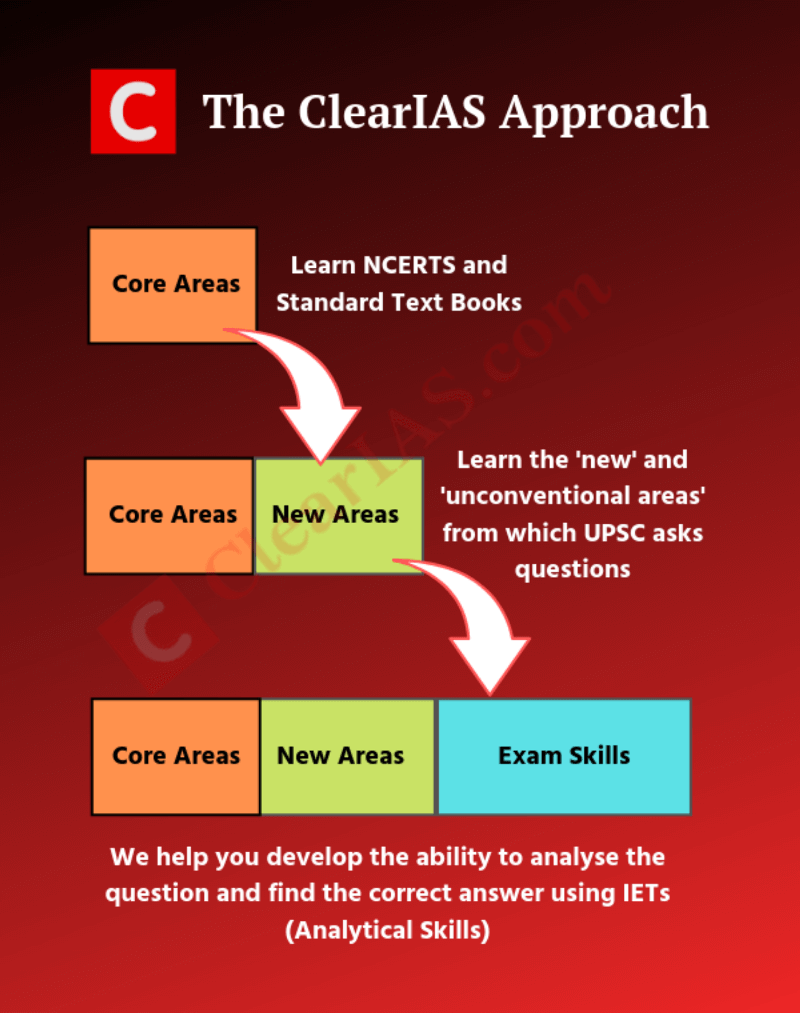 The traditional methods of coaching may not work anymore, unless they adapt to the new requirements of UPSC. Check the question areas of UPSC CSE in recent years. Questions you get directly from NCERTs or Standard Textbooks are not much.
Our intention is to help our enrolled students clear UPSC CSE Prelims – irrespective of the UPSC question difficulty.
As part of ClearIAS fail-proof strategy, conventional and unconventional areas are given equal importance in our test series.
Aspirants should realise that just covering textbooks (traditional areas) is not enough to clear UPSC anymore. Candidates should take an intelligent interest in the events which are happening around them (we shall, of course, give guidance).
ClearIAS has always emphasised that success in UPSC = 50% Knowledge and 50% Exam-Skills.
As part of ClearIAS strategy, special care is given regarding the continuous development of analytical skills in aspirants. Questions, answer choices, and explanations are framed in such a way to cultivate the thinking process of Intelligent Elimination of wrong answers.
Preparing for UPSC 2020? ClearIAS Prelims Test Series 2020 Registrations are now open!