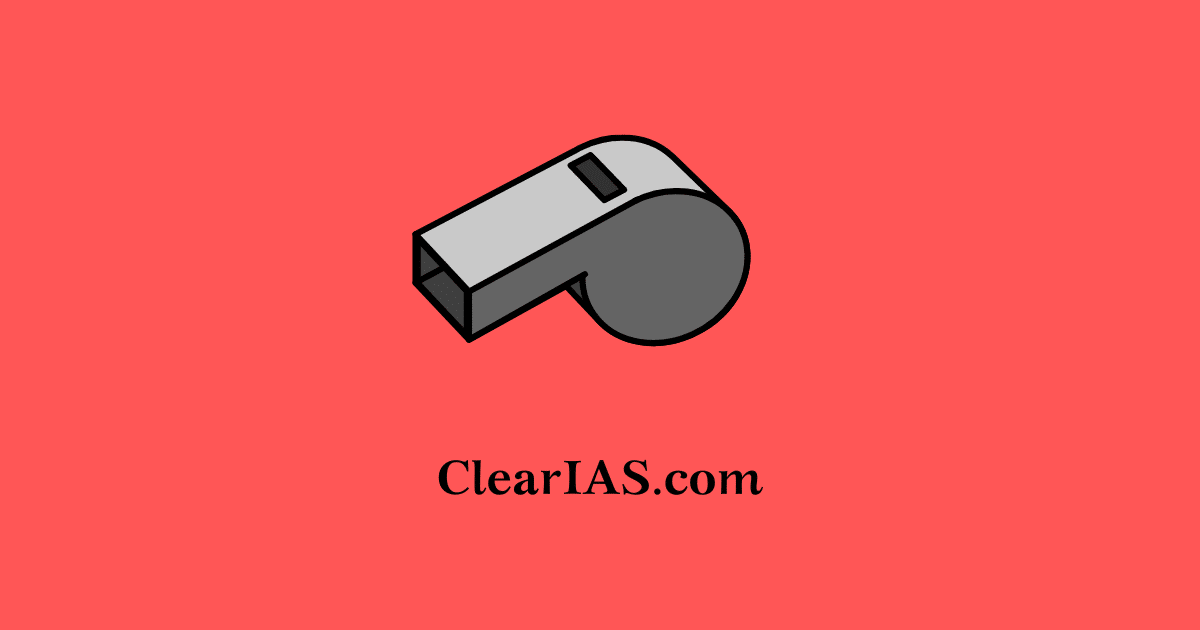 Who is a Whistle Blower? Why is it so much important and what are its issues? Are there any recent examples? What are the provisions of the Whistle Blowers Protection Act? To answer these questions, read further.
A whistleblower is a person, who discloses information to the public or some higher authority about any wrongdoing which could be in the form of fraud, corruption, etc.
When someone gives the correct information to the right people, that person has made a protected disclosure and is a Whistleblower. When a Whistleblower makes a Protected Disclosure, he is afforded protections established by various whistleblower protection laws and policies.
It may involve criminal conduct, unethical policies or practices, a threat to the health, safety, or welfare of the general public or employees, or it might involve treating employees unfairly within the firm.
History has proven that informers who reveal inside information to others have always existed. Whistleblowers were a concept that existed even in ancient India. Kautilya proposed that any informant who provides information receive one-sixth of the reward and any government employee receive one-twelfth of the reward.
Recent examples in India
NHAI Scam: Satyendra Dubey killed in 2003, revealed many tenders and the political criminal nexus in the construction sector, specifically highway constructions.
MGNREGA Scam: Lalit Mehta was murdered before he could uncover the scam, undertook a social audit in Jharkhand with the help of an economist, and found out about severe corruption incidents.
Satyam Scam: He uncovered the corruption and fraudulent audits in the Delhi metro rail.
Infosys: The complaint was filed by a group of employees stating that the company is using unethical practices to increase profits against the top management of the company.
Vyapam Scam: It was with respect to the problems and malpractices happening in the Madhya Pradesh exam board among the exam candidates, the middlemen, and the government officials.
Benefits of whistle-blowing
It helps in fighting corruption. Even Transparency International also acknowledged it as being the most effective tool for fighting corruption.
With the fear of exposure because of whistleblowers, many corruption activities and fraudulent acts will be curbed and it will lead to an efficient workplace.
With the help of such a mechanism, no employee will ever feel small and will feel capable of making credible contributions, thus it will result in empowering employees.
If there is fear of whistle-blowers disclosing information, it will make organizations more transparent and thus increase accountability.
This can be an effective tool for grievance redressal too and will also help the authority to know if any malpractice is taking place, so it is a win-win situation.
Issues with Whistleblowing
It sometimes hampers the person's fierce decision-making due to the fear of reporting and whistle-blowing. It can also be used for defamation and to harass employees against others.
Whistleblowing quite often leads to a feeling of hostility rather than solidarity amongst the workers and it may also lead to disloyalty to the organization.
Although misleading complaints cannot harm the organization, however, they can surely ruin the reputation of the organization which may have long-term consequences for the organization.
The whistleblowers are prone to life threats and retaliation, for example, Shanmughan Manjunath was murdered for sealing a petrol pump that was selling adultered oil. A movie was also made on this incident titled 'Manjunath'.
There is also a possibility of social isolation as society doesn't look good upon those who betray their organizations.
Many times the complaint gets dismissed for being too sensitive and thus it might also lead to loss of employment and it will again aggravate the problem of unemployment.
Legislations for whistleblowers in India
Companies Act 2013: It provides that certain companies should provide a vigilance mechanism to report genuine concerns and states that certain mechanisms will be accompanied by adequate safeguards.
SEBI Pit Regulation: It was to reward the whistleblowers and other informants for sharing information about insider trading cases.
Whistleblowers protection act 2014
The law created a legal mechanism to deal with complaints about allegations of corruption or intentional misuse of power or discretion against any public servant and to investigate or cause an investigation into such allegations.
It allows anyone, including government employees, to make a general interest disclosure before a Competent Authority. It also defines various competent authorities in great detail.
It also provides safeguards to conceal the identity and safeguards against the victimization of the complainant. The law doesn't allow anonymous complaints and there will be no actions on such complaints. The maximum period for making such a complaint is seven years.
Any person who is dissatisfied with a Competent Authority order may file an appeal with the concerned High Court within sixty days of the date of the order.
Anyone who reveals the identity of a complainant unintentionally or purposely will face imprisonment.
The act does not apply to Special Protection Group (SPG) personnel and officers who were formed under the Special Protection Group Act of 1988.
The Whistleblowers Act supersedes the Official Secrets Act of 1923, allowing the complainant to make public interest disclosures before competent authorities even if they violate other activities but do not impede the nation's sovereignty.
Limitations to the act
This was introduced in light of numerous instances in India where whistleblowers were threatened, harassed, and even murdered for reporting fraud.
However, it is crucial to highlight that the Act does not define or establish any standards for what constitutes victimization. As a result, whistleblowers are still not adequately protected and, in most cases, prefer to remain anonymous for fear of repercussions for themselves or their families.
Other countries' whistleblower laws also prohibit the disclosure of certain types of information including national security and intelligence information received in a fiduciary capacity, as well as any disclosure expressly prohibited by law.
Way Forward
It requires more political will for the act to be more empowered and also the public must be empowered to approach the authorities and is not afraid to disclose the information.
Anonymous complaints must be investigated because many people choose to come forward about such a condition. There must be sufficient scope for witness protection and strict punishment for any attempt to threaten whistleblowers.
Many terms, such as victimization, must be defined to eliminate ambiguity.
The act should provide the highest level of care and protection for the individual and his family, as well as a protection agency that not only protects but also encourages emerging whistleblowers. Disclosure should be encouraged, especially in cases of tax evasion.
Article written by Chetna Yadav.