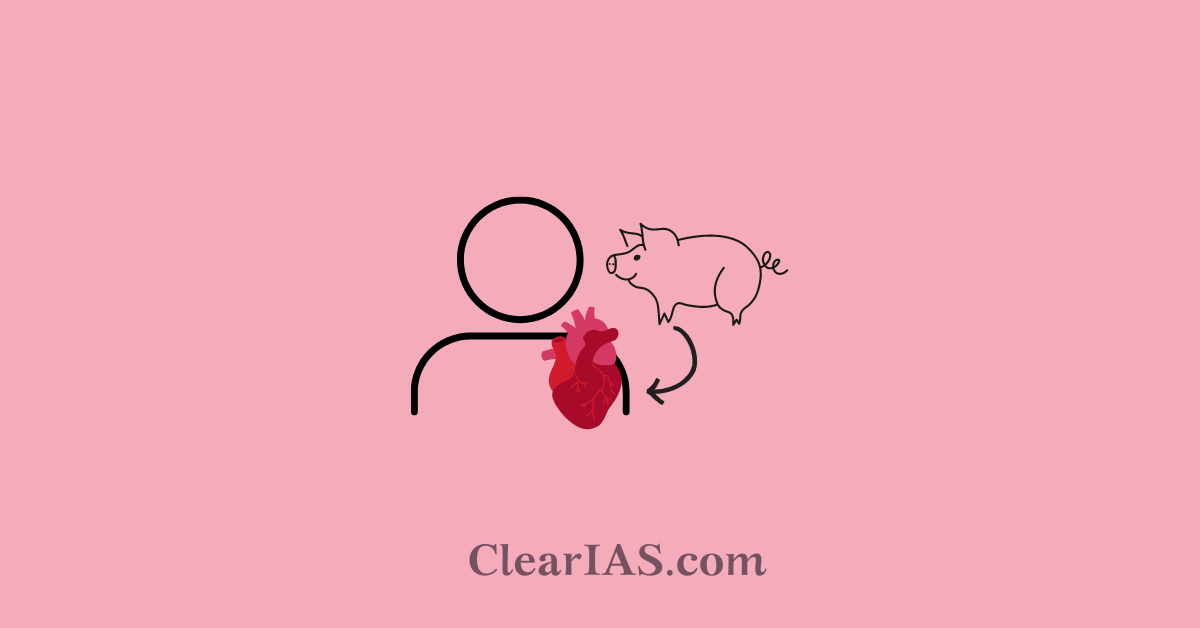 What is the procedure known as xenotransplantation, in which an animal's organ is used to keep a human alive? What is the purpose of this experimental procedure? What is the historical aspect of xenotransplantation? Read here to know more about the process.
A 57-year-old patient's heart was replaced with a genetically modified pig's heart in a historic procedure in January 2022. However, two months after the procedure, the patient passed away.
The genetically modified pig heart took longer to generate a heartbeat than the hearts of pigs or humans usually do, researchers have said.
The changes in the transplanted pig heart slowed the electric signal from the top of the heart to the bottom, according to the findings presented.
Also read: Ethics in organ transplant
What is Xenotransplantation?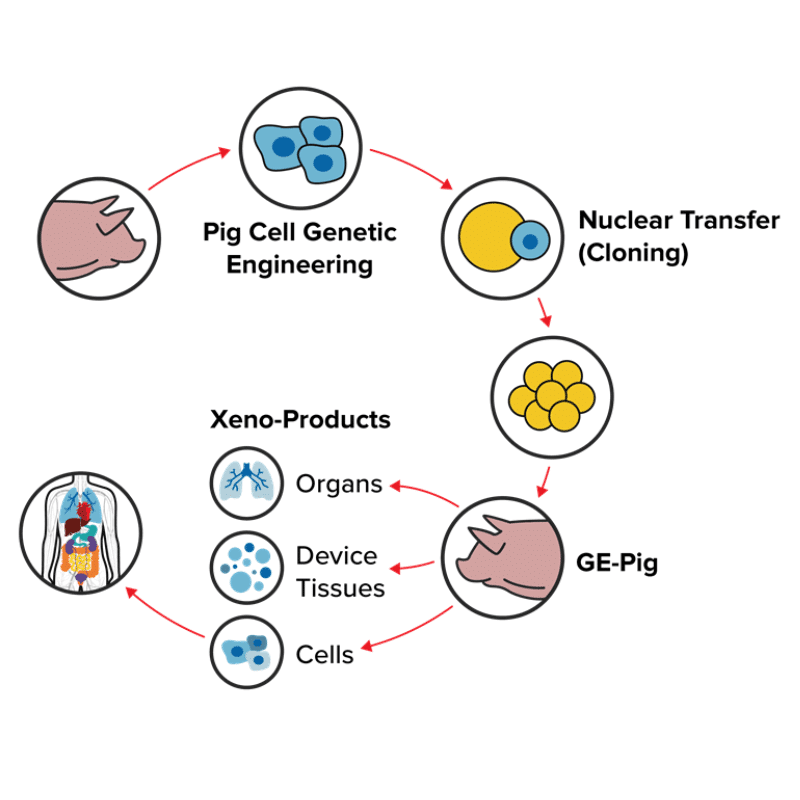 Xenotransplantation is any procedure that involves the transplantation, implantation, or infusion into a human recipient of either
live cells, tissues, or organs from a nonhuman animal source, or
human body fluids, cells, tissues, or organs that have had ex vivo (outside of the living body) contact with live non-human animal cells, tissues, or organs.
Thanks to the CRISPR technology, the production of multiple-gene pigs is easier and faster, and more genetically-engineered pigs are now available for xenotransplantation research.
The demand for human organs for clinical transplantation outstrips the supply, which has contributed to the growth of xenotransplantation.
Pre-clinical oncology studies typically employ the study approach of xenotransplanting human tumor cells into immunosuppressed mice.
Advantages:
In India, patients need 25,000-30,000 liver transplants annually. But only about 1,500 end up receiving them.
Approximately ten patients die each day in the United States while on the waiting list to receive lifesaving vital organ transplants.
Cross-species transplantation (xenotransplantation) offers the prospect of an unlimited supply of organs and cells for clinical transplantation.
This can resolve the critical shortage of human tissues that currently prohibits a majority of patients on the waiting list from receiving transplants.
Recent evidence has suggested that transplantation of cells and tissues may be therapeutic for certain diseases such as neurodegenerative disorders and diabetes, where, again human materials are not usually available.
The use of cells or tissues from other species is the goal of various techniques, some of which are being researched in preliminary clinical trials, to treat serious and debilitating diseases like cancer, diabetes, liver failure, and Parkinson's disease.
Concerns about Xenotransplantation:
Although the potential benefits are considerable, the use of xenotransplantation raises concerns:
Immunological rejection is a serious concern that patients who undergo animal-to-human transplants face.
The potential infection of recipients with both recognized and unrecognized infectious agents and the possible subsequent transmission to their close contacts and into the general human population.
The possibility of retroviruses infecting different animals, which could be latent and cause disease years after infection, is a problem for public health.
Furthermore, novel infectious pathogens can be difficult to spot using present methods (zoonosis).
Pigs age at a faster rate than humans do because they have shorter lives. As a result, it is uncertain if the organ will continue to function throughout time.
Animal rights advocates have criticized xenotransplantation for ethical reasons like how they have criticized animal testing.
Animals' genetic codes being permanently altered is likewise cause for concern.
Also read: Ethics of Euthanasia
History of Xenotransplantation
Between the 17th and 20th centuries, blood was transfused from various animal species into patients with a variety of pathological conditions.
Skin grafts were carried out in the 19th century on a variety of animals, with frogs being the most popular.
In 1838 the first corneal xenotransplantation (from a pig) was performed in a patient, whereas the first corneal allograft (human-to-human).
In 1963–1964, when human organs were not available and chronic dialysis was not yet in use, Reemtsma transplanted chimpanzee kidneys into 13 patients, one of whom returned to work for almost 9 months before suddenly dying from what was believed to be an electrolyte disturbance.
The first heart transplant in a human ever performed was by Hardy in 1964, using a chimpanzee heart, but the patient died within 2 hours.
Starzl carried out the first chimpanzee-to-human liver transplantation in 1966; in 1992, he obtained patient survival for 70 days following a baboon liver transplant.
Alexis Carrel working first in France and subsequently in North America, developed surgical techniques for anastomosing blood vessels, which enabled organ transplantation to be carried out successfully for the first time. For this work, he was awarded the Nobel Prize in 1912.
With the advent of genetic engineering and cloning technologies, pigs are currently available with several different manipulations that protect their tissues from the human immune response, resulting in increasing pig graft survival in nonhuman primate models.
Genetically modified pigs offer hope of a limitless supply of organs and cells for those in need of a transplant.
Transplantation in mythology:
Humans have been interested in the possibility of merging physical features from various animal species for hundreds of years.
The chimera has been used to represent the allotransplantation of organs and cells (transplantation between members of the same species).
In Hindu mythology, Ganesha is a god with an elephant head and the story also mentions that Ganesha was given a drink "elixir" to Ganesha which could be extrapolated to modern-day induction immunosuppression medicine.
Sushrutha Samhita provides the first written evidence of forehead flap rhinoplasty, which is practiced today for the reconstruction of the nose.
Future of Xenotransplantation
Xenotransplantation promises that there would no longer be a need for a waiting list, because there would be a ready supply of appropriate organs available at all times, from a genetically modified and carefully overseen population of pigs.
The high cost and complex healthcare infrastructure required for xenotransplantation might limit its use in less affluent countries. This can be resolved in time as the research progresses with substantial success.
-Article written by Swathi Satish