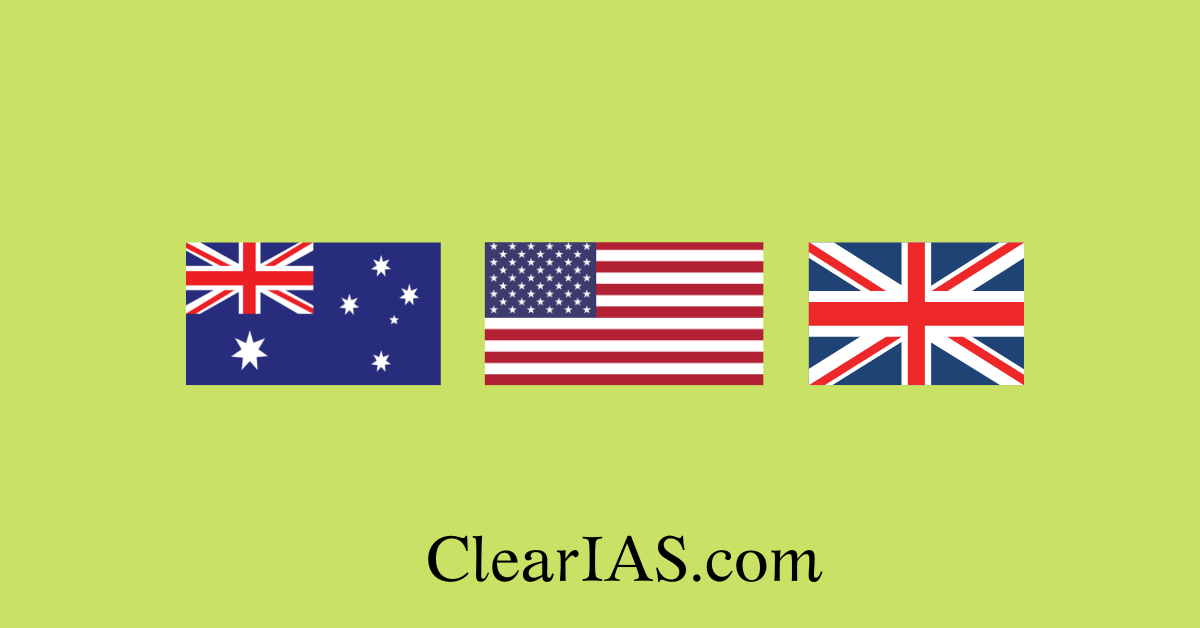 What is AUKUS? Why was it in the news recently? What are its major objectives? What are the major initiatives taken under it? Read on to learn more.
Multilateral groupings are the ones involving three or more nations having similar geopolitical, geostrategic, economic or security interests.
They address the issues of all the countries that are part of it.
AUKUS is one such multilateral grouping that was in news recently.
What is AUKUS?
AUKUS is a trilateral security pact between Australia, the United Kingdom, and the United States, announced on 15 September 2021 for the Indo-Pacific region. Under the pact, the US and the UK will help Australia to acquire nuclear-powered submarines, though not equipped with nuclear weapons. It also allows for greater sharing of intelligence.
Major objectives of AUKUS
The deal is seen as a step toward curtailing China, which has made significant aggressive manoeuvres in the Pacific region, especially in and around the South China Sea, where it has expansive territorial claims.
The nuclear-powered submarines will give Australia naval heft in the Pacific, where China has been particularly aggressive. While the US and Britain have had the capability for decades, Australia has never had any nuclear-powered submarine.
Initiatives taken so far under AUKUS
The first major initiative of AUKUS would be to deliver a nuclear-powered submarine fleet for Australia.
The announcement of AUKUS included the stated aim of improving joint capabilities and interoperability.
These initial efforts will focus on cyber capabilities, artificial intelligence, quantum technologies, and additional undersea capabilities.
You might be wondering, why nuclear-powered submarines is such a big deal.  It is a big deal indeed. Let us examine the advantages of nuclear-powered submarines over conventional submarines.
Advantages of nuclear-powered submarines over conventional submarines
A nuclear-powered submarine (SSN) gives a navy the capability to reach far out into the ocean and launch attacks.
Nuclear propulsion, being completely independent of the air, does not need the surface frequently, as is necessary for conventional submarines.
The huge amount of power generated by the nuclear reactor helps the nuclear submarines to operate at high speed for long periods of time and the current generations of nuclear submarines do not need to be refuelled throughout their 25-year lifespans.
In news:
AUKUS grouping came into prominence when Australia ended a multi-billion dollar contract with France signed in 2016 to build 12 diesel-electric submarines to replace its existing Collins submarine fleet. It instead signed a new defence pact with US and UK. The deal marks the first time the US has shared nuclear propulsion technology with an ally apart from the UK.
China's response
Relations between the three allies and China were already at a low. The AUKUS deal did not name China directly but was widely understood to be in response to its expansionism in the South China Sea and aggression towards Taiwan. It drew a swift response from Beijing. A Chinese foreign ministry spokesperson said the three countries were in the grip of an "obsolete cold war zero-sum mentality and narrow-minded geopolitical concepts" and should "respect regional people's aspiration […] otherwise they will only end up hurting their own interests".
Why should India worry?
India has been placed on the Strategic Trade Authorisation-1 (STA-1) list in 2018 after being recognized as a 'major defence partner' in 2016. Despite this, no major technology has been shared with India till now. This is a concern for India given that Australia is now acquiring one of the most advanced technologies of the US, under the aegis of AUKUS.
Conclusion
Despite indifference towards AUKUS, India may derive secondary benefits from the AUKUS arrangement having three advanced nations with arguably the most sophisticated military power in the world coming together to support a free and open Indo-Pacific in the light of the increasingly assertive attitude of China in the region. This could provide some degree of deterrence to China. Also, India's concerns regarding 'encirclement' by China may be partially mitigated by AUKUS.
Article written by: Caroline