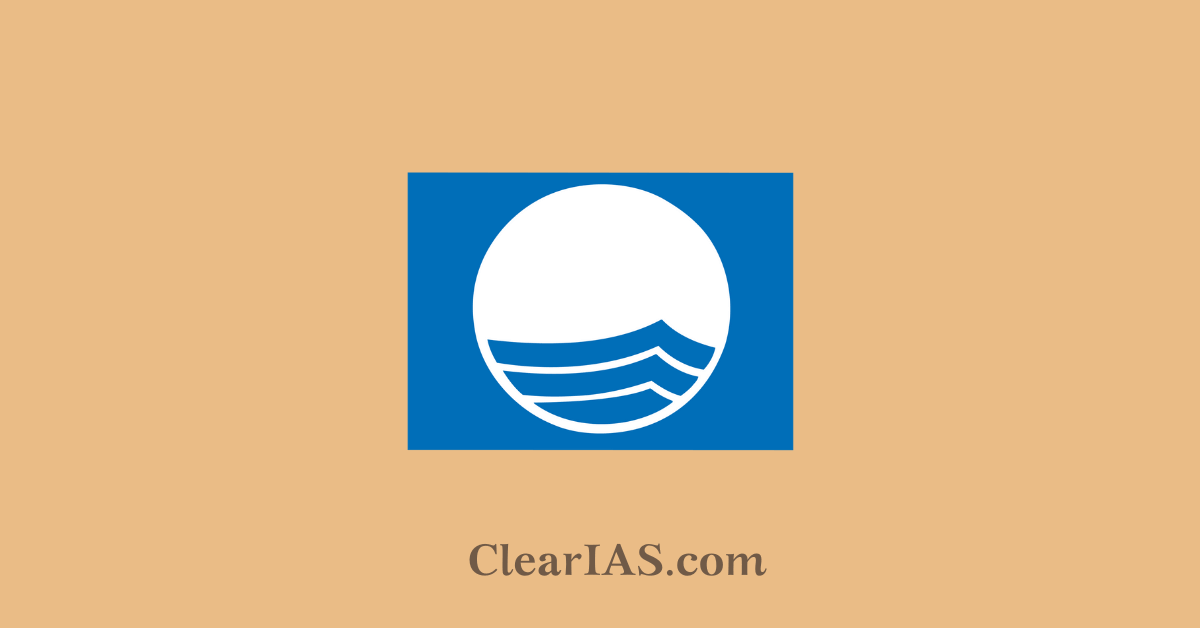 Blue Flag certification is a globally recognized eco-label accorded by Foundation for Environment Education in Denmark (FEE). The water bodies are given this label if the stringent criteria are maintained. The Blue flag beaches are often in news hence it is necessary to understand its significance. Read here to know more.
The iconic Blue Flag is one of the world's most recognized voluntary awards for beaches, marinas, and sustainable boating tourism operators.
To qualify for the Blue Flag, stringent environmental, educational, safety, and accessibility criteria must be met and maintained.
The mission of Blue Flag is to promote sustainability in the tourism sector, through environmental education, environmental protection, and other sustainable development practices.
Blue Flag Beaches in In India
The addition of two new beaches is yet another recognition of India's commitment to protecting and conserving the pristine coastal and marine ecosystems through holistic management of the resources.
Thundi Beach is one of the most pristine and picturesque beaches in the Lakshadweep archipelago where white sand is lined by the turquoise-blue water of the lagoon.
It is a paradise for swimmers and tourists alike.
Kadmat Beach is especially popular with cruise tourists who visit the island for water sports.
It is a paradise for nature lovers with its pearl white sand, blue lagoon waters, its moderate climate, and friendly locals.
Both beaches have designated staff for beach cleanliness and maintenance, and the safety and security of swimmers.
Both beaches comply with all the 33 criteria as mandated by the Foundation for Environment Education (FEE).
The other Indian beaches in the blue list are:
Shivrajpur-Gujarat
Ghoghla-Diu
Kasarkod-Uttara Karnataka
Padubidri- Udupi, Karnataka
Kappad-Kerala
Rushikonda- Andhra Pradesh
Golden-Odisha
Radhanagar- Andaman and Nicobar
Kovalam in Tamil Nadu
Eden in Puducherry beaches
Kovalam and Eden got the Blue Flag last year. The other eight beaches received the certification in 2020 and were re-certified last year. Awarding 8 certifications to a single country was a first in itself as well.
Blue Flag Certification
A unique eco-label or certification known as the "Blue Flag" is presented to coastal areas all over the world as a mark of environmental distinction.
The Foundation for Environmental Education (FEE), a non-profit organization with its headquarters in Copenhagen, Denmark, runs the Blue Flag initiative in support of the United Nations' Sustainable Development Goals (SDGs).
According to the FEE, "the iconic Blue Flag is one of the world's most recognized voluntary awards for beaches, marinas, and sustainable boating tourism operators. To qualify for the Blue Flag, stringent environmental, educational, safety, and accessibility criteria must be met and maintained."
The 33 criteria are divided into 4 major heads:
Environmental education and information
Bathing water quality
Environmental management
Conservation and safety services on the beaches
In 1987, the Blue Flag initiative was launched, first in Europe and since then every year certification is given out.
The badge has so far been given to 5,042 beaches, marinas, and tourist vessels throughout 48 nations.
(A marina is a small harbor where primarily yachts and recreational vessels dock.)
A global jury that includes representatives from the United Nations Environment Programme (UNEP), United Nations World Tourism Organization (UNWTO), and International Union for the Conservation of Nature (IUCN), in addition to FEE, awards the certification.
Central to the ideals of the Blue Flag program is the aim of connecting the public with their surroundings and encouraging them to learn more about their environment.
The initiative also says that environmental education activities must be offered and promoted in addition to a permanent display of information relevant to the site in terms of biodiversity, ecosystems, and environmental phenomena.
This year, the Blue Flag program is celebrating its 35th anniversary, as it started back in 1987.
The program has been continuously evolving and increasing its efforts to provide environmental education, ensure the protection of the marine environment and human health, improve accessibility, and implement safety worldwide.
Blue Flag and SDGs
Poverty Alleviation:
Blue Flag contributes to fighting poverty by supporting local economies through increasing tourism and promoting free access to beaches, business activities, and services.
It creates job opportunities related to maintaining and managing beaches, marinas, and eco-tourism boats.
Zero hunger:
Blue Flag promotes food security through activities such as supporting local sustainable fishing communities, protecting fishery nursery habitats, and spreading sustainable agriculture practices.
It enhances international cooperation in the food industry, technology development, and rural infrastructure.
It fights food waste and overexploitation of natural resources by raising awareness activities for children and adults, protecting ecosystems, and recycling rainwater to reduce the consumption of drinking water.
These initiatives encourage sustainable development, benefit local agriculture, stimulate the economy and have a positive impact on ending poverty and hunger.
Good Health and Well-being:
The Blue Flag has a positive effect on healthy living and well-being. The program supports initiatives for sustainable healthy community development and welfare.
The sites engaged in Blue Flag support a healthy lifestyle by raising people´s awareness through safety education activities.
Affordable and Clean energy:
The program develops sustainability policies to provide sustainable energy infrastructures and services.
It encourages the use of independent and separated energy systems through photovoltaic energy production to reduce greenhouse gas emissions and go towards "zero energy consumption".
Climate action:
The program aims at encouraging sustainable tourism through the promotion of sustainable management at all levels and towards all kinds of stakeholders: schools, businesses, public organizations, tourists, and local communities.
Increasing recycling and the use of alternative energy are some of the mitigating actions undertaken by the program.
The protection of green cover and local biodiversity put forward by Blue Flag helps ensure a healthy ecosystem that contributes to both climate change adaptation and mitigation.
Life below water:
The program prevents and reduces marine pollution, minimizing the impacts of the stakeholders on ocean acidification and promoting the minimum release of chemical products in the aquatic environment.
It supports green fishing communities, and the protection of fishery nursery habitats, coral reefs, sea turtles, and other endangered species, fauna, and flora.
It encourages us to look upstream to improve water quality standards that motivate action in the watershed.
India's efforts
A list of permissible activities and facilities in the CRZ of the beaches, including islands, subject to maintaining a minimum distance of 10 meters from the High Tide Line (HTL), for Blue Flag certification have been notified.
portable toilet blocks, change rooms, and shower panels
solid waste management plant
purified drinking water facility
beach access pathways
landscaping lighting
seating benches and sit-out umbrellas
cloakroom facility
safety watch towers and beach safety equipment
information boards and other signages
fencing and parking facilities
The notification said that these activities and facilities would be exempt from prior clearance under the provisions of CRZ Notification, Island Protection Zone Notification, and Island Coastal Regulation Zone Notifications.
The Ministry of Environment, Forest and Climate Change in its pursuit of "Sustainable Development" of the coastal regions of India embarked upon a highly acclaimed flagship program Beach Environment & Aesthetics Management Services (BEAMS).
It is one of the initiatives under the ICZM approach that the MoEF&CC has undertaken for the sustainable development of coastal regions of India, with a prime objective to protect and conserve the pristine coastal and marine ecosystems through holistic management of the resources.
The objective of the BEAMS program is to:
abate pollution in coastal waters and promote sustainable development of beach facilities
protect and conserve coastal ecosystems and natural resources
seriously challenge local authorities and stakeholders to strive and maintain high standards of cleanliness, hygiene, and safety for beachgoers by coastal environmental regulations.
The Ministry is further committed to developing and delivering 100 more beaches under its ICZM initiative in the ensuing 5 years of the Ministry's vision agenda.
Blue flag beaches in the news
The globally recognized and coveted International eco-label "Blue Flag", has been accorded to two more new beaches in India– Minicoy Thundi Beach and Kadmat Beach- both in Lakshadweep.
This takes the number of beaches certified under the Blue Flag certification to twelve (12).
-Article written by Swathi Satish