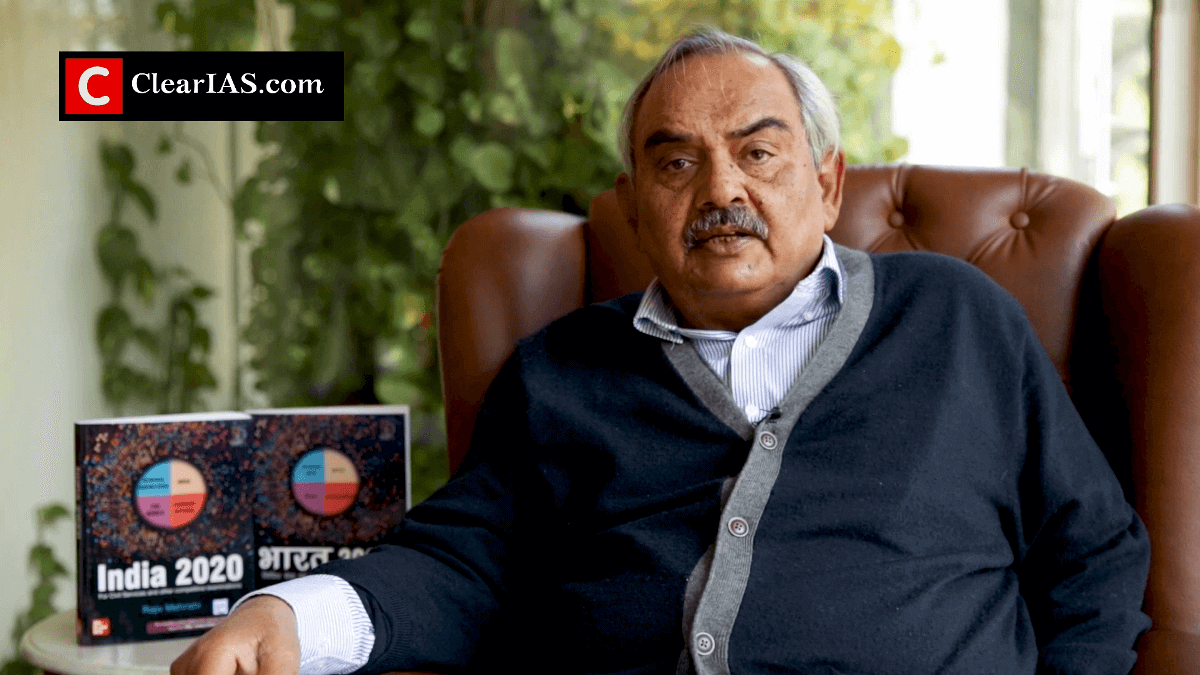 CAG Rajiv Mehrishi IAS (retired), in a special interview with ClearIAS and McGraw-Hill, has explained in laymen's language the key concepts behind current issues like CAA, NRC, NPR and Article 370 – to be understood by aspirants.
Comptroller and Auditor General (CAG) of India, Shri. Rajiv Mehrishi is a man of great knowledge and diverse experience.
He has a special interest in current affairs.
CAG's Interview with ClearIAS and McGraw-Hill (Expert Talks Series)
An eminent civil servant, Mr. Rajiv Mehrishi is also a well-known author. He is the editor of the reputed India Yearbook series published by McGraw-Hill Education.
We have already shared the video where Rajiv Mehrishi gave his valuable recommendations on how to prepare the current affairs section for the recruitment into top government jobs.
In the interview, on our request, CAG also tried to explain many of the recent burning-issues like CAA, NRC, NPR, Article 370 etc in a neutral and impartial manner – to be understood by IAS/IPS aspirants.
Rajiv Mehrishi on Article 370
Jammu and Kashmir was a region formerly administered by India as a state from 1954 to 2019. Article 370 of the Indian constitution gave special status to Jammu and Kashmir. The 1954 Presidential order specified that only some articles of the Indian constitution to apply to the state.
However, the Constitution (Application to Jammu and Kashmir) Order, 2019 stated that all the provisions of the Indian Constitution are applied to Jammu and Kashmir, unlike in the past.  This in effect meant that the separate Constitution of Jammu and Kashmir stood abrogated.
The Parliament of India passed the Jammu and Kashmir Reorganisation Act, which dissolved the state and reorganised it into two union territories – Jammu and Kashmir and Ladakh, with effect from 31 October 2019.
Rajiv Mehrishi on CAA, NRC, and NPR
The Citizenship (Amendment) Act, 2019) amended the Citizenship Act of 1955 by providing a path to Indian citizenship for illegal migrants of Hindu, Sikh, Buddhist, Jain, Parsi, and Christian religious minorities, who had fled persecution from Pakistan, Bangladesh and Afghanistan before December 2014.
The National Population Register (NPR) is a Register of usual residents of the country. It is being prepared under provisions of the Citizenship Act 1955 and the Citizenship Rules, 2003. It is mandatory for every usual resident of India to register in the NPR.
The National Register of Citizens (NRC or NRC) is a register of all Indian citizens mandated by the Citizenship Act, 1955. Its purpose is to register all the citizens of India so that the illegal migrants can be identified and deported. NRC is a subset of NPR.
For more videos: Subscribe to ClearIAS Channel
Subscribe to ClearIAS Youtube channel not to miss updates like this.