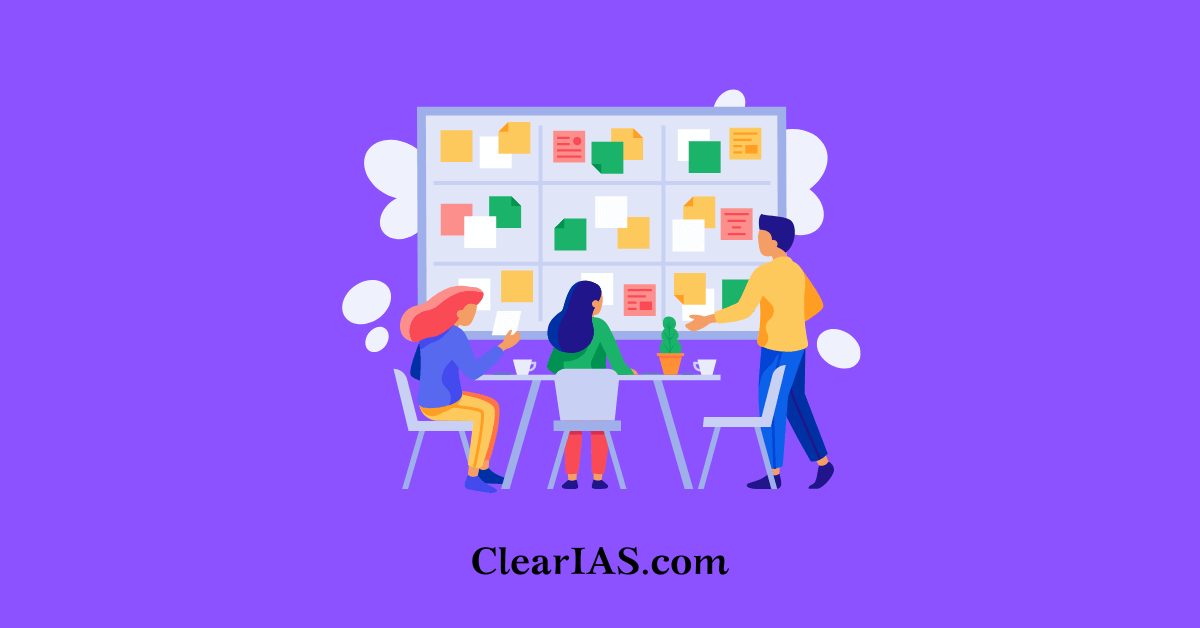 This post is dedicated entirely to list the major programs under the Central Assistance for States and UT plans as per Budget 2016-17.
Update: To learn the Centrally Sponsored Schemes and Central Sector Schemes as mentioned in the Union Budget 2018, refer this post.
It should be noted that Centrally Sponsored Schemes(CSS) forms a major chunk of the Central Assistance for State and UT plans. Before going into the details of Central Assistance to States Plan: 2016-17, a quick revision of our old posts like Total Plan Outlay, Centrally Sponsored Schemes and Transfer of funds from Center to states etc might help to get the concepts right.
Components of Central Assistance to States Plan: 2016-17
Union Budget 2016-17 uses a different nomenclature to classify the components of Central Assistance to States/UT plan this year. The components of Central Assistance includes:
Grants/Loans – Rs. 60,614. crore.
Finance Commission grants – Rs.1,00,646 crore.
Centrally Sponsored Schemes – Rs. 2,26,820 crore.
Types of Centrally Sponsored Schemes (CSS)
Core of the Core Schemes – 56186
Core Schemes – 168992
Optional Schemes – 1642
Major Programs Under Central Assistance to States Plan: 2016-17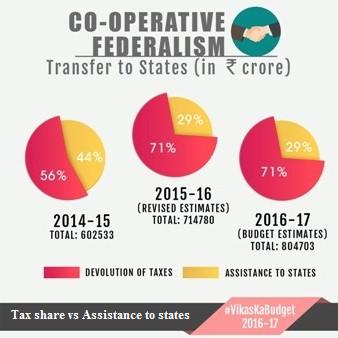 Grants/Loans
Special Assistance – 9000.00
Grants to Autonomous Councils and areas covered under the sixth schedule of the Constitution – 1000.00
Externally Aided Projects- Grants – 2350.00
Externally Aided Projects- Loans – 12500.00
Central Pool of Resources for North Eastern Region and Sikkim – 900.00
Schemes of North Eastern Council – 795.00
Schemes under proviso to Article 275 (1) of the Constitution – 1400.00
Special Central Assistance to Tribal Area Sub-Plan – 1250.00
Assistance to States from Central Roads Fund – 30619.06
Special Central Assistance to Scheduled Castes Sub- Plan – 800.00
Total – 60614.06
Finance Commission Grants
Post Devolution Revenue Deficit Grants 41308.00
Grants for local bodies 48868.36 (Grants for Rural Local Bodies 33870.52, Grants for Urban Local Bodies 14997.84)
Grants -in-aid for State Disaster Response Fund 10470.00
Other Finance Commission Grants (maintenance of roads and bridges, state-specfic needs, environment, governance, elementary education) …
Total: 100646.36
Centrally Sponsored Schemes
(A) Core of the Core Schemes – Rs. 56186.65 crores
1. Mahatma Gandhi National Rural Employment Guarantee Scheme 38500.00
2 National Social Assistance Programme 9500.00
3 Umbrella Programme for Development of Scheduled Castes 3917.89
4 Umbrella Scheme for Development of Scheduled Tribes (Vanbandhu Kalyan Yojna and Umbrella
Scheme for education of ST children) 1759.22
5 Umbrella Scheme for Development of Backward Classes and other vulnerable groups 1264.54
6 Umbrella Scheme for Development of Minorities. 1245.00
a Multi-Sectoral Development Programme for Minorities 1125.00
b Education Scheme for Madrasas and Minorities 120.00
(B) Core Schemes – Rs. 168992.05 crores
7. Green Revolution 12979.79
a. Krishonnati Yojna 7579.79
b. Rashtriya Krishi Vikas Yojna 5400.00
8. White Revolution 1273.46
9. Blue Revolution 575.34
10. Pradhan Mantri Krishi Sinchai Yojna (PMKSY) 5717.13
a. Har Khet ko Pani 500.00
b. Accelerated Irrigation Benefit Programme and other schemes under PMKSY in Water Resources Ministry 1377.13
c. Per Drop More Crop 2340.00
d. Integrated Watershed Management Programme 1500.00
11. Pradhan Mantri Gram Sadak Yojna 19000.00
12. National Rural Drinking Water Programme 5000.00
13. Swachh Bharat Abhiyan (SBA) 11300.00
a. SBA – Rural 9000.00
b. SBA – Urban 2300.00
14. National Health Mission (NHM) 20037.00
a. NHM : Rural and Urban Mission 19037.00
b. NHM : Human Resources in Health and Medical Education 600.00
c. NHM : AYUSH 400.00
15. Rashtriya Swastha Suraksha Yojna (RSSY) 1500.00
16. National Education Mission (NEM) 28010.00
a. NEM : Sarva Shiksha Abhiyan 22500.00
b. NEM : Rashtriya Madhyamik Shiksha Abhiyan 3700.00
c. NEM : Teachers' Training and Adult Education 510.00
d. NEM : Rashtriya Uchch Shiksha Abhiyan 1300.00
17. National Programme of Mid-day Meals in Schools 9700.00
18. Integrated Child Development Scheme (Umbrella ICDS) 16119.90
a. Core ICDS 14000.00
b. National Nutrition Mission 862.90
c. Maternity Benefits Programme (IGMSY) 400.00
d. Scheme for Adolescent Girls, SABLA, KSY 460.00
e. Integrated Child Protection Scheme 397.00
19. Pradhan Mantri Awas Yojna (PMAY) 20075.00
a. PMAY- Rural 15000.00
b. PMAY- Urban 5075.00
20. National Livelihood Mission (NLM) 3325.00
a. NLM- Rural – Aajeevika 3000.00
b. NLM- Urban 325.00
21. Forestry and Wildlife (F&WL) 755.02
a. (F&WL)- National Mission for a Green India 155.01
b. (F&WL)- Integrated Development of Wildlife Habitats (including Project Tiger and Project Elephant) 500.00
c. (F&WL)-Conservation of Natural Resources and Ecosystems 100.01
22. Urban Rejuvenation Mission (AMRUT and Mission for Development of 100 Smart Cities) 7295.50
23. Modernisation of Police Forces 1753.90
24. Infrastructure Facilities for Judiciary 625.01
25. Member of Parliament Local Area Development Scheme 3950.00
(C) Optional Schemes – Rs. 1642 crores
26. Border Area Development Programme 990.00
27. National River Conservation Programme 352.00
28. Shyama Prasad Mukherjee Rurban Mission 300.00
Total Allocation of CSS – 226820.70
Grand Total: 388081.12
Things to note:
The Central Assistance to States/UT plan for 2016-17 forms, 29% of the total funds transferred to states, which includes the additional component of devolution of taxes.
There is change in the name and number of Centrally Sponsored Schemes, when compared with the CSS mentioned in Indian Budget 2015-16.