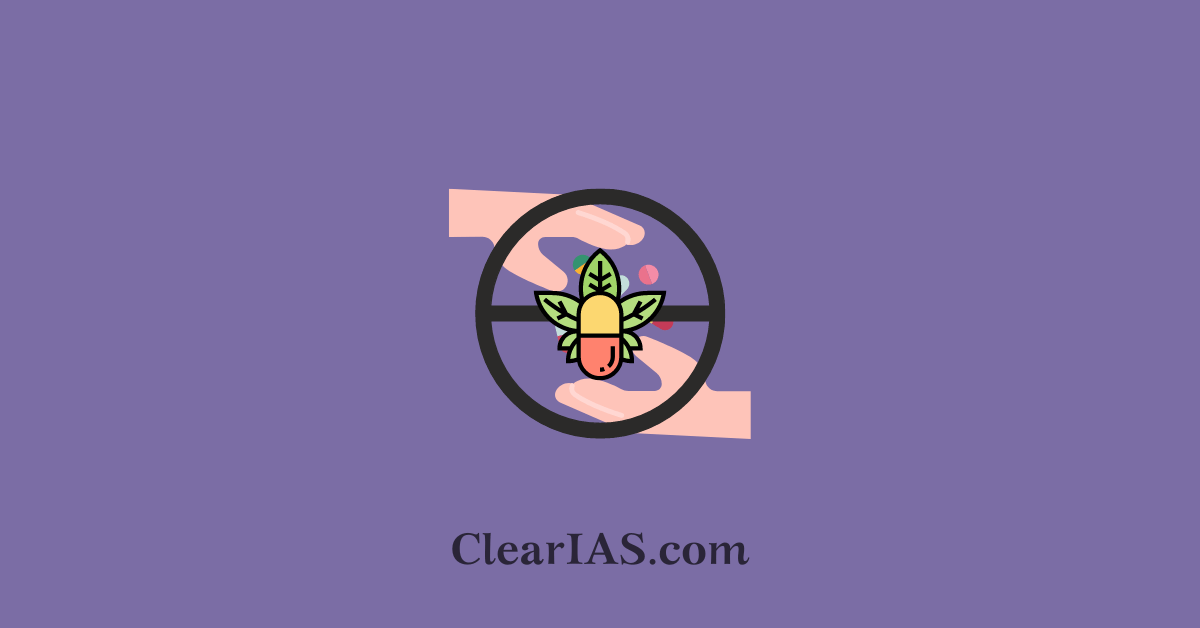 Drug trafficking is a global illicit trade involving the cultivation, manufacture, distribution, and sale of substances that are subject to drug prohibition laws. India has a particularly hard time dealing with maritime illicit drug trade due to its proximity to the trade routes. Read here to know more about the issue.
Criminal networks traffic a range of drugs including cannabis, cocaine, heroin, and methamphetamine.  As international borders become increasingly porous, global abuse and accessibility to drugs have become increasingly widespread.
India launched Operation Samudragupt in 2022 to target the maritime trafficking of drugs originating from Afghanistan.
The operation was launched by the Narcotics Control Bureau to combat heroin and other drug trafficking in the Indian Ocean region. The NCB takes aid from Indian Navy and other law enforcement agencies and intelligence agencies to seize the illegal flow of drugs.
Drug trafficking: Global view
Drug trafficking is a global illicit trade involving the cultivation, manufacture, distribution, and sale of substances that are subject to drug prohibition laws.
Drug trafficking is often associated with other forms of crime, such as money laundering or corruption.
Trafficking routes can also be used by criminal networks to transport other illicit products.
The global cases represent an annual flow of 430-450 tons of heroin into the global heroin market.
Of that total, opium from Myanmar and the Lao People's Democratic Republic yields some 50 tons, while the rest, some 380 tons of heroin and morphine, is produced exclusively from Afghan opium.
While approximately 5 tons are consumed and seized in Afghanistan, the remaining bulk of 375 tons is trafficked worldwide via routes flowing into and through the countries neighboring Afghanistan.
The Balkan and northern routes are the main heroin trafficking corridors linking Afghanistan to the huge markets of the Russian Federation and Western Europe.
The Balkan route traverses the Islamic Republic of Iran (often via Pakistan), Turkey, Greece, and Bulgaria across South-East Europe to the Western European market.
For the North American market, cocaine is typically transported from Colombia to Mexico or Central America by sea and then onwards by land to the United States and Canada.
India and drug trafficking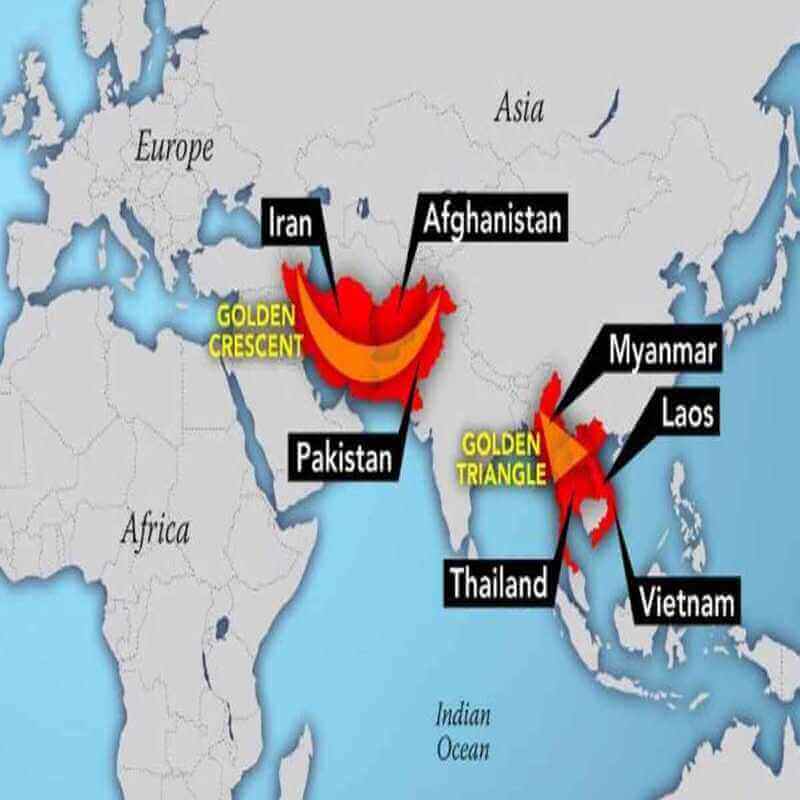 India is wedged between the world's two largest areas of illicit opium production, the Golden Crescent and the Golden Triangle.
This proximity has traditionally been viewed as a source of vulnerability since it has made India both a destination and a transit route for opiates produced in these regions.
Golden crescent: It is located at the crossroads of Central, South, and Western Asia, this space covers the mountainous peripheries of Afghanistan and Pakistan, extending into eastern Iran.
Golden Triangle: It is the area where the borders of Thailand, Laos, and Myanmar meet at the confluence of the Ruak and Mekong rivers.
Both these have been the largest opium-producing areas since the 1950s.
Compared to Southeast Asia's Golden Triangle, the Golden Crescent has produced opium for a considerably longer period.
Only in the 1980s did the Golden Triangle begin to produce opium in the contemporary era, after the Golden Crescent did so in the 1950s.
To keep up with the rising demand, the Golden Triangle has continuously grown its output since the 1980s, when it first started to influence the opium and morphine market.
Drug trafficking trends and patterns in the nation show that there is a slow transition from traditional/natural substances to synthetic narcotics that are being trafficked.
The majority of drug trafficking occurs along land borders, then by sea and air routes.
India has attempted to combat the issue through the strategy of drug supply and demand reduction, which involves passing laws, collaborating with non-profit organizations, securing its borders and coasts by stepping up surveillance, and seeking the active cooperation of its neighbors and the international community.
Government initiatives against drug trafficking
The Government of India has adopted a two-pronged strategy to check drug trafficking and create awareness against drug abuse:
Drugs supply reduction initiatives
Drugs demand reduction initiatives
Some of the drugs supply reduction initiatives are:
Narco Coordination Centre (NCORD): The Government introduced the NCORD mechanism in 2016 to have effective coordination of actions among various Ministries, Departments, and Central and state law enforcement agencies dealing with narcotics.
A special Task Force on Darknet and Cryptocurrency has been constituted to monitor suspicious transactions related to drugs on Darknet.
Narcotics Drugs and Psychotropic Substance (NDPS) Act, 1985: To prevent smuggling along border areas various border guarding forces like BSF, SSB, and Assam Rifles have been empowered under the act for making interdiction of narcotic drugs at sea.
Prevention of Illicit Traffic in Narcotic Drugs and Psychotropic Substances Act, 1988.
Since the illicit trafficking of narcotics drugs and its abuse is a transnational problem, Govt. of India has entered into bilateral agreements with 27 countries, a Memorandum of Understanding (MoU) with 15 countries for preventing illicit trafficking in narcotics drugs, psychotropic substances, and precursor chemicals.
Some of the initiatives taken by the Government for Drugs demand reduction are:
National Action Plan for Drug Demand Reduction (NAPDDR) is an umbrella scheme of the Ministry of Social Justice & Empowerment (MoSJ&E) under which financial assistance is provided to State Governments/ Union Territory (UT) Administrations for Preventive Education and Awareness Generation.
Launching of Nasha Mukt Bharat Abhiyan (NMBA)
India is a signatory of the following international treaties and conventions:
United Nations (UN) Convention on Narcotic Drugs (1961)
UN Convention on Psychotropic Substances (1971).
UN Convention against Illicit Traffic in Narcotic Drugs and Psychotropic Substances (1988)
UN Convention against Transnational Organized Crime (UNTOC) 2000
Challenges
As criminals devise ever-more creative ways of disguising illegal drugs for transport, law enforcement faces challenges in detecting such concealed substances.
In addition, new synthetic drugs are produced with regularity, so police need to always be aware of new trends and products on the illicit market.
The emergence of New Psychoactive Substances (NPS) has posed a difficult challenge for governments as well as law enforcement agencies in the region.
Due to their secrecy and minimal risk, darknet marketplaces are challenging to track. They now control the conventional medication markets. According to studies, 62% of the darknet is utilized for the trafficking of illegal drugs.
Darknet transactions have become more appealing because of cryptocurrency payments and doorstep deliveries made possible by courier firms.
Recent investigations have shown that the drug cartels have ties to local drug lords and criminals in India who have ties to Khalistani terrorists and the ISI in Pakistan, as well as NRIs based in Canada, Australia, Singapore, Hong Kong, and various European nations.
Way forward
Ensuring police worldwide have the knowledge and skills to prevent, investigate and disrupt drug trafficking is a key part of any drug strategy.
Training can be combined with operational support to assist member countries in planning and executive on-the-ground operations against drug trafficking.
Effective coordination among enforcement agencies, center, and state governments, and sharing of intelligence among all agencies is crucial for breaking the supply chain.
Investigating the trafficking of illicit drugs requires particular knowledge. The state police entities that deal with narcotics need to gain specialized capabilities. To find organized criminal syndicates, officers need to be educated in investigation procedures.
Above all, creating awareness among citizens, especially in schools and colleges, where the youngsters are targeted.
Drug trafficking has ramifications deep into society. Money laundering, organized crimes, and terrorism are the larger picture of the issue. The sensitive area is it has the potential to destroy an entire generation. Therefore, it is the responsibility of every section of society to help enforcement agencies of the government to root out this menace.
-Article written by Swathi Satish