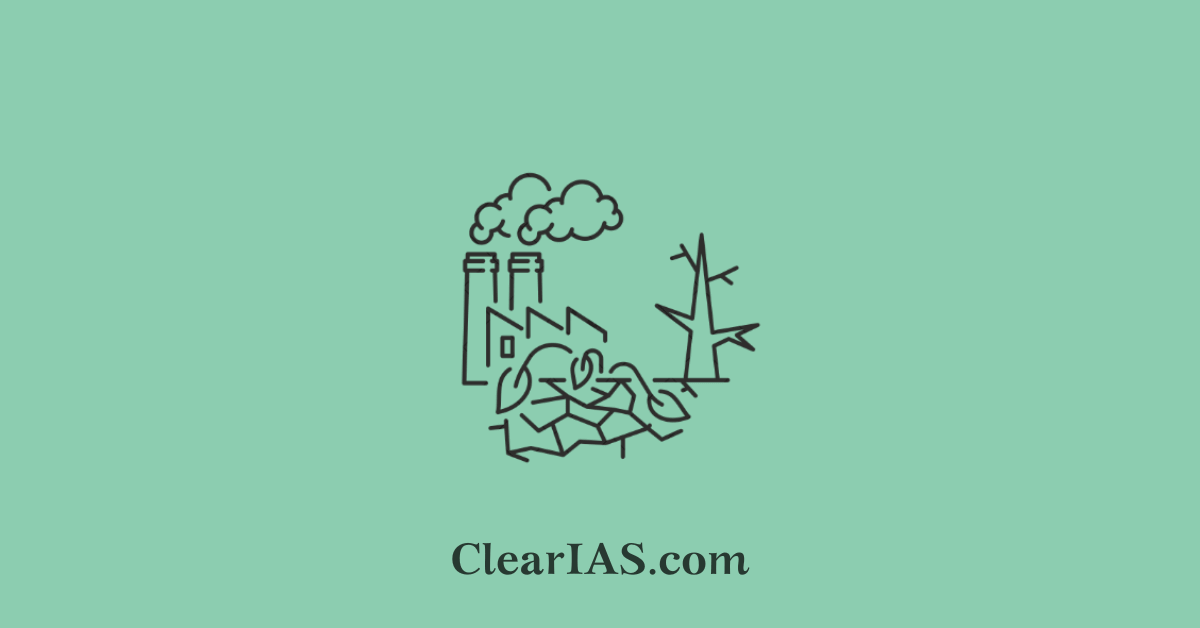 What is Ecocide? Why do many countries want to criminalize ecocide? What is India's take on it? The term is oftentimes used in the news and has come to become a major issue globally. Read here to understand the concept better.
Most recently, the Maya train project in Mexico that aims to link tourists with historic Maya sites has sparked concerns over its potential environmental and cultural impact.
The concerns around this project have brought the concept of Ecocide into the limelight. There is a global movement involving numerous agencies and countries pushing to criminalize environmental destruction.
Ecocide is derived from Greek and Latin, and translates to 'killing one's home' or 'environment'.
What is Ecocide?
"Ecocide" is a term used to describe extensive and severe environmental damage or destruction, often as a result of human activities.
It refers to actions or processes that cause widespread harm to ecosystems, biodiversity, and the natural environment on a scale that significantly disrupts the balance of nature and poses a threat to life on Earth.
While the term "ecocide" is not a universally recognized legal concept, it has gained attention in discussions about environmental law and international criminal law.
The idea behind "ecocide" is to acknowledge and potentially criminalize acts that cause severe and lasting harm to the environment, similar to the way crimes against humanity and genocide are treated under international law.
Proponents argue that recognizing ecocide as an international crime could hold individuals, corporations, and governments accountable for actions that lead to large-scale environmental destruction.
Efforts to formally include ecocide in international law are ongoing, with some activists and legal experts advocating for its inclusion in the Rome Statute of the International Criminal Court (ICC).
In 2021, a panel of criminal and environmental lawyers from around the world created a legal definition for "ecocide" as the basis of a push to criminalize mass damage and destruction of ecosystems.
The definition was made available for states to consider and is part of an ongoing effort by NGO Stop Ecocide to add environmental damage to the list of international crimes at the International Criminal Court.
Currently, ecocide is a crime in 11 countries – including Russia and Ukraine – and it is being considered in another 27 countries, according to the Thomson Reuters Foundation.
History of Ecocide
In 1972, the Swedish prime minister, Olof Palme, gave a speech at the UN Conference on the Human Environment, in which he said:
"The immense destruction brought about by indiscriminate bombing, by large-scale use of bulldozers and herbicides is an outrage sometimes described as ecocide, which requires urgent international attention."
While the term itself has gained prominence more recently, the idea of environmental harm and its consequences has a long history.
Throughout history, humans have altered their environments to meet their needs. This has sometimes led to localized environmental degradation, such as deforestation, soil erosion, and pollution, which could be considered early forms of ecocide.
Industrial Revolution and Pollution:
The Industrial Revolution, which began in the late 18th century, brought about significant technological advancements but also increased pollution and environmental damage. Factories, coal mines, and increased use of fossil fuels contributed to air and water pollution.
Silent Spring (1962):
Rachel Carson's influential book "Silent Spring" brought attention to the harmful effects of pesticides, particularly DDT, on the environment and wildlife. It played a pivotal role in raising awareness about the unintended ecological consequences of human activities.
Environmental Movements:
The mid-20th century saw the rise of environmental movements, such as the conservation movement, Earth Day (established in 1970), and the Greenpeace organization.
These movements highlighted concerns about environmental degradation and called for conservation and sustainability
Read: Doomsday clock
Emergence of the Term "Ecocide":
The term "ecocide" itself gained prominence in the late 20th century. It was used by environmentalists and scholars to describe the large-scale destruction of ecosystems, often linked to activities like deforestation, oil spills, and habitat destruction.
In 1970, biologist Arthur Galston was the first to draw a connection between environmental devastation and genocide (which is recognized as an international crime).
He made this link when addressing the U.S. military's utilization of Agent Orange, an herbicide, during the Vietnam War.
Rome Statute and Ecocide:
In recent years, there have been efforts to establish ecocide as an international crime. The proposed inclusion of ecocide as the fifth international crime under the Rome Statute of the International Criminal Court (ICC) is one notable example.
The term "ecocide" has been proposed as a potential fifth international crime under the jurisdiction of the International Criminal Court (ICC), alongside genocide, crimes against humanity, war crimes, and aggression.
The concept of ecocide remains the subject of ongoing debate, with discussions around its legal definition and implications.
Some argue that recognizing ecocide as a crime could provide legal mechanisms for addressing environmental destruction on a global scale.
Challenges in Addressing Ecocide
Recognizing ecocide as a crime and addressing its challenges is a complex and evolving issue. Here are some key challenges associated with addressing ecocide:
Legal Definition and Recognition:
One of the primary challenges is to establish a clear and internationally recognized definition of ecocide as a crime. While there have been discussions about including ecocide as the fifth crime against peace in the Rome Statute of the International Criminal Court (ICC), achieving consensus on the specific language and scope of the definition has proven difficult.
Enforcement Mechanisms:
Even if ecocide is defined as a crime, establishing effective enforcement mechanisms is challenging. This includes the identification of responsible parties, jurisdictional issues, and practical difficulties in investigating and prosecuting ecocide cases, particularly when transnational corporations or state actors are involved.
Political and Economic Interests:
The interests of powerful economic and political actors can be a significant barrier to addressing ecocide. Industries that contribute to environmental destruction, such as fossil fuels, mining, and deforestation, often have considerable influence and resources to protect their interests.
Proof and Attribution:
Establishing a direct causal link between specific actions and environmental harm can be complex. Additionally, proving intent or negligence in cases of ecocide may require substantial evidence and expertise, making prosecution challenging.
Jurisdictional Issues:
Ecocide can occur across borders, and jurisdictional issues may arise when multiple countries are affected by the same environmental harm. Determining which legal system should handle such cases can be a contentious issue.
Accountability of Corporations:
Holding corporations accountable for ecocide poses particular challenges due to their complex legal structures and global operations. Existing legal frameworks may not be sufficient to address the responsibility of multinational corporations for environmental harm.
Indigenous Rights and Land Disputes:
Many cases of ecocide involve conflicts over land and resources, often affecting indigenous communities. Respecting indigenous rights, addressing land disputes, and involving affected communities in decision-making are essential but challenging aspects of addressing ecocide.
Political Will and Public Awareness:
Building political will to recognize and address ecocide can be difficult, as it may require overcoming powerful interests and a shift in public perception. Generating public awareness and support for ecocide as a crime is an ongoing challenge.
Scientific Uncertainty:
Scientific uncertainty about the long-term ecological impacts of certain activities can complicate efforts to establish ecocide as a crime. Critics may argue that harm was not foreseeable or that the connection between the action and harm is uncertain.
International Cooperation:
Addressing ecocide often requires international cooperation, as environmental harm can cross borders. Developing a coordinated global response to ecocide is challenging due to differing national interests and priorities.
India's stand
India had not explicitly defined its stance on ecocide as a legally recognized international crime.
India, like many other countries, has not officially adopted the term "ecocide" as a distinct international crime within its legal framework.
Also, India has neither signed nor ratified the Rome Statute of the International Criminal Court and has not expressed any official position on the proposal to criminalize ecocide at the international level.
However, India, as a member of the international community, is committed to addressing environmental issues and concerns through various international agreements and conventions.
These include agreements related to climate change, biodiversity conservation, and sustainable development such as:
The United Nations Framework Convention on Climate Change
India's approach to environmental issues is often based on the principles of equity and common but differentiated responsibilities, emphasizing the need for developed countries to take the lead in addressing global environmental challenges.
India has been actively involved in negotiations related to climate change, including the Paris Agreement, where it has pledged to reduce its greenhouse gas emissions and enhance its resilience to climate impacts.
Conclusion
Despite these challenges, there is a growing global movement advocating for the recognition of ecocide as a crime and the development of legal mechanisms to address it.
It is a complex and evolving area of law and policy, and addressing ecocide will likely require sustained efforts at both national and international levels, as well as collaboration among governments, civil society, and the private sector.
The discussions surrounding the recognition of ecocide as an international crime are ongoing within international legal and environmental circles.
The precise definition and consequences of ecocide, as well as its inclusion in international law, remain subjects of debate.
For more environmental notes click here.
-Article by Swathi Satish