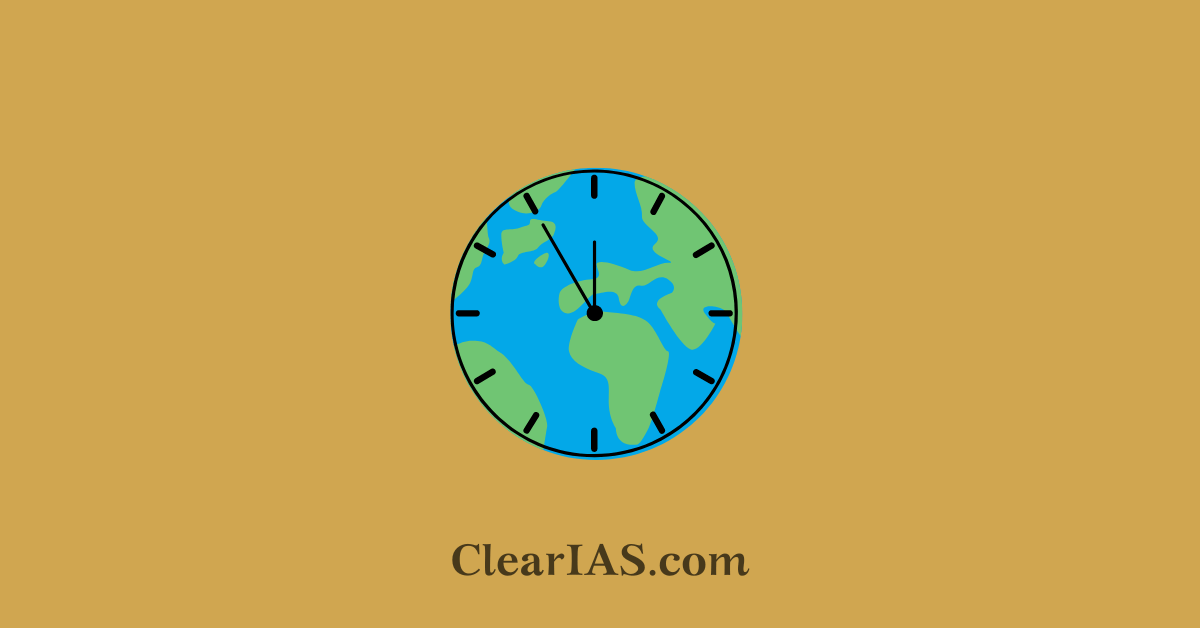 What is the Doomsday Clock? It has been counting down the minutes and seconds for 76 years, but on 24th January 2023, it was set to 90 seconds to midnight, which is the closest it has ever been to the actual time. The point of destruction is symbolized by midnight in mythology. Read here to know about the doomsday clock.
According to the Bulletin of the Atomic Scientists, the Doomsday Clock is a symbol that denotes the propensity for a human-caused global calamity.
This year, the Science and Security Board of the Bulletin of the Atomic Scientists moves the hands of the Doomsday Clock forward, largely (though not exclusively) because of the mounting dangers of the war in Ukraine.
The Clock now stands at 90 seconds to midnight-the closest to the global catastrophe it has ever been.
History of the Doomsday clock
The Doomsday clock was created by Albert Einstein and researchers from the University of Chicago who worked on the Manhattan Project to create the first atomic weapons, by combining nuclear explosion imagery with the apocalypse (midnight) and the countdown to zero (zero) of modern culture.
The Doomsday Clock is set every year by the Bulletin's Science and Security Board in consultation with its Board of Sponsors, which includes 10 Nobel laureates.
The Science and Security Board (SASB) is comprised of a select group of globally recognized leaders with a specific focus on nuclear risk, climate change, and disruptive technologies.
The SASB provides the Bulletin with objective external perspectives on trends and issues in these related fields and connects the organization to outside experts.
The Clock's original setting in 1947 was seven minutes to midnight. It has since been set backward eight times and forwards 17 times for a total of 25, the farthest from midnight being 17 minutes in 1991, and the nearest being 90 seconds, set on January 24, 2023.
Sources of threat influencing the doomsday clock
A deeper significance exists for "Midnight" than only the ongoing danger of war. When the scientists from The Bulletin of the Atomic Scientists evaluate what Midnight and "global disaster" actually mean in a specific year, they take several factors into account.
Possible sources of threat include nuclear threats, climate change, bioterrorism, and artificial intelligence. They might also include politics, energy, weaponry, diplomacy, and climate science.
Nuclear risk
Beyond the Ukraine conflict, previous trends of expansion and modernization of nuclear arsenals continue, with little progress to show in negotiations with either North Korea or Iran over their nuclear programs.
US and Russian nuclear forces are still constrained by New START, but there is no certainty the treaty will be extended beyond 2026.
China's considerable expansion of its nuclear capabilities is particularly troubling, given its consistent refusal to consider measures to enhance transparency and predictability.
North Korea has greatly stepped up its intermediate- and longer-range missile testing.
Iran continues to increase its uranium enrichment capacity, albeit under international safeguards outside the confines of the Joint Comprehensive Plan of Action that once restrained it.
India continues to modernize its nuclear arsenal with new delivery systems now under development to complement or replace existing nuclear-capable aircraft, land-based delivery systems, and sea-based systems.
Pakistan has an arsenal of similar size and continues to expand its warheads, delivery systems, and fissile material production.
The United States, Russia, and China are now pursuing full-fledged nuclear weapons modernization programs, setting the table for a dangerous new "third nuclear age" of competition.
Long-standing concerns about arms racing in South Asia and missile arms races in Northeast Asia complete a dismal picture that needs to be addressed.
As a matter of priority, all five permanent members of the UN Security Council including Russia should make a renewed commitment to confront nuclear dangers through arms control efforts and strategic stability agreements.
Climate change
Due to Russia's position as the world's second-largest producer of natural gas and oil, behind the United States, the invasion of Ukraine triggered a rush to achieve energy independence, notably in the European Union.
Two competing dynamics have resulted from this in terms of climate change:
The elevated energy prices have spurred investment in renewables and motivated countries to implement policies that support renewables development.
High natural gas prices have driven a race to develop new gas supplies, spurring investment in natural gas production and export infrastructure in the United States, the EU, Africa, and elsewhere, largely financed by major oil and gas transnationals and investment firms.
All G7 countries have pledged to end public financing of international fossil fuel projects this year.
The Beyond Oil and Gas Alliance, a group of eight countries, has formally committed to end new concessions, licensing, or leasing rounds for oil and gas production and exploration, and to set a timeline for ending production that is consistent with their Paris Agreement pledges.
As a consequence, global carbon dioxide emissions from burning fossil fuels, after having rebounded from the COVID economic decline to an all-time high in 2021, continued to rise in 2022 and hit another record high.
The rise in emissions in 2022 accelerated the ongoing increase in the concentration of greenhouse gases in the atmosphere, which will continue so long as emissions of carbon dioxide continue.
Not only did weather extremes continue to plague diverse parts of the globe, but they were more evidently attributable to climate change.
Countries of West Africa experienced floods that were among the most lethal in their histories, owing to a rainfall event that was assessed to be 80 times more likely because of climate change.
Extreme temperatures in Central Europe, North America, China, and other regions of the Northern Hemisphere this past summer led to water shortages and soil drought conditions that led in turn to poor harvests, further undermining food security at a time when the Ukraine conflict has already driven food price increases.
It is Pakistan, however, that faced the year's most dramatic manifestation of Earth's increasingly volatile climate: intense floods due to a "monsoon on steroids" that inundated one-third of the country.
Countries were unable, however, to adopt a formal decision to agree to phase out fossil fuels, and even more disappointing, they did essentially nothing to assure that previous commitments to reach net zero greenhouse gas emissions would be fulfilled.
Biological threats
The existing biological threat landscape makes clear that the international community needs to improve its ability to prevent disease outbreaks, detect them quickly when they occur, and respond effectively to limit their scope.
Devastating events like the COVID-19 pandemic can no longer be considered rare, once-a-century occurrences.
The total number and diversity of infectious disease outbreaks have increased significantly since 1980, with more than half caused by zoonotic diseases.
Laboratory accidents continue to occur frequently.
Opportunities for human error, limited understanding of novel disease characteristics, lack of local government knowledge about the types of research occurring in labs in their jurisdictions, and confusion about lab safety requirements all challenge current laboratory biosafety and biosecurity programs.
Leaders around the world must confront the possibility of global catastrophic biological risks.
Biological events could lead to sudden, extraordinary, widespread disasters that test or exceed the collective capability of national and international governments and the private sector to control.
Pathogens are not stopped by national borders. Devastating illness, widespread death, and disease-induced disaster can be avoided if countries around the world cooperate on global health strategies and make investments in science, technology, research, and development in the biosecurity sector.
Disruptive technologies
Threats from disruptive technologies are varied sorts of threats to the global environment.
Disruptive technology displaces an established technology and shakes up the industry or a ground-breaking product that creates a completely new industry.
The extensive use of surveillance technologies has disturbing implications for human rights and poses a distinct threat to civil society.
The world continues to suffer from widespread cyberattacks.
Criticism of the Doomsday clock
The Clock has become a universally recognized indicator of the world's vulnerability to the global catastrophe caused by manmade technologies.
Many researchers have expressed concern about the permanent high alert set by the doomsday clock for humanity and policy making.
There has also been criticism that it is not consistent and not based on objective indicators of security.
There have also been statements regarding the doomsday clock being a political agenda.
­-Article written by Swathi Satish