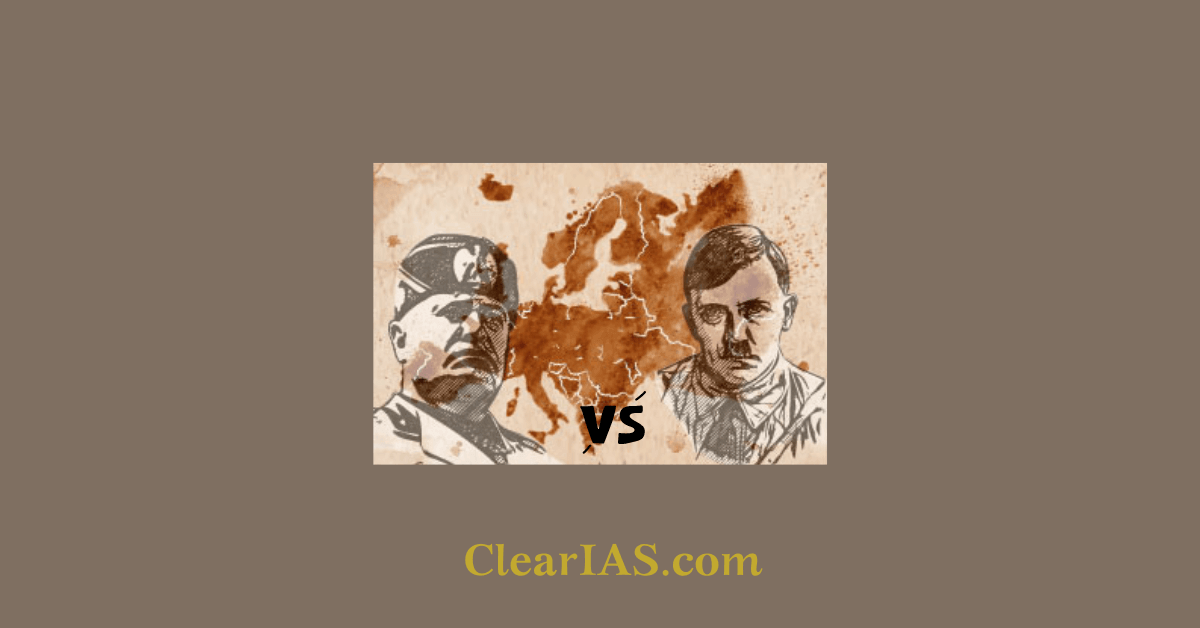 Fascism and Nazism rose as a result of the political crisis that plagued Europe from the late nineteenth century to the end of World War I. Read here to know the concepts of fascism and nazism, as well as a comparison between the two ideologies.
The ideologies of Fascism and Nazism were fueled by the deep-seated anxieties of the ruling elites as well as significant portions of the middle and lower classes about social and political collapse and political revolution.
Fascism and Nazism were also characterized by the worship of certain personalities, the use of violence, and the rejection of both communism and democracy.
Fascism
The word fascism is an Italian word that means "bundle."
In politics, it denotes a "Union" or "League." It is a political ideology that supports a dictatorial, hierarchical system of administration as opposed to democracy or liberalism.
Extreme nationalism, ethnic discrimination, support for violence and war, gender discrimination against women, and unrepentant hate of socialism were all characteristics of this far-right style of governance.
The tenets of fascism are:
Nationalism with or without expansionism:
One of fascism's main pillars is nationalism. The fascist idea of a nation is that it is a single organic entity that unites individuals by their shared lineage.
To achieve a millenarian national rebirth that exalts the nation above all else and fosters attributes of unity, strength, and purity, the philosophy attempts to overcome economic, social, and political issues.
Totalitarianism:
Fascism is characterized by the state's totalitarian rule. It opposes liberal democracy and favors one-party governments because they believe they will be better for the country than multi-party ones.
A fascist regime pursues policies of societal indoctrination through propaganda in the media and schools, and it controls the creation of educational and media content to accomplish this.
Such measures are taken to eliminate viewpoints that conflict with those of the state.
Economy:
Both socialism and free-market capitalism were rival ideologies that fascism offered as alternatives. Self-sufficiency was a key goal of the economic control that was promoted by fascism.
To ensure national solidarity, it promoted resolving domestic class struggles within a country.
Fascist economics encouraged a state-run system of production that accepted a mix of private and public ownership.
Both the public and private sectors were subject to economic planning, and the success of the former hinged on its willingness to align its objectives with those of the latter.
The national interest was prioritized over private profit in fascist economic theory, which backed the profit motive.
Action:
Fascism has a strong emphasis on direct action, which encourages and accepts political violence as a legitimate form of protest.
Social Darwinism, which holds that a perceived superior race has the right to rule over races who are seen to be weaker, is the foundation of fascism's support for violent action.
It was first used for the movement which started in Italy under the leadership of Benito Mussolini. He had organized armed gangs against socialists and communists in 1919.
Rise of fascism in Italy
Weak governance and economic hardship characterized the time following World War I in 1919.
Economic prosperity in post-World War Europe had become even further of a pipe dream as a result of events like the Russian Revolution and the Great Depression. The effects were more obvious in Germany and Italy. Fascism and Nazism were born out of this aftermath.
The well-being of the agricultural and industrial workers, whose working circumstances were abject misery, was not given much attention by the Italian government. Instead, to win colonies, it dragged Italy into the First World War.
The peace treaties fell short of Italian expectations. During the war, almost 7 lakh Italians perished and the people's circumstances had gotten even worse.
The current system was in danger due to the Italian socialist movement's growing power. And the Capitalists and landlords controlled Italian politics at the time.
To fulfill their colonial desires and protect themselves from the dangers of socialism, these segments started to support anti-democratic movements.
Benito Mussolini
Mussolini returned after serving in the Italian army during World War I in search of a means of bringing the Italian people together.
He started giving stirring speeches in 1918, pleading for a dictator to rule the nation. He maintained that Italy's post-war widespread unemployment, tumultuous political party rivalries, and socialist and communist strikes could only be solved by a strong leader who could unite the populace.
Milan, a city in northern Italy, was where Mussolini organized his fascist movement in 1919.
He organized groups of black-shirted street combatants.
His "Blackshirts" attacked socialists and communists, removing them from local governments, and then beating them up.
Only two years prior, Russia underwent a communist revolution. Anti-communist businessmen, property owners, and middle-class professionals like teachers and doctors swiftly joined Mussolini's fascist organization.
Mussolini founded the National Fascist Party in 1921. He still lacked a definite fascist platform, though. He was certain of one thing only: he desired to dominate Italy.
In October 1922, he organized a march on Rome. The government of Italy did not show any sign of resistance against the volunteers of Mussolini.
Instead, the king of Italy invited Mussolini to join the government. Thus without firing a shot, fascists under Mussolini's leadership came to power in Italy.
At age 39, Mussolini became Italy's youngest prime minister on October 29, 1922.
The takeover of the government by fascists was followed by a reign of terror.
Mussolini was now Il Duce (ihl DOO chay), or the leader.
He abolished democracy and outlawed all political parties except the Fascists.
Secret police jailed his opponents. Government censors forced radio stations and publications to broadcast or publish only Fascist doctrines. Mussolini outlawed strikes.
He sought to control the economy by allying the Fascists with the industrialists and large landowners.
In 1935, Mussolini ordered the invasion of Ethiopia, a poor African country that had once humiliated Italy in battle.
In 1939, Mussolini and Hitler signed the so-called "Pact of Steel," which committed each country to come to the aid of the other in war.
A few months later, Hitler invaded Poland and set off World War II. Mussolini, however, delayed joining Hitler until Nazi troops were just about to defeat France in June 1940.
Then, Mussolini decided to attack Greece. However, his army suffered a terrible defeat and needed German forces to rescue it.
He dispatched 200,000 of his forces in 1941 to assist Hitler in invading the Soviet Union. Numerous German and Italian soldiers were slain by the brutal winter and Soviet guerilla fighters.
By 1943, Mussolini's army had been routed in North Africa, Sicily had been seized, and Rome had been destroyed. The Italian people gave up on Il Duce because they had had enough.
After Mussolini's own Grand Council decided to call for his resignation, King Victor Emmanuel issued an order for his arrest and incarceration. However, German commandos assisted him in making his escape to Germany.
He returned to the north of Italy, close to Milan, a region that the Germans had seized, and formed a new fascist government. He was, however, nothing more than a Nazi puppet.
Mussolini attempted to flee as the Allies drew close to Milan. However, on April 28, 1943, Italian anti-fascist fighters arrested and killed him. Crowds rejoiced as Mussolini's body was hung by its heels the following day in Milan, where he had launched the fascist movement 25 years before.
Under His Leadership, Italy became the model for Fascists in other countries. However, Mussolini never had total control achieved by Joseph Stalin in the Soviet Union or Adolf Hitler in Germany.
Nazism
Nazism is a common word for National Socialism and is a far-right ideology.
Adolf Hitler's National Socialist German Workers' Party promoted the far-right ideology of nazism, which emphasizes racial superiority and a totalitarian state.
It began in the 1920s and continued until 1945 when World War II concluded.
Nazism had many characteristics in common with Italian fascism, including passionate nationalism, widespread popularity, and authoritarian authority.
Nazism is a type of fascism that despises parliamentary government and liberal democracy. Hence, Fascism and Nazism are two sides of the same coin.
Its ideology includes ardent anti-Semitism, anti-Communism, scientific racism, and the application of eugenics.
Pan-Germanism and the ethnic-nationalist neopagan Völkisch movement, which had been a significant component of German nationalism since the late 19th century, were the origins of its extreme nationalism.
It was also greatly influenced by the paramilitary Freikorps groups that arose following Germany's defeat in World War I, from which the party's underlying "cult of violence" emerged.
Rise of Nazism in Germany
The outbreak of revolution in Germany towards the end of the First World War led to the collapse of the German monarchy.
However, even though Germany became a republic, the forces behind the monarchy the industrialists, the big landowners, and the officers of the army remained quite powerful.
The government of the German republic was not able to destroy its power.
These forces began to turn to the anti-democratic forces represented by Nazism to extend their power and check the power of the socialist movement
Nazis capitalized on the sense of humiliation that many Germans felt at their defeat in the war and the unjust provisions of the Treaty of Versailles.
They also exploited the misery of the people which had worsened due to the reparations that Germany was made to pay to the Allied powers.
In 1929 occurred the most serious economic crisis affected all the capitalist countries of the world.
Adolf Hitler
Hitler relocated to Munich at the end of the war. He joined a small right-wing political organization at the start of 1920. This group agreed with him that Germany needed to revoke the Versailles Treaty and fight communism.
The National Socialist German Workers' Party, or simply Nazi, was the group's later name. As a result of its policies, which were backed by members of the lower and middle classes, Nazism developed throughout Germany.
The swastika, or hooked cross, was chosen as the party's emblem. The stormtroopers, also known as Brownshirts, were a private militia established by the Nazis.
Hitler was appointed der Führer, or the leader of the Nazi party, very quickly as a result of his prowess as a speaker and organizer. These abilities also contributed to the Nazis becoming a stronger political power.
Hitler and the Nazis planned to overthrow the government in Munich in 1923 after being inspired by Mussolini's march on Rome.
Hitler was detained after the failed attempt. He was tried for treason, but lenient judges only gave him a five-year prison term. He was there for fewer than nine months.
Hitler penned Mein Kampf imprisoned (My Struggle). His ideals for Germany were outlined in this book. It evolved into the Nazis' action plan or blueprint. Hitler claimed that the Germans were a "master race," especially the blond and blue-eyed Germans, whom he mispronounces as "Aryans." He proclaimed the inferiority of non-Aryan "races" like Jews, Slaves, and Gypsies.
By 1932, the Nazis became the dominant political force. It was a mistake for conservative leaders to think they could control Hitler and manipulate him.
They encouraged President Paul von Hindenburg to appoint Hitler as chancellor in January 1933. They said that only Hitler was capable of defeating Germany's powerful Communist party. Hitler, therefore, gained power legitimately.
Hitler utilized his newfound authority to establish totalitarianism in Germany.
All opposition parties were outlawed, and he had opponents incarcerated. In the meantime, the SS (Schutzstaffel, or protection squad), an elite, all-black military force, was established. It only had loyalty to Hitler.
Hundreds of Hitler's opponents were detained and killed by the SS in 1934.
The majority of Germans were stunned into complete obedience by this horrific deed and the intimidation used by the Gestapo, the Nazi secret police.
Anti-Semitism, or the hatred of Jews, played a significant role in Nazi philosophy. The Nazis exploited Jews as scapegoats for all of Germany's problems after the war, even though they made up less than one percent of the population.
Anti-Semitism erupted as a result in Germany. The Nazis began passing legislation in 1933 that deprived Jews of the majority of their privileges.
Jews were increasingly being attacked. Nazi crowds attacked Jews on the night of November 9, 1938, destroying thousands of Jewish-owned structures while attacking them in their homes and the streets.
In 1939 Hitler attacked Poland and started World war II. As the defeat of Germany grew nearer in 1945, Hitler shot himself dead in his bunker.
Difference between Fascism and Nazism
Fascism and Nazism have numerous similarities as they are ideologically the same, but they have differences too like:
| | |
| --- | --- |
| Fascism | Nazism |
| Fascism advocates corporatizing all aspects of society to create an "Organic State." The state was a minor component of fascist ideas. | Racism was a focus of Nazism. The concept promoted the idea that a state headed by members of a specific race—in this case, the 'Aryan' race—would be superior. |
| The class system was valued by fascism and preserved for a better social structure. | A class-based society was seen by Nazism as a barrier to racial unification and was actively seeking to be eradicated. |
| The state was seen by fascism as a method of furthering nationalism. | Nazism saw the government as a means of preserving and advancing the master race. |
| Benito Mussolini and Oswald Mosley are the notable leaders of Fascism | Adolf Hitler and Joseph Mengele are famous Nazis |
-Article written by Swathi Satish