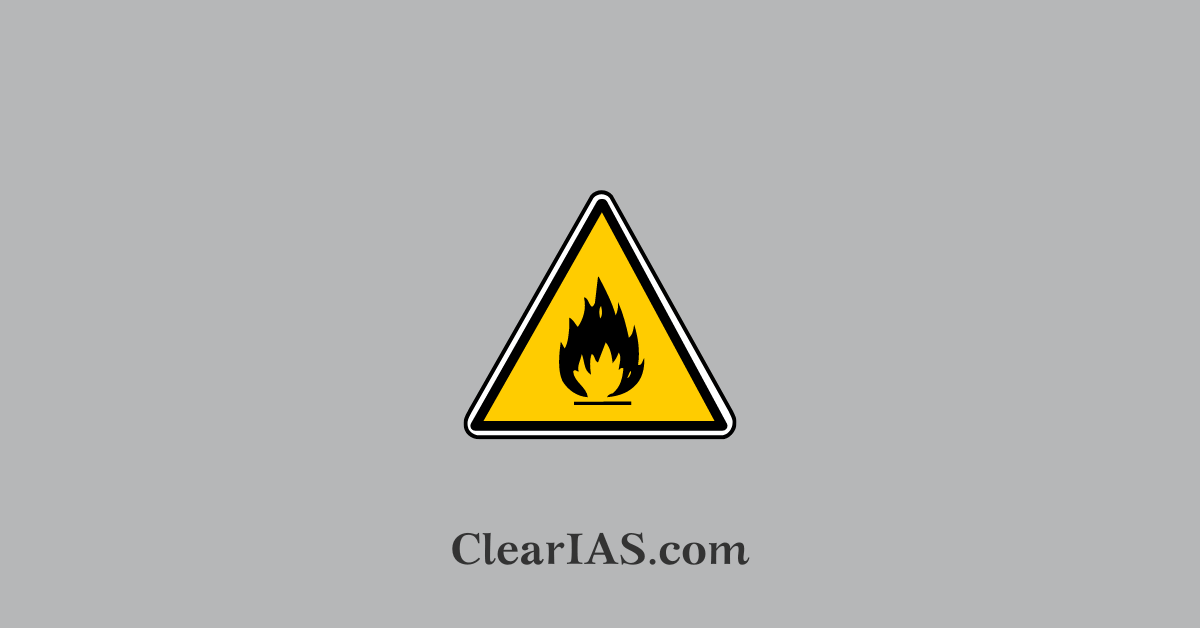 Fire safety in India is a critical aspect of public safety and building management. News about fire hazards in populated areas occurs frequently even though various regulations and safety guidelines are in place. Read here to learn more about the fire safety norms in India.
Recently, the Government has launched a "Scheme for Expansion and Modernization of Fire Services in the States" under the National Disaster Response Fund (NDRF) for strengthening fire services in the States for the period up to 2025-26.
Fires can have devastating consequences, leading to loss of life, property damage, and economic disruptions.
To address fire safety concerns, India has established various regulations, guidelines, and organizations dedicated to preventing, managing, and responding to fire incidents.
Fire Safety in India
The Fire services are not well organized in India.  In recent years, the requirements for fire safety cover have increased manifold whereas the development of Fire Service has not made much headway.
The setting up of Industrial Plants at a fast pace with extensive use of hazardous materials and the construction of larger and taller buildings have multiplied the problems of firefighting.
The fire hazards are no longer confined to big cities and manufacturing centers only.
Vast quantities of hazardous commodities are daily moved by different modes of transport all across the country posing complicated fire rescue problems.
If the objective of ensuring the safety of life and property in urban and rural areas is to be achieved, then a complete over-hauling of the fire service organization is called for.
The fire services need to be organized properly with adequate infrastructure and equipment for keeping pace with the advancement of technology and economic growth.
Fire service is one of the most important emergency response services in the country, which comes under the 12th schedule of the Indian Constitution dealing with Municipal functions.
At present, fire prevention and firefighting services are governed by the concerned States and Union Territories (UTs), and Urban Local Bodies (ULBs).
Guidelines by National Disaster Management Authority specify fire safety requirements for public buildings, including hospitals along with design guidelines relating to maintaining a minimum level of open space, exit mechanisms, stairs, and evacuation drills.
Facets of fire safety in India
Building Codes and Regulations: The National Building Code of India (NBC) and various state-specific building codes prescribe fire safety requirements for the construction, occupancy, and maintenance of buildings.
These codes lay down standards for fire exits, fire-resistant materials, fire protection systems, and emergency evacuation plans.
Fire and Rescue Services: Each state in India has its own fire and rescue services department responsible for fire prevention, firefighting, and rescue operations.
These departments are equipped with fire engines, specialized equipment, and trained personnel to respond to fire emergencies.
Fire authorities investigate the causes of major fires to identify lapses, lessons learned, and measures for preventing future incidents.
Fire Safety Audits: Periodic fire safety audits are conducted by fire authorities to assess the compliance of buildings and establishments with fire safety regulations. The audits identify potential fire hazards and recommend corrective measures.
Fire Safety Training: Fire safety training is essential for building occupants, employees, and the general public. Training includes fire drills, evacuation procedures, and the proper use of fire extinguishers.
Fire Prevention Measures: Fire safety measures include the installation of fire alarms, sprinkler systems, fire hydrants, and fire extinguishers in buildings and public spaces.
Regular maintenance and testing of these systems are crucial to ensure their effectiveness.
Ensuring that buildings adhere to occupancy limits and have sufficient and accessible fire exits is crucial for rapid evacuation during emergencies.
Public Awareness Campaigns: Public awareness campaigns are conducted by fire departments and other organizations to educate citizens about fire safety, preventive measures, and emergency response.
Industries and commercial establishments with high fire risk are required to follow additional safety measures and obtain necessary approvals from fire authorities.
Many Indian cities are focusing on smart city initiatives that include integrating fire safety systems, using real-time data, and leveraging technology for efficient fire response.
Causes of Urban Fires
Urban fires can be caused by various factors, and their occurrence is often a result of a combination of these factors.
The causes of urban fires can be broadly categorized into accidental, human-induced, and natural causes. Some common causes of urban fires include:
Electrical fires are a common cause of urban fires. Faulty wiring, overloaded electrical circuits, and malfunctioning electrical appliances can lead to electrical sparks and short circuits, igniting fires.
Careless handling of open flames, such as candles, gas stoves, and bonfires, can lead to accidental fires. Improper disposal of cigarette butts and smoking in restricted areas can also cause fires.
Intentional acts of arson, vandalism, or mischief by individuals can lead to destructive fires in urban areas.
Cooking-related fires are prevalent in urban settings. Unattended cooking, grease fires, and cooking accidents are common causes of kitchen fires.
Fires can occur due to the improper use or malfunction of heating equipment, such as space heaters, furnaces, and boilers.
In industrial areas, chemical spills, leaks, or improper storage of hazardous materials can result in fires and explosions.
Improper storage or handling of combustible materials, such as flammable liquids or gases, can contribute to fire incidents.
The use of fireworks during festivals or celebratory events can sometimes lead to accidental fires.
During periods of hot weather and drought, dry vegetation and increased fire hazards can lead to wildfires in urban fringe areas.
Old and poorly maintained buildings may have faulty electrical systems, outdated wiring, or compromised fire safety measures, increasing the risk of fires.
Construction sites can be susceptible to fires due to welding sparks, electrical work, or improper handling of construction materials.
Challenges to fire safety
Fire safety in India faces several challenges due to various factors, including rapid urbanization, inadequate infrastructure, lack of awareness, and limited resources. Some of the key challenges for fire safety in India are:
Many Indian cities are characterized by high population density and overcrowded urban areas. Narrow streets, congested buildings, and a lack of open spaces make firefighting and rescue operations challenging during emergencies.
The presence of informal settlements and slums in urban areas often lacks proper infrastructure, making it difficult for fire engines and emergency services to access these areas promptly.
Several old and poorly maintained buildings lack fire safety features and have outdated electrical systems, increasing the risk of fire incidents.
While modern buildings may have fire safety features, compliance with fire safety regulations is not always strictly enforced. Many buildings lack proper fire exits, fire alarms, and sprinkler systems.
There is a lack of awareness among the general public regarding fire safety measures and emergency response procedures.
Training in fire safety and evacuation drills may not be widespread in many residential and commercial establishments.
Many fire departments in India face challenges in acquiring modern firefighting equipment and maintaining an adequate number of trained firefighting personnel.
Some areas may suffer from inadequate water supply, which can hinder firefighting efforts during emergencies.
The presence of industries and manufacturing units in urban areas can pose additional fire safety challenges, especially if proper safety protocols are not followed.
The use of fireworks and firecrackers during festivals and celebratory events can lead to accidental fires if not handled properly.
Climate change and the urban heat island effect can contribute to extreme weather conditions and heat waves, increasing the risk of wildfires and urban fires.
Also read: Forest Fires: Causes, Types and Effects
Way forward
Despite these efforts, there is a need for continuous vigilance and improvement in fire safety practices in India. Rapid urbanization, high population density, and aging infrastructure pose ongoing challenges.
Raising awareness, strict enforcement of fire safety regulations, and public cooperation are essential to mitigate fire risks and protect lives and property.
Preventing urban fires requires a combination of fire safety measures, public awareness, and enforcement of fire safety regulations.
Proper building design, fire-resistant materials, fire safety equipment, and regular inspections are essential to minimize the risk of fires in urban areas. Education and awareness campaigns can also help in promoting fire safety practices among residents and businesses.
Additionally, strong enforcement of fire safety codes and regulations is crucial to ensure compliance and mitigate fire hazards in urban environments.
-Article by Swathi Satish