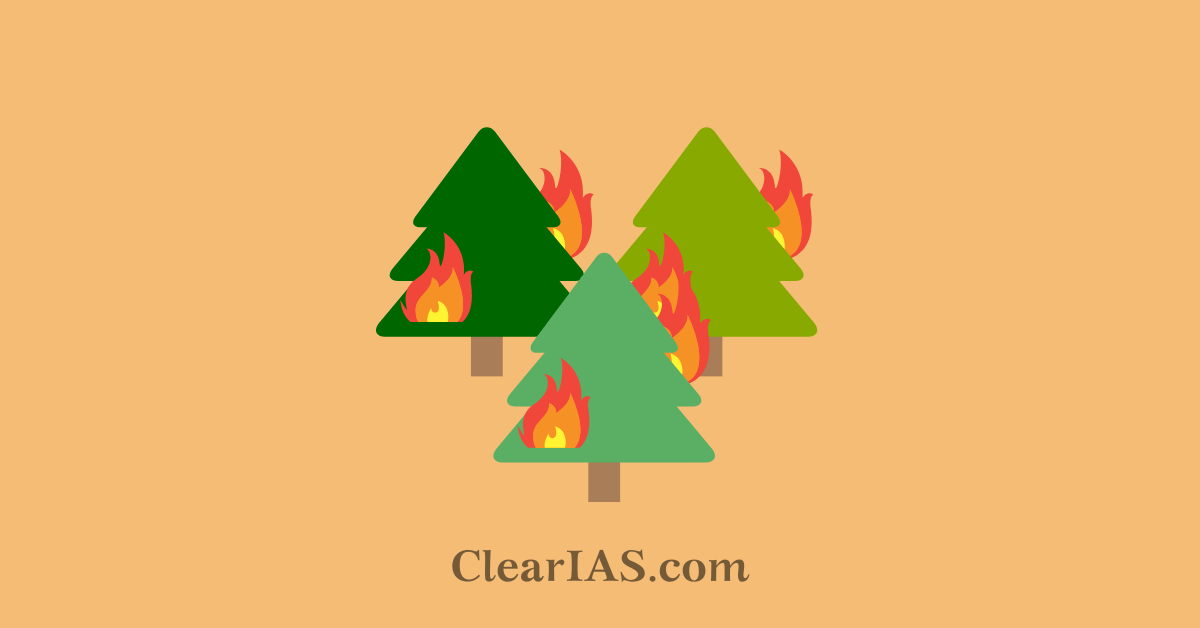 The incidence of forest fires is increasing year by year. Read here to know the cause, effects, and mitigation efforts for it.
Wildfires are a natural occurrence within some forest ecosystems, but in a few years, the fires are becoming more extreme and widespread. Hotter and drier weather caused by climate change and poor land management create conditions favorable for frequent, larger, and high-intensity forest fires.
The fire in the Amazon rainforest during 2019-21 razed millions of acres of the world's largest tropical forest.
Forest fires
Forest fires can be defined as any uncontrolled and non-prescribed combustion or burning of plants in a natural setting such as a forest, grassland, brushland, or tundra, which consumes the natural fuels and spreads based on environmental conditions (e.g., wind, topography).
Fuel, Oxygen, and heat sources help the spreading of wildfires:
Fuel is any flammable material surrounding a fire, including trees, grasses, brush, and even homes. The greater an area's fuel load, the more intense the fire.
Air supplies the oxygen a fire needs to burn.
Heat sources help spark the wildfire and bring fuel to temperatures hot enough to ignite.
In nature, especially in higher latitude forests, fires help maintain a healthy forest ecosystem by releasing important nutrients into the soil and aiding seed dispersal.
In tropical forests, local and indigenous communities have used fire for ages to clear land for agriculture.
Causes of forest fires
Natural causes like lightning can set fires on trees which may be spread by wind. Sometimes, High atmospheric temperatures and dryness (low humidity) offer favorable circumstances for a fire to start.
Man-made causes are usually the ones that become dangerous. Fire is caused when a source of fire like naked flame, cigarette, electric spark, or any source of ignition comes into contact with inflammable material.
Other human-led causes are land clearing and other agricultural activities, maintenance of grasslands for livestock management, extraction of non-wood forest products, industrial development, resettlement, hunting, negligence, and arson.
Types of forest fires
There are three basic types of fires:
Crown fires
This type burn trees up their entire length to the top.
They burn through the canopy, spreading from treetop to treetop.
These are the most intense and dangerous forest fires as they are very difficult to contain.
It needs strong winds, steep slopes, and a heavy fuel load to continue burning.
Surface fires
They burn only surface litter like dried leaves, twigs, and grasses.
These are the easiest fires to put out and cause the least damage to the forest.
Parched grass or fallen leaves often fuel surface fires.
Ground fires
These are sometimes called underground or subsurface fires.
They occur in deep accumulations of humus, peat, and similar dead vegetation that become dry enough to burn.
These fires move very slowly but can become difficult to fully put out, or suppress.
Ground fires can smolder for a long time, even an entire season, until conditions are right for them to grow to a surface or

crown fire

.
Underground fires spread slowly and are hard to detect, hence they may burn for months destroying the vegetative cover of soil.
Consequences of Wildfires
Wildfires emit billions of tonnes of carbon dioxide into the atmosphere which causes harm to climate and living organisms.
This can also impact the carbon cycle due to excess CO2 and loss of vegetation.
High-intensity forest fires destroy flora and fauna.
Wildfires can impact the economy as many families and communities depend on the forest for food, fodder, and fuel.
It burns down the small shrubs and grasses, leading to landslides and soil erosion.
It can change the microclimate of the area with unhealthy living conditions
Excessive forest fires can also add to the ozone layer depletion process.
Forest fires in India
India has also witnessed several episodes of wildfires in recent times very recently Himachal Pradesh and Uttarakhand have had major wildfire breakouts.
Assam, Madhya Pradesh, Maharashtra, Tripura, Mizoram, and Odisha also report frequent forest fires annually.
Mizoram has had the highest number of wildfire incidences in the last two decades, with more than 95% of its districts being forest fire hotspots.
In the Indian context, the causes of fire are a combination of natural and manmade-
Natural causes such as lightning or rubbing of dry bamboo with each other can sometimes result in fires, but forest officials maintain that almost all forest fires can be attributed to human factors.
Setting up a temporary hearth to cook food by the herdsman and minor forest produce gatherer may leave behind a smoldering fire which can develop into a forest fire.
Also, when people burn their fields to clear them of stubble, dry grass or undergrowth, the fire sometimes spreads to the adjoining forest.
A spark can also be produced when dry pine needles or leaves fall on an electric pole.
Mitigation measures by the government
The incidence of forest fires in the country is on the increase and more area is razed each year. The major cause of this failure is the slow and gradual approach to the problem.
Both the national focus and the technical resources required for sustaining a systematic forest fire management program are lacking in the country.
Important forest fire management elements like strategic fire centers, coordination among Ministries, funding, human resource development, fire research, fire management, and extension programs are missing.
Taking into consideration the serious nature of the problem, it is necessary to make some major improvements in the forest fire management strategy for the country.
The Ministry of Environment, Forests, and Climate Change has prepared a National Master Plan for Forest Fire Control. The Forest Survey of India (FSI) monitors the incidence of wildfires.
This plan proposes to introduce a well-coordinated and integrated fire management program that includes the following components:
Prevention of human-caused fires through education and environmental modification. It will include silvicultural activities, engineering works, people participation, and education and enforcement.
It is proposed that more emphasis be given to people's participation through Joint Forest Fire Management for fire prevention.
Prompt detection of fires through a well-coordinated network of observation points, efficient ground patrolling, and communication networks.
Remote sensing technology is to be given due importance in fire detection.
For successful fire management and administration, a National Fire Danger Rating System (NFDRS) and Fire Forecasting System are to be developed in the country.
Fast initial attack measures and vigorous follow-up action.
Introducing a forest fuel modification system at strategic points.
Ensuring the availability of Fire fighting resources
Global news on Forest fires
In France, Greece, Portugal, and Spain, blazes destroy thousands of hectares of land.
It is the second heatwave engulfing parts of southwest Europe in weeks. Scientists blame climate change and predict more frequent and intense episodes of extreme weather such as heatwaves and drought.
Related posts