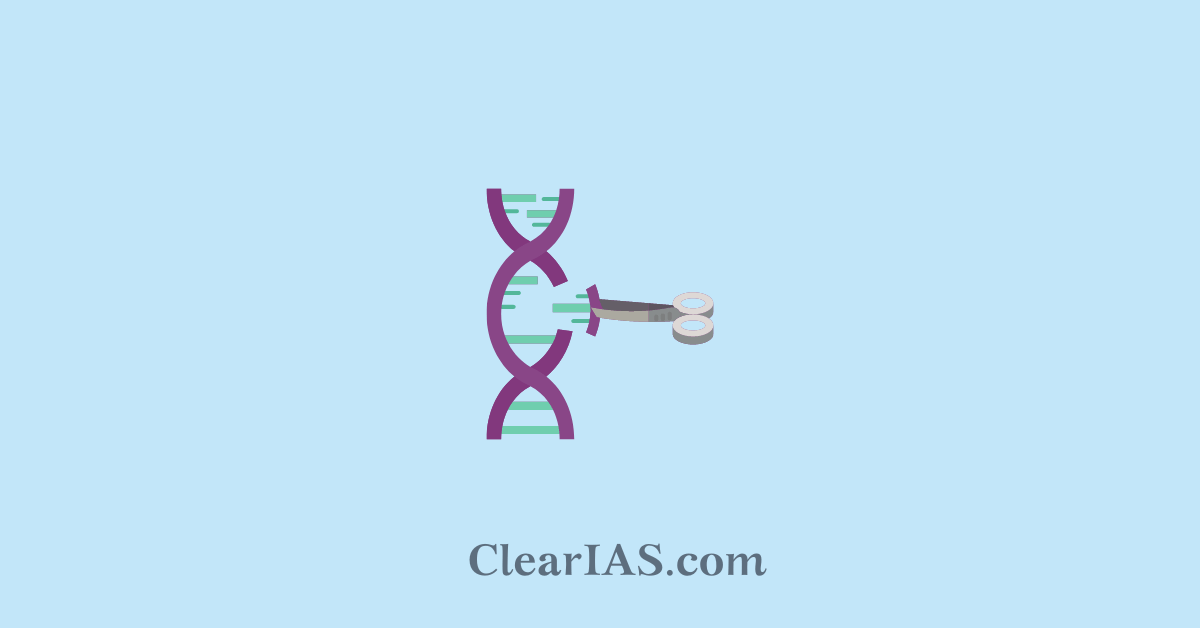 Along with the discovery of the atom and space travel, genetic engineering might have been one of the biggest scientific achievements in recent memory. It is the science or activity of changing the genetic structure of an animal, plant, or other organism to make it stronger or more suitable for a particular purpose. Read here to know more about its applications, advantages, and concerns.
Genetic engineering has been used in research and business to produce cancer treatments, brewing yeasts, and genetically altered plants, and animals, among other things. Over time, genetic engineering has evolved beyond laboratory cloning for analysis to completely synthetic biology for novel biomedical capabilities.
An organism that is generated through genetic engineering is considered to be genetically modified (GM) and the resulting entity is a genetically modified organism (GMO).
Through tests involving tracking, expression, a gain of function, and loss of function, GMOs are utilized in research to study gene function and expression. It is feasible to generate animal models of human diseases by deleting the genes causing specific ailments.
Hereditary engineering offers the potential to treat genetic illnesses through gene therapy in addition to manufacturing hormones, vaccinations, and other medications. The same methods used to make pharmaceuticals can also be utilized in industrial settings to make enzymes for cheese, laundry detergent, and other items.
What is genetic engineering?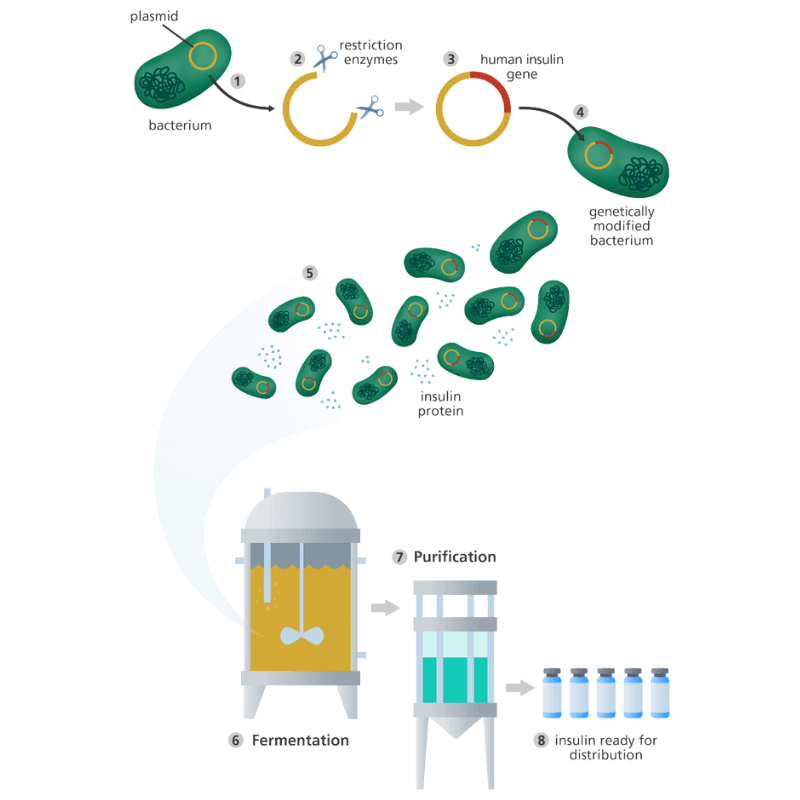 Genetic engineering, often known as genetic alteration or modification, or manipulation, is a technique that modifies an organism's DNA using technology developed in labs.
This could entail altering a single base pair (A-T or C-G), erasing a section of DNA, or incorporating new DNA.
For instance, transferring a gene from one species to an organism from a different species in genetic engineering may result in the desired characteristic.
It may also mean extracting DNA from another organism's genome and combining it with the DNA of that individual.
Insulin for diabetic patients is the most well-known example of genetic engineering.
Genetic engineering has been used to produce a type of insulin, very similar to our own, from yeast and bacteria like  E.coli.
This genetically modified insulin, 'Humulin' was licensed for human use in 1982.
The genetic engineering process of insulin production:
A small piece of circular DNA called a plasmid is extracted from the bacteria or yeast cell.
A small section is then cut out of the circular plasmid by restriction enzymes, which are known as molecular scissors.
The gene for human insulin is inserted into the gap in the plasmid. This plasmid is now genetically modified.
The genetically modified plasmid is introduced into a new bacteria or yeast cell.
This cell then divides rapidly and starts making insulin.
To create large amounts of the cells, the genetically modified bacteria or yeast are grown in large fermentation vessels that contain all the nutrients they need. The more the cells divide, the more insulin is produced.
When fermentation is complete, the mixture is filtered to release the insulin.
The insulin is then purified and packaged into bottles and insulin pens for distribution to patients with diabetes.
History of genetic engineering
Herbert Boyer and Stanley Cohen created the first GMO in 1973 using a microbe.
When Rudolf Jaenisch put foreign DNA into a mouse in 1974, he produced the first GM animal.
Genentech, the first business to concentrate on genetic engineering, was established in 1976 and began producing human proteins.
Human insulin that had been genetically modified was created in 1978, and microorganisms that generate insulin were commercialized in 1982.
Since the introduction of the Flavr Savr tomato in 1994, genetically modified food has been available for purchase. The Flavr Savr was created to last longer, whereas the majority of modern GM crops have been altered to become more resistant to pesticides and herbicides.
The first GMO created specifically as a pet, called GloFish, went on sale in the US in December 2003.
In 2016 salmon modified with a growth hormone were sold.
Advantages of genetic engineering
Developing crops with the required qualities has been made possible through genetic engineering.
GM crops like Bt Cotton are drought, disease, and pest resistant with more nutrients.
By swapping out the malfunctioning gene for a functional gene, genetic engineering may potentially be used to treat hereditary illnesses.
To create biological organs for transplantation, embryonic cells are cloned in a procedure known as therapeutic cloning.
Economically most studies have found growing GM crops to be beneficial to farmers.
Concerns and Challenges
Genetic engineering has been objected to on the grounds of ethical, ecological, and economic concerns.
Concern about the impact of GM crops on the environment and natural processes, in the long run, has been at the forefront.
Ethical issues like patenting of life forms and controlling food intake have been raised.
The concern of resistant plants giving rise to superweeds and their impact on non-target organisms.
Applications of genetic engineering
Numerous industries, including science, health, industrial biotechnology, and agriculture, have used genetic engineering.
In plants, genetic engineering has been applied to improve the resilience, nutritional value, and growth rate of crops such as potatoes, tomatoes, and rice.
In animals, it has been used to develop sheep that produce a therapeutic protein in their milk that can be used to treat cystic fibrosis or worms that glow in the dark to allow scientists to learn more about diseases such as Alzheimer's.
Medicine
Manufacturing of drugs
Creation of model animals that mimic human conditions
Germline Gene therapy
Human growth hormones
Follicle-stimulating hormones
Human albumin
Monoclonal antibodies
Antihemophilic factors
Vaccines
Agriculture
Genetically modified livestock
Crops have been designed to boost output, increase resistance to abiotic stressors, change the nutritional content of food, or provide new goods.
Research and development
Transgenic organisms are one of the most crucial instruments for analyzing gene function, and genetic engineering is a valuable tool for natural scientists.
It is possible to insert genes and other genetic material from a variety of creatures into bacteria for storage and modification, resulting in genetically altered bacteria.
To understand the roles played by particular genes, organisms are genetically modified. These tests often involve tracking, expression, loss of function, and gain of function.
Industrial application
Biomaterials
Synthetic chemicals
Gene regulatory network
Protein engineering
Biomining and Bioremediation
Genetically modified virus as a scaffold for assembling environmentally friendly lithium-ion battery.
The management of natural areas and conservation could both benefit from genetic engineering.
The Cartagena Protocol on Biosafety is an international treaty that governs the transfer, handling, and use of GMOs.
In India, the regulators are Institutional Biosafety Committee, Review Committee on Genetic Manipulation, and Genetic Engineering Approval Committee.
Way forward
The good side of genetic engineering needs to be promoted with appropriate checks and balances. From a research point of view, more studies need to be conducted to address the concerns of allergic and immune responses to GM food on a case-by-case basis.
There is still immense potential to explore in the field like leveraging artificial intelligence (AI) for advancements in biological sciences. Genomic data can be developed more which will help in the development of biomedical sciences and viral sciences.
The regulations need to refine more especially concerning labeling, ethical concerns, false advertising, etc.
­-Article written by Swathi Satish