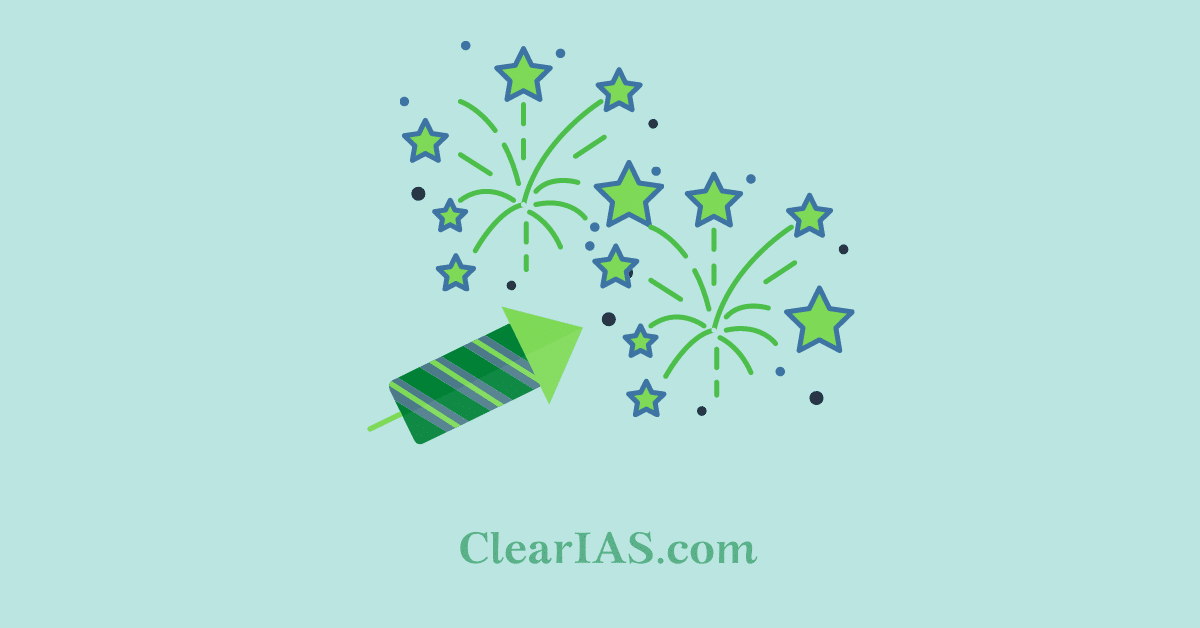 What are Green crackers? What are the types of green crackers? What are the advantages of the new crackers over traditional crackers? Read to know more.
The Supreme Court on September 29, 2021, held that six major fireworks manufacturers had violated orders requiring them not to use prohibited chemicals such as Barium salts and to label the firecrackers in compliance with the law.
In a warning to the manufacturers, the court felt that it had to take a balanced view of the production and use of firecrackers, because so much of it was being burst, and people could not be allowed to suffer and die from pollution.
Hearing a plea by the manufacturers' association of firecrackers, the Supreme Court said that it cannot infringe the right to life of other citizens "under the guise of employment of few".
What are Green crackers?
Green Crackers are developed by the Council for Scientific and Industrial Research – National Environmental Engineering Research Institute (CSIR-NEERI), green crackers emit pollutants at a 30% lesser rate than their conventional counterparts. It's an environmentally friendly solution to India's air pollution problems and a step towards efforts to combat climate change as well.
The approval for these crackers is given by Petroleum and Explosives Safety Organisation (PESO), Department for Promotion of Industry and Internal Trade (DPIIT), Ministry of Commerce and Industries.
PESO is the nodal agency for regulating the safety of substances such as explosives, compressed gases, and petroleum.
The head office is situated in Nagpur, Maharashtra.
The raw materials used in these crackers are less polluting– their chemical formulation ensures that the particle emission into the atmosphere is reduced by suppressing the dust.
These crackers release water vapour or air as a dust suppressant and for diluting the gaseous emissions.
Features of green crackers
Regular crackers emit about 160 decibels of sound whereas green crackers' emission rate is limited to 110-125 decibels.
To differentiate green crackers from traditional ones, a green logo and Quick Response (QR) have been developed.
Manufacturers need to sign a deal with the CSIR to make fireworks using the green cracker formulation.
Types of green crackers
There are three types of green crackers available in India-
SWAS (Safe Water Releaser)
STAR (Safe Thermite Cracker)
SAFAL (Safe Minimal Aluminium)
SWAS
Release water vapour
No potassium nitrate and sulfur
Diluents for gaseous emissions
30% less particulate matter released
STAR
No potassium nitrate and sulfur
Reduced particulate matter released
Reduced sound intensity
SAFAL
Minimal usage of aluminium
Magnesium used in place of aluminium
Reduced sound intensity
Composition of regular crackers
Fuel: Charcoal or Thermite
Oxidizing agents: Nitrates and Chlorates (produce oxygen inside cracker)
Reducing agent: sulfur (burns oxygen)
Regulators: For burst speed and intensity
Colouring agents:
Strontium salts – red
Metals-  white
Sodium salts- yellow
Barium salts- green
Calcium salts- orange
Copper salts- blue
Binders: Medium to hold together all the components
Advantages and disadvantages of using green crackers:
Green crackers have several advantages over traditional crackers.
Advantages:
Less pollution: Every year the air quality has been declining and during the winters is smog (smoke + fog) has become a menace, especially after the festival of Diwali. For obvious reasons, Green crackers in India will have a positive impact on this situation.
Fewer accidents: Traditional firecrackers are loud and produce an intense spark which has caused many accidents. Green crackers have controlled sound and intensity hence reducing such accidents.
Reduced emissions: The raw materials used in green crackers are less polluting and the particle emission into the atmosphere is reduced by suppressing the dust. These crackers release water vapour or air as a dust suppressant and for diluting the gaseous emissions.
Disadvantages:
Even green crackers have polluting chemicals like aluminium, barium, potassium nitrate, and carbon, but the quantity is so reduced that the emission is about 30%. Some of the green crackers do not use these chemicals at all too. But they do not contain barium nitrate which is one of the most hazardous elements in traditional firecrackers.
One of the biggest disadvantages of Green crackers is that only the manufacturers who have signed a deal with CSIR will be allowed to manufacture these crackers.
Unemployment: All the other industries which produce the traditional type of crackers may be left unemployed as no small manufacturing unit will be allowed to produce green crackers.
The components and elements required for creating a green cracker are not easily available for everyone which may also be a reason for many manufacturers to not take it up.
Almost 70% of India's crackers are manufactured in Sivakasi, Tamil Nadu, continuing to be the leading supplier of green crackers.
The increasing air pollution in urban areas needs the smallest of steps to be combated with. The use of eco-friendly solutions is the need of the hour and will eventually contribute to greater effect. These small yet significant will add to the global efforts to mitigate climate change as well.