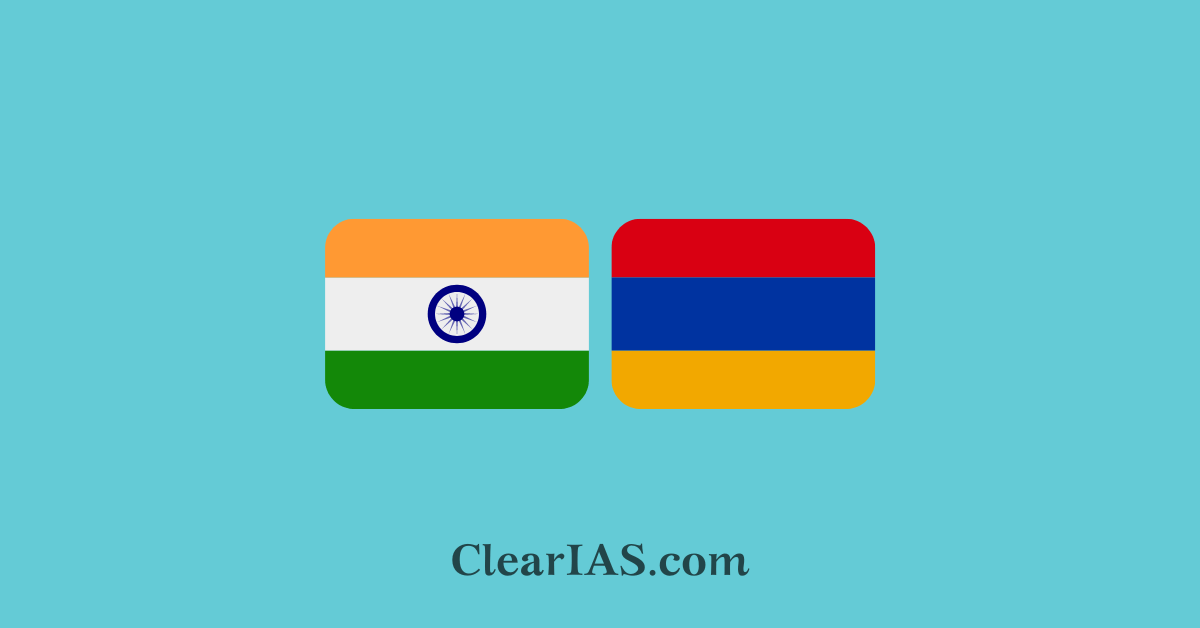 India-Armenia relations observed 30 years of diplomatic relations in 2022. The bilateral relations have always been amicable and the nations are broaching the possibility of long-term military cooperation as well. Read here to learn about bilateral relations.
Armenia lost to Azerbaijan in the 2020 conflict over Nagorno-Karabakh, increasing its economic and political isolation.
Armenia's inadequate infrastructure prevented it from participating in China's Belt and Road Initiative, and Chinese expenditures were instead directed toward Baku rather than Yerevan.
India profited from this because Yerevan has worked to forge relationships with developing Asian nations to diversify its commercial and political links.
In recent years, Yerevan and New Delhi have developed a strong political relationship as a result of the Armenian Diaspora and the efforts of the Armenian government.
Also read: India-Eurasia Relations
History of India-Armenia Relations
According to literary evidence, Indian settlements in Armenia existed as early as 149 BCE. Thomas Cana is said to be the first Armenian to have landed on the Malabar coast in 780 CE.
Before the Dutch and the English appeared in India, a few Armenian traders had come to Agra during the Mughal Empire. Emperor Akbar, highly appreciative of the commercial talents and integrity of the Armenians, granted them numerous privileges and considerable religious freedom as also an opportunity to serve in his empire in various capacities.
By the Middle Ages, the Armenian towns of Artashat, Metsbin, and Dvin had become important centers for barter trade with India which exported precious stones, herbs, and textiles to Armenia and obtained hides and dyes in return.
The Armenian colony in India increased in size, wealth, and importance throughout the 17th century. They also entered Indian trade in varying relationships with the East India Company.
The Armenians made some contributions in the areas of artisanship including gun-making and printing.
The high level of education among the Calcutta Armenians enabled them to perform well in the legal profession as well.
One of Emperor Akbar's queens has been mentioned to be an Armenian, called Mariam Zamani Begum.
Indian classical singer Gohar Jaan, the first to be recorded on the gramophone in 1902 was of Armenian origin.
The Armenian language journal "Azdarar" published in Madras (Chennai) in 1794 was the first ever Armenian journal published anywhere in the world.
A special Armenian postage stamp was issued in 1994 to mark the 200th Anniversary of "Azdarar".
In 1773, Shahamir Shahamirian, a leading Armenian nationalist in Madras published his vision of a future Armenian nation, which Armenians acknowledge as an attempt to draft the first-ever Constitution of an independent Armenia.
After India's independence, many Armenians migrated to Australia, the USA, and other places. The vestigial Armenian community in India is now mainly settled in Calcutta with sprinkling in Mumbai, Delhi, Agra, and Chennai.
There are Armenian churches and cemeteries in these places. The Holy Church of Nazareth, erected in 1707, repaired and embellished in 1734 is the biggest and the oldest Armenian Church in Calcutta; the 250th anniversary of this Church was celebrated On November 25, 1957.
The Armenian College and Philanthropic Academy in Calcutta is a prestigious national institution of Armenians.
During the Soviet era, President Dr. S Radhakrishnan (September 1964) and Prime Minister Indira Gandhi (June 1976) visited the Armenian Soviet Socialist Republic.
After the breakup of the USSR, India recognized Armenia on December 26, 1991, three months after it declared independence.
India-Armenia trade and economic relations
India will benefit greatly from deeper economic collaboration with Armenia as it can provide a potential outpost for India in a contest for global supply chains in the Eurasian corridor from the Persian Gulf to Russia and Europe.
The level of bilateral trade and investments remains below potential though some growth has been registered in recent years.
Indian exports consist of foodstuffs (meat), electrical equipment, cut and polished diamonds, optical equipment, plastics, pharmaceuticals, and other chemical goods and cars.
Armenia's exports include non-ferrous metals, raw rubber, books, and textiles.
Armenia can also prove to be a valuable development partner for India in industries like manufacturing, agriculture, medicines, and technology.
The partnership can serve as an excellent replacement for the Chinese Belt and Road Initiative model, which is fueled by debt.
Armenia can also play an important role in the Indian-backed International North-South Transport Corridor (INSTC) and the Iranian-backed Black Sea-Persian Gulf Transport Corridor.
By joining the INSTC, Armenia will have easy access to Indian markets, and Indo-Armenian trade via Iran will create a huge boost in their bilateral trade.
Defence relations
Yerevan's expanding procurement of Indian defence technology will give both the public and commercial defence manufacturing sectors in India a boost.
In 2020, Armenia signed a USD 40 million arms deal with India for the supply of four Swathi radars to detect the location of weapons.
The radar system is designed to track incoming artillery shells, mortars, and rockets and pinpoint the locations of enemy launchers and positions.
These radars have been successfully deployed along the Indian-Chinese and Indian-Pakistani borders.
In October 2022, India signed an agreement with Armenia to export missiles, rockets & ammunition.
The missiles will also include Indigenous Pinaka Multi-Barrel Rocket Launcher.
India may also export its Man Portable Anti-Tank Guided Missile (MPATGM) to Armenia.
This recent arms deal between India-Armenia has many geopolitical implications in the South Caucasus region and beyond.
This defense deal would certainly change the security equations in South Caucasus, wherein Russia has always been the dominant player so far.
Russia has been the main weapon supplier to Armenia, but being preoccupied due to the Russia-Ukraine conflict, Armenia is looking elsewhere to meet its defense requirements.
Armenia also needs to purchase heavy arms to secure its borders, deter Azerbaijan's aggression and liberate the occupied Armenian lands that Azerbaijan captured during the May 2021 and September 2022 military incursions. India is one possible military partner for Armenia.
Importance of India-Armenia relations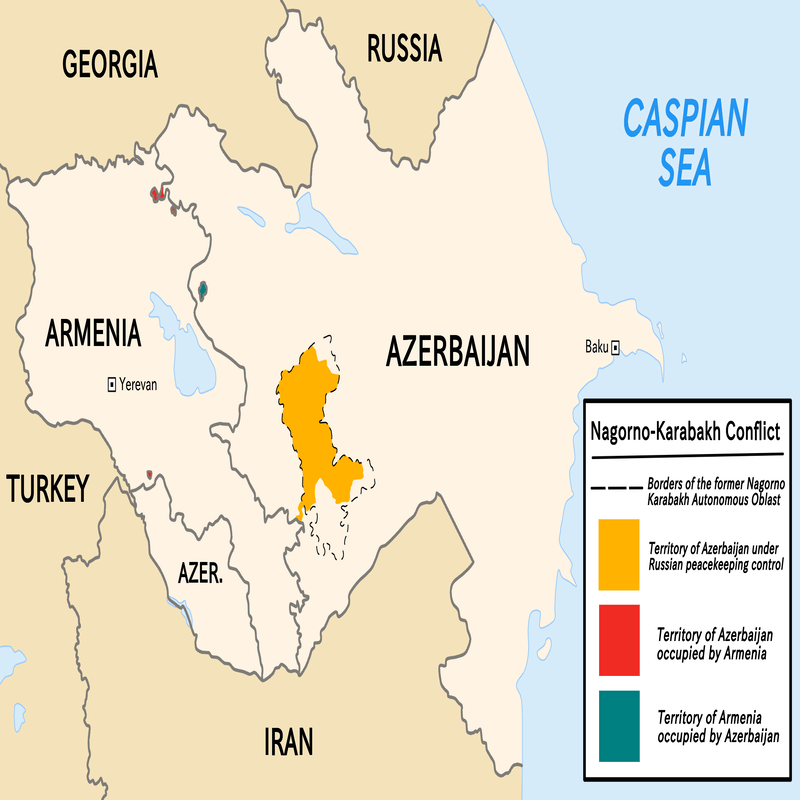 For Armenia, India is a potential partner in pushing the offensive by the Turkey-Azerbaijan-Pakistan alliance.
With recent military equipment deliveries to Armenia, New Delhi has made it clear that it supports Yerevan in the Nagorno-Karabakh conflict and has opted to oppose Azerbaijan and all of its allies, including Turkey and Pakistan, as well as Ankara's expansionist pan-Turkic ambitions.
India's support to Armenia is an indirect way to counter Pakistan as well since Pakistan has been supplying military assistance to Azerbaijan against Armenia.
Given India's newly discovered willingness to take sides rather than adhering to the non-aligned strategy while pursuing its interests abroad, New Delhi's internal policy challenges, particularly Kashmir, provide a potent signal to Ankara to shift course.
Way forward
Cooperation between India-Armenia has the potential to be a key component of Armenia's broader relationships with advanced democracies. To achieve these goals, excellent and deft diplomacy is essential.
India can also help Armenia by offering the training of Armenian defense personnel in various formats even involving exchange training visits, conducting war games, etc.
Hence, relations between Armenia and India have constituted a strategic priority for both nations transcending through cooperation in the implementation of the modernization theory, institutionalization, and strengthening of national defense.
-Article written by Swathi Satish