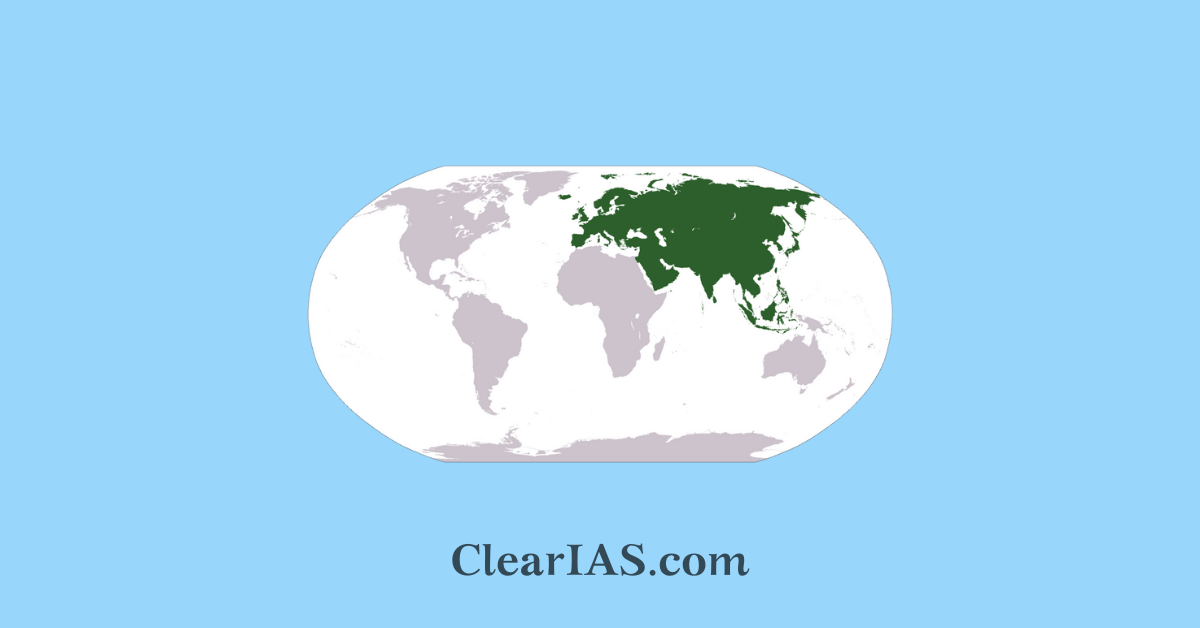 The current geopolitical scenario has ramped up the importance of the Eurasian region. Thus, India-Eurasia relations become a pertinent aspect as India is one of the fastest-growing economies in the region. The Indo-pacific and Eurasian policy has gained the spotlight in past years due to the geopolitical shift in balances. Read here to understand more about the India-Eurasia ties.
The entirety of Europe and Asia make up the largest continental area on Earth, which is known as Eurasia. Some geographers contend that physiographically, Eurasia is one continent.
Although Europe and Asia have been thought of as separate continents since antiquity, their borders are arbitrary and have historically been vulnerable to alteration.
Recently, several nations, including Japan, South Korea, Australia, and others, have made efforts pointing to an increasing emphasis on improved relations between European and Asian nations.
Changing geopolitics in Eurasia
With an average yearly per capita income growth rate of roughly 4-5% over the previous few years, Eurasia has been one of the world's most economically active areas.
China is working hard to establish a new economic system and security measures without the US as part of its effort to establish a China-centric Asian order.
On one side Beijing is using an aggressive stance on the lengthy and contentious border with Bhutan and India, and on the other hand, it is showing efforts to establish a security presence in Tajikistan, play a bigger role in Afghanistan, and influence more sub-Himalayan events.
Beijing's significant leverage in Eurasia has increased as a result of the Belt and Road Initiative's progress across Central Asia, Russia, and the Atlantic Ocean as well as Europe's rising economic dependence on China.
A tilt in Russia's foreign policy toward Asia has resulted from the Ukrainian crisis, which signified a substantial change in the global order.
There is a growing alliance between Russia and China that spans the heartland of Eurasia. Moscow's reliance on Beijing has grown as a result of Russia's unresolvable conflicts with Europe and America.
China and Russia have strengthened their connection as a result of the growing hostility between the US and China.
They are working more closely together on the Belt and Road Initiative (BRI), their partnership with the Eurasian Economic Union (EEU), trade, energy, and military matters like joint production and military drills.
Washington is starting to evaluate its strategic ties to Eurasia as China's maritime concerns in the Indo-Pacific region grow.
A long overdue redefinition of US global strategic interests began with the US exit from Afghanistan.
Even Europe, where a sizable amount of US military assets has been stationed since the Second World War, is susceptible to the eventual reorganization of the US military's global deployment.
A crucial discussion on how to rebalance the transatlantic duties for Europe's collective defense is currently taking place between Washington and Brussels.
Europe must inevitably play a greater regional Eurasian security role, with its talks on strategic autonomy with Washington.
Iran, another US foe, is being drawn in by China and Russia more and more.
With a recent joint military exercise in the Gulf of Oman, the three countries have lately strengthened their connections. Iran is also an important part of the Chinese Belt and Road Initiative.
The strategic pentagonal being formed by China, Iran, Russia, Turkey, and Pakistan will have a significant impact on the geopolitics of West Asia and Eurasia, as well as the balance of power in the region.
It seems like along with the USA, middle powers like Japan and Australia are limiting their influence to the Indo-Pacific region. Australia has joined the US and UK in the AUKUS arrangement and is trying to bring Europe into the Indo-Pacific.
In response, China and Russia are forging a power bloc in Eurasia.
India-Eurasia relations
Numerous ancient civilizations, such as those in Mesopotamia, the Indus Valley, and China, which engaged in trade and cultural exchange, were based in Eurasia.
Due to shared customs and shared Buddhist culture, the inhabitants of Siberia and the Indian Himalayas have strong historical and cultural parallels.
There are records of the long-standing relationship between India-Eurasia that resulted from the partnership of the Sangha and the Shreni (trade associations) during the Buddhist era.
India's influence was expanded into Central Asia with the entrance of the British and the establishment of the English as a territorial power on the subcontinent.
Due to British competition with Russia during the Great Game in the 19th and early 20th centuries, unequal India's security priorities were dominated by Eurasian geopolitics.
Intensive Indian diplomacy in recent years has helped Delhi's Indo-Pacific policy gain political and institutional traction. It must now put the same amount of effort into creating a "Eurasian" policy.
The recalibration of India's continental strategy is involved in Eurasia, while the Indo-Pacific is about Delhi's new marine geopolitics.
Significance of Eurasia for India
Natural resources are abundant in the Eurasian region, about three-fourths of the world's known energy resources are found there. For India to protect its interests, economic cooperation with these nations is essential.
It is crucial for India's goal of becoming an economic hub because of Eurasia's strategic peninsular location linking several subregions of Asia and West Asia.
With its enormous population and proximity to India, Eurasia presents a sizable tourism opportunity for that country.
Another area with enormous potential for collaboration is the pharmaceutical and medical sectors.
India is prepared to deepen its partnership with Eurasia by establishing civic hospitals there.
India is aiming to create a Central Asian e-network that will connect all five Central Asian States and provide tele-education and telemedicine access.
Following the Taliban's takeover of Afghanistan, it is crucial to engage with Eurasia to find regional cooperation in the fight against dangers including terrorism, drug trafficking, and radicalism.
The Eurasian region wants to become less reliant on both Moscow and Beijing. In light of this, they are ready to assist India in its efforts to improve its standing in the area and offer a viable alternative to the established actors Russia, China, the EU, and the US.
India's extended neighborhood includes Central Asia, the center of the new Eurasia, and it is extremely important to India strategically.
Achieving security in the region is in India's interest given the threat of terrorism, drug trafficking, and the smuggling of armaments, among other things.
Challenges in India-Eurasia Relations
The subcontinental partition and India's physical separation from inner Asia cut off the country from Eurasian geopolitics.
For India to play a larger role in Eurasian geopolitics, it is essential to get through the geographical barrier that Pakistan represents.
Beijing has established itself in a fairly powerful position over the entire Eurasia region thanks to ever-expanding commerce with the EU, massive infrastructure projects like the BRI, supremacy in the industrial supply chain, etc.
Major transportation projects like the INSTC, Ashgabat Agreement, Chabahar Port, and others are delayed for a variety of reasons, including a lack of money, confidence concerns, and western sanctions against Iran and Russia.
The security and stability of the entire region are being impacted by the current crises in Belarus, Ukraine, the Caucasus, and Kazakhstan.
Over 11% of India's overall trade is conducted on a bilateral basis with the Gulf Cooperation Council (GCC) and the Association of South East Asian Nations (ASEAN).
While this is happening, trade with countries in Central Asia is more than 50 times lower. Consequently, there is still room for development.
Way forward for India-Eurasia relations
India can serve as a counterbalance despite the Indo-Pacific area receiving more attention, and it has a wonderful chance to further develop its position in Eurasia.
India's Eurasian policy must unavoidably involve more interaction with NATO and the EU. A significant step in establishing a long-term security conversation with Europe will be the establishment of a dedicated military office within the Indian mission to Brussels, which is home to both the EU and NATO.
India must strike a balance between its Act East Policy, Connect Eurasia Policy, and Indo-Pacific Strategy.
Enhancing multi-vector projects in this region could have political and economic repercussions because more active participation will also lead to the creation of an alternative to Chinese economic expansion, which to some extent alarms the Central Asian leaders. The influence of China in the region is also a major hindrance to growth in India-Eurasia relations.
Transport corridors between Chennai and Vladivostok and between North and South are now topics of increased significance in this scenario.
India must make use of the BRICS, SCO, and RIC platforms as essential members to advance strategic cooperation with China, Russia, and Central Asia.
India-Eurasia relations will greatly depend on India's strategic partnership with Arabic and Persian nations. These alliances will help India counter the Pakistan-Turkey partnership.
Like the approach towards the Indo-Pacific, India needs to have an integrated approach towards Eurasia to find a comprehensive footing in the geopolitical stage.
-Article written by Swathi Satish