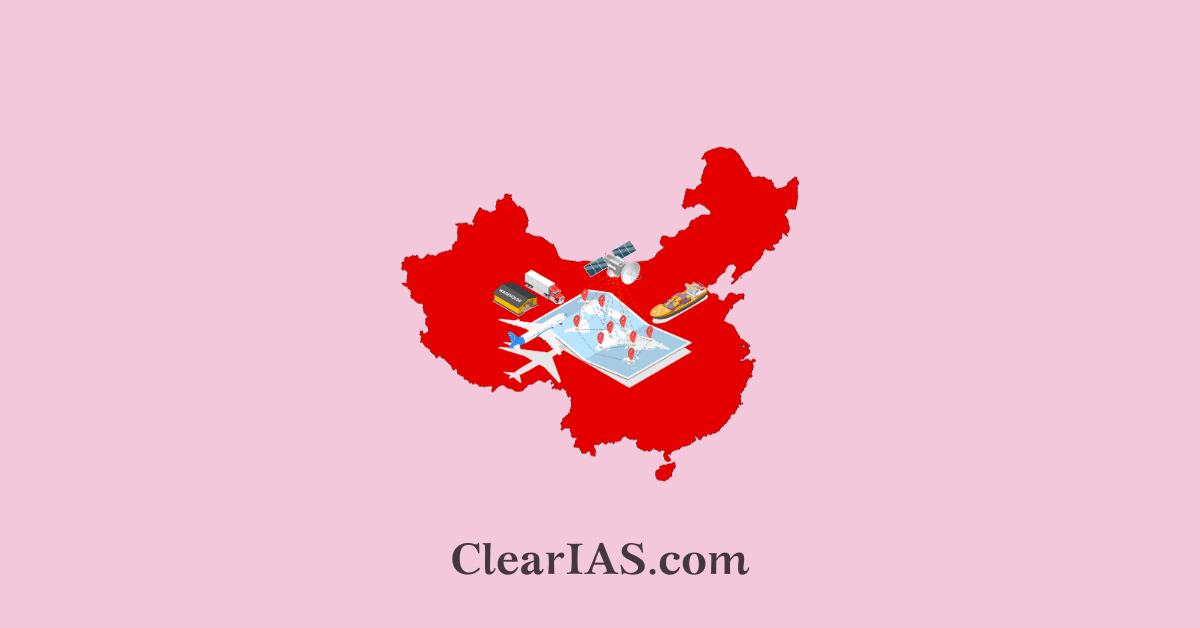 The "One Belt, One Road" (OBOR) initiative, also known as the "Belt and Road Initiative" (BRI), is a large-scale infrastructure and economic development project initiated by the People's Republic of China. Read here to learn more about the initiative, developments, and India's stand on the same.
Chinese President Xi Jinping announced one of China's most ambitious foreign policy and economic initiatives at the end of 2013. He called for the building of a Silk Road Economic Belt and a 21st Century Maritime Silk Road, collectively referred to as One Belt One Road (OBOR).
One Belt One Road (OBOR) is arguably one of the largest development plans in modern history. But is this initiative merely an economic one or a geostrategic step by China? Will India benefit by joining this initiative or not? Let us discuss this initiative in detail.
What is "One Belt, One Road" or OBOR?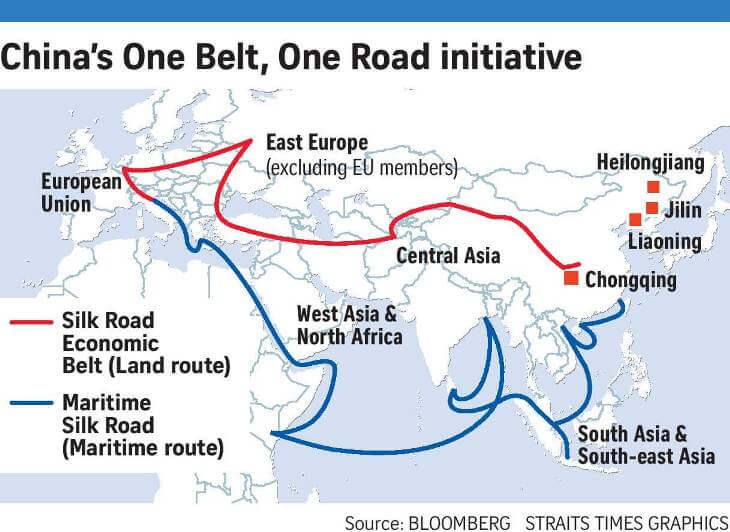 One Belt, One Road (OBOR) is China's much-touted new foreign and economic policy. It is a development strategy to connect China with Central Asia, Europe, and Indo-Pacific littoral countries. This policy has two components:
Belt– The "One Belt" refers to the land-based "Silk Road Economic Belt". Here Beijing aims to connect the country's underdeveloped hinterland to Europe through Central Asia.
Road – The "One Road" references the ocean-going "Maritime Silk Road". It is to connect the fast-growing Southeast Asian region to China's southern provinces through ports and railways.
The plan is to connect the Pacific Ocean and the Indian Ocean. This will connect the Chinese coastline with SE Asia, South Asia, the Gulf, and the East Coast of Africa. China will build hard and soft maritime infrastructure. It will include custom coordination, the formation of SEZ, new ports, e-commerce, trade liberalization, and policy coordination.
OBOR covers countries throughout the Asian continent from China to the rest of Eurasia. The geographical stretch makes it comparable with the Silk Road or Silk Route, an ancient network of trade routes connecting the East and West around 120 BCE to 1450s CE that is famous for the profitable silk (and horses) trade. That is why it is also called as "New Silk Road" initiative.
Objectives of China behind the One Belt One Road
The OBOR strategy is often reported as China's ambitious push to take a bigger role in global affairs and expand its friend circle.
While China insists that the investment in OBOR is economically motivated and will bring economic benefits to host countries the project is multi-prolonged and is intended to serve diplomatic, economic, and strategic purposes.
It is also intended to address its domestic needs in economic transformation. The demand for industrial output will increase and thus will revitalize its economy.
This project will build China's soft power and some analysts call it a China Marshall Plan.
This initiative will make the Indo-Pacific region be Sino-centric economic and security region.
It is also an attempt to counter US propaganda that rising China is a threat to world peace. Thus it is to convince that rising China is not a threat but rather creates a win-win situation for all.
Maritime Silk Road, and especially Chinese infrastructure investment is implicitly intended to facilitate more frequent People's Liberation Army Navy deployments in the Indian Ocean and beyond.
Which countries are involved?
The 'Belt' and 'Road' covers primarily Asia and Europe, encompassing around 60 countries.
On China's "One Belt, One Road" official website, it also says the initiative is open to all countries as well as international and regional organizations for cooperation.
China-Pakistan Economic Corridor (CPEC)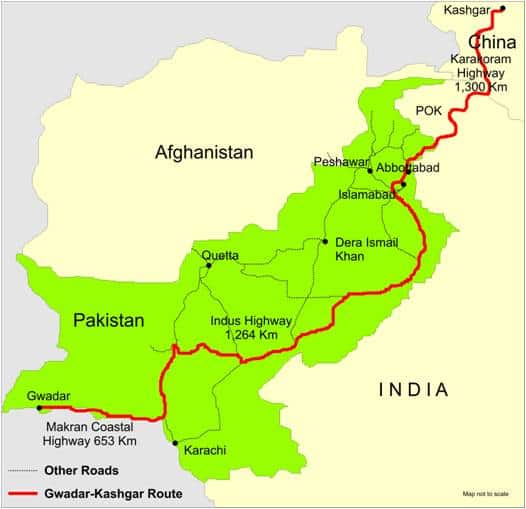 China-Pakistan Economic Corridor (CPEC) is expected to connect Kashgar in Xinjiang in China's far west with the Port of Gwadar in the province of Baluchistan via a network of highways, railways, and pipelines.
This project would allow China to transport energy resources such as petroleum from Middle Eastern countries to China via a land route through Pakistan.
China signed 51 MoUs with Pakistan worth $46 billion as part of this project in April 2015. This corridor is an extension of China's Silk Road initiative. This project will provide economic growth to Pakistan and will help in boosting infrastructure development with the help of China.
Geostrategic Aspect in CPEC
Energy security is a key concern for China and oil pipelines through Pakistan would cut about 16,000 kilometers from the distance traveled by goods traded between China and the Middle East. China plans to build oil storage facilities and a refinery at Gwadar Port, with oil transported to its Xinjiang Uighur Autonomous Region via road and pipeline. This will let it move energy and goods to inland China without going through the Strait of Malacca, which could be blocked by the US or India should hostilities break out in the region.
This project will lead to development in Western China where tensions are simmering from activities by radical separatists due to closeness with Pakistan and Afghanistan. Ideally, this project would promote growth in Pakistan, weaken the extremists, and encourage the Pakistan army to support peace efforts in Afghanistan.
Implications for India:
CPEC will provide China with strategic access to the Arabian Sea and enhance its presence in the region. It would enable China to wield much more powerful influence in the Indian Ocean.
Once completed, the CPEC project would mean that the Chinese presence in the entire Pakistan including Pakistan-Occupied Kashmir becomes pervasive and powerful.
The route of CPEC passes through POK and makes China an indirect stakeholder in the Kashmir conflict between India and Pakistan.
India's position regarding One Belt One Road
India is opposed to the Chinese One Belt One Road (OBOR) initiative since the China-Pakistan Economic Corridor (CPEC) passes through the Indian territory.
Indian government stated that connectivity cannot undermine the sovereignty of other nations. India has also refused to attend the 1st Belt and Road Summit which is going to happen in China in May 2017.
Should India join One Belt One Road?
Advantages of joining OBOR
India will not be able to stop China from carrying on this initiative nor can it stop its neighbours from joining this initiative. So whether India joins this initiative or not, the project will take place, and not joining may harm India's interests.
India may become isolated in this region since all of its neighbors (except Bhutan) have joined One Belt One Road. Leaving any regional platform may hamper India's credentials and may hasten the end of its regional hegemony.
Some analysts say that this initiative will be a win-win situation for India since it will increase the connectivity of the region. There may emerge a mutually beneficial swap where India protects Chinese interests in the Indian Ocean and China secures India's essential undertakings in their part of the waters.
Regional transport, energy security, and the blue economy are key to the OBOR initiative which will be helpful for India.
China has the financial capital, and technology to accelerate the development of other countries and India also needs resources and funds for its development.
Trade: The OBOR project will open more links of trade between India and other countries. Further, India does not enjoy much leverage to guide ocean trade markets despite having proximity to the sea and a strong navy. Through the OBOR project, India will get access to more business in an environment that promotes friendly reforms.
Some analysts feel that countries like Russia and others in SCO would want Indian participation in OBOR as a counterweight to Chinese influence.
Regardless of economic interests, India cannot ignore the symbolic significance as it was along the Silk Route that Indian trade and philosophy (Buddhism) traveled to the rest of Asia. Thus China may gain cultural hegemony in the region which may prove counter-productive to India.
Disadvantages of joining OBOR
OBOR is a unilateral ideational of China and there is a lack of transparency in its work. The process is not participatory and collaborative.
Under the Maritime Silk Route (MSR) China is developing ports in Bangladesh, Sri Lanka, and Pakistan and is trying to enlarge its influence using its economic might in the Bay of Bengal and the Arabian Sea. Thus MSR is nothing but an economic disguise to the "Strings of Pearls" Theory. China is investing a huge amount of money in India's immediate neighborhood and these countries tend to use the China card against India.
OBOR seems to be primarily driven by broad geostrategic and geopolitical aims. For Example, the China-Pakistan Economic Corridor gives de facto legitimization to Pakistan's rights in Pakistan Occupied Kashmir which is against India's interests. Since this port is closer to the Persian Gulf, it could be used as a transshipment point for China's energy supplies obviating the need to go through the Strait of Malacca in Southeast Asia. Apart from serving as a commercial port, Gwadar is also deep enough to accommodate submarines and aircraft carriers. Thus it may be used as a military port by the People's Liberation Army Navy in the future.
Through OBOR, China is countering the strategies of India in the North East region and is promoting its greater presence in North East India, part of which China claims as its territory. This may have a security impact on India.
What should India do to counter One Belt One Road?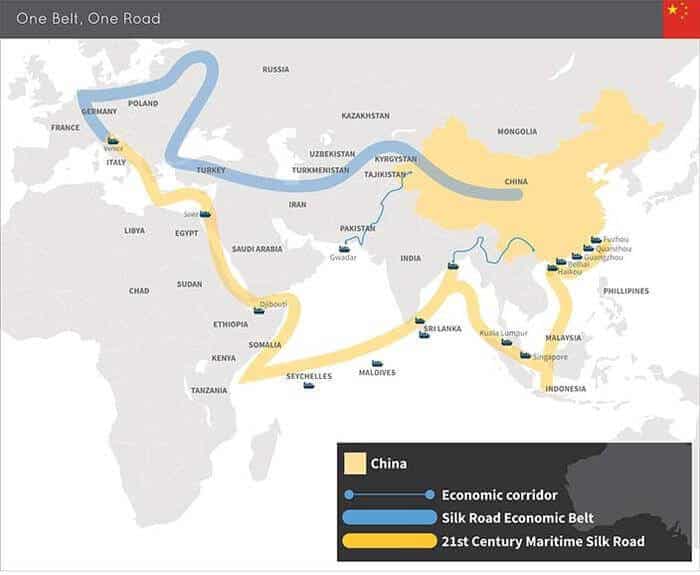 India has already refused to join this initiative due to the geostrategic and geopolitical angle attached to this project. Instead, India has started initiatives for connectivity on its own. Following are some of the steps taken by India.
Project Mausam: It is a soft power diplomacy by India. The project is under the Ministry of Culture and its purpose is to reconnect and re-establish communication links between countries of the Indian Ocean and enhance their cultural values.
SagarMala: It is a port-led direct and indirect development with a focus on infrastructure and connectivity. The project is to enhance the capacity of major and non-major ports and also to start their modernization process.
Chabahar Port: Chabahar's location gives India access, besides Iran, to Afghanistan, Central Asia, and Europe, bypassing Pakistan altogether and cutting down significantly current travel distances and time. International North-South Transport Corridor initiated by India, Russia, and Iran is another connectivity solution for India in Central Asia.
Naval Ports: India is developing naval ports in Indian Ocean regions like Madagascar, Seychelles, and Mauritius.
IORARC: India is involved in the Indian Ocean Rim Association grouping whose first summit took place in Jakarta in 2017.
Alliances: Alliance of India with like-minded countries like Japan. Japan has agreed to promote India's "Act East" policy by developing and strengthening reliable, sustainable, and resilient infra that augments connectivity within India and between India and other countries in the region aimed at advancing Asian industrial networks and regional value chains with open, fair and transparent business environment in the region. Japan and India can build rail and road connectivity across the Eurasian landmass running parallel to OBOR.
Conclusion
Theoretically, if India's political and strategic concerns are met, the initiative could be seen as viable, particularly given that many of the projects envisaged under the BCIM (Bangladesh China India Myanmar) corridor and the Asian Highway project would dovetail into OBOR.
Already all of India's neighbors (except Bhutan) are a part of it, and India is keen to increase connectivity with them. However, tense bilateral relations with China, deep mistrust, and India's growing concerns over Chinese hegemonic intentions in South Asia and the Indo-Pacific region make it practically unlikely that India will ever consider joining this project.
Article by: Rahul Sharma, UPSC Topper 2016, With All India Rank 76