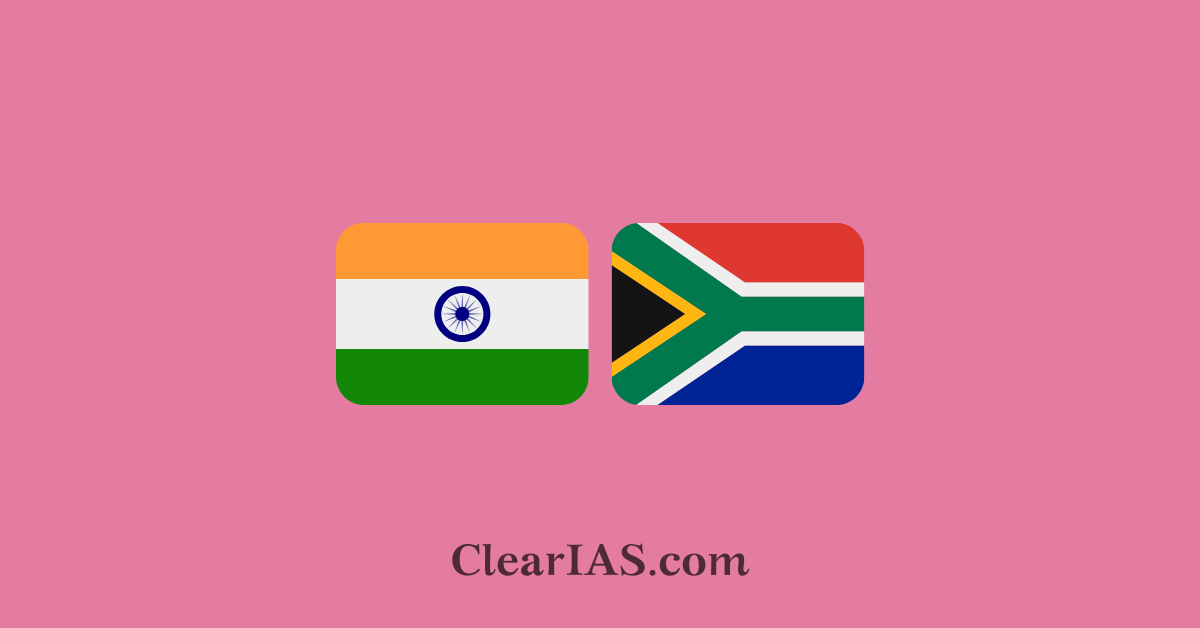 India-South Africa has a foundational and distinctive relationship that dates back several centuries and is based on shared principles, concepts, interests, and figures like Mahatma Gandhi and Nelson Mandela. The relationship was strained for a long time due to the apartheid government in South Africa. Read here to know the current status of India-South Africa relations.
India-South Africa has now had a meaningful bilateral relationship for 30 years. Since more than a century ago, the two nations have had a close alliance and sense of solidarity.
Both nations have been the other's staunchest supporters and closest allies in fostering reciprocal growth.
South Africa and India have a long-shared history, and both nations' aspirations for independence are intricately linked. Gandhi's journey to becoming a Mahatma began in South Africa, a turning point that had an impact on world history.
The common love for all things cricket, rich history, and warm, hospitable culture and food are what bind the two countries together in addition to their tight historical and political links.
History of India-South Africa Relations
India's links with the struggle for freedom and justice in South Africa date back to the period during which Mahatma Gandhi started his Satyagraha movement in South Africa over a century ago.
India was also at the forefront of the international community in its support of the anti-apartheid movement; it was the first country to sever trade relations with the apartheid Government in 1946 and subsequently imposed a complete diplomatic, commercial, cultural, and sports – embargo on South Africa.
India worked consistently to put the issue of apartheid on the agenda of the UN, NAM, and other multilateral organizations and for the imposition of comprehensive international sanctions against South Africa.
Following talks between the then South African Government and the ANC, India's relations with South Africa were restored after a gap of over four decades with the opening of a Cultural Centre in Johannesburg in May 1993.
The ANC maintained a representative office in New Delhi from the 1960s onwards. India actively worked for the AFRICA Fund to sustain the struggle through support to the frontline countries.
After South Africa achieved democracy in 1994, it was the Red Fort Declaration on Strategic Partnership between India and South Africa, signed in March 1997 by then PM Shri Deve Gowda and Nelson Mandela, which set the parameters for a rekindled relationship.
This Strategic Partnership between the two countries was again re-affirmed in the Tshwane Declaration (October 2006).
Both these declarations have been instrumental mechanisms that have contributed in the past to both South Africa and India in achieving their respective national objectives.
India-South Africa Bilateral trade and investment
India is South Africa's fifth-largest export destination, and fourth-largest import origin and is the second-largest trading partner in Asia. Both countries are working to boost trade volumes in the coming years.
Exports from India to South Africa include vehicles and components thereof, transport equipment, drugs and pharmaceuticals, engineering goods, footwear, dyes and intermediates, chemicals, textiles, rice, gems, and jewelry, etc.
Import from South Africa to India includes gold, steam coal, copper ores & concentrates, phosphoric acid, manganese ore, aluminum ingots & other minerals.
The leading Indian companies are Wipro, Coal India, Cipla, HCL Technologies, Tata Motors, Zomato, Mahindra and Mahindra, Vedanta, and Motherson Sumi.
South African companies which have invested in India are SASOL, FirstRand, Old Mutual, ACSA, Shoprite, and Nandos.
Defence Cooperation
The Defence Cooperation between India and South Africa officially commenced in 1996 with the signing of an MoU on "Cooperation in the field of Defence Equipment" which was replaced by an MoU on "Defence Cooperation" in 2000.
Indian Naval Ships and Sailing Vessels also regularly make port calls to South Africa.
IN Ships Tarkash and Kolkata visited Cape Town from 1 to 13 October 2018 and participated in the 6th IBSA Maritime Exercise (IBSAMAR).
INSV Tarini visited Cape Town in 2018 as part of Navika Sagar Parikrama.
The South African Army participated in the Multinational Field Training Exercise for African Nations conducted by Indian Army at Pune in March 2019.
Science and Technology
India and South Africa signed an Agreement on Cooperation in the fields of Science and Technology on 19 July 1995 and cooperation in Science and Technology between the two countries has flourished and continues to grow.
India-South Africa has inked MoU to transfer 12 cheetahs to the Kuno National Park by February-March 2023.
India-South Africa global cooperation
India and South Africa have a long history of working together by coordinating their views and efforts in institutions of global governance/multilateral fora, to achieve greater autonomy and ensure that the agenda of the 'South' is prioritized.
IBSA dialogue forum
In 2003, India and South Africa signed an agreement with Brazil, known as the Brasília Declaration, establishing "South-South" cooperation, based on the premise of the three nations being regional powers of South Asia, Southern Africa, and South America.
A tripartite free trade agreement was a united front to present in negotiations with Western countries in the World Trade Organization (WTO).
The declaration also agreed to work towards the U.N. Security Council reforms, and that each party would support the other's bid for permanent membership with veto rights.
The IBSA Dialogue Forum was created to promote cooperation and consensus on issues of trade, poverty alleviation, intellectual property rights, social development, agriculture, climate change, culture, defense, education, energy, health care, information society, science and technology, peaceful nuclear energy, tourism, and transport.
BRICS
In 2010, the formerly known grouping of BRIC became BRICS with the induction of South Africa.
The BRICS Forum's valuable contribution to reforming the global financial and economic architecture is well-appreciated by both India and South Africa.
G20
Both India and South Africa recognize G20 as the premier forum for coordination in international financial and economic matters and call upon the world community to utilize monetary, fiscal, and structural reforms to jump-start the global economy.
WTO
India and South Africa support WTO as the sole-multilateral mechanism on global trade, and commerce, and in the centrality accorded to the development agenda in the Doha Development Round.
Way forward
India-South Africa partnership is progressive and forward-looking.
In 2022, India-South Africa held bilateral meetings to discuss the development of higher education institutional mechanisms and skill development partnerships.
The year 2010 marked the 150th anniversary of the first arrival of Indians in South Africa. 2014 marked 100 years of Gandhiji's final departure to India from South Africa; he reached India on 9th Jan 1915; this date is now commemorated annually as Pravasi Bhartiya Divas.
-Article written by Swathi Satish