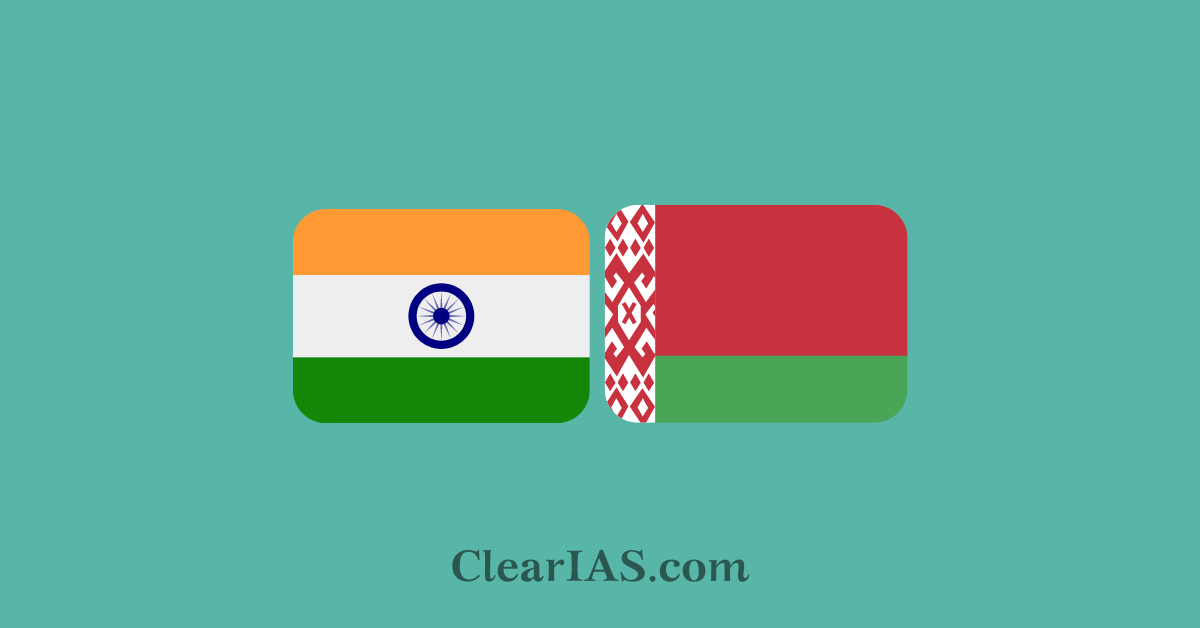 2022 marks 30 years of India-Belarus diplomatic relations. Read here to know more about the bilateral ties.
India's relations with Belarus have been traditionally warm and cordial. India was one of the first countries to recognize Belarus as an independent country in 1991.
Formal diplomatic relations were established and the Indian diplomatic mission in Minsk was opened in 1992 and Belarus opened its Mission in New Delhi in 1998.
Belarus has an Honorary Consulate in Kolkata and Mumbai.
A brief history of Belarus
In the 5th century CE, Belarus (also known as White Russia) was colonized by east Slavic tribes.
the region was dominated by Kyiv from the 9th to 12th century. After the destruction of Kyiv by the Mongols in the 13th century, the territory was conquered by the dukes of Lithuania, although it retained a degree of autonomy.
Belarus became part of the Grand Duchy of Lithuania, which merged with Poland in 1569.
Following the partitions of Poland (divided among Russia, Prussia, and Austria), Belarus became part of the Russian empire.
Following World War I, Belarus proclaimed itself a republic, only to be occupied by USSR in 1918 after the Russian Revolution.
The Polish-Soviet War of 1918–1921 was fought to decide the fate of Belarus. West Belarus was ceded to Poland; the larger eastern part formed the Belorussian SSR and then joined to the USSR in 1922.
It was occupied by the Nazis in World War II and was one of the war's most devastating battlefields.
Belarus gained independence after the disintegration of the USSR in 1991.
India-Belarus Political relations
The positions of Belarus and India on the main issues of maintaining international peace and security approaches to the implementation of the Sustainable Development Agenda for the period up to 2030, as well as the decisions of major international summits and conferences are close or coincide.
Both countries consistently oppose the politicization of human rights issues and the use of selective double standards.
The cooperation between the two countries is visible at many multilateral fora such as UN Security Council (UNSC) and Nuclear Suppliers Group (NSG).
Belarus supported India's candidature for the non-permanent seat at the UNSC in July 2020.
India supported Belarus's membership in the Non-Aligned Movement (NAM) and other international and multilateral groups like IPU (Inter-Parliamentary Union).
India-Belarus have established a  comprehensive partnership and mechanisms for exchanging views on bilateral, regional, and multilateral issues through Foreign Office Consultations (FOC), Intergovernmental Commission (IGC), and Joint Commission on Military Technical Cooperation.
There are numerous agreements signed on various subjects such as:
Trade and economic cooperation
Culture and education
Media and sports
Tourism
Science & technology, agriculture, and textiles
Avoidance of Double Taxation
Promotion and Protection of Investments
Defense and technical cooperation
India-Belarus Trade and Economic Relations
Belarusian-Indian Intergovernmental Commission on Trade, Economic, Industrial, Scientific, Technological and Cultural Cooperation (IGC) was established in 1997.
In 2017, a list of priority projects was identified such areas as education, machinery-building, agriculture, science and technology, pharmaceuticals, oil extraction, potash fertilizers supplies, investment, and other cooperation.
In 2020, the first Belarusian-Indian Investment forum was held in New Delhi.
A Protocol on the exchange of instruments of ratification of the Agreement on Investment was signed.
Joint working groups on cooperation in the textile industry, pharmaceuticals, trade, and investment are established.
Imports from Belarus to India:
Potash fertilizers, Wood cellulose, Hydrazine, hydroxylamine
Fiberglass, Monofilament, Plait of synthetic threads
Construction details from plastics, Cord materials for tires Parts and accessories for cars and tractors
Nitrile compounds, Products of distillation of coal tar, Parts for receiving and transmitting equipment
Raw flax or processed flax, Complex synthetic threads, Electronic integrated circuits, Centrifuges, equipment, and devices for filtering liquids or gases
Control or measuring devices, projectors, and Leather is additionally treated after tanning
Information carriers, Tractors, and trucks.
Indian exports to Belarus:
Retail pharmaceuticals, Non-retail pharmaceuticals, Heterocyclic compounds containing nitrogen atoms
Seafood, Shoe Uppers, Organic coloring matter
Parts and accessories for cars and tractors
Coffee, tea – natural and its essences and concentrates, Peanuts Antibiotics, Grapes.
The cooperation in the mining sector has been developing over the past few years.
India has participated in the reconstruction of power facilities in Belarus for energy generation and transmission.
India is also making efforts to encourage Belarusian businesses to invest in "Make in India" projects.
Cultural relations
Indian art and culture, dance, yoga, Ayurveda, films, etc. remain popular among Belarusian nationals.
India has been assisting Belarus in its human resource development under GoI's ITEC program.
Potential areas of cooperation between India-Belarus
Cyber security is potential and less explored area of cooperation for the countries.
The potential of military and technical cooperation, including shared developments, has not been fully taken advantage of.
The potential for cooperation in the field of education has not been fully reached (except for the medical field), especially in mathematics and computer science, science, and technology.
Electric transport is seen as a promising area of cooperation, taking into account India's decisions to convert 2- and 3-wheeled vehicles to electric traction by 2025.
Recreational centers and medical services concentrating on Ayurveda and yoga will increase tourism as well.
Besides urban planning and appropriate infrastructure projects could be a very promising area of cooperation.
Way forward
The gradual shift of the global geopolitical and geo-economic center of gravity to Asia makes India-Belarus cooperation significant. It can create additional opportunities for international trade and investment.
Belarus needs several footholds in Asia diversified by geographical sub-regions and India could become one of such pillars in South Asia.
Similarly, the Indian pharmaceutical companies are entering the Eurasian market through Belarus.
Breakthrough projects are needed to give a new impetus to bilateral relations to convert the solid political and diplomatic track record into trade, economic, and investment benefits.
The bilateral cooperation should be based on regional cooperation as well which will increase the mobility and flexibility of the bilateral ties.