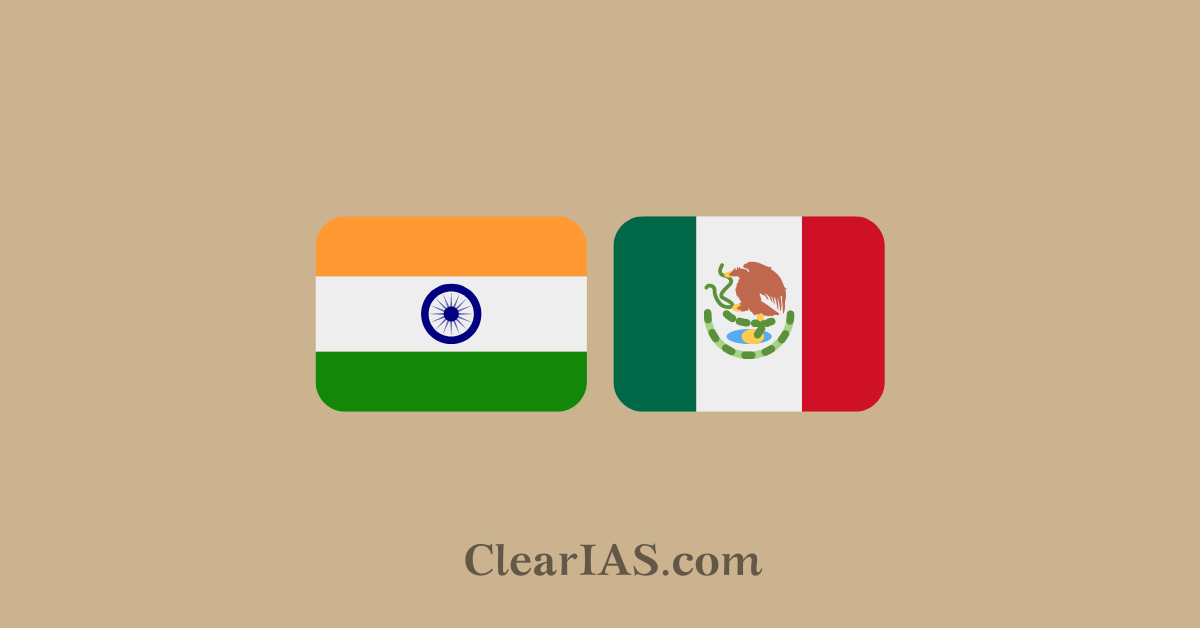 India-Mexico relations were established in 1950 making Mexico the first Latin American country to recognize India after independence. Read here to know the latest developments in bilateral relations.
The India-Mexico relationship has always been cordial, warm, and friendly. It is marked by developing mutual understanding, bilateral trade, and all-around cooperation.
Despite being on opposite sides of the planet, these antipodes share startling similarities and commonalities in their topography, history, physiognomy, culture, civilization, and even in their inhabitants' attitudes, mindsets, and ideals.
History of India-Mexico relations
The trade relations between India-Mexico have been present since colonial times when the Spanish traded with the Indian traders.
In the 1500s, many Indians were taken as slaves to Mexico.
After India's independence in 1947, Mexico became the first Latin American country to recognize India.
The diplomatic relations were established in 1950, thus marking 72 years of diplomatic relations in 2022.
The late Prime Minister Jawaharlal Nehru was the first Indian head of state to visit Mexico and the then Mexican President paid to India the following year.
When Indo-Portuguese tensions peaked during the Goa liberation movement, Mexico offered the Indian government its sway in Latin America to put pressure on the Portuguese to defuse hostilities.
The 1960s Green Revolution in India was built on the Mexican wheat type Sonora used as an Indo-Mexican hybrid.
Mexico and India maintained a close working relationship during the Cold War as UN members by actively promoting the interests of developing nations, such as during the Uruguay Round of Trade Negotiations (under the World Trade Organisation).
Economic and trade relations
India is Mexico's tenth-largest trading partner, and India continues to benefit from a positive trade balance.
Mexico is India's top trading partner in Latin America as of now.
India's exports to Mexico in 2021 totaled USD 5.931 billion, and Mexico's imports totaled USD 4.17 billion, bringing the total amount of trade to USD 10.11 billion.
India's exports to Mexico:
Vehicles and auto parts, organic chemicals, electrical machinery and electronics, aluminum products, ready-to-wear clothing, iron and steel products, jewels, and jewelry, and pharmaceutical products.
India's imports from Mexico:
Crude oil, mineral fuel, fertilizers, iron and steel, and engineering goods.
75 percent of Mexico's exports are crude oil.
The areas assessed to have maximum growth potential are:
mining and tourism (projects in Mexico)
food processing and infrastructure (projects in India)
automobiles and auto parts
textiles and garments
software and IT
pharmaceuticals
engineering
renewable energy
biotechnology
India-Mexico Relations on the international level
India and Mexico are members of the G20 and United Nations.
Both nations are concerned about the escalating conventional and unconventional security threats, particularly the spread of international terrorism.
Mexico and India have differing viewpoints on nuclear non-proliferation. But in 2016, Mexico supported India's bid to be a member of the Nuclear Suppliers Group (NSG).
Mexico has been a part of the United for Consensus group or the Coffee Club, which opposes the increase of permanent membership in the UNSC in contrast to G-4 countries (India, Japan, Germany, and Brazil).
India and Mexico committed to working on several issues that affect nations in the Global South when they became non-permanent members of the United Nations Security Council for a two-year term in January 2021.
India and Mexico's responses to the present crisis in Ukraine have been considerably dissimilar yet welcoming. India abstained from voting on a crucial UN resolution that Mexico and France co-sponsored, but both nations agree that encircling Russia over Ukraine may not be the best way to resolve the ongoing issue there.
Cultural relations
Since 2010, the Gurudev Tagore Indian Cultural Center has been operating in Mexico, where it teaches yoga, traditional dances, music, etc.
A cultural cooperation agreement has been in place since 1975, and four-yearly "Programmes of Cultural Cooperation" are used to carry out cooperation activities.
More than 7,000 Indians are thought to reside in Mexico, the majority of whom work as software engineers for Indian IT businesses, academics/professors, and independent company owners.
Indian nationals with regular passports who have a valid visa for the United States, the United Kingdom, Canada, the Schengen area, or Japan, as well as those with permanent residence in those nations or one of the Pacific Alliance members, namely Colombia, Chile, or Peru, are exempt from the requirement for short-term tourist or business visits to Mexico.
Recent developments in India-Mexico relations
In 2022, India-Mexico signed an agreement focussing on various areas like cooperation in space, trade, investment, health, and pharmaceuticals.
Recently, an India-Mexico Friendship Garden was inaugurated in Mexico for strengthening and expanding trade in the agricultural and food processing sectors.
A bust of Indian freedom fighter Dr. Padurang Khankoje was also unveiled at the University of Mexico.
Dr. Pandurang Khankhoje was an outstanding Indian revolutionary, scholar, agricultural scientist, and statesman who was among the founding fathers of the Ghadar Party.
Khankhoje moved to Mexico in the 1920s, where he was a professor of Botany and Crop Breeding at the National School of Agriculture of Mexico.
He led the Mexican corn breeding program and was appointed director of the Mexican Government's Department of Agriculture.
ISRO signed a cooperation agreement on crop monitoring, drought assessment, and capacity building.
In 2014, ISRO and the Mexican space agency signed an MoU on space cooperation for peaceful purposes.
Way forward
To sustain the good momentum of India-Mexico bilateral ties newer avenues should be explored for collaboration, specifically, cooperation in sectors such as pharma, healthcare, and space.
Both India and Mexico will also look to work closely at the G20 summit in Indonesia in November this year to craft a strategy for stabilizing the global order.
There are now more prospects for cooperation on bilateral and multilateral issues due to their growing similarities in international fora like the UN, G-77, G-15, and G20.
India and Mexico have made it clear time and time again that they firmly believe in a multipolar world and are prepared to strive toward it, albeit in different ways.
-Article written by Swathi Satish