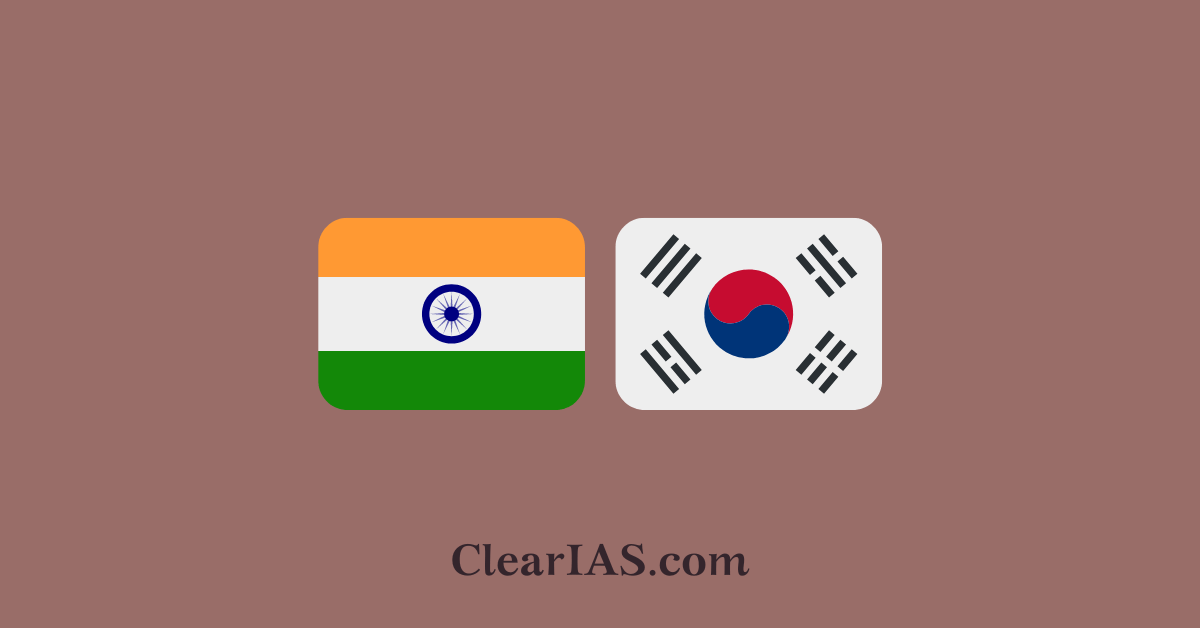 India-South Korea (Republic of Korea) diplomatic relations achieved the mark of 50 years in 2023. Both India and South Korea stand to gain strategically and economically from the deepening of people-to-people ties. Read here to understand the significance of the bilateral ties.
Relationships between India-Republic of Korea (RoK) have advanced significantly in recent years and have become genuinely multifaceted as a result of a considerable convergence of interests, reciprocal goodwill, and high-level exchanges.
Over time, India's economic liberalization, "Look East Policy," and "Act East Policy" found resonance with RoK's free market ideas. India's consistent advocacy for the amicable unification of the two Koreas has been highly accepted there.
History of India-South Korea relations
From India, Buddhism reached the Korean peninsula in the 3rd century during the three kingdoms period.
India played an important and positive role in Korean affairs after Korea's independence in 1945.
Mr. K P S Menon of India was the Chairman of the 9-member UN Commission set up in 1947 to hold elections in Korea.
During the Korean War (1950- 53), both the warring sides accepted a resolution sponsored by India, and the ceasefire was declared on 27 July 1953.
General K.S. Thimayya of India, served as the chairman of the Neutral Nations Repatriation Commission (NNRC), after the armistice and contributed to resolving the humanitarian issues arising out of the War, which won appreciation from all quarters.
1962 saw the establishment of bilateral consular ties, which were elevated to ambassadorial status in 1973.
Since then, several trade agreements have been reached:
Agreement on Trade Promotion and Economic and Technological Co-operation in 1974
Agreement on Co-operation in Science & Technology in 1976
Convention on Double Taxation Avoidance in 1985
Bilateral Investment Promotion/Protection Agreement in 1996
A new, exciting phase in India-South Korea ties was ushered in by President Dr. APJ Abdul Kalam's state visit to South Korea in 2006. It resulted in the formation of a Joint Task Force, operationalized in 2010, to reach a bilateral Comprehensive Economic Partnership Agreement (CEPA).
The then President Lee paid a landmark visit to India, as Chief Guest at India's Republic Day celebrations in 2010, when bilateral ties were raised to the level of Strategic Partnership.
Other major agreements signed over the years were:
2011: Civil Nuclear Energy Cooperation Agreement
2012: Nuclear Security Summit, and Visa simplification agreement
2014: Joint Statement for Expansion of Strategic Partnership' unveiled a blueprint for further expanding the political, security, defense, economic, scientific & technological, IT, cultural, and people-to-people relations.
2016: South Korea participated in the Defence Expo India and Maritime India Summit.
2017: MoU on cooperation in shipbuilding
2018: Bilateral relationship upgraded to a special-strategic partnership.
India-South Korea Trade and Economic relations
In 2022, trade between the two nations reached an all-time high at USD 27.8 bn. The target is to reach USD 50 bn by 2030.
In 2018, Indian Prime Minister Narendra Modi and South Korean President Moon Jae-in jointly opened Samsung Electronics' Noida smartphone assembly plant, the largest facility of its kind in the world.
Trade and economic relations have gathered momentum again following the implementation of CEPA in 2010 and bilateral trade in 2011 registered a 70% growth over two years.
Major items of India's exports to Korea are mineral fuels/oil distillates (mainly naphtha), cereals, iron, and steel.
Korea's main export items are automobile parts, telecommunication equipment, hot rolled iron products, petroleum refined products, base lubricating oils, nuclear reactors, mechanical appliances, electrical machinery & parts, and iron and steel products.
India and South Korea launched an initiative 'Korea Plus' in 2016 to promote and facilitate Korean Investments in India.
Major Korean conglomerates such as Samsung, Hyundai Motors, and LG have made significant investments in India.
In 2022, India-South Korea held its fifth Foreign Policy and Security Dialogue in Seoul.
Both sides agreed to deepen cooperation in not only areas like trade and investment, science and technology, and cultural exchanges.
More focus has been given to security and defense, as well as new and emerging technologies.
In light of the challenges posed by the COVID-19 pandemic's supply chain's excessive reliance on China, India, and South Korea have also decided to collaborate on building resilient and robust global supply chains.
Strategic relationship
India and South Korea are one of the most significant like-minded partners in the Indo-Pacific region.
South Korea launched its first Indo-Pacific vision document -"Strategy for a Free, Peaceful and Prosperous Indo-Pacific," in December 2022 which has raised expectations for enhanced momentum in South Korea's strategic ties with India.
South Korea introduced New Southern Policy (NSP) while simultaneously pushing for a New Northern Policy embracing more of Russia and Central Asia.
In both cases, the goal was to shift some of Seoul's focus away from the major powers into other regions, primarily Southeast Asia and India, to diversify South Korea's economic and strategic ties.
The NSP has laid the foundation for India-South Korea security cooperation, besides strengthening the consistently booming bilateral economic ties.
The bilateral ties are based on the vision to bring a synergy between South Korea's NSP and India's Act East Policy (AEP).
South Korea also seeks enhanced cooperation with long-standing partners like India and the Association of Southeast Asian Nations (ASEAN).
South Korea will also seek to enhance cooperation bilaterally with the ASEAN member states, which are also looking to establish capacity-building partnerships with India, especially in the digital economy.
A dynamic way to enhance the India-South Korea partnership is through the Quad, which has been of particular interest to the RoK administration.
The Korean administration has already asked the Indian government to support South Korea's inclusion into the Quad's working groups.
RoK has highlighted COVID-19, climate change, and emerging technologies as areas of cooperation via the extended Quad formats.
Greater collaboration between the two sides will be made possible by India's G-20 chairmanship, particularly to advance the interests of the Global South.
Given that India has chosen to leave the trade pillar for the time being, cooperation between South Korea and India on economic security may gain momentum through the Indo-Pacific Economic Framework. This is especially true for supply chains and clean energy.
South Korea's role as a dialogue partner in the Indian Ocean Rim Association (IORA) will support regional collaboration on marine concerns.
Challenges
The ongoing challenges that have compelled middle powers like India, Japan, and now South Korea to step up their engagement are:
The new emerging threats posed by an increasingly militant China, with its growing divergence from the United States and convergence with Russia
The Ukraine war and its numerous political and social ramifications
The North Korean nuclear resurgence and its ties with China
The evidence in the declining U.S. global dominance.
Way forward
The year 2023 will be an important time because not only will South Korea and India commemorate 50 years of diplomatic relations, but also because the convergence of respective Free and Open Indo-Pacific visions will be given more attention.
It is reasonable to anticipate a flurry of high-level visits for swiftly carried out initiatives. Furthermore, a similar attempt to advance the NSP-AEP convergence may be launched.
Already the process has started with the ninth round of India-RoK Comprehensive Economic Partnership Agreement (CEPA) upgrade negotiations that were held in Seoul in November 2022.
India and South Korea may use their combined might as strong middle powers to uphold a stable, rules-based regional order in line with the U.S. without sacrificing their interests or future possibilities.
-Article written by Swathi Satish