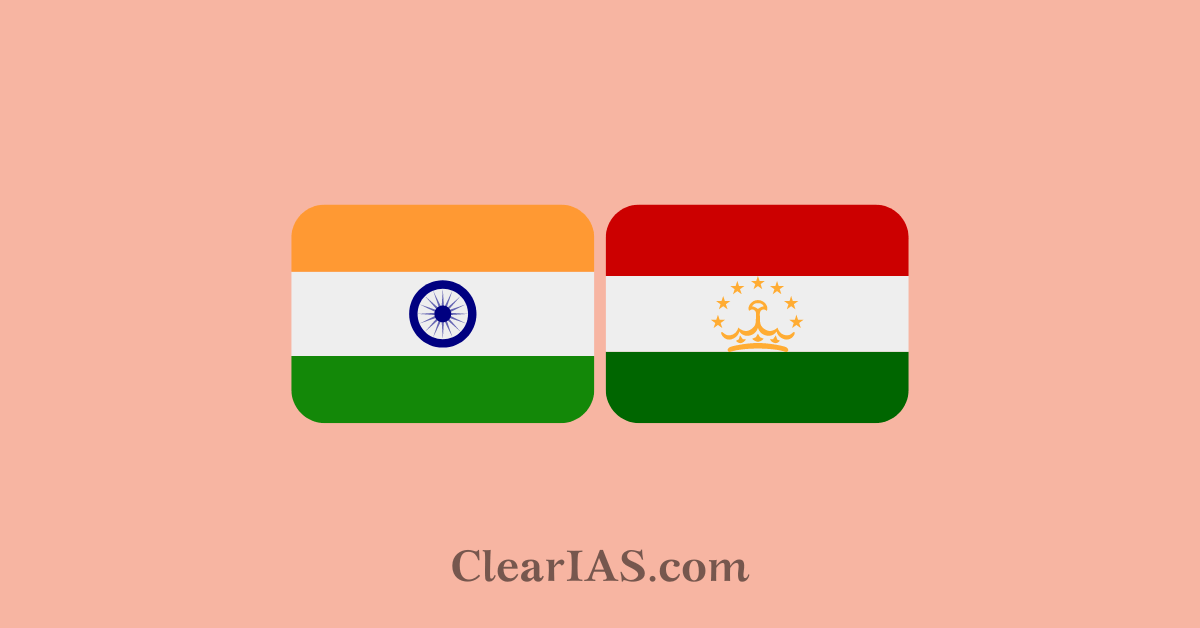 The bilateral relations between India-Tajikistan have been traditionally close. Read here to know more about it.
Since the establishment of diplomatic relations on 28 August 1992, regular high-level visits between the two countries have further cemented the bilateral ties.
Deep-rooted historical and cultural linkages have helped expand and widen the relationship to a new level.
Cooperation between the two countries encompasses all aspects of human endeavor with a special focus on military and defence ties.
India-Tajikistan Political relations
In 2018, during a visit, the Indian President announced a grant of USD 20 million for Tajikistan for projects mutually agreed upon by the two sides. A total of 08 MoUs/agreements were signed in the following areas–
Peaceful Use of Space Technology
Disaster Management
Renewable Energy
Youth Affairs
Agricultural Research and Education
Unani Medicine
Program between Foreign Ministries for 2018-21
Cultural Exchange Programme for 2019-23
The two countries have five bilateral consultative mechanisms in the form of:
Foreign Office Consultations
Joint Working Group on Counter-terrorism
Joint Commission on Trade, Economic, Scientific and Technical Cooperation
JWG on Defence
JWG on Peaceful Use of Space Technology for Development
Cooperation in International Forums/initiatives
In general, Tajikistan supports India in most elections for UN bodies and other international organizations.
In 2020, Tajikistan extended support for India's candidature for a non-permanent seat in UNSC for the term 2021-22. Tajikistan has publicly supported India's bid for UNSC permanent membership.
Tajikistan strongly supported SCO Member status for India.
India supported Tajikistan's accession to WTO in March 2013. India has consistently supported Tajikistan's proposals at the UN on water-related issues. India also supported Tajikistan's candidature to ECOSOC.
Development & Aid Partnership
Since Tajikistan's independence in 1991, India has played the role of a development and aid partner for Tajikistan.
Several developmental assistance projects and humanitarian assistance projects have been provided by India to Tajikistan.
After the outbreak of Covid-19 in 2020, India provided humanitarian medical assistance to Tajikistan.
Since the establishment of the Indian embassy in Dushanbe in 1994, Tajikistan has been a beneficiary of the Indian Technical & Economic Cooperation Programme (ITEC).
India-Tajikistan Connectivity, Trade & Economic Relation
Trade and Economy are the weakest links in India-Tajikistan's relationship, which in turn is impacted by the lack of reliable land connectivity between the two countries.
The trade route through Iran and Turkmenistan is impacted from time to time due to US sanctions on Iran, and the ups and downs of bilateral relations between Turkmenistan and Tajikistan.
Indian exports to Tajikistan mainly consist of pharmaceuticals, medical preparations, cane or beet sugar, tea, handicraft, and machinery. Indian pharmaceutical products occupy approximately 25% of the Tajik market. However, not all medical products are directly imported from India and some of them arrive in Tajikistan via Russia.
Different types of ores, slag and ash, aluminum, organic chemicals, herbal oils, dried fruits, and cotton are exported to India by Tajikistan.
Cultural & People-to-People Relation
India and Tajikistan share strong historical, cultural, and linguistic ties. There is a great liking for Indian culture and films and films and TV serials dubbed in the Russian language are routinely shown on local TV channels.
To further deepen and widen these cultural linkages, Swami Vivekananda Cultural Centre in Dushanbe offers courses in Kathak and Tabla through teachers deployed by ICCR from India. The center also offers Hindi language classes.
Strategic and military ties
India's military presence and activities have been significant, beginning with India's extensive support to the anti-Taliban Afghan Northern Alliance (ANA). In 2002, India built a hospital at the Farkhor Air Base.
The Farkhor Air Base became fully operational in 2006, and 12 MiG-29 fighters and trainer aircraft are planned to be stationed there.
India is the fourth nation after the US, Russia, and Germany to have a military base in Central Asia.
India has also established a military hospital in southern Tajikistan with a capacity of 50 beds that will treat military personnel as well as civilian.
Significance India-Tajikistan relations
Tajikistan is important for India's Central Asian policy and connectivity plans and the India-Central Asia Dialogue forum.
India-Central Asia Dialogue:
It is a ministerial-level dialogue between India and the Central Asian countries namely Kazakhstan, Kyrgyzstan, Tajikistan, Turkmenistan, and Uzbekistan.
All these Central Aisan countries gained independence after collapsing of USSR.
All the countries participating in the dialogue, except for Turkmenistan, are also members of the SCO.
The dialogue focuses on several issues including ways to improve connectivity and stabilize war-ravaged Afghanistan.
Recent Development between India and Central Asia Relations:
India has a USD 1 billion Line of Credit for projects in Central Asia.
To improve connectivity by using the Chabahar Port for enhancing trade between the two sides.
The Turkmenistan-Afghanistan-Pakistan-India (TAPI) gas pipeline.
International North-South Transport Corridor (INSTC) in combination with Ashgabat Agreement on International Transport and Transit Corridor (ITTC) is enhancing connectivity between India and the Central Asian countries.
India assisted by supplying Covid-19 vaccines and essential medicines during the early stage of the pandemic.
In January 2022 the Prime Minister of India hosted the first India-Central Asia Summit in virtual format.
India-Tajikistan relation in news
India's Minister for Science and Technology and Earth Sciences held a bilateral meeting with the Minister for Energy and Water Resources of the Republic of Tajikistan.
Issues like water resources research especially Glacier monitoring, Non-conventional Energy, Peaceful Use of Space Technology, and Disaster Management were discussed to support global water action and climate resistance on Water for Sustainable Development.