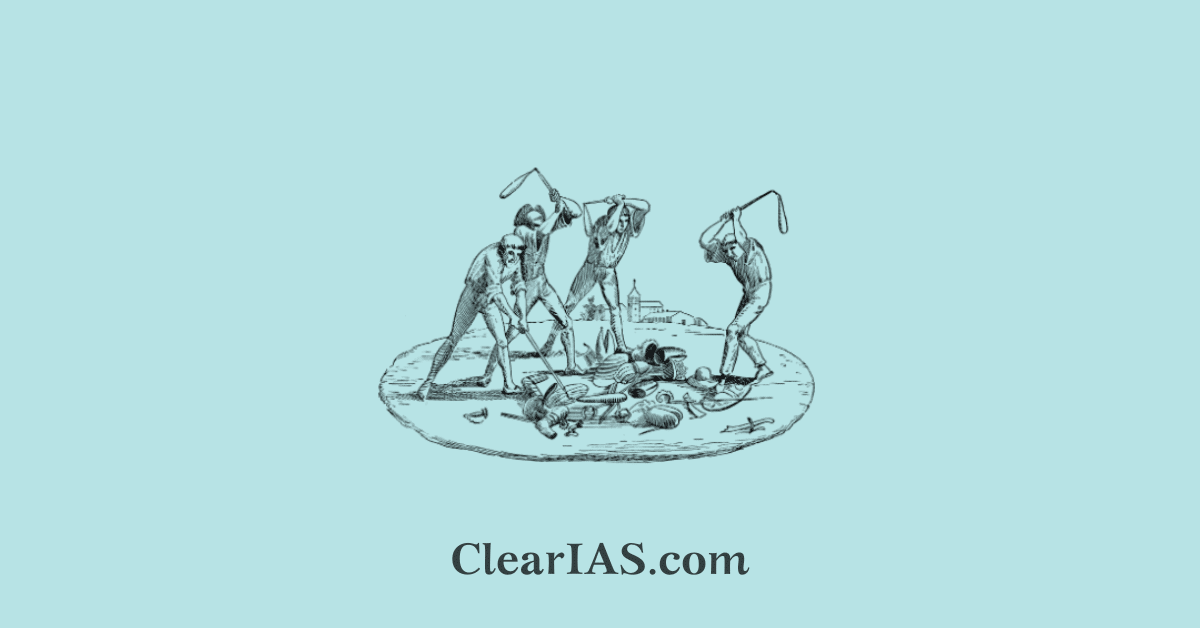 Indian feudalism does not fit into the definition of the Western system of feudalism. But till India became a republic, a form of feudalism existed in the country. Read here to know more.
The concept of "feudalism" as it is traditionally understood in European history does not have a direct equivalent in Indian history.
There were socio-economic and political structures in ancient and medieval India that exhibited certain features resembling feudalism in some respects.
These structures were diverse and varied across different regions and periods.
History of Indian Feudalism
From the post-Maurya period, and especially from Gupta times, certain political and administrative developments tended to feudalize the state apparatus.
The most striking development was the practice of making land grants to the Brahmanas, a custom sanctified by the injunctions laid down in the Dharmasastras, and the Puranas.
The early Pali texts of the pre-Maurya period refer to the villages granted to the Brahmanas by the rulers of Kosala and Magadha, but they do not mention the abandonment of any administrative rights by the donors.
The Mauryan Empire (322-185 BCE) made significant use of land grants to reward officials, military commanders, and religious institutions.
The same is the case with the earliest epigraphic record of a land grant, a Satavahana inscription of the 1st century BCE, which refers to the grant of a village as a gift in the Ashvamedha sacrifice.
Administrative rights were perhaps given up for the first time in the grants made to Buddhist monks by the Satavahana ruler Gautamiputra Satakarni in the 2nd century CE. The land granted to them could not be entered by royal troops, and ill-treated by the government.
Medieval period
The concept of feudalism gained prominence during the medieval period in India, particularly between the 7th and 12th centuries.
The emergence of feudalism in India was influenced by the arrival of various foreign invaders and rulers, including the Huns, Kushans, and later the Islamic rulers.
The land was often granted to military commanders and nobles in exchange for military service or loyalty to the ruling monarch. These grants were known as "jagirs" or "iqta."
The Delhi Sultanate (13th-16th centuries) and later the Mughal Empire (16th-19th centuries) institutionalized and expanded the system of jagirs.
The jagirdars (feudal lords) controlled the lands, collected revenue from peasants, and provided military support to the central authority in exchange for these privileges.
The Mughals, in particular, relied heavily on the zamindari and jagirdari systems to collect revenue and maintain control over vast territories.
India's vastness and diversity led to variations in feudal structures across different regions. For example, in the Deccan region, the system of Deshmukhs and Deshpandes evolved as local intermediaries between peasants and rulers.
In the Rajput kingdoms of Rajasthan, the feudal system was based on land grants to nobility, often known as Thakurs or Rajputs.
Feudalism in India began to decline with the arrival of British colonial rule in the 18th century.
The British introduced the Permanent Settlement and the Ryotwari systems, which changed landownership and revenue collection methods.
The Indian Rebellion of 1857 was, in part, a response to the discontent among feudal lords and landholders who saw their privileges eroding under British rule.
After gaining independence in 1947, India implemented land reforms in many states to abolish feudal landholdings and redistribute land to the landless peasants.
Land reforms aimed to address social inequalities, reduce concentration of landownership, and improve agricultural productivity.
Features of Indian feudalism
Landownership and Revenue Collection:
In various parts of India, especially during the medieval period, powerful landlords, often called "zamindars" or "jagirdars," held control over vast tracts of land.
These landholders collected revenue from peasants who worked on their land. The revenue collection system was similar in some ways to the feudal lord-serf relationship in Europe.
Hierarchy and Local Autonomy:
The zamindars and local rulers had significant autonomy in their respective regions. They often had their militias and exercised both political and economic control over their territories.
There was a hierarchical structure with powerful regional rulers who owed allegiance, in varying degrees, to higher authorities such as kings or emperors.
Service in Exchange for Land:
In some cases, rulers rewarded their nobles and officials with grants of land (jagirs) in exchange for military service, which is somewhat akin to the European feudal practice of granting fiefs (land) in return for loyalty and military support.
Fragmented Political Landscape:
India's political landscape was often fragmented, with numerous small kingdoms, principalities, and local rulers. This decentralization allowed for local power centers to emerge and exercise control over specific regions.
Dynastic Succession:
Many regions in India had hereditary rulers, and power was often passed down through family lines. This is similar to the idea of hereditary nobility in European feudalism.
Agrarian Economy:
Agriculture was the backbone of the Indian economy, and the control of land was central to the power and wealth of the ruling classes.
Caste System and Social Hierarchy:
The caste system played a significant role in Indian society, and it had some parallels to the social hierarchy seen in feudal Europe.
Different castes had specific roles and responsibilities, and there was limited social mobility.
The caste system coexisted with feudalism, and both systems often reinforced each other. Feudal lords and their intermediaries belonged to high castes, while lower-caste individuals often held subordinate positions in the feudal structure.
Impact of feudalism on Indian society
Feudalism, as a socio-economic and political system, had a significant impact on Indian society during various periods of its history. The extent and nature of this impact varied across regions and periods.
Feudalism resulted in economic exploitation, with the feudal lords extracting surplus agricultural produce from the peasants in the form of rent or taxes. This exploitation often led to the impoverishment of the peasantry.
Feudalism played a role in the patronage of art and culture. Feudal lords often supported the construction of temples, forts, palaces, and other architectural marvels. This led to the development of regional architectural styles and cultural traditions.
Feudal lords enjoyed significant political power and autonomy within their domains. They often maintained their armies and had authority over local administration, justice, and law enforcement.
Feudalism contributed to the fragmentation of political power in India, with numerous regional kingdoms and principalities ruled by local feudal lords. This led to a lack of centralized authority in many regions.
The exploitation and oppression associated with feudalism often gave rise to resistance movements among the peasantry and lower classes. These movements sought to challenge the authority of feudal lords and the oppressive systems they upheld.
While feudalism as a formal system largely declined in independent India due to land reforms, remnants of feudal structures and practices can still be found in some parts of the country, particularly in the influence of local elites and landlords.
The historical legacy of feudalism in India continues to influence landownership patterns, social hierarchies, and economic disparities in various regions.
Read: Popular uprisings and movements
Difference between Indian and European feudalism
Indian feudalism was closely intertwined with the caste system, while European feudalism had a more rigid hierarchy based on land ownership and vassalage. Additionally, the decline and transformation of these systems occurred at different times and under different circumstances.
Indian

European

Indian feudalism is believed to have existed in various forms throughout the Indian subcontinent from ancient times, with regional variations. It was not a uniform system, and its development spanned centuries.

European feudalism

, on the other hand, developed during the Middle Ages (roughly from the 9th to the 15th century) in various European regions, including Western Europe, Central Europe, and parts of Eastern Europe.

Indian society was traditionally organized into a caste system, which was a complex and hereditary social hierarchy. The caste system was distinct from feudalism but coexisted with various forms of feudal-like land tenures. Society was divided into different castes, each with its own social and occupational roles.

European feudalism was characterized by a hierarchical structure with the king or monarch at the top, followed by nobles (lords or vassals), knights, and peasants (serfs). Social mobility was limited, and one's social status was typically determined by birth.

Indian feudalism had a mixed economic basis, with agrarian and land-based systems prevailing. Landlords and landowners played a significant role in economic activities, and various forms of land grants and taxation systems were prevalent.

European feudalism was primarily based on land ownership and land tenure. The feudal system was characterized by the granting of land (fiefs) in exchange for loyalty and military service. The agricultural economy was dominant, with the majority of the population engaged in farming.

The hierarchical structure in India was less uniform compared to European feudalism. Different regions had their feudal-like systems, including zamindari (landlordism) and jagirdari (land grants).

European feudalism had a clear and structured hierarchy. The monarch or king was at the top, followed by nobles who held land grants from the king. Vassals swore allegiance to nobles and provided military service in exchange for land (fiefs).

Indian feudalism gradually transformed and integrated into different political and economic systems over time. The decline of feudal-like structures in India was influenced by historical events, including colonialism.

European feudalism went through a process of decline and transformation during the late Middle Ages and into the early modern period. Factors such as the growth of towns and trade, changes in military technology, and the centralization of power contributed to its decline.
Conclusion
The Indian subcontinent is vast and diverse, and the nature of governance and socio-economic structures varied considerably from one region to another and across different periods.
The term "feudalism" is a Western construct used to describe specific socio-economic and political arrangements in medieval Europe, and applying it directly to the Indian context can be overly simplistic.
The systems in India were shaped by a complex interplay of historical, cultural, and regional factors.
-Article by Swathi Satish