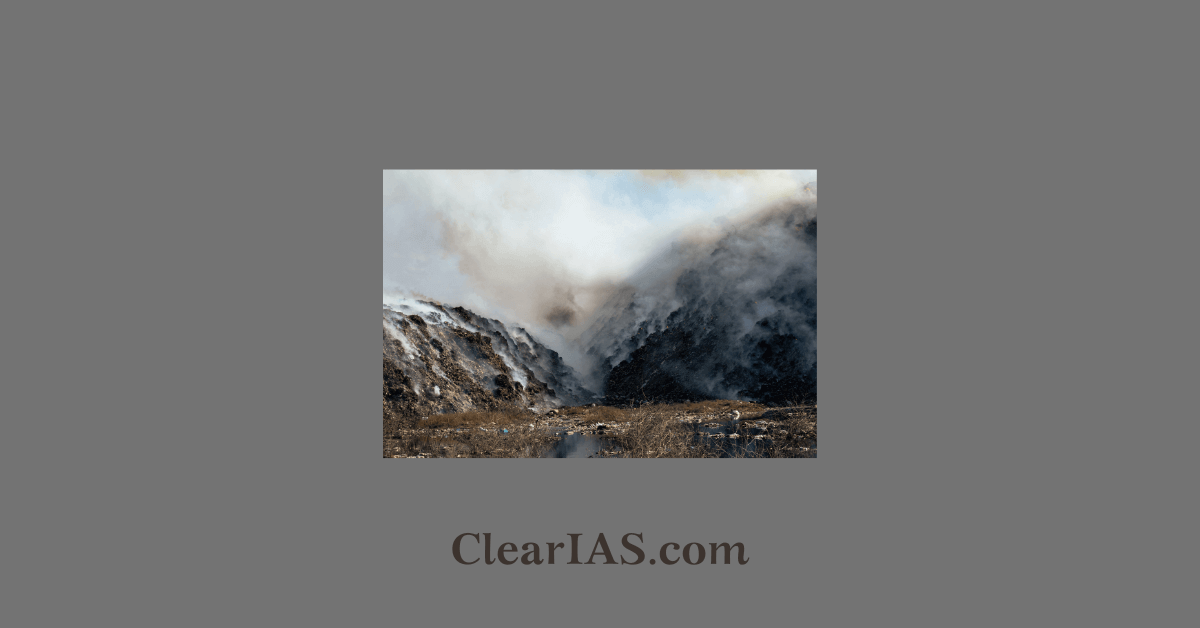 The number of landfill fires in metropolitan cities has increased across India in recent times. This raises questions about landfill management practices in the country. Read here to understand the causes of landfill fires and their management plans.
Solid waste management is a major aspect of waste processing in any country.
Household garbage, which is also called municipal solid waste is taken to a municipal solid waste landfill, a site designed to contain household trash. It has specialized structures to reduce the contamination of the surrounding soil or water.
Landfills are sites designed to store garbage. They are designed to minimize the effects of trash on human health and the environment.
Landfills
Modern landfills are completely sealed to reduce contamination of the nearby groundwater.
First, the ground is lined with clay. A thin layer of flexible plastic is placed on top of the clay layer.
That allows the collection of leachate, the liquid that passes through the landfill and may draw out toxins from the trash.
The leachate is collected through a drainage system that passes this contaminated water through pipes to a pool where it can be treated to remove the toxins before being released back into the environment.
As waste is added on to the growing pile, it is compacted into tightly packed mounds.
Each day a layer of soil is hauled to cover the garbage to prevent odors and rodent problems. Therefore, the landfill is mostly made up of compressed layers of trash and soil.
A completed landfill is sealed with another layer of clay and thin plastic. Then it is covered with several feet of dirt so that plants can grow on top.
Landfills are designed simply to contain trash, and some of it will decompose over time. The decomposition process produces methane, a dangerous and flammable gas. In modern landfills, the methane is collected in pipes so that it can be vented, burned, or even used as an energy source.
Modern landfills are designed to keep toxic trash contained, leaks do happen. Therefore, landfills are still dangerous to the environment and human health.
The methane that is released due to the decomposing waste is a potent greenhouse gas that contributes to global climate change.
The air pollutants escaping from the landfill can also cause respiratory problems in people who live close to the landfill.
And if the leachate leaks from landfills, it can bring toxins from the landfill into nearby groundwater supplies.
Studies have shown that landfills are more often constructed near low-income neighborhoods and communities of color. Due to this environmental racism, these people are more likely to experience the health risks associated with landfills.
Landfill Fires
The majority of fires take place on the surface, where fuel and oxygen are in great supply. These flames have a range of one foot below ground to the surface. The other kind can stretch down 40 feet and smolders underground.
Surface landfill fires
If the facility accepts hot things (such as barbecue coals or other ashes) or overstuffs the landfill gas collecting system, a surface fire may ignite.
Fires can also be started by arson, spontaneous combustion, or a dropped cigarette.
As soon as a fire starts, it must be put out quickly to prevent more damage.
The employment of heavy machinery to relocate the burning material to a safe location, the application of soil to put out the fire, and the use of suppression agents, and firefighting techniques are only a few examples of possible actions.
Surface garbage burning will produce a sizable amount of poisonous and putrid smoke if nothing is done.
The waste stream's composition affects the smoke's toxicity.
Subsurface landfill fires
Spontaneous combustion or overdrawing a gas collecting system are the two main causes of subsurface fires.
These flames are characterized by the fast oxidation of organic waste and tend to burn slowly without apparent flame or copious amounts of smoke.
Around the extraction well, in the impact zone of the extraction well, or next to a surface feature that permits oxygen to enter the waste mass, the waste material tends to oxidize.
Elevated temperatures at the wellhead or the finding of soot in the gas collection system are used to identify subsurface fires in gas collecting systems.
Sometimes, subsurface combustion or oxidation won't be noticed until a hole forms or smoke starts to rise.
Usually, an actual flame is not visible during this type of fire unless the subsurface fire is excavated and exposed to the atmosphere.
Causes of landfill fires
Waste material is heated during spontaneous combustion by chemical oxidation and biological degradation.
The substance reaches the point of ignition due to the heat that results.
The degree of moisture present in the fill has a direct bearing on the type of fast oxidation that occurs in a municipal or construction/wood waste site.
Water is necessary for the biological decomposition of organic matter by the bacteria both aerobic and anaerobic present in it.
In the presence of bacteria, organic matter (solid waste) and water react to produce increased heat, methane (CH4) gas, and carbon dioxide (CO2) gas as well as other gases and degraded organic material.
With the correct conditions present, spontaneous combustion can occur in household trash or at construction debris facilities. This type of combustion will produce excessive amounts of carbon monoxide (CO) and other trace toxic gases due to incomplete oxidation.
Other causes of Landfill fires are-
Indiscriminate dumping of mixed municipal solid waste;
Biodegradable waste generates methane (a flammable gas);
Hot weather conditions;
Failure in dumpsite remediation work etc.
Landfill fires management
As per CPCB, in 2022, India's garbage is 47% treated, 16% landfilled (scientifically), and 26% dumped (unscientifically) at dumpsites.
To determine if a subsurface fire exists, one must have visual confirmation or other conditions present. Generally, a subsurface fire can be confirmed by:
Substantial settlement over a short period
Smoke or smoldering odor emanating from the gas extraction system or landfill
Levels of CO over 1000 parts per million (ppm)
Combustion residue in extraction wells and/or headers
Increase in gas temperature in the extraction system (above 140° Fahrenheit) or
Temperatures over 170° Fahrenheit.
Impact on Health
In addition to the burn and explosion hazards posed by landfill fires, smoke and other by-products of landfill fires also present a health risk to firefighters and others exposed to them.
Smoke from landfill fires generally contains particulate matter (the products of incomplete combustion of the fuel source), which can aggravate pre-existing pulmonary conditions or cause respiratory distress.
As with all fires, those in landfills produce toxic smoke and gases. The danger and level of toxicity of these gases depend on the length of exposure one has to them and on the type of material that is burning.
Another serious concern in landfill fires is the emission of dioxins. Accidental fires at landfills and the uncontrolled burning of residential waste are considered the largest sources of dioxin emissions.
Dioxins are a group of chemical compounds with similar chemical and biological characteristics as other persistent organic pollutants, that are released into the air during the combustion process.
Dioxins are also naturally occurring and are present throughout the environment.
However, exposure to high levels of dioxins has been linked to cancer, liver damage, skin rashes, and reproductive and developmental disorders
Government initiatives to control landfill fires
The government of India has undertaken multiple large-scale national initiatives such as 'Swachh Bharat Mission', 'National Water Mission' and 'Waste to Wealth Mission" as a part of its commitment to effective waste & pollution management in India.
Emphasis has also been laid on the approach of setting up Decentralised Waste processing sites within Cities to cater problem of fresh MSW and legacy waste management (Solid waste in landfills).
Swachh Bharat Mission-Urban (SBM-U) 2.0 to make all cities Garbage Free by 2026.
Effective implementation of segregation of waste at source under Solid Waste Management Rules 2016.
Adopting a zero landfill model based on principles of the circular economy.
Prepare a city waste management plan
Way forward
The damages caused by landfill fires can be decreased by simply reducing our reliance on landfills. Recycling and composting reduce the amount of waste that has to be transported to landfills.
The wastes are not segregated due to which the landfill sites receive mixed wastes which include organic waste as well as ignitable material and plastics. This area needs to be addressed first so that the source of combustible materials can be eliminated from landfills.
­-Article written by Swathi Satish