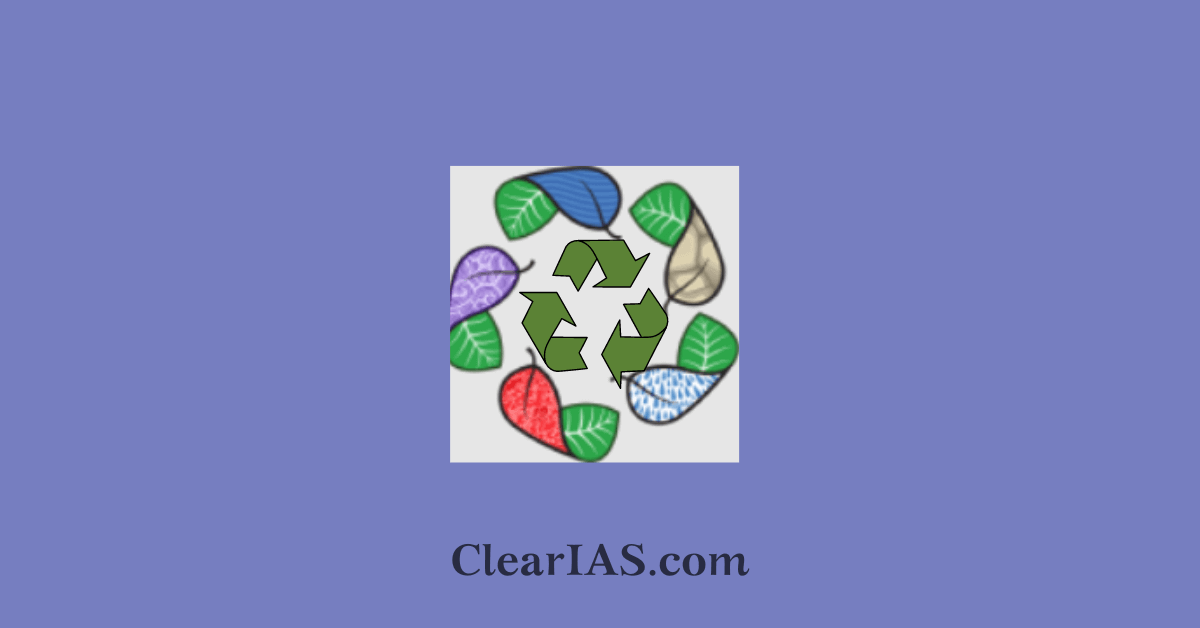 Due to waste generation and insufficient garbage collection, transportation, treatment, and disposal, India faces significant health, environmental, and economic concerns. To tackle the menace numerous initiatives have been taken out which waste to wealth a key one. Read here to know more about the waste to wealth mission.
Increased trash volumes and increasing use of paper, plastic, and other inorganic materials generating waste are two effects of rising affluence, fast-expanding but unplanned urbanization, and changing lifestyles in India.
The environment and public health in India are significantly impacted by improper waste management.
Along with addressing the urgent environmental and public health concerns brought on by the current solid waste management system, a long-term strategy must be developed to meet solid waste management in Indian cities' future challenges.
Waste management in India
Waste is majorly classified into- solid, e-waste, liquid, plastic, metal, and nuclear. These broadly fall into dry (non-biodegradable) and wet (biodegradable) waste.
The urban local bodies (ULBs) are responsible for the collection, transportation, disposal, and segregation of solid waste according to Municipal Solid Waste Management handling rules, 2000.
In 2016, the Ministry of Environment, Forests and Climate Change (MoEF&CC) notified the new Solid Waste Management Rules (SWM), 2016 that replaced the Municipal Solid Waste (Management and Handling) Rules, 2000.
Now the waste management rules were changed in India and were made applicable beyond municipal areas.
It now includes urban agglomerations, census towns, areas under the control of Indian Railways, airports, airbases, Ports, and harbors, defense establishments, special economic zones, and places of pilgrims, among others to manage the humongous amount of solid waste being generated in the country.
India's sewage treatment facilities (STPs) are only equipped to handle little more than a third of the country's daily sewage production as per Central Pollution Control Board (CPCB).
Most of India's dumpsites have exceeded their capacity and height limit of 20 meters.
It is estimated that these sites enclose more than 10,000 hectares of urban land.
Many cities are also resorting to waste-to-energy plants – waste management facility that burns waste to produce electricity.
Currently, 11 waste-to-energy plants are operational in India.
But, to function well, these plants require segregated waste, and even then, they don't produce enough energy.
Poor waste management
The majority of the state government's financial expenditures are being used for waste dumping methods, leaving the municipal bodies understaffed.
The segregation of household garbage is not widely understood by a sizable portion of the population. Trade trash that is improperly segregated ends up intermingled in landfills.
India lacks panel data or time series data related to solid or liquid waste. Therefore, it is highly challenging for the nation's waste planners to evaluate the economy of trash management.
The majority of Indian towns have trash dumped on the outskirts, close to the villages, which affects the village environment and creates several health risks, leading to urban-rural conflict.
Also read: Biomedical Waste Management
Waste to wealth mission
The Waste to Wealth Mission is one of the nine scientific missions of the Prime Minister's Science, Technology, and Innovation Advisory Council (PMSTIAC).
The mission is spearheaded by the office of the Principal Scientific Adviser (PSA), Government of India.
The mission aims to identify, develop, and deploy technologies to treat waste to generate energy, recycle materials, and extract resources of value.
The vision of waste to wealth is to:
The mission will also work to identify and support the development of modern technologies that promise to create a clean and green environment.
The mission will assist and augment the Swachh Bharat and Smart Cities projects by leveraging science, technology, and innovation to create circular economic models that are financially viable for waste management to streamline waste handling in the country.
To create ready reckoners that are financially viable for waste management.
To streamline waste handling in India.
Circular Economy Action Plans for 10 waste categories have been finalized, and are under implementation:
Lithium-ion batteries
E-waste
Toxic and hazardous industrial waste
Scrap metal (ferrous and non-ferrous)
Tyre and Rubber
End-of-Life Vehicles
Gypsum
Used Oil
Solar Panels
Municipal Solid Waste
Respective Nodal Ministries are coordinating the progress of the implementation of these action plans.
Ministry of Environment, Forest and Climate Change is the Nodal Ministry for Circular Economy Action Plan for Tyre and Rubber and stakeholder ministry in other CE Action Plans.
Regulations on the market-based Extended Producer Responsibility (EPR) principle have been notified for four categories of wastes i.e., plastic packaging waste, battery waste, e-waste, and waste tire.
In EPR for Plastic Packaging, targets for minimum recycling, minimum use of recycled content, and use of rigid plastic packaging in identified sizes have been mandated.
In rules incorporating the EPR principle that have been notified/amended this year, different targets of minimum recycling, minimum recovery percentage, and minimum use of recycled content have been given lead times to start with.
The optimum level will be reached over some time. This has been done to provide time to the industry as well as recyclers for the development of systems and recycling infrastructure.
Regulations to bring in EPR for end-of-life vehicles are under development.
Significance of waste to wealth
The 'Waste-to-Energy' and Waste Management market in India is set to be a $14bn opportunity by the year 2025. The population of 1.3 billion in India currently generates 62 million tonnes of municipal solid waste per year.
And by 2027, India is set to become the world's most populous country as per projections of the United Nations with 7 new megacities.
At this exponential population and urban growth rate, landfills almost 90% of the size of Bengaluru would be required for dumping if the waste remains untreated.
Though rapid urbanization presents a humungous challenge, with the right policy framework and action, this challenge can be turned into a golden opportunity.
The benefits of effective waste management are immense.
India presents an opportunity in numerous subsectors of waste management including municipal solid waste, electronic waste, bio-medical waste, agricultural waste, and others.
It is predicted that India has the potential to generate 3GW of electricity from waste by 2050
The Waste-to-Wealth Mission/ Mission Circular Economy is bound to create new business models as well as new employment opportunities.
This will also result in the integration of the informal sector. Participation in the industry is of critical importance to make the Waste-to-Wealth Mission a success.
This will result in moving away from mindless consumption to mindful utilization and will help achieve the vision of Mission LiFE – Lifestyle for Environment.
Various other Indian cities were identified for the best practices of waste management.
Alappuzha (Kerala) and Panaji (Goa) for reducing operating costs through source segregation.
Mysuru (Karnataka) is applying scientific techniques to turn biodegradable garbage into compost.
Paradeep (Odisha) has adopted a decentralized and community-driven model with micro-composing centers and material recovery facilities.
Also read: E-Waste: Causes, Concerns and Management
Way forward
If the garbage is not controlled, it eventually finds its way to the land, where it may be dispersed, dumped in landfills, or polluted by it.
Waste may both be a resource and a problem for the environment. Ineffective waste management causes substantial material loss and may be harmful to the environment and public health.
This means that we must try to generate as little non-hazardous waste as possible. Where it is environmentally appropriate, material recycling should take precedence over energy recycling for rubbish that still gets created.
The emphasis should be on source segregation, especially by using taxation policy to make fresh plastic and other trash creation more expensive than recycling.
To establish waste-to-energy units, innovative concepts and new firms need to receive financial backing.
Landfills should be provided by all local governments in proportion to the waste they generate after recycling.
A new tax could be implemented to charge producers according to the amount of rubbish they produce.
This will assist in raising the necessary funding for the infrastructure of solid and liquid waste management.
The major responsibility for treating and selling treated water for agricultural and industrial use should be placed on the producer and the private sector.
The complexities and relationships both inside and outside of government must be taken into account in waste management governance.
-Article written by Swathi Satish