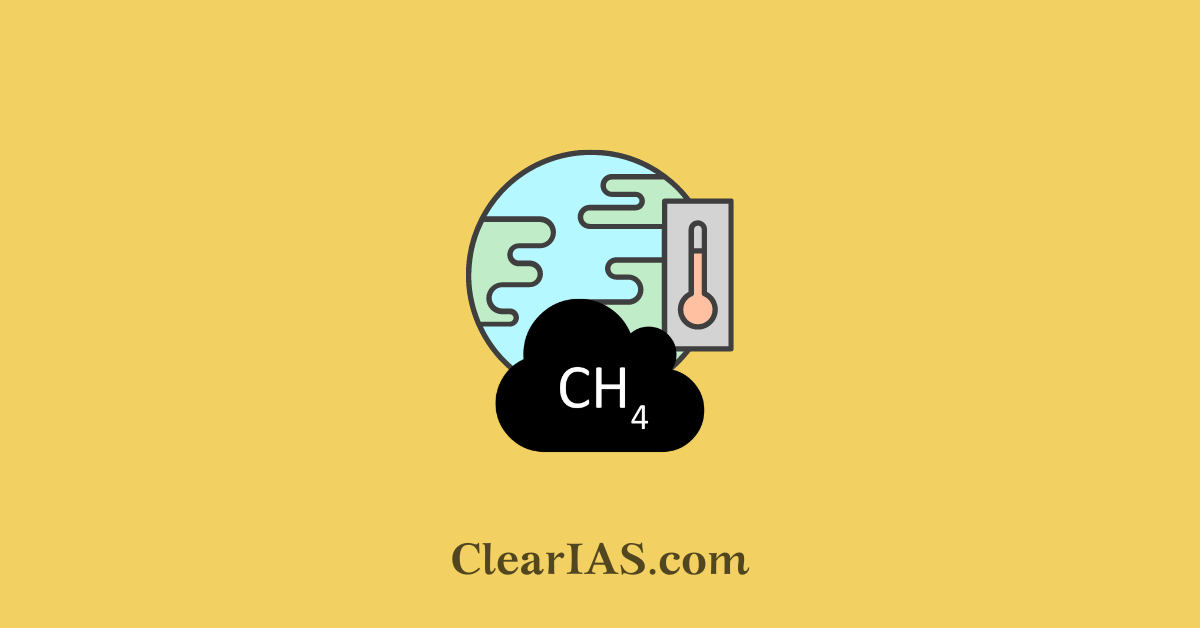 According to an analysis by the Climate and Clean Air Coalition and the United Nations Environment Programme (UNEP), reducing methane emissions from agriculture will be crucial in the fight against climate change. But how is that possible for the world? Read here to understand.
Methane (CH4) accounts for 15–35% of the rise in greenhouse gas emissions that are caused by human activity.
Over the past ten years, the atmospheric methane growth rate (MGR) has increased significantly, most likely due to rising fossil fuel and microbial source emissions.
Methane emissions increased from 9.9 parts per billion (ppb) in 2019 to around 15 ppb in 2020.
Human-related methane emissions fell by 1.2 teragrams (Tg) year in 2020.
Also read: Natural Gas Hydrates: Ocean Exploration
What are methane emissions?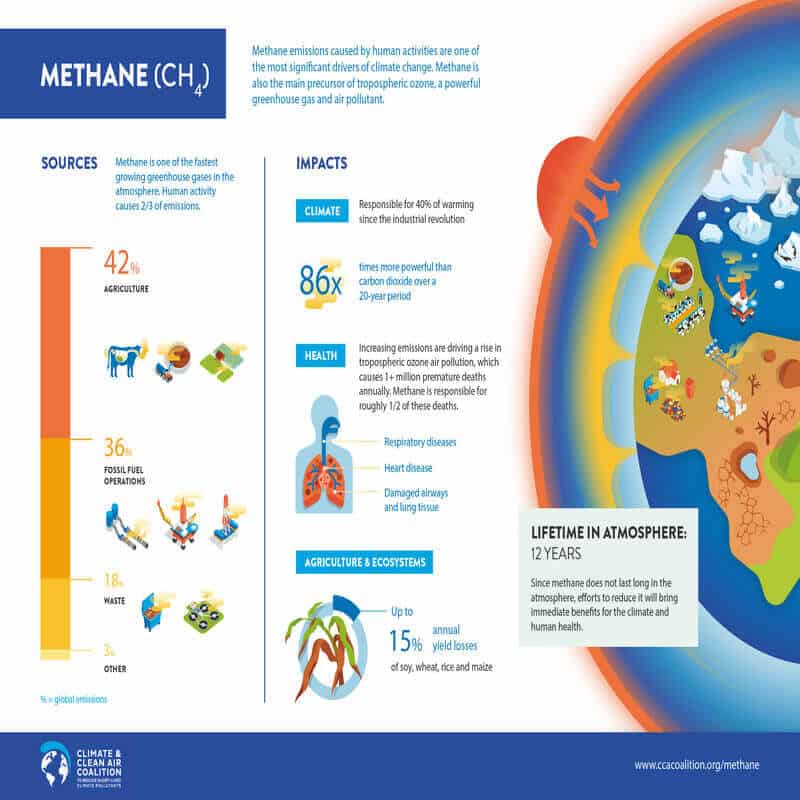 An invisible gas called methane has the potential to severely worsen the climate problem. It is a hydrocarbon that makes up a sizable portion of natural gas, which is utilized as fuel for stoves, homes, and industrial power plants.
Methane can form a thicker blanket than carbon dioxide, one that can warm the globe more quickly and to a greater extent.
It immediately contributes to global warming. Methane, in contrast to carbon dioxide, which stays in the atmosphere for hundreds of years, causes heat for only ten years.
Methane pollution, a major contributor to ground-level ozone and released with hazardous substances like benzene, has been connected to heart disease, birth defects, asthma, and other conditions.
Source of methane emissions
Methane has biological origins because methanogens, or bacteria that produce methane, make it from certain chemical components.
Methanogens can be found in a variety of oxygen-deficient environmental settings.
These habitats consist of wetlands, poorly ventilated landfills, and submerged paddy fields.
Agriculture is the predominant source of methane emissions.
Livestock emissions from manure and gastroenteric releases – account for roughly 32 percent of human-caused methane emissions.
Population growth, economic development, and urban migration have stimulated unprecedented demand for animal protein. With the global population approaching 10 billion, this hunger is expected to increase by up to 70 percent by 2050.
Agricultural methane doesn't only come from animals, though. Paddy rice cultivation – in which flooded fields prevent oxygen from penetrating the soil, creating ideal conditions for methane-emitting bacteria – accounts for another 8 percent of human-linked emissions.
Why are methane emissions a cause of worry?
Methane is the primary contributor to the formation of ground-level ozone, a hazardous air pollutant, and greenhouse gas, exposure to which causes 1 million premature deaths every year.
Methane is also a powerful greenhouse gas. Over 20 years, it is 80 times more potent at warming than carbon dioxide.
Methane has accounted for roughly 30 percent of global warming since pre-industrial times and is proliferating faster than at any other time since record-keeping began in the 1980s.
In fact, according to data from the United States National Oceanic and Atmospheric Administration (NOAA), even as carbon dioxide emissions decelerated during the pandemic-related lockdowns of 2020, atmospheric methane shot up.
Also read: Energy crisis: Causes and Global Impact
How can methane be reduced?
Leveraging new technology, shifting towards plant-rich diets, and embracing alternative sources of protein are basic steps to take in order to rethink our approaches to agricultural cultivation and livestock production.
This will be key if humanity is to slash greenhouse gas emissions and limit global warming to 1.5°C, a target of the Paris climate change agreement.
Role of farmers
They can provide animals with more nutritious feed so that they are larger, healthier, and more productive, effectively producing more with less.
Scientists are also experimenting with alternative types of feed to reduce the methane produced by cows and looking at ways to manage manure more efficiently by covering it, composting it, or using it to produce biogas.
When it comes to staple crops like paddy rice, experts recommend alternate wetting and drying approaches that could halve emissions.
Rather than allowing the continuous flooding of fields, paddies could be irrigated and drained two to three times throughout the growing season, limiting methane production without impacting yield. That process would also require one-third less water, making it more economical.
It takes only about a decade for methane to break down. So, reducing methane emissions now would have an impact in the near term and is critical for helping keep the world on a path to 1.5°C.
Human-caused methane emissions could be reduced by as much as 45 percent within the decade.
This would avert nearly 0.3°C of global warming by 2045, helping to limit global temperature rise to 1.5˚C and putting the planet on track to achieve the Paris Agreement targets.
Every year, the subsequent reduction in ground-level ozone would also prevent 260,000 premature deaths, 775,000 asthma-related hospital visits, 73 billion hours of lost labor from extreme heat, and 25 million tonnes of crop losses.
Global initiatives
Methane Alert and Response System (MARS): MARS will integrate data from a large number of existing and future satellites that have the ability to detect methane emission events anywhere in the world, and send out notifications to the relevant stakeholders to act on it.
Global Methane Pledge: At the Glasgow climate conference (UNFCCC COP 26) in 2021, nearly 100 countries had come together in a voluntary pledge, referred to as the Global Methane Pledge, to cut methane emissions by at least 30% by 2030 from 2020 levels.
Global Methane Initiative (GMI): It is an international public-private partnership focused on reducing barriers to the recovery and use of methane as a clean energy source.
Indian initiatives
Harit Dhara' (HD): Indian Council of Agricultural Research (ICAR) has developed an anti-methanogenic feed supplement 'Harit Dhara' (HD), which can cut down cattle methane emissions by 17-20% and can also result in higher milk production.
India Greenhouse Gas Program: The India GHG Program led by WRI India (non-profit organization), Confederation of Indian Industry (CII), and The Energy and Resources Institute (TERI) is an industry-led voluntary framework to measure and manage greenhouse gas emissions.
National Action Plan on Climate Change (NAPCC): NAPCC was launched in 2008 and aimed at creating awareness among the representatives of the public, different agencies of the government, scientists, industry, and the communities on the threat posed by climate change and the steps to counter it.
Bharat Stage-VI Norms: India shifted from Bharat Stage-IV (BS-IV) to Bharat Stage-VI (BS-VI) emission norms.
-Article written by Swathi Satish