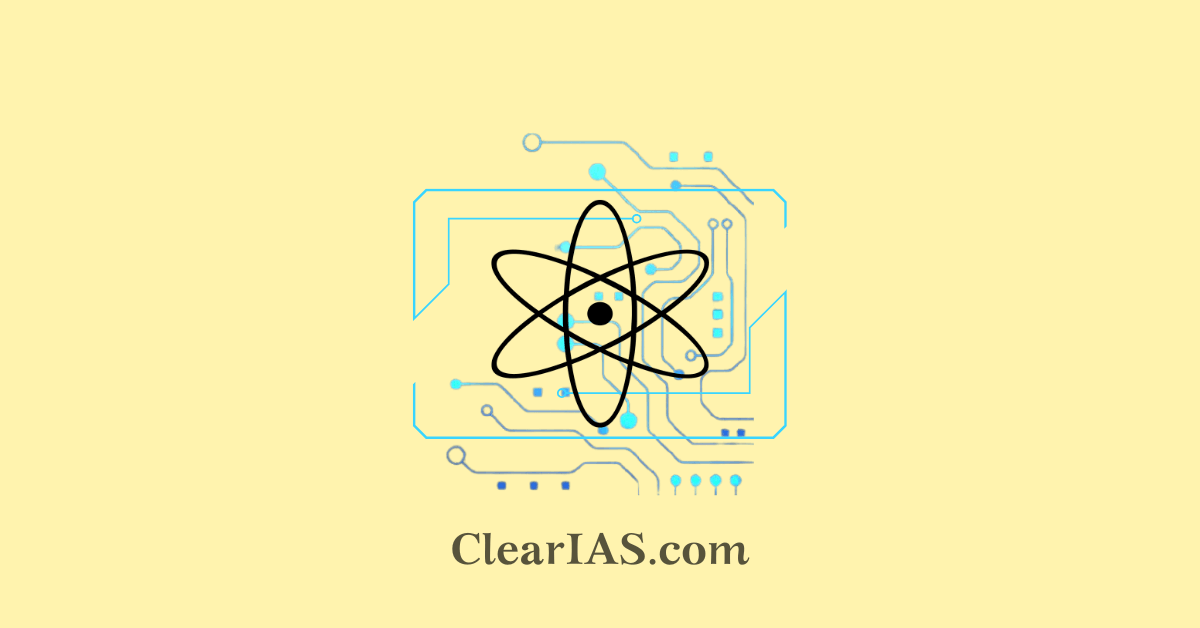 National Quantum Mission received cabinet approval from 2023-24 to 2030-31. The mission aims to scale up scientific and industrial R&D, for accelerating Quantum Technology-led economic growth and leverage India into a leading nation in the area. Read here to learn more about the mission.
Indian scientists have been involved in the genesis of quantum technology for ages. Some stalwart quantum Indians include Professor Satyendra Nath Bose, Sir Chandrasekhara Venkata Raman, and Professor Meghnad Saha.
India is currently at the forefront of tapping the second quantum revolution through massive investments in the field.
The government has approved two missions- The National quantum mission (NQM) and National Mission on Interdisciplinary Cyber-Physical Systems (NM-ICPS) to advance the area in India.
Quantum technology
The concepts of quantum mechanics, which were created in the early 20th century to describe nature at the size of atoms and elementary particles, serve as the foundation for quantum technology.
Quantum computers can imitate numerous classical computers operating in parallel by using quantum superposition, an unbreakable coding system, or extremely quick information processing.
Applications of quantum technology include secure communication, and improved disaster management through simulation, computing, simulation, chemistry, healthcare, cryptography, imaging, and more.
To comprehend biological phenomena including smell, cognition, enzyme catalysis, photosynthesis, bird navigation like that of the Robin, the genesis of life, and the impacts of coronavirus, scientists have enlarged the scope of quantum theory.
Four domains of quantum technologies are-
Quantum simulation
Quantum sensing and metrology
National Quantum Mission
The mission will be implemented by the Department of Science & Technology (DST) under the Ministry of Science & Technology from 2023 to 2031.
The mission aims to seed, nurture and scale up scientific and industrial R&D and create a vibrant & innovative ecosystem in Quantum Technology.
This will accelerate quantum technology-led economic growth, nurture the ecosystem in the country and make India one of the leading nations in the development of Quantum Technologies & Applications.
The new mission targets developing-
Intermediate-scale quantum computers with 50-1000 physical qubits in 8 years in various platforms like superconducting and photonic technology.
Satellite-based secure quantum communications between ground stations over a range of 2000 kilometers within India
Long-distance secure quantum communications with other countries
Inter-city quantum key distribution over 2000 km as well as
Multi-node Quantum network with quantum memories
Qubit or quantum bit is the basic unit of information in quantum computing just like a binary bit (1 and 0) is the unit in traditional computing.
The mission will help develop-
Magnetometers with high sensitivity in atomic systems and Atomic Clocks for precision timing, communications, and navigation.
It will also support the design and synthesis of quantum materials such as superconductors, novel semiconductor structures, and topological materials for the fabrication of quantum devices.
Single photon sources/detectors, and entangled photon sources will also be developed for quantum communications, sensing, and metrological applications.
Four Thematic Hubs (T-Hubs) will be set up in top academic and National R&D institutes on the domains –
Quantum Computing
Quantum Communication
Quantum Sensing & Metrology
Quantum Materials & Devices
The hubs will focus on the generation of new knowledge through basic and applied research as well as promote R&D in areas that are mandated to them.
Also read: Technology missions
Significance of National Quantum Mission
National Quantum Mission is going to give India quantum jumps in this arena. India will be the seventh country to have a dedicated quantum mission after the US, Austria, Finland, France, Canada, and China.
Beyond its significant civilian applications in governance and industry, quantum technology is the newest frontier in military communication and has the potential to be a game-changer in conflicts.
The National Quantum Mission will aid India's nascent efforts to compete with China in the field of quantum communication technology, which the country has said to have achieved significant advancements.
A country with an advantage in quantum communication can cripple an enemy country by hacking its data and communication networks.
A country with quantum communication can keep a country's electricity, aviation, defense, energy, and other critical infrastructure safe from attacks by an enemy country.
The mission will boost applications in other fields as well-
Aerospace engineering, numerical weather prediction, simulations, securing communications & financial transactions, cyber security, advanced manufacturing, health, agriculture, education and other important sectors with a focus on the creation of highly skilled jobs, human resources development, start-ups & entrepreneurship leading to technology lead economic growth.
Concerns about quantum technology
Like any new technology, quantum technology has drawbacks also-
Quantum computers are extremely expensive. The materials used to create them can be costly, and many researchers believe that these costs may never be recovered.
Quantum computing is extremely difficult to program and control- it requires a high-level understanding of complex quantum principles.
When it comes to interference from the outside world, such as temperature variations, magnetic fields, and vibrations, quantum technology is extremely sensitive.
A disruption in current computer architectures is another possible drawback of quantum computing.
Its reliance on entanglement and superposition, according to many experts, makes it susceptible to assault by hackers who are familiar with the technology.
Conclusion
It has become imperative both for government and industries to be prepared to develop these emerging and disruptive technologies to secure our communications, and financial transactions, remain competitive, drive societal progress, generate employment, foster economic growth and improves the overall quality of life.
National Quantum Mission can take the technology development ecosystem in the country to a globally competitive level.
The mission would greatly benefit communication, health, financial and energy sectors as well as drug design, and space applications.
It will provide a huge boost to National priorities like digital India, Make in India, Skill India and Stand-up India, Start-up India, Self-reliant India, and Sustainable Development Goals (SDG).
-Article written by Swathi Satish