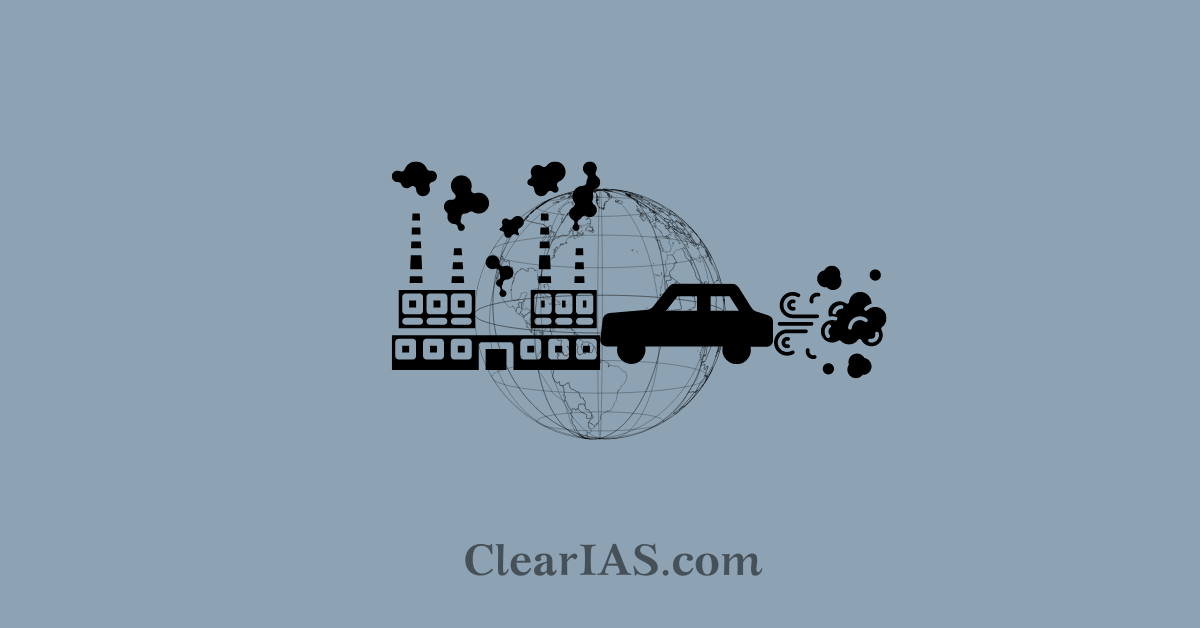 What is Photochemical Smog? How is it formed? What are its effects and ways of mitigation? Read here to know the answers.
Smog is defined as smoke with fog (smoky fog), which is brought on by the burning of a large quantity of coal, vehicle emissions, and industrial fumes which come under the class of primary pollutants.
Smoke, sulfur dioxide, nitrogen dioxide, and various soot particles are all present in smog.
Smog is classified into at least two different categories: sulfurous smog and photochemical smog.
Sulfurous smog
"London smog" is another name for sulfurous haze (because it was first formed in London).
Sulfurous smog is created by the use of sulfur-containing fossil fuels, mainly coal (coal being the dominant source of energy in London throughout the nineteenth century), and results from a high concentration of sulfur oxides in the air. Early in the 20th century, coal burning's impacts were noticed.
Wetness and a high level of suspended particulate matter in the air exacerbate this type of smog.
What is photochemical smog?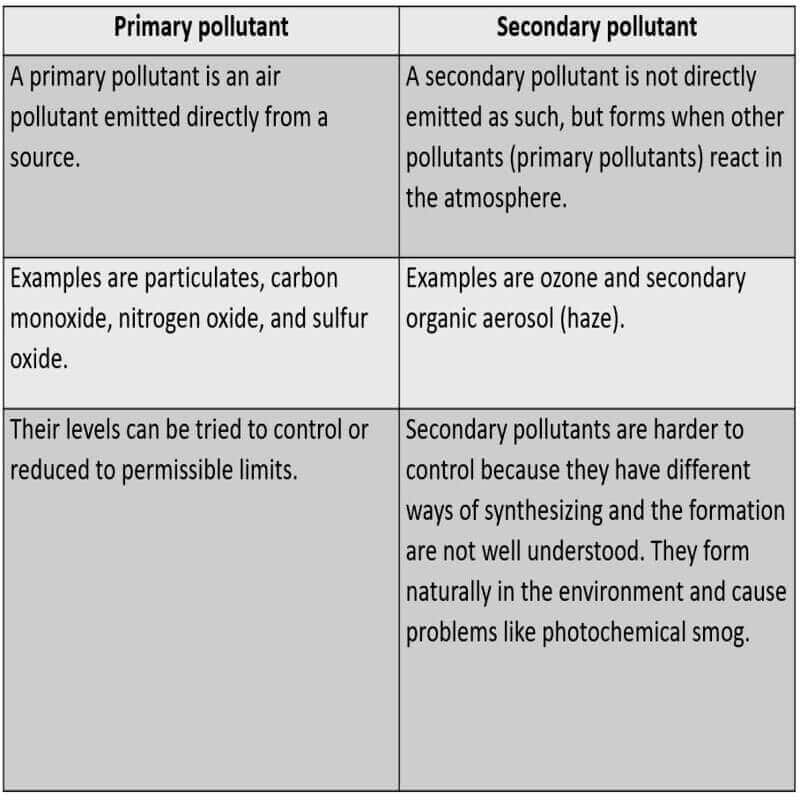 Photochemical smog is a brownish-grey haze caused by the action of solar ultraviolet radiation on the atmosphere polluted with hydrocarbons and oxides of nitrogen.
It contains anthropogenic air pollutants, mainly ozone, nitric acid, and organic compounds, which are trapped near the ground by temperature inversion.
These pollutants and also some others can affect human health and cause damage to plants.
Photochemical smog often has an unpleasant odor due to some of its gaseous components.
The term smog is commonly used to represent a near-ground haze made of a combination of smoke and fog rather than ozone, nitric acid, and organic compounds.
Photochemical smog appears to be initiated by nitrogen oxides that are emitted into the air as pollutants mainly from internal combustion engines.
Absorbing the visible or ultraviolet energy of sunlight, it forms nitric oxide (NO) to free atoms of oxygen (O), which then combine with molecular oxygen (O2) to form ozone (O3).
In the presence of hydrocarbons (other than methane), certain other organic compounds, and sunlight, various chemical reactions take place to form photochemical smog.
There must be a significant source (often automobile activity) that emits enough NO, hydrocarbons, and other VOCs (volatile organic compounds) into the air for a city to experience photochemical smog.
Additionally needed are warmth, plenty of sunlight, and relatively little air movement to prevent the reactants from becoming diluted.
Two factors that affect how photochemical haze forms:
Topography:
Wind disperses pollutants and lowers concentrations with distance from the source by moving air masses both horizontally and vertically.
The stability of the air or the quantity of vertical air movement directly affects the amount of dispersion that takes place.
Temperature Inversion:
Thermal inversions make the configuration of the air masses unusual as warmer air is confined between two layers of cooler air.
When hills or mountains block horizontal breezes, this can result in pollution being trapped close to the earth's surface and building up above a metropolis.
Warm air gathers on top of the dirty air, serving as a cap to prevent the toxins from dispersing.
Effects of photochemical smog
The environment and people are both negatively impacted by photochemical haze in several ways.
When the chemicals inside react with hydrocarbons, the resulting molecules irritate the eyes.
The nitrogen cycle is hampered by atmospheric radicals because ground-level ozone cannot be removed.
Ozone at ground level has the potential to be exceedingly hazardous to people.
Reduced eyesight and shortness of breath are two additional side effects of photochemical smog.
Peroxyacetylnitrate and aldehydes (undesirable components of photochemical smog) can cause eye irritation and plant damage.
Health effects of pollutants: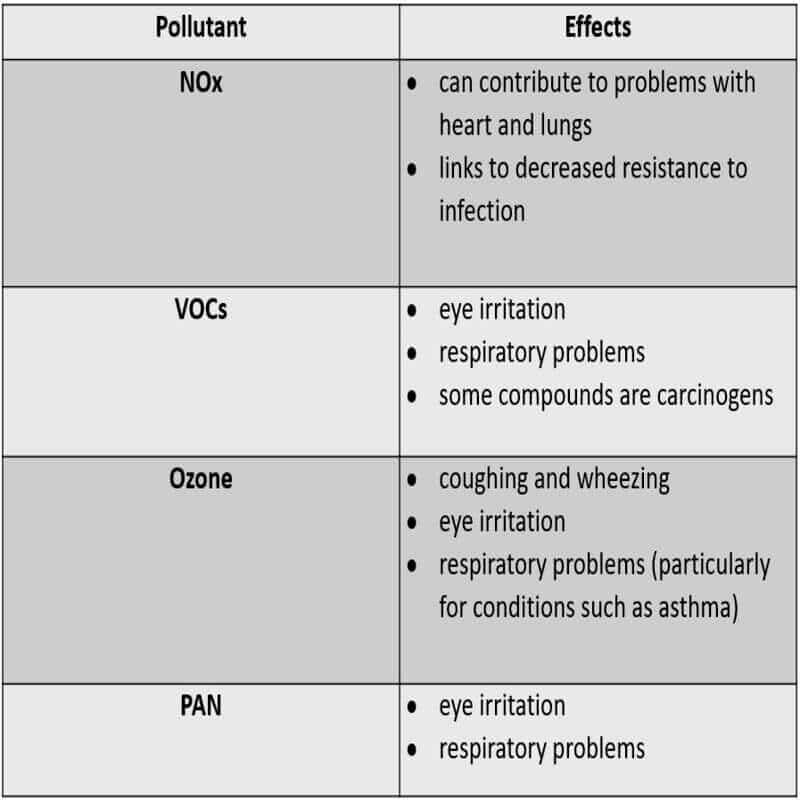 Mitigation of photochemical smog
Photochemical smog can be controlled by decreasing the concentrations of hydrocarbons, NOx other VOC emissions.
Usage of catalytic converters can reduce vehicle emissions of nitrogen, carbon dioxide, and hydrocarbons.
Biofuels have been the focus of attention as a possible means of reducing greenhouse gas emissions and noxious urban emissions from transport.
Hydrogen-powered and electric vehicles are cleaner options for vehicles.
Simple lifestyle changes like increasing the usage of public transport to conserve fuel and reduce NOx emissions.
Reducing anthropogenic emission of polycyclic aromatic hydrocarbons (PAHs).
Gothenburg Protocol 1999 (Multi Effect Protocol)
The official title of the protocol is UNECE Protocol to Abate Acidification, Eutrophication, and Ground-level Ozone (Gothenburg Protocol) (Protocol to the UNECE Convention on Long-Range Transboundary Air Pollution (LRTAP))
The Gothenburg Protocol was established to address pollutants that cause acidification and ground-level ozone.
It sets limits on air pollutants including sulfur dioxide, nitrogen oxide, ammonia, and volatile organic compounds that are hazardous to human health and the environment.
It was updated in 2012 to include particulate matter (PM) and black carbon (as a component of PM) and to include new commitments for 2020.
The Protocol establishes legally binding emissions reduction commitments for 2020 and beyond for the major air pollutants:
sulfur dioxide (SO2), nitrogen oxides (NOx), ammonia (NH3), volatile organic compounds (VOCs), and delicate Particulate Matter (PM5).
these chemicals also contribute to photochemical smog formation.
The objective of the Gothenburg Protocol under the United Nations Economic Commission for Europe's (UNECE) LRTAP Convention is:
to control and reduce emissions of sulfur dioxide (SO2), nitrogen oxides (NOx), ammonia (NH3), volatile organic compounds (VOCs), and PM that are caused by human activities.
to ensure that atmospheric depositions or concentrations do not exceed critical loads/levels;
that Parties give priority, to implementing measures to reduce PM, to sources that are also significant sources of black carbon to provide benefits for human health and the environment and to help mitigation of near-term climate change.
This multi-pollutant, multi-effect protocol is meant to eventually replace the older protocols that cover the same pollutants.
Thus, when all Parties ratify the amended Protocol, their obligations under the following existing protocols: SO2 (1985 Helsinki and 1994 Oslo Protocols); NOx (1988 Sofia Protocol); and VOC (1991 Geneva Protocol); will become null and void.
India has not signed the protocol.
Mains GS3 question (2022)
Discuss in detail the photochemical smog emphasizing its formation, effects, and mitigation. Explain the 1999 Gothenburg Protocol. (Answer in 150 words) 10 marks
-Article written by Swathi Satish