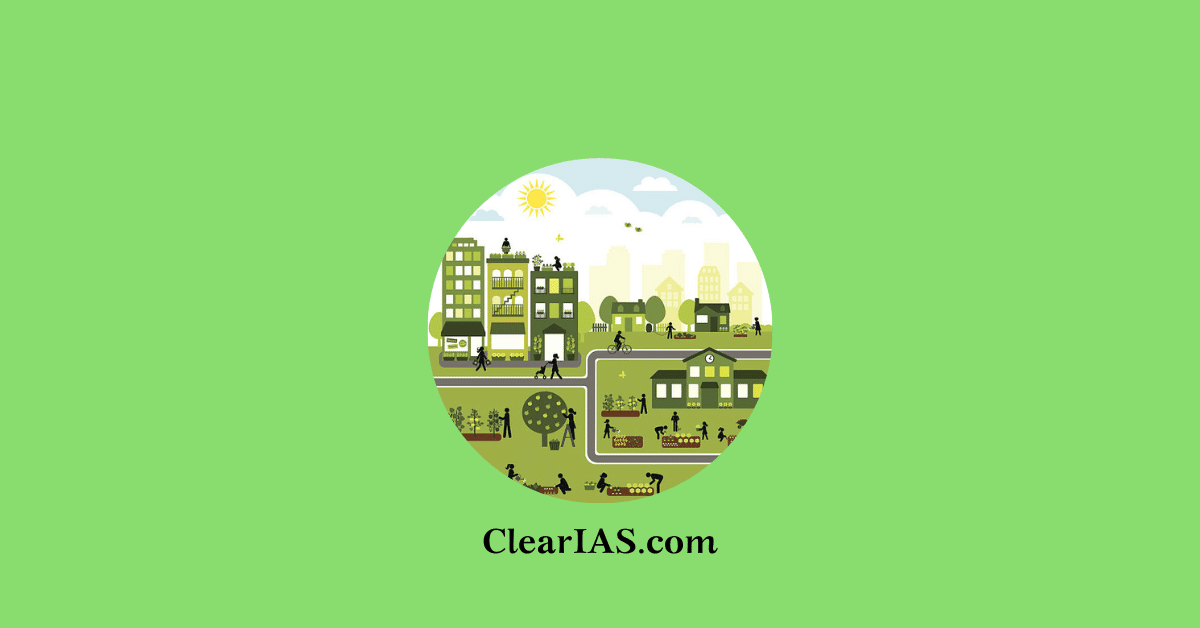 What is Urban agriculture? Why is it needed? What are the common methods used for it? What are the benefits of Urban agriculture? Scroll down the page to know more about Urban Agriculture.
Urban and peri-urban agriculture, according to the Food and Agricultural Organization of the United Nations, plays a key part in the world's food and nutritional security, hence the organisation is attempting to promote these activities through the Urban Food Agenda. India's cities should be the centres of sustainable living with an opportunity for everybody. This is the basic idea behind urban agriculture in India.
Urban  Agriculture
Urban agriculture is the practice of growing plants and raising animals primarily for human consumption and other household needs within a city or town and its surroundings. Agriculture in urban and peri-urban regions is referred to as urban agriculture.
Peri-urban areas are those that are situated between the periphery of metropolitan and regional centres and the rural environment, shifting from rural land uses (such as agricultural or animal production) to urban ones (such as the built environment, manufacturing, services, and utilities).
Urban agricultural methods aim to cultivate or develop a variety of food and non-food items and include tasks like livestock rearing, aquaculture, beekeeping, and large-scale floriculture. It also covers tasks including producing, processing, marketing, and delivering agricultural products. Urban agriculture is a collection of several producing techniques.
They span from small-scale domestic production and processing to industrial-scale agribusiness. This is usually done on the outskirts of the city. The Food and Agricultural Organization (FAO) acknowledges urban and peri-urban agriculture (UPA) as a significant factor in food security, the creation of livelihoods, particularly for women, the reduction of poverty, and the resilience and sustainability of cities.
Need for Urban Agriculture
Urban agriculture is needed for a sustainable future.
Cities are home to at least 55% of the world's population, who consume 80% of the food produced globally.
To support such a big population while also addressing climate change, urban places must become sustainable and livable.
For city dwellers, urban gardening provides both food security and financial stability.
Common Methods used
Some common methods are used in urban farming. They include :
Raised bed farming: Building freestanding crop beds above the current soil level is a farming practice known as raised bed farming. In order to create a closed planting bed, raised beds are occasionally covered with plastic mulch. The technique makes it possible to better manage the soil and lessen soil compaction. Additionally, the planted area is shielded from excessive rain. The productivity of this strategy is significantly higher than conventional farming.
Container gardening: Growing plants in containers as opposed to putting them in the ground is known as container gardening. Polyethene plastic bags, clay pots, plastic pots, metallic pots, milk jugs, ice cream tubs, bushel baskets, barrels, and planter box bottles are a few examples of containers. It is possible to cultivate the majority of vegetables in containers in backyard gardens.
Aquaponics: A closed-loop aquaponics system makes use of the advantages of the nitrogen and carbon cycles, two fundamental ecological building blocks. Plants are fertilised and watered with fish water that is rich in nutrients. Only a few inputs are needed by this system, principally energy and certain essential plant nutrients.
Vertical farming: By stacking numerous crop racks vertically and creating multiple layers on a single plot of ground, the vertical farming approach fundamentally tries to increase the amount of agricultural area.
Hydroponics: Growing plants in a nutrient solution with or without a soilless base is known as hydroponics.Growing plants in a nutrient solution with or without a soilless substrate to give physical support is known as hydroponics.
Shipping Container Farms: Growing plants in shipping containers rather than putting them in the ground is known as container farming. Plants that are not edible can also be cultivated in containers. Weeds are eliminated and soil-borne diseases are less of an issue with container farming. Moisture, temperature, and sunlight may all be more easily monitored when growing in this way.
Rooftop Plant Production: Rooftop farming is the technique of growing food on the roofs of structures.The cultivation area is maximised using RPP systems using artificial lighting. RPP can be used to grow crops that need greater vertical space and stronger lighting
Backyard gardens: Using any available space in the backyard to cultivate and produce your own food is a common habit.
Also Read: Miyawaki Technique: Creating Mini Forests in Urban Areas – ClearIAS
Advantages of Urban farming
By providing jobs, and revenue, and expanding small companies, urban farming supports the local economy. It developed business. Even if it's seasonal work, urban farms may give many unemployed people a reliable source of money as well as vital education and skills.
Urban farms may help many unemployed individuals gain essential knowledge and training, as well as a reliable source of money, even if it is only temporary work.
Green space is created As part of urban rehabilitation, unused fields and wastelands might be developed. It minimises pollutants while expanding the amount of green area available.
Urban gardening brings recently harvested veggies closer to the point of consumption. Fruit grown in urban farms is much more likely to be in season, perfectly ripe, and nutritious.
 Since people only produce what they need, food waste is reduced. Food waste is drastically reduced as a result.
Urban agriculture is a key component of urban environmental management because it can lower urban heat islands, serve as an urban lung, and add aesthetic value.
Urban agriculture may be able to assist with the problem of managing and removing waste in cities.
Urban gardening that uses adequately treated sewage water can help with wastewater disposal while also lowering the requirement for fresh water.
Additionally, organic waste from cities can be composted and used to make food and flowers.
Wastelands and unused land can be used for farming. It increases green space while lowering pollutants. Communities with urban farms and community gardens see an increase in property value.
 Creates health and wellness. Fresh produce is produced closer to the final destination through urban farming. Food grown in metropolitan areas is much more likely to be in-season, perfectly ripe, and nutritious.
Low investment since urban farming requires less space and has lower setup and infrastructure costs. When compared to conventional farming, the installation costs are quite little.
They can use less water by using techniques like hydroponics and aquaponics.
Also Read:7 Major Environmental Movements in India – Clear IAS
Challenges of Urban Agriculture
Urban farming also possesses some challenges:
In peri-urban villages or other peri-urban locations, the current trajectory of urbanisation and industrialization is rather alarming. This pattern will soon result in the pollution and unhealthiness of these areas.
The issues with endogenous or "subaltern" urbanisation are manifold. Expanding cities and "census towns" are crucial to India's current process of "urbanisation" and urban expansion.
Urban land-use planning (ULP) does not give agriculture a high priority in Indian cities. Most people consider agriculture to be a rural activity and a means of livelihood.
Little area India has a sizable population; its total urban area makes up roughly 6.77 per cent of its entire land area. Around 500 million Indians, or 35% of the country's total population, reside in this little region.
Less space is available to create green places. Lack of space makes urban agriculture difficult.
Best practices
Governments in India have launched modest attempts to promote urban farming since the practice has gained some popularity across states.
Pune: To instruct and entice citizens to start farming on allotted land, Pune's local authority established a city farming project in 2008.
Kerala: Up until 2012, the state of Kerala was food-dependent. As a result, the state government started a vegetable development initiative to promote gardening in homes, schools, government buildings, and other public and private organisations. Additionally, it provided funding and assistance for biogas plants, irrigation, composting, and eco-friendly inputs. Vegetable production increased from 825,000 tonnes in 2011–12 to 1.3 million tonnes in 2014–15, according to the Kerala State Planning Board.
Tamil Nadu: In a similar vein, the Tamil Nadu government developed a "do-it-yourself" kit in 2014 as part of its Urban Horticulture Development Scheme to enable city inhabitants to grow vegetables on rooftops, homes, and apartment complexes.
Bihar: Beginning in 2021, Bihar will subsidise input costs in five smart cities to promote terrace gardening.
 Way Forward
Urban gardening may one day offer a practical solution for ensuring global and Indian food security.
Indian city dwellers will be persuaded to embrace the idea of urban agriculture if proper urban land-use planning (ULP), institutional support, public awareness of the benefits of urban agriculture, and government financial and technological support are all in place.
Urban regions can gain from social interaction, employment opportunities, and environmental advantages as a result of urban agriculture's continuous rise as a strategy for urban regeneration.
Conclusion
Urban agriculture encounters a number of obstacles, but each of these can be overcome by implementing a variety of technological solutions, establishing urban agriculture initiatives in peri-urban areas, launching community initiatives in open areas, and changing planning guidelines and local ordinances to recognise urban agriculture as a ULB activity.
Article Written By: Atheena Fathima Riyas