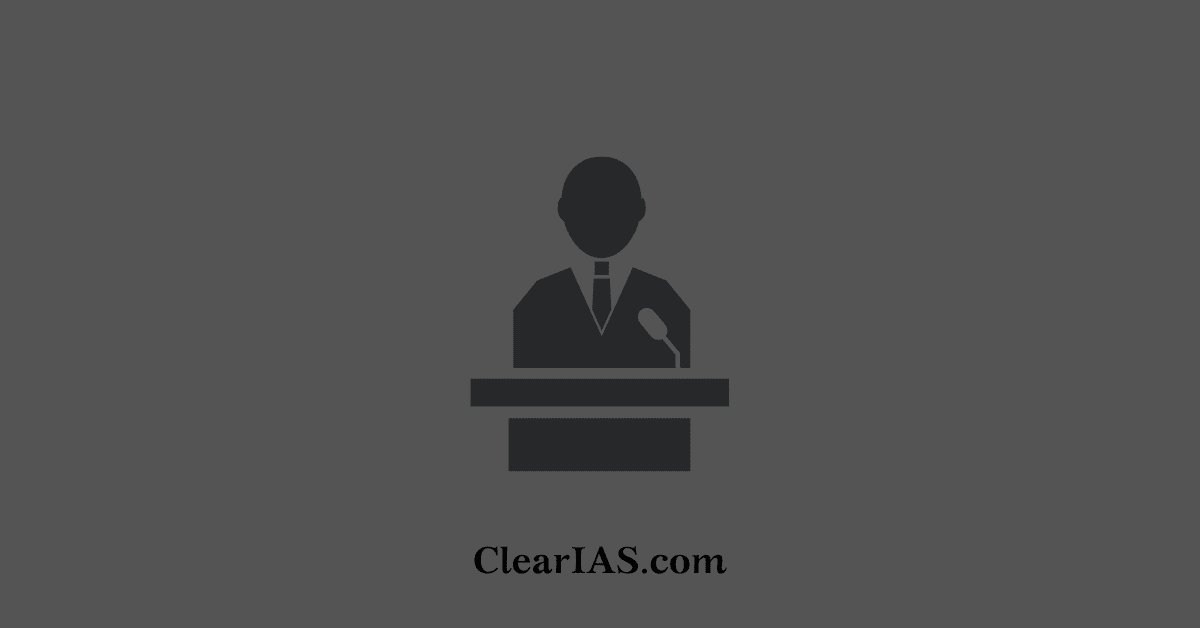 This article will give you an idea about the Vice Presidents of India to date in chronological order.
The Vice-President of India is the second-highest constitutional office in the country.
VP of India serves for a five-year term but can continue to be in office, irrespective of the expiry of the term, until the successor assumes office.
Dr. Sarvepalli Radhakrishnan – 13.5.1952 to 12.5.1962
He was an Indian philosopher, academic, and statesman
He served as the first Vice President of India (1952–1962) and the second President of India (1962–1967)
In 1931 he was nominated to the League of Nations Committee for Intellectual Cooperation
When India became independent in 1947, Radhakrishnan represented India at UNESCO (1946–52) and was later Ambassador of India to the Soviet Union, from 1949 to 1952
He was also elected to the Constituent Assembly of India.
His birthday is celebrated as Teacher's Day in India
Dr. Zakir Hussain – 13.5.1962 to 12.5.1967
He served as Vice-chancellor of the Aligarh Muslim University ( 1948–1956)
He was nominated as a member of the Upper House of Indian Parliament in 1956
He was the second Vice President of India from 1962 to 1967
He was elected as President of India on 13 May 1967.
V. V. Giri – 13.5.1957 to 3.5.1969
He is a member of the Imperial Legislative Assembly in 1934
Between 1937–1939, he was Minister for Labour and Industry in the Congress government headed by C Rajagopalachari
From 1947 to 1951, Giri served as India's first High Commissioner to Ceylon
In the General Elections of 1951, he was elected to the 1st Lok Sabha from Pathapatnam Lok Sabha Constituency in the Madras State.
Giri was elected the third vice president of India on 13 May 1967, a post he held for nearly two years till 3 May 1969.
He was the first vice president to not complete his full term in office on account of being elevated to the office of the president and was the third vice president to be elected to the presidency.
Following the death in office of President Zakir Hussain on 3 May 1969, Giri was sworn in as acting president the same day.
He promulgated an ordinance that nationalised 14 banks and insurance companies.
Giri was sworn in as President of India on 24 August 1969 and held office till 24 August 1974
Gopal Swarup Pathak – 31.8.1969 to 30.8.1974
He was the fourth Vice President of India from August 1969 to August 1974.
He was the first Indian Vice President not to succeed his superior as President
Shri Basappa Danappa Jatti – 31.8.1974 to 30.8.1979
He was the fifth Vice President of India, serving from 1974 to 1979
He was Acting President of India from 11 February to 25 July 1977.
In 1940, he entered politics as a Municipality member at Jamkhandi and subsequently became the President of the Jamkhandi Town Municipality in 1945.
During 1958–62 he served as Chief Minister of Mysore state
Justice Mohd. Hidayatullah – 31.8.1979 to 30.8.1984
He was the sixth Vice President of India, serving from 31 August 1979 to 30 August 1984.
He was the 11th Chief Justice of India serving from 25 February 1968 to 16 December 1970.
In 1982, when the then President Zail Singh went to the U.S. for medical treatment, Vice-President Hidayatullah officiated as President from 6 October 1982 to 31 October 1982. Thus, he officiated as acting President twice.
He became the only person to have served in all three offices of Chief Justice of India, President of India, and the Vice President of India.
Shri R Venkataraman – 31.8.1984 to 24.7.1987
He was a member of the constituent assembly that drafted India's constitution.
In 1950, he was elected to free India's Provisional Parliament (1950–1952) and to the First Parliament (1952–1957).
Venkataraman was also Secretary to the Congress Parliamentary Party in 1953–1954.
In 1980, Venkataraman was re-elected to the Lok Sabha and was appointed Union Minister of Finance in the Government headed by Smt. Indira Gandhi.
He served as Vice-President of India and then as a President of India starting 1987, where he worked with four prime ministers, and appointed three of them: V P Singh, Chandra Shekhar and P V Narasimha Rao, during his five-year term, which saw the advent of coalition politics in India
Dr Shankar Dayal Sharma – 3.9.1987 to 24.7.1992
He had been the eighth Vice President of India, serving under R. Venkataraman.
He was also the Chief Minister (1952–1956) of Bhopal State, and Cabinet Minister (1956–1967), holding the portfolios of Education, Law, Public Works, Industry and Commerce, National Resources and Separate Revenue.
He was the President of the Indian National Congress in 1972–1974 and returned to the Government as Union Minister for Communications from 1974 to 1977.
He was the ninth President of India, serving from 1992 to 1997.
K.R.Narayanan – 21.8.1992 to 24.7.1997
He was the ninth Vice President of India
He served as ambassador to Japan, United Kingdom, Thailand, Turkey, People's Republic of China and the United States of America and was referred to by Nehru as "the best diplomat of the country".
He went on to become President in 1997. He was the first member of the Dalit community to hold the post.
He used his discretionary powers as a President and deviated from convention and precedent in many situations, including – but not limited to – the appointment of the Prime Minister in a hung Parliament, in dismissing a state government and imposing President's rule there at the suggestion of the Union Cabinet, and during the Kargil conflict.
He presided over the golden jubilee celebrations of Indian independence and in the country's general election of 1998.
He became the first Indian President to vote when in office, setting another new precedent.
Shri Krishan Kant – 21.8.1997 to 27.7.2002
He was the tenth Vice President of India from 1997 until his death.
He was Governor of Andhra Pradesh from 1990 to 1997.
He took part in the Indian Independence Movement as a youth and continued to be involved in politics, eventually being elected to Parliament of India.
Bhairon Singh Shekhawat – 19.8.2002 to 21.7.2007
He was the 11th Vice President of India.
He was a member of the Bharatiya Janata Party (BJP), a leading member of the National Democratic Alliance at the time of the election.
He served as the Chief Minister of Rajasthan three times
He became the first vice-president to lose the presidential election.
Hamid Ansari – 11.08.2007 to 11.8.2017.
He is a retired Indian Foreign Service officer.
He served as the 12th Vice President of India from 2007 to 2017.
He was appointed the Vice-Chancellor of the Aligarh Muslim University from 2000 to 2002.
He was Chairman of the National Commission for Minorities from 2006 to 2007.
He was elected as the Vice-President of India on 10 August 2007 and took office on 11 August 2007.
He was reelected on 7 August 2012 as Vice President of India.
Venkaiah Naidu – 11.8.2017 to 11.8.2022
He was the 13th Vice president of India, from 2017 to 2022.
He served as the Minister of Housing and Urban Poverty Alleviation, Urban Development and Information and Broadcasting in the Modi Cabinet.
His oratory skills and political activism propelled his political career and he was elected as an MLA to the Andhra Pradesh Legislative Assembly twice from Udaygiri constituency in Nellore district in 1978 and 1983.
He rose to become one of the most popular leaders of the BJP in Andhra Pradesh.
Jagdeep Dhankar – 11.8.2022 till date
He is the 14nth Vice President of India.
He has previously served as the governor of West Bengal, Minister of State Parliamentary Affairs and as a Member of both Rajya Sabha and Lok Sabha.
He has been a member of Janata Dal and Indian National Congress in the past.
He joined the BJP in 2003.