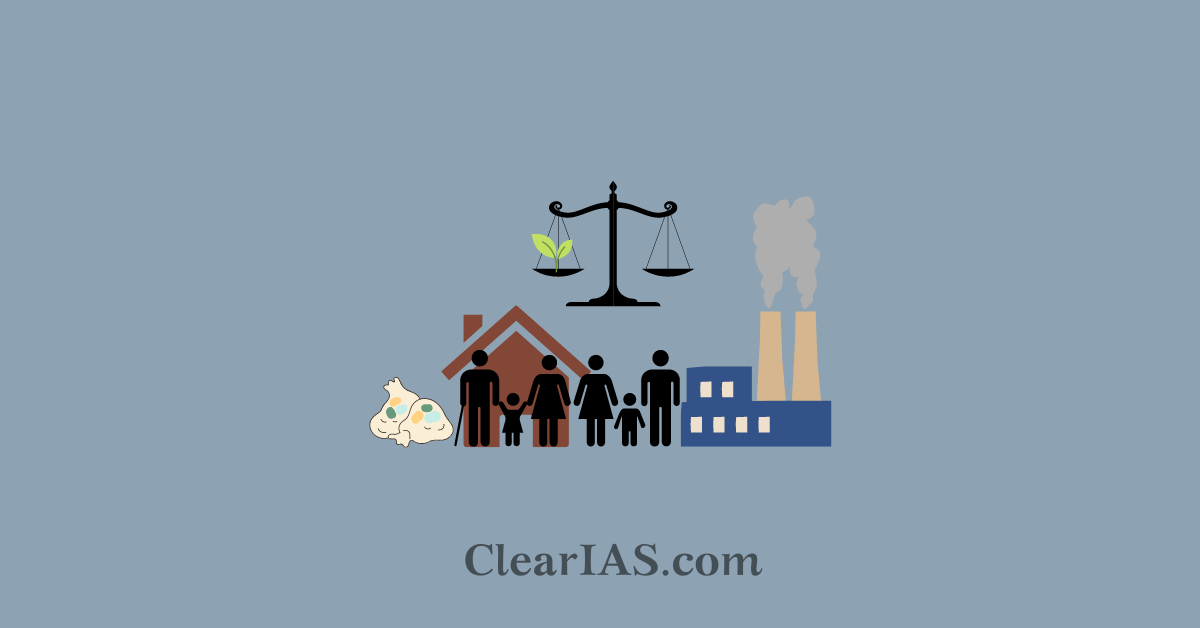 What is Environmental Racism? What is the significance of the concept? Who are the victims of this?  Environmental racism is unknown to many of us. It is essential to be aware of such injustices and work towards reducing the damage. Here we have explained the crux of the matter with suitable examples.
One of the many facets of the ongoing conflict between environmental conservation and development is environmental racism. International opportunities for environmental racism have grown as a result of globalization.
Benjamin Chavis, an African American civil rights activist, is credited with coining the phrase "environmental racism" in 1982.
Environmental racism
It refers to the way that minority group neighborhoods, which are predominately made up of people of color and economically underprivileged residents, are burdened with an excessive number of risks, such as toxic waste facilities, landfills, offensive odors, and other sources of environmental pollution that reduce the quality of life.
Members of minority communities around the world are more likely to experience health issues due to increased exposure to garbage and pollution.
This might happen as a result of unsafe or unhealthy working circumstances when there are no rules (or none are enforced) for low-wage workers, or in areas where toxic materials are present near residential areas.
Because of the complicated governmental challenges brought on by a history of systemic disenfranchisement, the problems can be difficult to solve and can be problematic.
Instances of Environmental Racism around the globe
Canada:
The indigenous Inuit community of the arctic areas of Canada is protesting against the iron ore mining companies on their land. They protested at -30 degrees Celsius against the planned expansion of the mine and adjacent railway line. The mining activity had caused their age-old practice of hunting and fishing to be adversely affected and they fear it will further damage their environment.
North America has numerous cases of environmental racism going on without any reprieve to the aggrieved.
USA:
Native Americans are undoubtedly the most severely affected by environmental racism for decades. The Commission for Racial Justice found that about 50 percent of all American Indians live in communities with uncontrolled hazardous waste sites.
Other cases like the 2014 poisoned water tap in Flint, Michigan which made 6000-12000 children sick are caused due to neglect of environmental laws in socioeconomically backward regions. To save money, the city changed its water source to the Flint River but failed to treat the new supply adequately, exposing its 100,000 majority-black inhabitants to dangerous levels of lead from aging pipes and other contaminants such as E. coli.
China:
Guiyu is a town in China where 80% of children have been poisoned by old computer parts. Electronic waste (e-waste) recycling has remained primitive in Guiyu, and thus contributes to the elevation of blood lead levels (BLLs) in children living in the local environment.
China might be the fastest growing economy in the world but its ecological concern is disastrous and it seems advertently harming its people, especially the poor.
Australia:
Australian planners, to protect urban residents from pollution, assigned some areas as sacrifice zones for noxious and polluting land uses. This is where the marginalized and vulnerable people are pushed to places with low environmental quality.
These places may exhibit chronic air, water, noise, heat, and light pollution, with substandard housing, higher crime rates, more liquor stores, and poor quality fruit and vegetable markets and green spaces.
In Australia, such places are frequently home to Indigenous people, and migrants, working for poor, homeless, welfare-dependent, and other vulnerable populations, partly because they cannot live elsewhere. This inequitable concentration of vulnerable people in hazardous places is called environmental injustice
Nigeria:
In more developed areas of Nigeria, close to the Niger Delta, incidences of oil spills, the burning of toxic waste, and urban air pollution are issues.
In support of the Ogoni people, who are native to Nigeria's oil-rich Delta region, numerous websites have been made.
South Africa:
"A lack of access to adequate, reliable, cost-effective, and clean energy carriers and technologies to meet energy service needs for cooking and those activities enabled by electricity to support economic and human development" is referred to as "energy poverty." Energy poverty is a problem in many South African areas.
Waste dumping in developing and underdeveloped nations:
One instance of environmental racism that takes place on a global scale is the export of harmful waste to developing nations.
Examples include:
The mass shipment of spent American batteries to Mexico, where illegal waste dumps from plants operated by American, European, and Japanese companies have resulted in high rates of anencephaly (when babies are born without brains).
Due to unclear documentation regarding its poisonous components, the French aircraft carrier Clemenceau was not allowed to enter Alang, an Indian shipbreaking yard.
Indonesia sent 547 containers of waste back to wealthy nations after discovering they were contaminated with used plastic and hazardous materials, amid a growing backlash in Southeast Asia against being a dumping ground for the developed world's trash.
Malaysia also returned 4,120 tons of plastic waste to thirteen countries.
The poorer or third world countries are victims of this injustice by the so-called developed nations for decades.
Environmental racism in India
Environmental racism in India is highlighted by the North East environmental controversies, proposals to auction off forests in central India for coal extraction, and the weakened Environmental Impact Assessment (EIA) framework as a result of the draught EIA announcement 2020, among other things.
Etalin Dam in Arunachal Pradesh would submerge over 300,000 trees and affect several thousand Mishmi people, an indigenous tribal group with a population of 13,000 in the state's Dibang valley district.
The Buddhist monks in Tawang are protesting against the huge hydroelectric projects planned by the government in the ecologically sensitive and seismic foothills of the region.
Gas leaks from factories situated in remote areas effecting the villages around them (Bhopal gas tragedy, Vizag gas leaks).
Tribal people being displaced from their lands for developmental activities- are different examples to name a few.
Challenges
It is considerably harder than one might imagine fighting for environmental justice.
Numerous groups that support environmental racism frequently boost the local economy in the short term, which forces residents to make trade-offs between their long-term well-being and supporting their families.
The individuals and organizations in positions of authority need to realize the harm that they are causing to minorities in the name of financial gain; they should not only remove any hazardous garbage that is already there but also forbid its future placement close to minority populations.
Hopefully, the numerous demonstrations and advocates for the cause will be able to exert the necessary pressure.
In the end, we must remember that no person is expendable and the price of progress or development cannot be a person or a community.
Way forward
Organizations and authorities can take several steps to reduce environmental racism.
Commit to a net-zero GHG reduction target by 2050, or sooner, across the entire value chain.
Identify the business activities that disproportionately affect communities based on race, and develop solutions centered on climate justice and racial equity.
This can include reducing harmful on-site emissions as well as off-site fleet electrification in high pollution areas.
Organizations can also develop green jobs in a just manner that respects human rights and livelihoods.
Assess the business' climate impact and data showing the impacts on the communities and stakeholders most affected by the structural inequalities (climate risk and vulnerability assessments). Engage them in community-driven climate resilience planning.
Educate leadership and employees internally on how race intersects with the climate crisis. Build awareness externally and help educate others on the issue.
Companies and governments should collaborate with others across industries and with expert stakeholders.
Call on all levels of government to put more effort into their climate solutions.
Potential mains question
India needs to have its moment of environmental racism as Tribal groups and many other vulnerable sections of the society have been facing the brunt mostly. Comment. (250 words)
-Article written by Swathi Satish